Hard work has no substitute!
Most of the successful person usually attribute their success to the hard work they have put in. Hard work is basically the bridge between success and failure.
So therefore I have compiled an exclusive list of inspiring quotes on hard work from the famous people to get you inspired to put that extra hours and achieve your cherished goals.
---
Famous Hard Work Quotes To Succeed In Life & Business
"Dream big, stay positive, work hard, and enjoy the journey." ~ Urijah Faber.
"Have confidence in your ability to do it right, and work hard to do the best possible job." ~ Walt Disney.
"There's no talent here, this is hard work. This is an obsession." ~ Conor McGregor.
"If you really look closely, most overnight successes took a long time." ~ Steve Jobs.
"Working hard for something we don't care about is called stress. Working hard for something we love is called passion." ~ Simon Sinek.
"Visualization works if you work hard. That's the thing. You can't just visualize and go eat a sandwich." ~ Jim Carrey.
"Without hard work and discipline, it is difficult to be a top professional. ~ Jahangir Khan
"Work harder than anybody you've ever seen. That's what I believe." ~ Meek Mill.
"I work hard because I love my work." ~ Bill Gates.
"Stay positive and happy. Work hard and don't give up hope. Be open to criticism and keep learning. Surround yourself with happy, warm, and genuine people." ~ Tena Desae.
"I never viewed myself as particularly talented. Where I excel is ridiculous, sickening work ethic. You know, while the other guy's sleeping, I'm working." ~ Will Smith
"If you don't back it up with performance and hard work, talking doesn't mean a thing." ~ Michael Jordan
"Believe in yourself, work hard, work smart and passionately present your best self to the world." ~ Hill Harper
"I work hard and fight easy." ~ Conor McGregor
"There is no way around the hard work. Embrace it." ~ Roger Federer
"Aim high, work hard, and love your family." ~ Deborah Roberts
"The only limit to the height of your achievements is the reach of your dreams and your willingness to work hard for them." ~ Michelle Obama
"All men are created equal. Some work harder in the preseason." ~ Emmitt Smith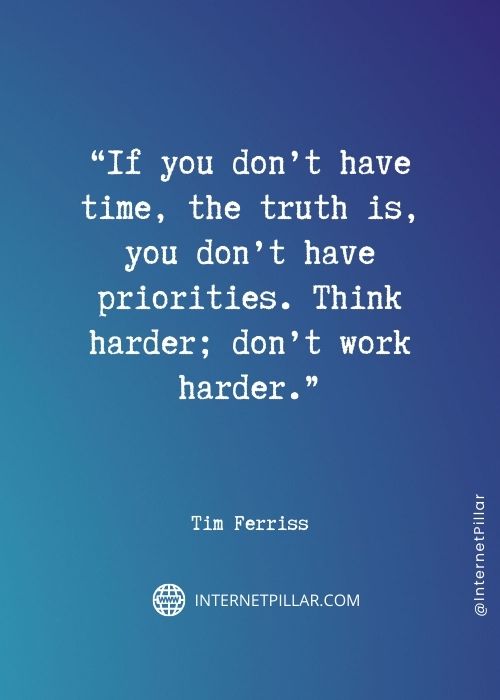 "If you don't have time, the truth is, you don't have priorities. Think harder; don't work harder." ~ Tim Ferriss
"Without labor, nothing prospers." ~ Sophocles
"Plans are only good intentions unless they immediately degenerate into hard work." ~ Peter F. Drucker
"A lot of hard work is hidden behind nice things." ~ Ralph Lauren
"I never took a day off in my 20s. Not one." ~ Bill Gates.
Best Hard Work Quotes
"Success travels in the company of very hard work. There is no trick, no easy way." ~ John Wooden
"I know you've heard it a thousand times before. But it's true – hard work pays off. If you want to be good, you have to practice, practice, practice. If you don't love something, then don't do it." ~ Ray Bradbury
"Work hard at work worth doing." ~ Theodore Roosevelt
"To succeed, work hard, never give up and above all cherish a magnificent obsession." ~ Walt Disney
"There is no substitute for hard work." ~ Thomas A. Edison
"Work hard. Someone's always watching." ~ Donald Trump
"Success in business requires training and discipline and hard work." ~ David Rockefeller
"Always work hard, never give up, and fight until the end because it's never really over until the whistle blows." ~ Alex Morgan
"The price of success is hard work, dedication to the job at hand." ~ Vince Lombardi
"A successful outcome shows what hard work, perseverance and taking advantage of your opportunities will do for you." ~ Will Rogers
"Beware of the man who works hard to learn something, learns it, and finds himself no wiser than before. He is full of murderous resentment of people who are ignorant without having come by their ignorance the hard way." ~ Kurt Vonnegut
"When you begin to think and grow rich, you will observe that riches begin with a state of mind, with definiteness of purpose, with little or no hard work." ~ Napoleon Hill
"What is success? I think it is a mixture of having a flair for the thing that you are doing; knowing that it is not enough, that you have got to have hard work and a certain sense of purpose." ~ Margaret Thatcher
Motivational Hard Work Quotes
"No matter how hard you work, someone else is working harder." ~ Elon Musk
"I'm a great believer in luck, and I find the harder I work, the more I have of it." ~ Thomas Jefferson
"Hard work beats talent if talent doesn't work hard." ~ Tim Notke
"Men die of boredom, psychological conflict and disease. They do not die of hard work." ~ David Ogilvy.
"The only place where success comes before work is in the dictionary." ~ Vidal Sassoon
"Work hard, have fun, make history." ~ Jeff Bezos
"There are no secrets to success. It is the result of preparation, hard work, and learning from failure." ~ Colin Powell.
"Great companies are built in the office, with hard work put in by a team." ~ Emily Chang.
"I know the price of success: dedication, hard work and an unremitting devotion to the things you want to see happen." ~ Frank Lloyd Wright
"I think that my biggest attribute to any success that I have had is hard work. There really is no substitute for working hard." ~ Maria Bartiromo.
"Work harder than you think you did yesterday". ~ Alex Elle
"Read the Bible. Work hard and honestly. And don't complain." ~ Billy Graham
"Some work hard to acquire money only to find in the end that money acquired them." ~ Lecrae
"Thinking is the hardest work there is, which is probably the reason so few engage in it." ~ Henry Ford.
"A dream does not become reality through magic; it takes sweat, determination, and hard work." ~ Colin Powell.
"Winners embrace hard work. They love the discipline of it, the trade-off they're making to win. Losers, on the other hand, see it as punishment. And that's the difference." ~ Lou Holtz
"Hard work is an essential element in tracking down and perfecting a strategy or in executing it." ~ Charlie Munger
"With hard work and effort, you can achieve anything." ~ Antoine Griezmann
"Without hard work, nothing grows but weeds." ~ Gordon B. Hinckley
"Hard work compounds like interest, and the earlier you do it, the more time you have for the benefits to pay off." ~ Sam Altman
"Hard work betrays none." ~ Hachiman Hikigaya
"Talent means nothing, while experience, acquired in humility and with hard work, means everything." ~ Patrick Suskind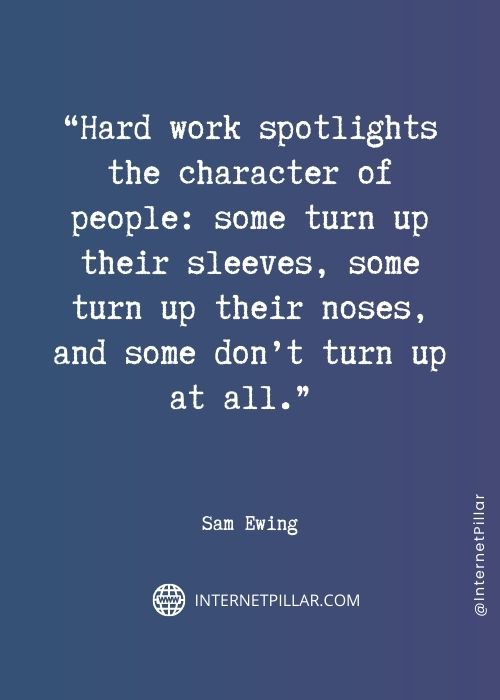 "Hard work spotlights the character of people: some turn up their sleeves, some turn up their noses, and some don't turn up at all." ~ Sam Ewing.
Top Hard Work Quotes
"No one understands and appreciates the American Dream of hard work leading to material rewards better than a non-American." ~ Anthony Bourdain
"Happiness is the real sense of fulfillment that comes from hard work." ~ Joseph Barbara
"If your dream is a big dream, and if you want your life to work on the high level you say you do, there's no way around doing the work it takes to get you there." ~ Joyce Chapman
"Talent is cheaper than table salt. What separates the talented individual from the successful one is a lot of hard work." ~ Stephen King
"A sign of a hard worker is one who works without complaint." ~ Sarah Price
"At the end of the day, you put all the work in, and eventually it'll pay off. It could be in a year, it could be in 30 years. Eventually, your hard work will pay off." ~ Kevin Hart
"The three great essentials to achieve anything worthwhile are, first, hard work; second, stick-to-itiveness; third, common sense." ~ Thomas Edison
"If you can't outplay them, outwork them." ~ Ben Hogan.
"The best way to learn is by doing. The only way to build a strong work ethic is getting your hands dirty." ~ Alex Spannos
"To succeed, work hard, never give up and above all, cherish a magnificent obsession." ~ Walt Disney
"Self-belief and hard work will always earn you success." – Virat Kohil (Indian Cricketer)
"Successful people are not gifted; they just work hard, then succeed on purpose." ~ G.K. Neilson
"When you live for a strong purpose, then hard work isn't an option. It's a necessity." ~ Steve Pavlina
"Perseverance is the hard work you do after you get tired of doing the hard work you already did." ~ Newt Gingrich
"Success isn't always about greatness. It's about consistency. Consistent hard work leads to success. Greatness will come." ~ Dwayne "The Rock" Johnson
"If you work hard enough and assert yourself and use your mind and imagination, you can shape the world to your desires." ~ Malcolm Gladwell
"My success was due to good luck, hard work, and support and advice from friends and mentors. But most importantly, it depended on me to keep trying after I had failed." ~ Mark Warner
"The road to success is not easy to navigate, but with hard work, drive, and passion, it's possible to achieve the American dream." ~ Tommy Hilfiger
"Luck is great, but most of life is hard work." ~ Iain Duncan Smith
Success is not final; failure is not fatal. It is the courage to continue that counts. Winston S. Churchill
Everyone's like, 'overnight sensation.' It's not overnight. It's years of hard work. Margot Robbie
Be honest, work hard, have fun, be grateful, and pay it forward. Bruce T. Halle.
Luck is a dividend of sweat. The more you sweat, the luckier you get. Ray Kroc.
Work hard! In the end, passion and hard work beat out natural talent. Pete Docter.
Popular Hard Work Quotes
With hard work and dedication, anything is possible. Timothy Weah.
Glory is attained from hard work, step by step. Ma Long.
When you put a lot of hard work into one goal and you achieve it, that's a really good feeling. Derek Jeter
The three ordinary things that we often don't pay enough attention to, but which I believe are the drivers of all success, are hard work, perseverance, and basic honesty. Azim Premji
"Work and you'll get what you need; work harder and you'll get what you want." ~ Prabakaran Thirumalai
"The price of success is hard work, dedication to the job at hand, and the determination that whether we win or lose, we have applied the best of ourselves to the task at hand." ~ Vince Lombardi.
"If you work hard and meet your responsibilities, you can get ahead, no matter where you come from, what you look like or who you love." ~ Barack Obama.
"Nothing ever comes to one, that is worth having, except as a result of hard work." ~ Booker T. Washington
"If people knew how hard I worked to achieve my mastery, it wouldn't seem so wonderful after all." ~ Michelangelo.
"Dreams can come true, but there is a secret. They're realized through the magic of persistence, determination, commitment, passion, practice, focus and hard work. They happen a step at a time, manifested over years, not weeks." ~ Elbert Hubbard.
"Be prepared, work hard, and hope for a little luck. Recognize that the harder you work and the better prepared you are, the more luck you might have." ~ Ed Bradley.
"I do not know anyone who has got to the top without hard work. That is the recipe. It will not always get you to the top, but should get you pretty near." ~ Margaret Thatcher.
Inspiring Hard Work Quotes
"I've got a theory that if you give 100 percent all of the time, somehow things will work out in the end." ~ Larry Bird
"The only thing that overcomes hard luck is hard work." ~ Harry Golden
"I have nothing in common with lazy people who blame others for their lack of success. Great things come from hard work and perseverance. No excuses." ~ Kobe Bryant
"Every beautiful mind has great dreams, but rarely is anyone ever ready to work hard for their dreams." ~ Terry Mark
"Too many people want the appearance of winning rather than the practices and hard work that create a true champion." ~ T.D. Jakes
"Keep exploring. Keep dreaming. Keep asking why. Don't settle for what you already know. Never stop believing in the power of your ideas, your imagination, your hard work to change the world." ~ Barack Obama
"You can't get there by bus, only by hard work and risk and by not quite knowing what you're doing. What you'll discover will be wonderful. What you'll discover will be yourself." ~ Alan Alda.
"The highest compliment that you can pay me is to say that I work hard every day." ~ Wayne Gretzky
"Work like there is someone working 24 hours a day to try to take it all away from you." ~ Mark Cuban.
"Hard work, dedication!" ~ Floyd Mayweather, Jr.
"There is no magic to achievement. It's really about hard work, choices, and persistence." ~ Michelle Obama
"I've learned over the years that when it comes to success, consistency is key. Consistent hard work that we may not like doing today, but for a payoff we'll love tomorrow. Earn it. Enjoy it." ~ Dwayne Johnson
"I never dreamed about success. I worked for it." ~ Estée Lauder.
"Inspiration is the windfall from hard work and focus." ~ Helen Hanson.
Inspirational Hard Work Quotes
"Go and get your things. Dreams mean work." ~ Paolo Coelho
"Confidence and hard work is the best medicine to kill the disease called failure. It will make you a successful person." ~ Abdul Kalam
"Be an individual, work hard, study, get your mind straight, and trust nobody." ~ Tupac Shakur
"There will be obstacles. There will be doubters. There will be mistakes. But with hard work, there are no limits." ~ Michael Phelps
"There is no substitute for hard work. There is no such thing as an overnight success or easy money." ~ Henry Sy.
"Work hard, be kind, and amazing things will happen." ~ Conan O'Brien
"I don't know anything about luck. I've never banked on it and I'm afraid of people who do. Luck to me is Hard work – and realizing what is an opportunity and what isn't." ~ Lucille Ball.
"Work hard in silence, let success be your noise." ~ Frank Ocean
"Great things come from hard work and perseverance. No excuses." ~ Kobe Bryant
"The best preparation for tomorrow is doing your best today." ~ H. Jackson Brown Jr.
"Striving for success without hard work is like trying to harvest where you haven't planted." ~ David Bly
"Hard work without talent is a shame, but talent without hard work is a tragedy." ~ Robert Half
"Genius is one percent inspiration and ninety-nine percent perspiration." ~ Thomas Edison
"The difference between ordinary and extraordinary is that little extra." ~ Jimmy Johnson.
---
---
You Might Like