Tulips are lovely flowers with brilliant colors and graceful, cup-shaped blooms.
Tulips which originated in Central Asia and Turkey have become renowned worldwide and are often linked with springtime due to their early flowering season.
Due to their variety of colors, shapes and sizes they are a popular option for gardens, flower arrangements and as a sign of love and devotion.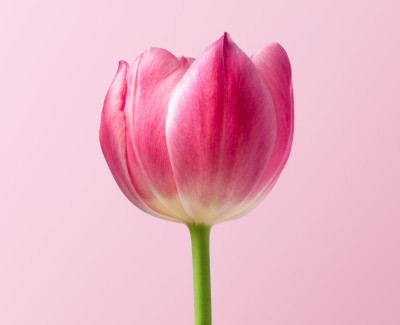 Tulips are not only visually appealing but they also have cultural and historical value.
---
Top 10 Tulip Quotes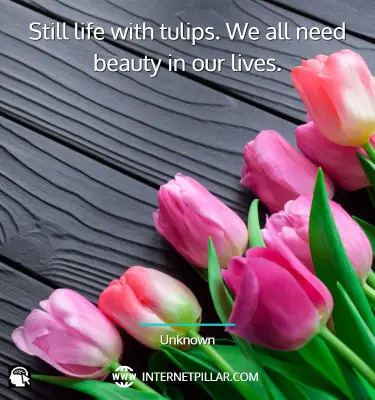 Still life with tulips. We all need beauty in our lives. ~ Unknown.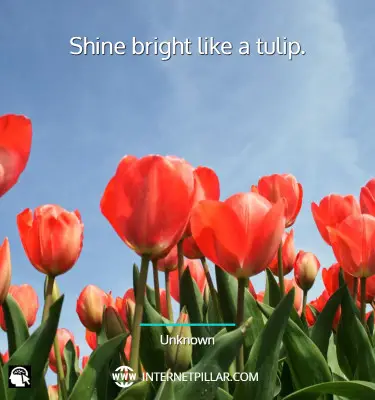 Shine bright like a tulip. ~ Unknown.
Let me take you down, 'cause I'm going to tulip fields. ~ Unknown.
Flowers heal me. Tulips make me happy. ~ Rebecca Wells.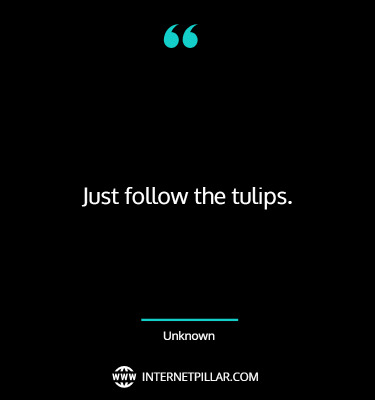 Just follow the tulips. ~ Unknown.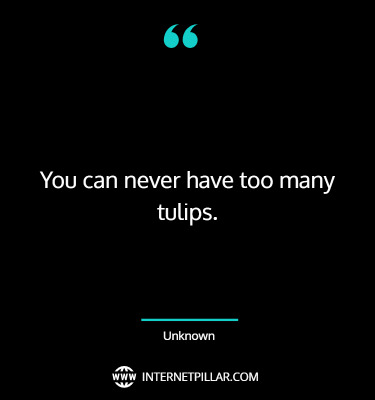 You can never have too many tulips. ~ Unknown.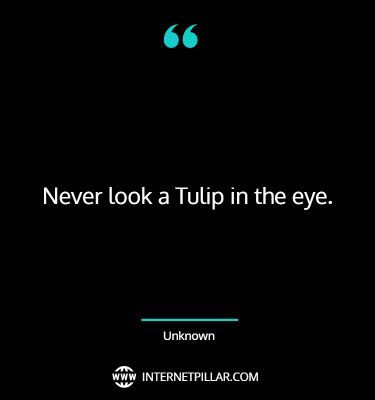 Never look a Tulip in the eye. ~ Unknown.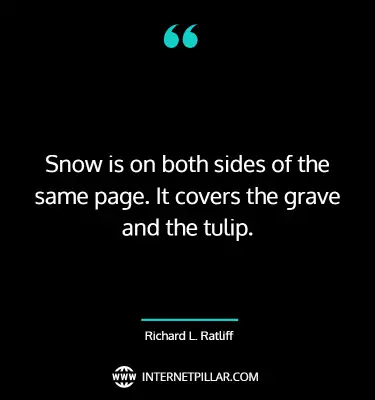 Snow is on both sides of the same page. It covers the grave and the tulip. ~ Richard L. Ratliff.
Sweet scents red tulips, red tulips bring such happiness. Our hearts are full of pleasure. ~ Natasa Tocuc.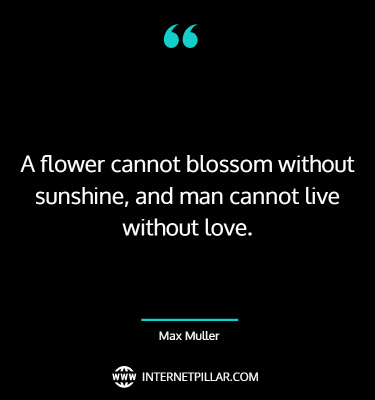 A flower cannot blossom without sunshine, and man cannot live without love. ~ Max Muller.
Related Topics Quotes: 65 Lovely Wildflower Quotes to Appreciate Nature's Beauty and 80 Inspiring Flower Quotes to Lift Your Spirits
Best Tulip Quotes
And tulips, children love to stretch their fingers down – to feel in each Its beauty's secret nearer. ~ Elizabeth Browning.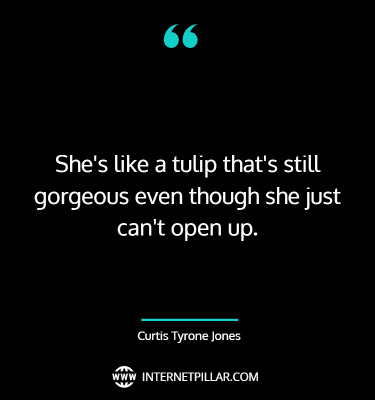 She's like a tulip that's still gorgeous even though she just can't open up. ~ Curtis Tyrone Jones.
In a flowerpot of love lives a beautiful tulip plant, and then was the passer by with words to attract it; for, it was just like a passing glance and the sense of love, and they were both attracted to each other. ~ Edward Kofi Louis.
Guarded within the old red wall's embrace, marshalled like soldiers in gay company, the tulips stand arrayed. Here, infantry wheels out into the sunlight. ~ Amy Lowell.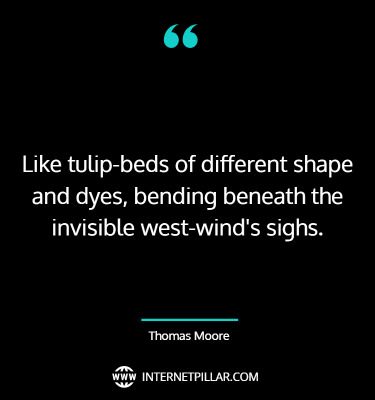 Like tulip-beds of different shape and dyes, bending beneath the invisible west-wind's sighs. ~ Thomas Moore.
How can you be content to be in the world like tulips in a garden, to make a fine show, and be good for nothing? ~ Mary Astell.
An exquisite invention, worthy of love's most honeyed kiss. This art of writing billet-doux, in buds, and odors, and bright hues! In saying all, one feels and thinks in clever daffodils and pinks; in puns of tulips; and in phrases, charming for their truth, of daisies. ~ Leigh Hunt.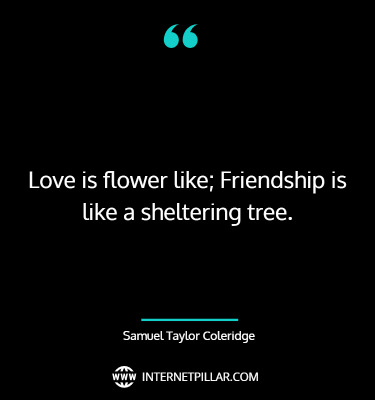 Love is flower like; Friendship is like a sheltering tree. ~ Samuel Taylor Coleridge.
I set out to find my peace in the skies and the tulips, in the howling of the winds, in the rain under the shed and it was right there residing within me. ~ Suyasha Subedi.
Flowers heal me. Tulips make me happy. I keep myself surrounded by them as soon as they start coming to the island from Canada, and after that when they come from the fields in La Connor, not far from where I live. ~ Rebecca Wells.
Beautiful Tulip Quotes
The oppressed martyrs of our culture have shed blood that nourishes the red tulips of our nation. ~ Mahmud Tarzi.
All my tulips are white. She liked them red. I stained them with my blood and she came running for a hug. Every tulip that blossomed since became hungry for my red. One day, I ran out of my blood and the next one that came flowered in white. That's the end of us. ~ Kalyan Reddy.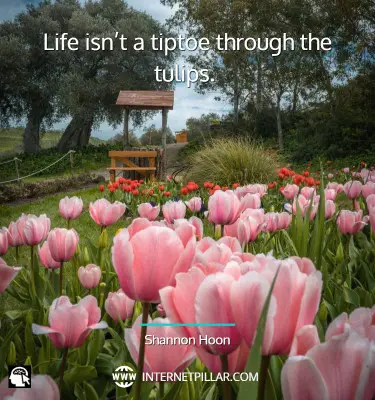 Life isn't a tiptoe through the tulips. ~ Shannon Hoon.
She loved him the way one loves an old bridge or a wool sweater or the sound of a growing tulip. ~ Joseph Fink.
Here, tulips bloom as they are told; unkempt about those hedges blows an English unofficial rose. ~ Rupert Brooke.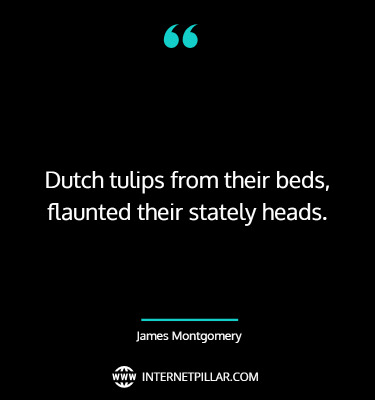 Dutch tulips from their beds, flaunted their stately heads. ~ James Montgomery.
Sweet scents, red tulips. Red tulips bring such happiness. Our hearts are full of pleasure. ~ Natasa Tocuc.
If a purple tulip could talk she would say something calm, cool and wise, without the flash of a soothing balm. ~ Amelia Brown.
Lovely Tulip Quotes
Anyone know how flowers whistle? Through their tulips. ~ Unknown.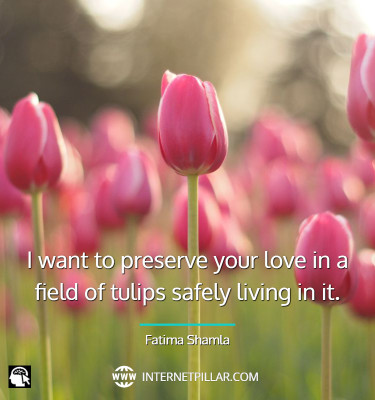 I want to preserve your love in a field of tulips safely living in it. ~ Fatima Shamla.
Here are the tulips, budded and full-blown, their swoops and dips, their gloss, and poses, the satin of their darks. ~ Margaret Atwood.
In the garden, tulips grow. ~ Unknown.
Let yourself go. You're bound to bloom. ~ Unknown.
Tulips were a tray of jewels. ~ E.M. Forster.
Tulips heaven bloom in adversity. ~ Unknown.
A tulip doesn't strive to impress anyone. It doesn't struggle to be different than a rose. It doesn't have to. It is different. And there's room in the garden for every flower. ~ Marianne Williamson.
He thought of the grammar of Gaelic, in which you did not say you were in love with someone, but that you 'had love toward' her, as if it were a physical thing you could present and hold – a bundle of tulips, a golden ring, a parcel of tenderness. ~ Jodi Picoult.
Never blur or erase love for those who once brought greenery and blossomed tulips during the dry and thorny phase. ~ Spirha Kant.
Tulip Quotes and Captions for Instagram
Yes, it's tulip season. ~ Unknown.
Be a tulip in a field of weeds. ~ Unknown.
Tulip in the sky. ~ Unknown.
Dreaming of wandering in the tulip fields. ~ Unknown.
Contempt for flowers is an offense against God. The lovelier the flower, the greater the offense in despising it. The tulip is the loveliest of all flowers. So whoever despised the tulip, offends God immeasurably. ~ Alexandre Dumas.
Tiptoe through the tulips. ~ Tiny Tim.
Daffodils blossom and tulips jostle to the front of the stage in April. I love these early perennials – they may be more modest but they nearly all have that one special quality that a plant needs to transform your affections from admiration to affection to charm. ~ Monty Don.
You believe in God, for your part, ay? That He who makes, can make good things from ill things, best from worst, as men plant tulips upon dunghills when they wish them finest. ~ Elizabeth Barrett Browning.
Like tulip-beds of different shapes and dyes, bending beneath the invisible west-wind's sighs. ~ Thomas Moore.
---
Here is a video for all Tulip lovers.
---
So these were the 50 quotes about Tulips.
If you like these quotes and sayings, then you can also read my other popular blog posts on the topics of Time Management quotes and Plant Lover quotes and Houseplant quotes.
---
References: