The introduction of plants into our lives, especially our homes, is a truly unique experience.
They bring nature within, filling our surroundings with brilliant hues and a breath of fresh air.
They transform our houses into calm havens where we may unwind and recharge amid the rush and bustle of daily life.
Growing plants needs three basic yet essential elements: water, air and sunlight.
When these essential demands are fulfilled in sufficient quantities, plants may develop and blossom in all their natural splendor.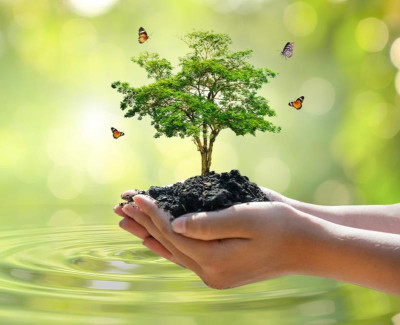 Plant lovers and 'plant parents' have a special affinity for these green friends.
They understand the satisfaction of caring for a plant and seeing it develop, as well as the feeling of achievement that comes with it.
They find meaning in their green pursuits and their houses reflect this, teeming with green life and providing a peaceful, tranquil ambiance.
Plant enthusiasts understand that care for plants not only adds visual value to their homes, but also improves their mental well-being by providing a quiet and attentive atmosphere.
---
Top 10 Plant Love Quotes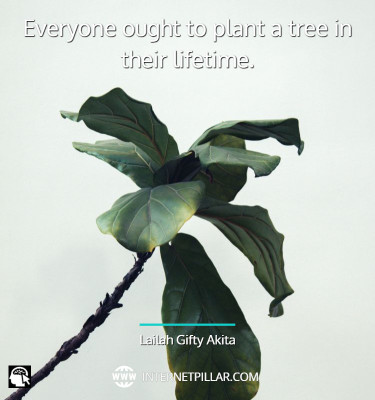 Everyone ought to plant a tree in their lifetime. ~ Lailah Gifty Akita.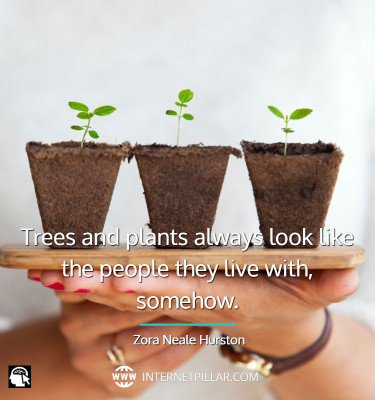 Trees and plants always look like the people they live with, somehow. ~ Zora Neale Hurston.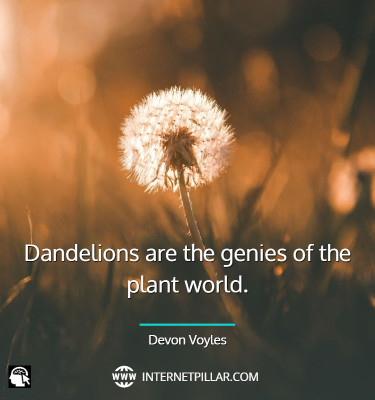 Dandelions are the genies of the plant world. ~ Devon Voyles.
If you have a garden and a library, you have everything you need. ~ Marcus Tullius Cicero.
She said she wanted to see beautiful things. I took her to where I planted my seeds. ~ Darnell Lamont Walker.
I perhaps owe having become a painter to flowers. ~ Claude Monet.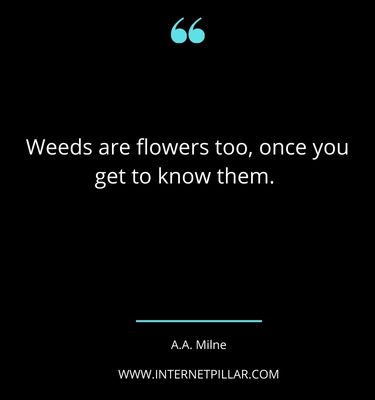 Weeds are flowers too, once you get to know them. ~ A.A. Milne.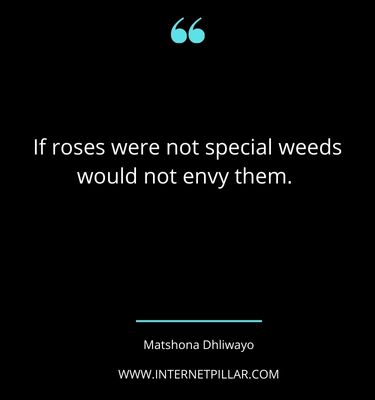 If roses were not special weeds would not envy them. ~ Matshona Dhliwayo.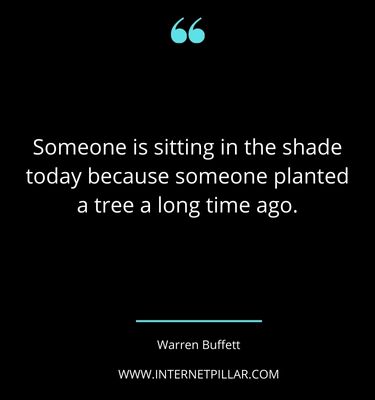 Someone is sitting in the shade today because someone planted a tree a long time ago. ~ Warren Buffett.
Many things grow in the garden that were never sown there. ~ Thomas Fuller.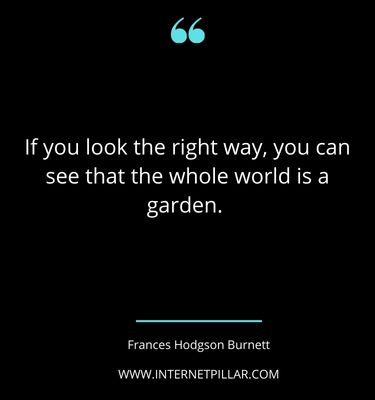 If you look the right way, you can see that the whole world is a garden. ~ Frances Hodgson Burnett.
Related Quotes: 102 Tree Quotes and Sayings for Nature Lovers and 62 Leaf Quotes and Sayings for All Nature Lovers
Best Plant Love Quotes
It's exciting to see things coming up again, plants that you've had twenty or thirty years. It's like seeing an old friend. ~ Tasha Tudor.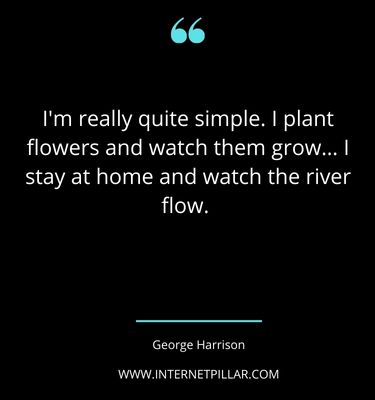 I'm really quite simple. I plant flowers and watch them grow… I stay at home and watch the river flow. ~ George Harrison.
I grow plants for many reasons: to please my eye or to please my soul, to challenge the elements or to challenge my patience, for novelty or for nostalgia, but mostly for the joy in seeing them grow. ~ David Hobson.
Plants and flowers taught me how to grow, by growing in secret and in silence. ~ Michael Bassey Johnson.
If a tree dies, plant another in its place. ~ Carolus Linnaeus.
It will never rain roses: when we want to have more roses we must plant more trees. ~ George Eliot.
Eat food. Not too much. Mostly plants. ~ Michael Pollan.
We know we cannot plant seeds with closed fists. To sow, we must open our hands. ~ Adolfo Perez Esquivel.
I hope that while so many people are out smelling the flowers, someone is taking the time to plant some. ~ Herbert Rappaport.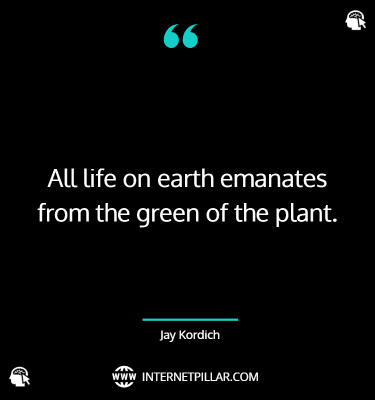 All life on earth emanates from the green of the plant. ~ Jay Kordich.
A brier rose whose buds yield fragrant harvest for the honey bee. ~ Letitia Elizabeth Landon.
There are no gardening mistakes, only experiments. ~ Janet Kilburn Phillips.
A man should never plant a garden larger than his wife can take care of. ~ T.H. Everett.
Whatever seeds each man cultivates will grow to maturity and bear in him their own fruit. If they be vegetative, he will be like a plant. ~ Giovanni Pico della Mirandola.
If it came from a plant, eat it; if it was made in a plant, don't. ~ Michael Pollan.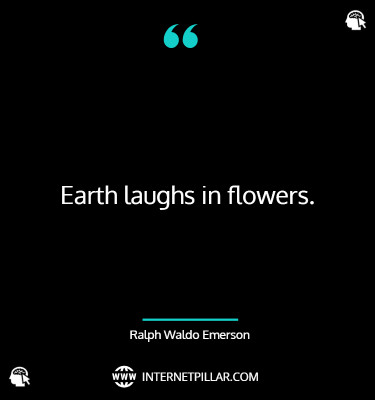 Earth laughs in flowers. ~ Ralph Waldo Emerson.
If you plant junk, don't expect to harvest jewels. ~ Luke Taylor.
Famous Plant Love Quotes
Gardens and chocolate both have mystical qualities. ~ Edward Flaherty.
If there's one thing I can say about my garden, it can always surprise me. ~ David Hobson.
Growth takes time. Be patient. And while you're waiting, pull a weed. ~ Emilie Barnes.
I have no plants in my house. They won't live for me. ~ Jerry Seinfeld.
It is only the farmer who faithfully plants seeds in the Spring, who reaps a harvest in the Autumn. ~ B. C. Forbes.
Even if I knew that tomorrow the world would go to pieces, I would still plant my apple tree. ~ Martin Luther.
Always do your best. What you plant now, you will harvest later. ~ Og Mandino.
Love and work are to people what water and sunshine are to plants. ~ Jonathan Haidt.
If the weeds are removed and there is nothing planted, it is the weeds that will keep growing. ~ Sunday Adelaja.
The begonia is an amazing plant… it just keeps going along and blooming, and when cut back, it starts up again. ~ Gladys Taber.
All gardening is landscape painting. ~ William Kent.
The love of gardening is a seed once sown that never dies, but never grows to the enduring happiness that the love of gardening gives.~ Gertrude Jekyll.
What a man needs in gardening is a cast-iron back, with a hinge in it. ~ Charles Dudley Warner.
Lovely Plant Love Quotes for Plant Lovers
A nation that destroys its soils destroys itself. Forests are the lungs of our land, purifying the air and giving fresh strength to our people. ~ Franklin D. Roosevelt.
I don't know whether nice people tend to grow roses or growing roses makes people nice. ~ Roland A Browne.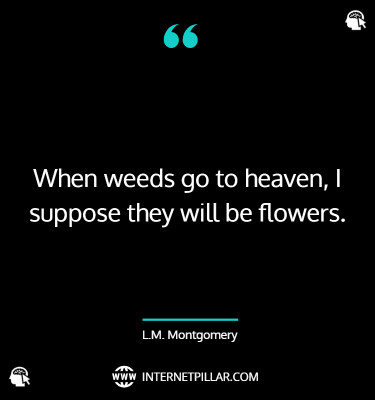 When weeds go to heaven, I suppose they will be flowers. ~ L.M. Montgomery.
Your intuitive powers increase when you are with plants because your mind is silenced and you become more aware in the present moment. ~ Sanchita Pandey.
Plants give us oxygen for the lungs and for the soul. ~ Linda Solegato.
There is a reason why I have a lot of plants growing inside of my home. ~ Steven Magee.
What we plant in the soil of contemplation, we shall reap in the harvest of action. ~ Meister Eckhart.
A flower falls, even though we love it; and a weed grows, even though we do not love it. ~ Dogen.
Before the reward there must be labor. You plant before you harvest. You sow in tears before you reap joy. ~ Ralph Ransom.
Powerful Plant Love Quotes
Even in this high-tech age, the low-tech plant continues to be the key to nutrition and health. ~ Jack Weatherford.
Plants are solar powered air purifiers whose filter never needs replacing. ~ Khang Kijarro Nguyen.
A weed is a plant that is not only in the wrong place but intends to stay. ~ Sara Stein.
If you build up the soil with organic material, the plants will do just fine. ~ John Harrison.
If I had a flower for every time I thought of you… I could walk through my garden forever. ~ Alfred Lord Tennyson.
If you've never experienced the joy of accomplishing more than you can imagine, plant a garden. ~ Robert Brault.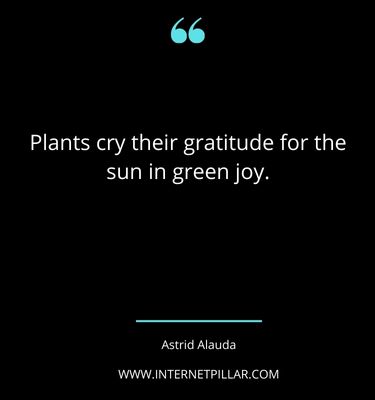 Plants cry their gratitude for the sun in green joy. ~ Astrid Alauda.
To say nothing of weeds – many of them being plants we used to value but no longer do. They don't like to die out, you know. ~ Terry Pratchett.
Wise Plant Love Quotes
God Almighty first planted a garden. And indeed, it is the purest of human pleasures. ~ Francis Bacon.
One touch of nature makes the whole world kin. ~ William Shakespeare.
So plant your own gardens and decorate your own soul, instead of waiting for someone to bring you flowers. ~ Jorge Luis Borges.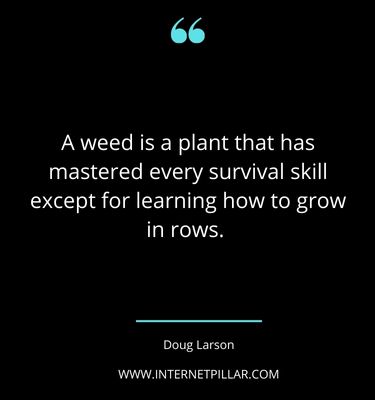 A weed is a plant that has mastered every survival skill except for learning how to grow in rows. ~ Doug Larson.
It is like the seed put in the soil – the more one sows, the greater the harvest. ~ Orison Swett Marden.
What's growing around you is what you planted. Therefore, if you don't like the plants, change the seeds. ~ Craig D. Lounsbrough.
Don't judge each day by the harvest you reap but by the seeds that you plant. ~ Robert Louis Stevenson.
No other life is as pure as the plants. It is no wonder we cannot understand them. ~ Robert Black.
In some Native languages the term for plants translates to 'those who take care of us.' ~ Robin Wall Kimmerer.
---
Here is a video that gives smart hacks to grow your own plants.
---
So these were the 70 quotes about Plant lovers.
If you like these quotes and sayings, then you can also read my other popular blog posts on the topics of Dinosaur quotes and Lead by Example quotes and Time Management quotes.
---
Sources: