Young Dolph, born Adolph Thornton, Jr., was a South Memphis rapper known for his club bangers and cold punch lines.
He gained nationwide recognition around 2014 and had four albums hit the Billboard 200, including a Top Ten album, 'Dum and Dummer,' a collaboration with Key Glock.
He also had gold records like "100 Shots," "Major," and "RNB," and was featured on O.T. Genasis' multi-platinum hit "Cut It."
Dolph addressed racism and inequality in his seventh studio album, 'Rich Slave,' and showcased his label, Paper Route Empire, in 'PAPER ROUTE iLLUMINATi.'
He was fatally shot in 2021, aged 36 and a posthumous album, 'Paper Route Frank,' was released in 2022.
I have made a list of the best quotes from Young Dolph for you.
---
Best Young Dolph Quotes
You work, so I respect you. You don't work, what can we do? We can't relate. ~ Young Dolph.
Once you get up and you finally get across that line and you've got a brand to stand on, it's going to be beneficial. ~ Young Dolph.
Never wait on nobody. Go for what you know. ~ Young Dolph.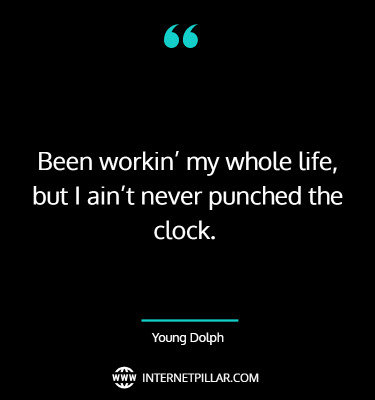 Been workin' my whole life, but I ain't never punched the clock. ~ Young Dolph.
As long as I keep going up and keep working, my value is going to increase. ~ Young Dolph.
I identify sooner with a hard-working person well beneath his tax bracket than a social climber piggybacking on other people's exertion. ~ Young Dolph.
While you're waiting on even trying to do anything, try investing in yourself. Just try to keep going up and coming up with new things to do, being creative every day. Make this your life. ~ Young Dolph.
Designer everythin', every day on this paper chase. An extra $500k, put away just for a rainy day. ~ Young Dolph.
Have a good team. Let them do what they do and you do what you do. Have people around you that work and that will want to make you work even harder. ~ Young Dolph.
Famous Young Dolph Quotes
Don't try to… go to work and try to go to the other job. And if you is gonna do other things on the side, make sure it's like it's only for the money just to support what you really want to do and you give it your all. ~ Young Dolph.
Top Young Dolph Quotes
With the streets in my rear view, I adopted a get-money attitude and hustler mentality early-on, which helped me later on in life as I developed my career as a rapper. ~ Young Dolph.
It's always easier in retrospect to be confident in the decisions you've made if they actually worked out. Society admires risk-takers, but only the ones whose risks pay off. ~ Young Dolph.
You know, working with different artists, some people kinda get confused in trying to find their way, I stay true to myself. ~ Young Dolph.
What I want people to take away from my music, man, is just how to take care of responsibilities, how to live life and enjoy life. You only get one shot at life, one life to live – make the most out of it. Put as many smiles as you can on people's faces. Help as many people as you can. Get you some paper. Live life, you and your folks. ~ Young Dolph.
I respect the hustle, because I live and breathe it. I believe that for those who work for it, opportunities will knock, doors will swing open, fears will be conquered, and risks will pay off. ~ Young Dolph.
Interesting Young Dolph Quotes
When I'm finished doing music or whatever, I want people to remember me as just being great. ~ Young Dolph.
You focus on money, your life. It's like you can only move a certain kind of way out here, to being on the streets, to working a job, to doing music – whatever you doing. You can only move one kind of way and if you don't, it can hurt you, you can put a roof over your head, you can limit your chances. I don't want to limit myself to doing nothing so that's all that is. ~ Young Dolph.
You give up time. At the end of the day that's the only thing you can't pay for, the thing you can't get back. So you gotta learn to sacrifice that time to put [towards] something you trying to invest in. ~ Young Dolph.
To be a hustler it's got to be in you. Everybody ain't got it, even some people got it but don't have it as much as others. And to be a hustler and to be a super hustler you gotta know how to deal with sacrifices. You learn how to take sacrifices, you learn to give things up to get into something you're trying to get into. ~ Young Dolph.
I'm going to invest in my career. I'ma invest in my future. I'll invest in little dude next to me just because I see something in him. I'm going to do anything that's beneficial, that I see bringing my future to life. So that's my money and my time. ~ Young Dolph.
I just like seeing people succeed, I like to see people have success. ~ Young Dolph.
---
So these were the 33 top quotes about Young Dolph.
If you like these quotes and sayings, then you can also read my other posts on Teyana Taylor quotes and Wes Watson quotes.