Zitkála-Šá, also known as Gertrude Simmons Bonnin, was a seminal figure of the 20th century, notable for her contributions as a Yankton Dakota writer, musician and activist.
Born on the Yankton Indian Reservation in 1876, she experienced the realities of cultural erasure in boarding schools, sparking her lifelong activism.
Attending Earlham College and The New England Conservatory of Music, she became an accomplished violinist, even performing at the 1900 Paris Exposition.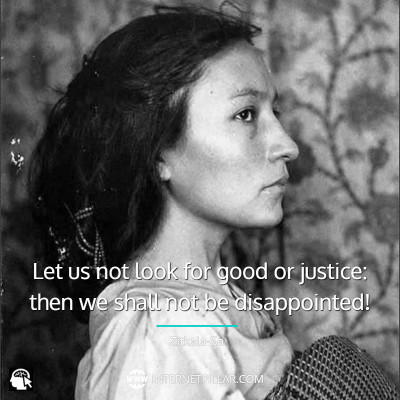 Zitkála-Šá's career spanned teaching, working for the Bureau of Indian Affairs and advocacy for Native American rights. Her writings, widely published, elucidated the historical and contemporary struggles of Native Americans.
A prominent suffragist, Zitkála-Šá co-founded the National Council of American Indians in 1926, advocating for Native American citizenship and voting rights, which came to fruition with the Indian Citizenship Act in 1924.
Related: Jason Reynolds Quotes from Talented American Writer and Zane Grey Quotes from the Famous American Author
She remained a staunch defender of Native rights until her death in 1938, leaving a profound legacy in American social reform.
I have outlined the best quotes by Zitkala Sa.
---
Best Zitkala Sa Quotes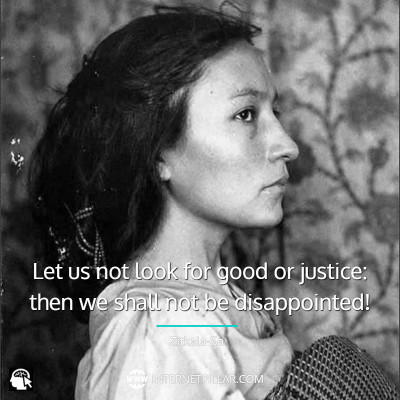 Let us not look for good or justice: then we shall not be disappointed! ~ Zitkala-Sa.
There is no great; there is no small; in the mind that causeth all. ~ Zitkala-Sa.
I fear no man. Sometimes I think I do not even fear God. ~ Zitkala-Sa.
Few there are who have paused to question whether real life or long-lasting death lies beneath this semblance of civilization. ~ Zitkála-Šá.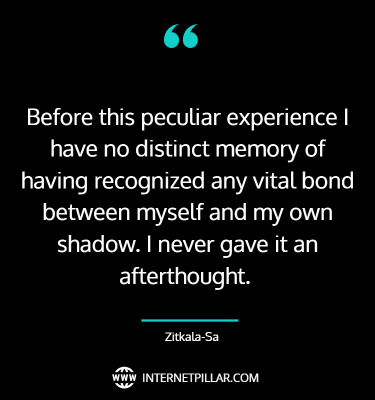 Before this peculiar experience I have no distinct memory of having recognized any vital bond between myself and my own shadow. I never gave it an afterthought. ~ Zitkala-Ša.
Famous Zitkala Sa Quotes
I was not wholly conscious of myself, but was more keenly alive to the fire within. It was as if I were the activity, and my hands and feet were only experiments for my spirit to work upon. ~ Zitkala-Ša.
A wee child toddling in a wonder world, I prefer to their dogma my excursions into the natural gardens where the voice of the Great Spirit is heard in the twittering of birds, the rippling of mighty waters, and the sweet breathing of flowers. If this is Paganism, then at present, at least, I am a Pagan. ~ Zitkala-Sa.
For untold ages the Indian race had not used family names. A new-born child was given a brand-new name. Blue-Star Woman was proud to write her name for which she would not be required to substitute another's upon her marriage, as is the custom of civilized peoples. ~ Zitkala-Ša.
On the following morning I took my revenge upon the devil. Stealing into the room where a wall of shelves was filled with books, I drew forth The Stories of the Bible. With a broken slate pencil I carried in my apron pocket, I began scratching out his wicked eyes. A few moments later, when I was ready to leave the room, there was a ragged hole in the page where the picture of the devil had once been. ~ Zitkála-Šá.
The old legends of America belong quite as much to the blue-eyed little patriot as to the black-haired aborigine. And when they are grown tall like the wise grown-ups may they not lack interest in a further study of Indian folklore, a study which so strongly suggests our near kinship with the rest of humanity and points a steady finger toward the great brotherhood of mankind, and by which one is so forcibly impressed with the possible earnestness of life as seen through the teepee door! If it be true that much lies "in the eye of the beholder," then in the American aborigine as in any other race, sincerity of belief, though it were based upon mere optical illusion, demands a little respect. After all he seems at heart much like other peoples. ~ Zitkala-Ša.
A vast multitude of women, with uplifted hands, gazed upon a huge stone image. Their upturned faces were eager and very earnest. The stone figure was that of a woman upon the brink of the Great Waters, facing eastward. The myriad living hands remained uplifted till the stone woman began to show signs of life. Very majestically she turned around, and, lo, she smiled upon this great galaxy of American women. She was the Statue of Liberty! It was she, who, though representing human liberty, formerly turned her back upon the American aborigine. Her face was aglow with compassion. Her eyes swept across the outspread continent of America, the home of the red man. At this moment her torch flamed brighter and whiter till its radiance reached into the obscure and remote places of the land. Her light of liberty penetrated Indian reservations. A loud shout of joy rose up from the Indians of the earth, everywhere! ~ Zitkala-Ša.
---
---
So these were the 11 top Zitkala-Sa quotes and sayings.
If you like these quotes and sayings, then you can also read my other posts on Chadwick Boseman quotes and Fannie Lou Hamer quotes.