Acceptance is a term that denotes the process where a person, idea, or situation is considered suitable or adequate.
Often, it paves the way for integration into a specific group or collective. Its importance is felt across various spheres of life, including personal relationships, professional environments and social gatherings.
The scope of acceptance extends beyond simply acknowledging someone's existence.
It encapsulates the recognition and appreciation of unique attributes and accomplishments. This recognition provides a platform for celebrating individuality, which is a key component in fostering diversity.
In any group or organization, acceptance acts as the bedrock of inclusivity.
It creates an environment where people are valued for their distinct abilities and viewpoints. This potent concept nurtures a sense of belonging among members.
This sense of belonging can have positive implications on overall mental wellbeing and productivity.
In the end, acceptance is a dynamic and influential process. It underscores the vital importance of mutual respect, understanding and recognition in the context of human relationships.
Here are a few quotes about acceptance that will help you to find inner tranquility and peace.
---
Top 10 Acceptance Quotes
I accept the universe! ~ Margaret Fuller.
A tree that is unbending, is easily broken. ~ Laozi.
A weed is but an unloved flower. ~ Ella Wheeler Wilcox.
Happiness can exist only in acceptance. ~ George Orwell.
Nothing is impossible to a willing heart. ~ John Heywood.
Do your thing and don't care if they like it. ~ Tina Fey.
Peace comes from within. Do not seek it without. ~ Buddha.
I was willing to accept what I couldn't change. ~ Abdul Kalam.
Once we accept our limits, we go beyond them. ~ Albert Einstein.
Even on my weakest days I get a little bit stronger. ~ Sara Evans.
Related Quotes: 70 Accomplishment Quotes to Go After Your Dreams and 70 Actions Speak Louder Than Words Quotes and Sayings
Best Acceptance Quotes Ideas
Nothing brings down walls as surely as acceptance. ~ Deepak Chopra.
Growth begins when we start to accept our own weakness. ~ Jean Vanier.
You can't stop the waves, but you can learn to surf. ~ Jon Kabat-Zinn.
History will never accept difficulties as an excuse. ~ John F. Kennedy.
I'd rather be hated for who I am, than loved for who I'm not. ~ Unknown.
Sometimes you just have to regret things and move on. ~ Charlaine Harris.
Acceptance Quotes
Enjoy when you can, and endure when you must. ~ Johann Wolfgang von Goethe.
Serenity comes when you trade expectations for acceptance. ~ Gautama Buddha.
You have to know how to accept rejection and reject acceptance. ~ Ray Bradbury.
We must have strong minds, ready to accept facts as they are. ~ Harry S. Truman.
There will always be people who will accept you for what you are! ~ Sakura Tsukuba.
Do not lose courage in considering your own imperfections. ~ Saint Francis de Sales.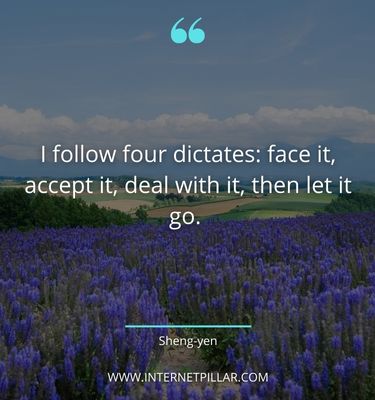 I follow four dictates: face it, accept it, deal with it, then let it go. ~ Sheng-yen.
It's best to accept life as it really is and not as I imagined it to be. ~ Paulo Coelho.
Self Acceptance Quotes To Help You Find Inner Peace
I'm not perfect. I make mistakes. And I will make more mistakes. And that's OK. ~ Unknown.
No amount of self-improvement can make up for any lack of self-acceptance. ~ Robert Holden.
Acceptance and tolerance and forgiveness, those are life-altering lessons. ~ Jessica Lange.
The first step toward change is awareness. The second step is acceptance. ~ Nathaniel Branden.
Accept who are you and your uniqueness. Define your choices and beliefs. ~ Lailah Gifty Akita.
No person is your friend who demands your silence, or denies your right to grow. ~ Alice Walker.
Quotes on Acceptance
The first thing a kindness deserves is acceptance, the second, transmission. ~ George MacDonald.
Know that everything is in perfect order whether you understand it or not. ~ Valery Satterwhite.
We may have all come on different ships, but we're in the same boat now. ~ Martin Luther King, Jr.
Surrender is the inner transition from resistance to acceptance, from no to yes. ~ Eckhart Tolle. 
I can accept failure, everyone fails at something. But I can't accept not trying. ~ Michael Jordan.
When you put a limit on what you will do, you have put a limit on what you can do. ~ Charles Schwab.
Give love and unconditional acceptance to those you encounter, and notice what happens. ~ Wayne Dyer.
Best Acceptance Quotes On Success In Life
I think that you never fall out of love with somebody, you just let go and move on. ~ Ashley Rickards.
Wilfulness must give way to willingness and surrender. Mastery must yield to mystery. ~ Gerald G. May.
Attitude is your acceptance of the natural laws, or your rejection of the natural laws. ~ Stuart Chase.
We cannot change anything until we accept it. Condemnation does not liberate, it oppresses. ~ Carl Jung.
The minute you settle for less than you deserve, you get even less than you settled for. ~ Maureen Dowd.
The most difficult thing I have ever had to do is follow the guidance I prayed for. ~ Albert Schweitzer.
For after all, the best thing one can do when it is raining is let it rain. ~ Henry Wadsworth Longfellow.
Acceptance Quotes to Help You See the Brighter Side
The more you know who you are, and what you want, the less you let things upset you. ~ Stephanie Perkins.
Maturity, one discovers, has everything to do with the acceptance of 'not knowing. ~ Mark Z. Danielewski.
If I could define enlightenment briefly I would say it is 'the quiet acceptance of what is'. ~ Wayne Dyer.
The only way to make sense out of change is to plunge into it, move with it, and join the dance. ~ Alan Watts.
Understanding is the first step to acceptance, and only with acceptance can there be recovery. ~ J. K. Rowling.
No matter how much suffering you went through, you never wanted to let go of those memories. ~ Haruki Murakami.
Inspiring Acceptance Quotes on Moving Forward
Anything in life that we don't accept will simply make trouble for us until we make peace with it. ~ Shakti Gawain.
Beauty is about being comfortable in your own skin. It's about knowing and accepting who you are. ~ Ellen DeGeneres.
Acceptance of what has happened is the first step to overcoming the consequences of any misfortune. ~ William James.
When I let go of what I am, I become what I might be. When I let go of what I have, I receive what I need. ~ Lao Tzu.
I found that laughter was a form of acceptance, and I really enjoyed that and I just, I crave it. ~ Gabriel Iglesias.
I'm not wise, but the beginning of wisdom is there; it's like relaxing into and an acceptance of things. ~ Tina Turner.
Breathe. Let go. And remind yourself that this very moment is the only one you know you have for sure. ~ Oprah Winfrey.
My happiness grows in direct proportion to my acceptance, and in inverse proportion to my expectations. ~ Michael J. Fox.
Famous Acceptance Quotes
The demon that you can swallow gives you its power, and the greater life's pain, the greater life's reply. ~ Joseph Campbell.
If you accept the expectations of others, especially negative ones, then you never will change the outcome. ~ Michael Jordan.
Mindfulness is the aware, balanced acceptance of present experience. It isn't more complicated than that. ~ Sylvia Boorstein.
To be beautiful means to be yourself. You don't need to be accepted by others. You need to accept yourself. ~ Thich Nhat Hanh.
A loving person lives in a loving world. A hostile person lives in a hostile world. Everyone you meet is your mirror. ~ Ken Keyes.
Accepting all the good and bad about someone. It's a great thing to aspire to. The hard part is actually doing it. ~ Sarah Dessen.
To be fully seen by somebody, then, and be loved anyhow, this is a human offering that can border on miraculous. ~ Elizabeth Gilbert.
Of course there is no formula for success, except perhaps an unconditional acceptance of life, and what it brings. ~ Arthur Rubinstein.
The acceptance of death gives you more of a stake in life, in living life happily, as it should be lived. Living for the moment. ~ Sting.
There are two primary choices in life: to accept conditions as they exist, or accept the responsibility for changing them. ~ Denis Waitley.
I have never found anybody who could stand to accept the daily demonstrative love I feel in me, and give back as good as I give. ~ Sylvia Plath.
Accept the things to which fate binds you, and love the people with whom fate brings you together, but do so with all your heart. ~ Marcus Aurelius.
---
So these were the 70 quotes about Acceptance.
If you like these quotes, then you can also read our other posts on Healthy Lifestyle quotes and Negativity Quotes and Accomplishment Quotes and Tolerance Quotes.
---
Sources: