Alaska name is derived from the Aleut word "Alyeska," translates to "The Great Land." Acquired from Russia in 1867 for about 7.2 million dollars, Alaska's climate ranges from average summer temperatures of 40°F-60°F to winter temperatures of 0°F-30°F.
The state is renowned for the Aurora Borealis, or Northern Lights and has been home to prominent individuals like American painter Bob Ross and singer-songwriter Jewel Kilcher.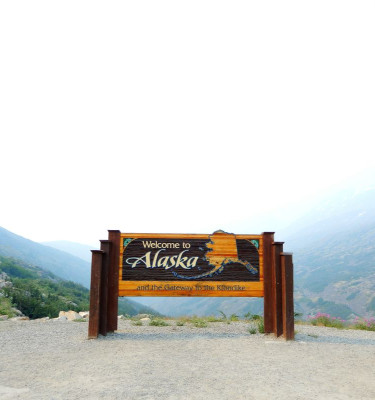 A collection of inspirational Alaska quotes has been gathered, offering a glimpse into this fascinating and often overlooked state.
Its unique wilderness beauty, interesting cities like Anchorage and Juneau and notable locations like Denali, America's highest point, provide ample reasons to explore Alaska.
These quotes serve as travel inspiration and can also be used for social media captions about Alaska.
---
Alaska Quotes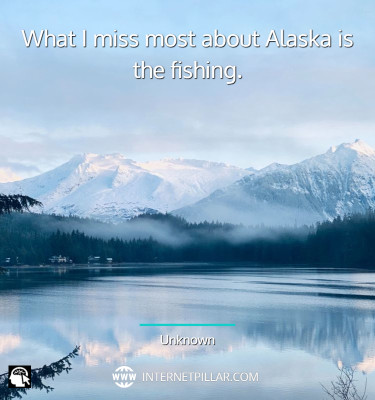 What I miss most about Alaska is the fishing. ~ Unknown.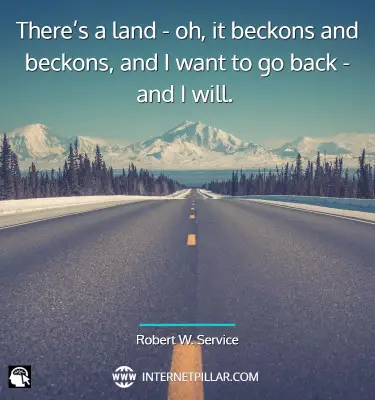 There's a land – oh, it beckons and beckons, and I want to go back – and I will. ~ Robert W. Service.
Welcome to Alaska. Here's a thousand dollars. ~ The Simpsons.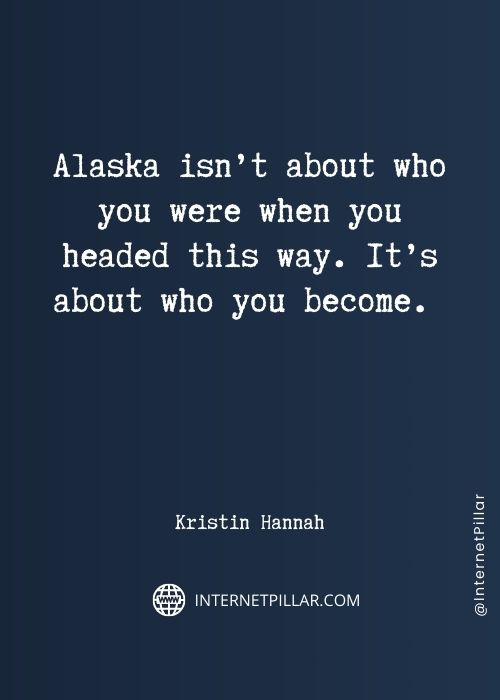 Alaska isn't about who you were when you headed this way. It's about who you become. ~ Kristin Hannah.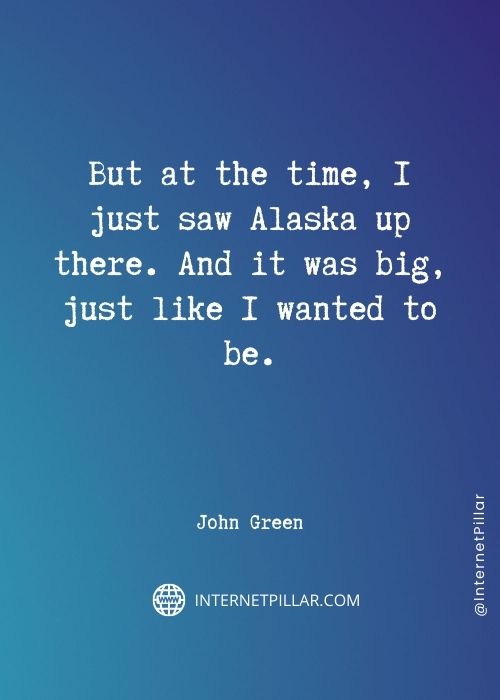 But at the time, I just saw Alaska up there. And it was big, just like I wanted to be. ~ John Green.
Alaska is our biggest, buggiest, boggiest state. ~ Edward Abbey.
This was one of the places people told me to go, it was one the big trips that you should see: Alaska. ~ Jeff Goldblum.
Alaska is what happens when Willy Wonka and the witch from Hansel and Gretel elope, buy a place together upstate, renounce their sweet teeth, and turn into health fanatics. ~ Sloane Crosley.
For sheer majestic geography and sublime scale, nothing beats Alaska and the Yukon. For culture, Japan. And for all-around affection, Australia. ~ Sam Abell.
Alaska's forests are the most welcoming I know. There are no ticks, no snakes, no poison ivy in Alaska. ~ Charles Kuralt.
The more I see as I sit here among the rocks, the more I wonder about what I am not seeing. ~ Richard Proennek.
Best Alaska Quotes
Oooh, if you have never been to Alaska, go there while it is still wild. My favorite uncle asked me if I wanted to go there, Uncle Sam. He said if you don't go, you're going to jail. That is how Uncle Sam asks you. ~ Bob Ross.
To the lover of wilderness, Alaska is one of the most wonderful countries in the world. ~ John Muir.
It's not like Alaska isn't wilderness – it mostly is. But most Alaskans don't live in the wild. They live on the edge of the wild in towns with schools and cable TV and stores and dentists and roller rinks sometimes. It's just like anyplace else, only with mountains and moose. ~ Tom Bodett.
When I was 23, I went to Alaska by myself into the glaciers of the coast range and climbed a mountain by myself. It was incredibly reckless, incredibly stupid. But I was lucky. And I survived, and I came back to tell my story. ~ Jon Krakauer.
Alaska's like two thousand miles away from anywhere cultured. No offense, Canada. ~ Meagan Macvie.
A changing environment will affect Alaska more than any other state, because of our location. I'm not one though who would attribute it to being man-made. ~ Sarah Palin.
The original settlers of Alaska apparently were Russian. ~ Jeff Goldblum.
Two kinds of flocks come up to Alaska, Cora. People running to something and people running away from something. The second kind-you want to keep your eye out for them. ~ Kristin Hannah.
Related Quotes: Alabama quotes and Arizona Quotes.
Famous Alaska Quotes
I went to Alaska as a young man just looking for adventure. And like so many of us in the '70s, we found it. ~ Tom Bodett.
Like any traveler, I'm always looking for those experiences that are almost unique to any place, and watching films around Alaska of the skies in winter made me want to taste those unworldly showers of light in person. ~ Pico Iyer.
We grew up in Alaska and will rep The North Face all day long. ~ John Gourley.
How about Alaska? We could move to Alaska. I bet they're not as serious about their football in Alaska. ~ Friday Night Lights.
Moose are the squirrels of Alaska. ~Tim Moon.
Relegating grizzlies to Alaska is about like relegating happiness to heaven; one may never get there. ~ Aldo Leopold.
I missed that question on Alaska. I hear they want to make it a state now. ~ Anson Williams.
What the hell's a baked Alaska? ~ Stumptown.
Note to self: Nuke Alaska. ~ Mykle Hansen.
We have a great life here in Alaska, and we're never going back to America again! ~ Simpsons.
Top Alaska Quotes
Yeah. If I were your age, startin' fresh… Alaska. It's the last frontier. Up there, you can be anything you want. ~El Camino.
Just try to be healthy and enjoy Alaska. That's the best thing. ~ Keith Morris.
Get lost in the beauty of the Alaskan wilderness. ~ Unknown.
I think we should drill up in Alaska. ~ Joe Barton.
Alaska itself is an unusual state. ~ Fareed Zakaria.
Kids in Alaska don't know they're growing up on the Last Frontier. It's just what they see on the license plates, and it's something tourists like to say a lot because they've never been around so many mountains and moose before. ~ Tom Bodett.
Historically, Alaska is a place that has attracted those fed up with conventionality. ~ Bill O'Reilly.
Nobody is accidentally in Alaska. The people who are in Alaska are there because they choose to be, so they've sort of got a real frontier ethic. The people are incredibly friendly, interesting, smart people – but they also stay out of each other's business. ~ Marcus Sakey.
Does my Alaska look fat in this map? ~ Mame McCutchin.
You can't just make yourself matter and then die, Alaska, because now I am irretrievably different. ~ John Green.
Alaska was the cure to the disease of my despair. ~ Summer Lane.
I don't understand why you're so obsessed with figuring out everything that happens here like we have to unravel every mystery. ~ John Green.
Popular Alaska Quotes
The tall cityscape that was Anchorage encroached on the wide skies. It was like a giant walking and uninhabited, unclaimed land. ~ Suzy Davies.
Well, how about Alaska? That's a state. ~ Sanford and Son.
It was a cold, bleak December morning in Alaska, a place so far north on planet Earth that if there were such things as popsicle people, they could live there quite comfortably. ~ Dew Pellucid.
Each evening the night swallowed the sun and gave the raven the sun's energy. He stored this power in his wings, tinged with the blue of Alaskan skies. ~ Suzy Davies.
The mountains are calling, and I must go.  ~ John Muir.
Despite everything, every piece of Alaska sang to me. I remembered every curve in the trails, every tree in the forest. It was familiar to me, comfortable. The more I thought about leaving it, the less I liked the idea. This was my home. ~ Summer Lane.
I'm going to Alaska. Moose Blood. Crazy stuff! Blows your head off. ~ Bee Movie.
John Muir, the famous naturalist, wrote in his journal that you should never go to Alaska as a young man because you'll never be satisfied with any other place as long as you live. And there's a lot of truth to that. ~ Tom Bodett.
The war between water and land is never-ending. ~ Corey Ford.
Under the lake by Anvil Creek, a man has been frozen much like another man in the same wilderness had been frozen, in this area of Alaska where silence is the loudest sound. ~ Lee Matthew Goldberg.
Beautiful Alaska Quotes
In terms of wilderness preservation, Alaska is the last frontier. This time, given one great final chance, let us strive to do it right. Not in our generation, nor ever again, will we have a land and wildlife opportunity approaching the scope and importance of this one. ~ Mo Udall.
Alaska has long been a magnet for dreamers and misfits, people who think the unsullied enormity of the Last Frontier will patch all the holes in their lives. The bush is an unforgiving place, however, that care nothing for hope or longing. ~ Jon Krakauer.
He should buy that dame a one-way ticket to Alaska. ~ The Strip.
I've been under the spell of the North ever since my childhood in Alaska. More and more, I've been returning to Alaska, and sometimes my adventures inspire a story. ~ Will Hobbs.
With the most powerful binoculars, I cannot see Alaska. ~ Mikheil Saakashvili.
It's from an Aleut word, Alyeska. It means 'that which the sea breaks against,' and I love that. ~ John Green.
The light in Alaska, in particular, is so beautiful. So beautiful! Such incredible light. ~ Sebastiao Salgado.
The Bermuda Triangle got tired of warm weather. It moved to Alaska. Now Santa Claus is missing. ~ Steven Wright.
---
So these were the 65 quotes about Alaska state of United States.
If you like these quotes and sayings, then you can also read my other popular blog posts on the topics of America quotes and American Flag quotes.