Aloha! This Hawaiian greeting means more than simply "hello."
It is a way of life that is characterized by love, peace, and compassion.
And even if you're not on a tropical island, you can instill the spirit of aloha in your day with these motivational quotes and sayings.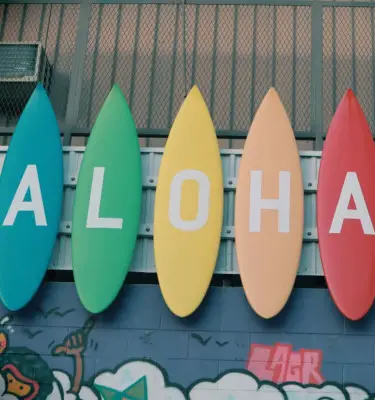 From nature's beauty to the power of love, these wise Aloha quotes will elevate your spirits and inspire you to live each day with aloha in your heart.
---
Table of Contents
Aloha Quotes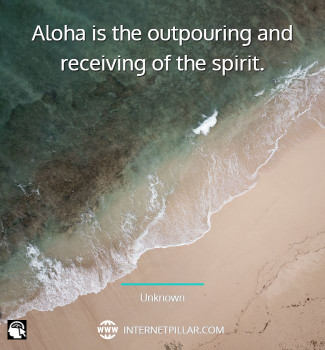 Aloha is the outpouring and receiving of the spirit. ~ Unknown.
Aloha is a value, one of unconditional love. ~ Unknown.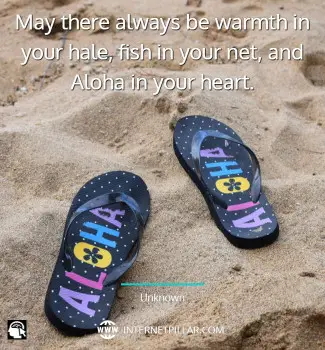 May there always be warmth in your hale, fish in your net, and Aloha in your heart. ~ Unknown.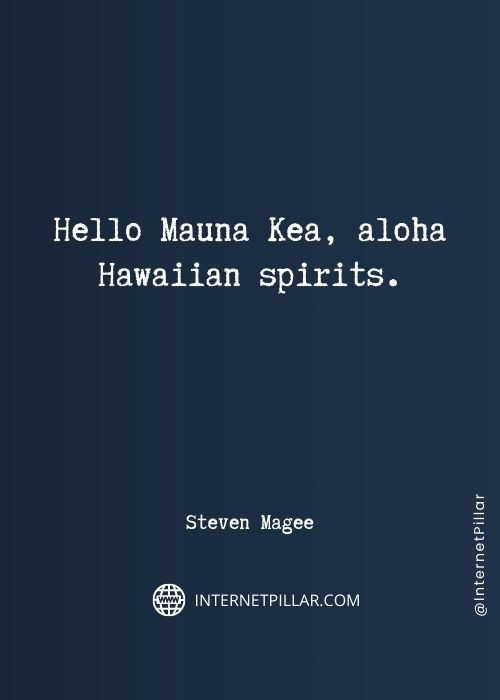 Hello Mauna Kea, aloha Hawaiian spirits. ~ Steven Magee.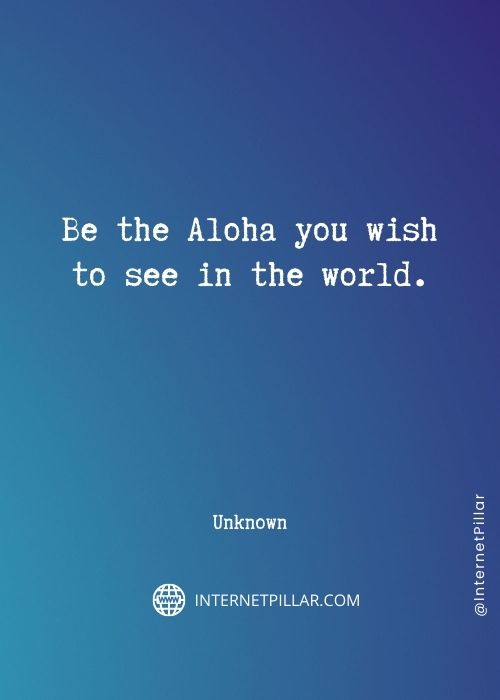 Be the Aloha you wish to see in the world. ~ Unknown.
No one has family in Hawaii. Everyone is family in Hawaii. ~ Richie Norton.
Meow is like aloha – it can mean anything. ~ Hank Ketcham.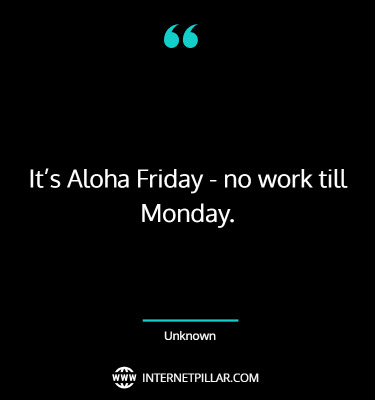 It's Aloha Friday – no work till Monday. ~ Unknown.
Happy Aloha Friday! ~ Unknown.
Best Aloha Quotes
The five principles of aloha, when practiced together, awaken our awareness of our human potential and the sacredness of our life. ~ Paul Pearsall.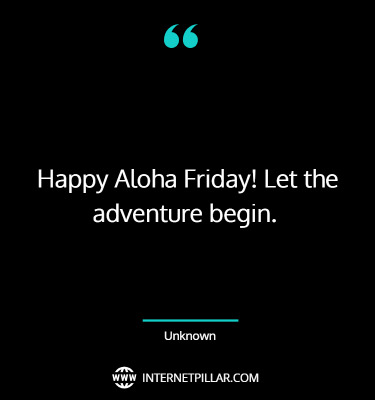 Happy Aloha Friday! Let the adventure begin. ~ Unknown.
Aloha is the unconditional desire to promote the true good of other people in a friendly spirit out of a sense of kinship. ~ Abraham Akaka.
I try to explain to them about the aloha spirit. And it's that spirit that I am absolutely convinced is what America is looking for right now. ~ Barack Obama.
The aloha spirit is real simple. You give and you give and you give . . . and you give from here (the heart), until you have nothing else to give. ~ Rell Sunn.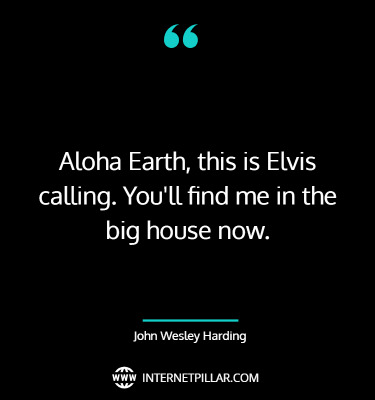 Aloha Earth, this is Elvis calling. You'll find me in the big house now. ~ John Wesley Harding.
I have the utmost respect and 'aloha' for black people – who have already suffered so much due to racial discrimination and acts of hatred. ~ Duane Chapman.
Famous Quotes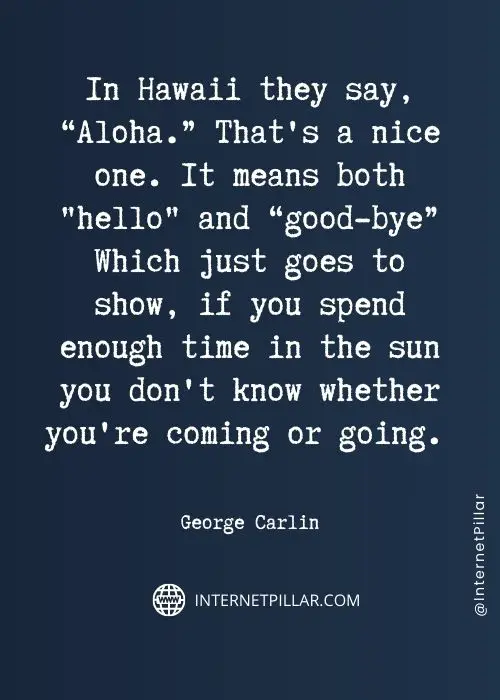 In Hawaii they say, "Aloha." That's a nice one. It means both "hello" and "good-bye" Which just goes to show, if you spend enough time in the sun you don't know whether you're coming or going. ~ George Carlin.
Aloha is compassion, love, light, harmony, peace and joy, all rolled into one. Aloha is choosing love in every moment, showing up and being lovingly present no matter what it looks like on the inner or outer. ~ Ken Ballard.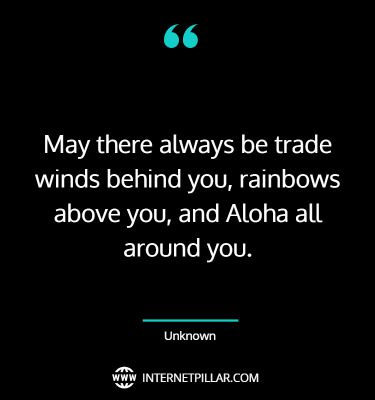 May there always be trade winds behind you, rainbows above you, and Aloha all around you. ~ Unknown.
When you go to Hawaii, it's all about "Aloha." It means hello, goodbye and I love you. ~ Gabriel Iglesias.
In Hawaii, we greet friends, loved ones or strangers with Aloha, which means love. Aloha is the key word to the universal spirit of real hospitality, which makes Hawaii renowned as the world's center of understanding and fellowship. Try meeting or leaving people with Aloha. You'll be surprised by their reaction. I believe it and it is my creed. Aloha to you. ~ Duke Kahanamoku.
That greeting is Aloha – love, I love you, my love to you. Good day – what is it more than an impersonal remark about the weather? How do you do – it is personal in a merely casual interrogative sort of way. But Aloha! It is a positive affirmation of the warmth of one's own heart-giving. My love to you! I love you! Aloha! ~ Jack London.
You don't have to live in Hawaii – or even be Hawaiian – to embrace the Aloha Spirit. ~ Mark Ellman.
I see life everywhere I look. I get the energy off the water. Hawaii really, when I am there, it feels like how we are supposed to live and how it's supposed to be: slower, just appreciating our surroundings. I love the people there and the aloha, the history. They're really rooted in something. ~ Natalie Maines.
---
So these were the 25 quotes about Aloha.
If you like these quotes and sayings, then you can also read my other popular blog posts on the topics of Calm Sea quotes and Calm Water quotes.
---
References and Sources: