Are you looking for the best Andy Bernard quotes? I've rounded up some of the famous Andy Bernard quotes, sayings, captions for Instagram, and status messages for you.
Andrew Baines Bernard is a fictional character played by Ed Helms on the NBC comedy television series The Office.
When Jim Halpert goes to the Stamford branch of paper distribution business Dunder Mifflin in Season 3, he is presented as the Regional Director in Charge of Sales, eventually merging with the Scranton branch later in the season.
Following the departure of Michael Scott, he becomes Regional Manager at the Scranton branch, thanks to Robert California, in the eighth season, however he is momentarily sacked and replaced by Nellie Bertram before being reinstated by new CEO David Wallace.
Andy's relationship with Wallace deteriorates over the ninth season as a result of Andy's lack of attention and professionalism, ending in Andy's termination by Wallace.
You will find below a curated collection of the popular 'Andy Bernard' quotes that you can read and share with others.
---
Best Andy Bernard Quotes
All right, fine. Just know that you made me do this. ~ Andy Bernard.
Toby, it's a joke. How are you not murdered every hour? ~ Andy Bernard.
I get super flexible when I'm nervous. ~ Andy Bernard.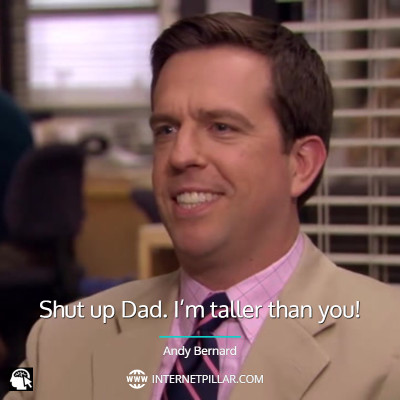 Shut up Dad. I'm taller than you! ~ Andy Bernard.
The entire office has come down with a pernicious case of the Mondays. ~ Andy Bernard.
How do I find out if a girl is interested? Great question. I usually just assume that they're not. ~ Andy Bernard.
I found the best "tentist" on the east coast. He personally tented Giuliani's first and third weddings. And I got him. I got him! ~ Andy Bernard.
New guy sucks. Calls me the NardMan. I'm the NardDog, okay? Nardman is my father. ~ Andy Bernard.
I've been trying to act and manage this branch. Half the time I don't know if I'm wearing my stage makeup or my work makeup. ~ Andy Bernard.
Famous Andy Bernard Quotes
You give me a gift? Bam! Thank You note. You invite me somewhere? Pow! RSVP. You do me a favor? Wham! Favor returned. Do not test my politeness. ~ Andy Bernard.
THE FIRE IS SHOOTING AT US! ~ Andy Bernard.
I'm petrified of nipple chafing. Once it starts, it's a vicious circle. You have sensitive nipples, they chafe, so they become more sensitive, so they chafe more. It's a tough one. Gotta take precautions. ~ Andy Bernard.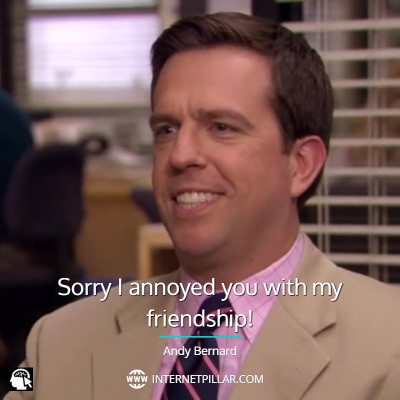 Sorry I annoyed you with my friendship! ~ Andy Bernard.
You're the deuce I never wanna drop. ~ Andy Bernard.
I've always been the guy who can rally other people to rebel. In high school, I organized a walk out over standardized testing. Got over 500 students to just skip the SATs. At the last second I chickened out, took it anyway got a twelve twenty. Always regretted it… I feel lachrymose. ~ Andy Bernard.
If I had to put Dwight's chances into a percentage, I would say he has none percent chance. ~ Andy Bernard.
Protect her from what? Bears, you idiot? When's the last time you saw a damn bear in Scranton? ~ Andy Bernard.
I'm always thinking one step ahead, like a carpenter that makes stairs. ~ Andy Bernard.
Great Andy Bernard Quotes
Well, Michael, thank you for welcoming me to your little kingdom. Mike. Nifty! They are nifty! ~ Andy Bernard.
I am a man. I'm a bigger man than you'll ever be! I would never sleep with another man's fiancee! ~ Andy Bernard.
There are two things I am passionate about: recycling and revenge. ~ Andy Bernard.
I think I said doop instead of boop at one point. ~ Andy Bernard.
Every little boy fantasizes about his fairytale wedding. ~ Andy Bernard.
Okay, all right. Groped you good. Off to Hollywood! ~ Andy Bernard.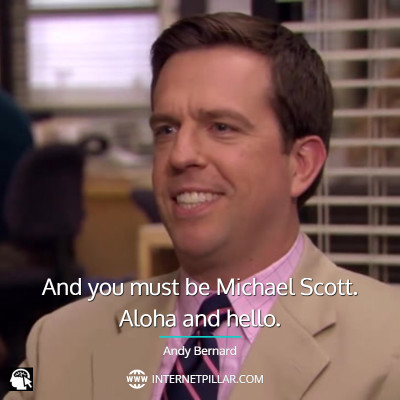 And you must be Michael Scott. Aloha and hello. ~ Andy Bernard.
Women cannot resist a man singing show tunes. It's so powerful, even a lot of men can't resist a man singing show tunes. ~ Andy Bernard.
My parents used to scramble to find babysitters, so they could take my little brother to do stuff. ~ Andy Bernard.
Funny Andy Bernard Quotes
Andrew Bernard doesn't lose contests, he wins them… or he quits them for being unfair. ~ Andy Bernard.
I am a great interviewee. Why? Because I have something no one else has, my brain, which I use to my advantage when advantageous. ~ Andy Bernard.
At my last headshot sitting, I was so distracted wondering what I was missing at work that I came across totally manic. And I was going for zany. ~ Andy Bernard.
Torn scrotum. Still on the mend, so not good timing. ~ Andy Bernard.
Golden Girls. That's a golden ticket idea, right? How great was that show? Golden Grahams, another Is it? I don't get this. ~ Andy Bernard.
You are a critical part of this seminar. You're the charming warm-up guy. If the seminar was a meal, you'd be the amuse-bouche. ~ Andy Bernard.
I know a few things about love. Horrible, terrible, awful, awful things. ~ Andy Bernard.
In my family, we don't really go out and get things. We put them on a list and Rosa goes and gets them. ~ Andy Bernard.
Top Andy Bernard Quotes
You can't let a girl feel good about herself. It will backfire on you. Every compliment has to be backhanded. 'Oh I like your dress, but I'd like it more if you had prettier hair.' ~ Andy Bernard.
I wish there was a way to know you're in the good old days, before you actually left them. ~ Andy Bernard.
I'm not Rumpelstiltskin Jim. I can't keep spinning gold out of your shit! ~ Andy Bernard.
Should not be a problem. I minored in history in the Ivy League school which I attended. ~ Andy Bernard.
I'm the NardDog. The NardMan is my father. ~ Andy Bernard.
Guys, word of advice. Speaking as a former baby. Don't get too hung up on baby names. I was named Walter Jr. after my father until I was about six or so, when my parents changed their minds. ~ Andy Bernard.
Toby! Hey, I changed my mind again. I am gonna leave Dunder Mifflin to pursue acting after all. ~ Andy Bernard.
Bear Stearns, Lehman Brothers, AIG, my summer at Enron. ~ Andy Bernard.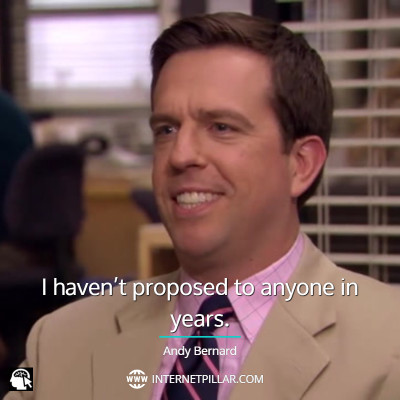 I haven't proposed to anyone in years. ~ Andy Bernard.
Oh, it's on. Like a prawn who yawns at dawn. ~ Andy Bernard.
Popular Andy Bernard Quotes
When I got the nickname Bonerchamp, that's when I became me. ~ Andy Bernard.
He may have won the battle but I… will win the next battle. ~ Andy Bernard.
What if Dwight dies and I still owe him something? That is a recipe for a ghost. ~ Andy Bernard.
What I wouldn't give for one of Phyllis's classic room clearing farts right now. ~ Andy Bernard.
I'm talking about you guys! Who in this room, right now, wants to buy some paper? Let's get high on our own supply! ~ Andy Bernard.
Yeah so life gives you lemons and you just have to eat them rinds and all. And if you don't want to eat them your ex girlfriend will shove them down your throat with the help of her hunky new boyfriend. ~ Andy Bernard.
It's gotta rhyme with piece. Fancy Feast! Break me off a piece of that Fancy Feast! ~ Andy Bernard.
---
So these were the 57 top Andy Bernard quotes and sayings from 'The Office'.
Tell me in the comments section, which Andy Bernard quotes were your favorite?
If you like these quotes and sayings, then you can also read my other posts on Rick Ross quotes and Elizabeth Proctor quotes.
You are welcome to share these quotes and sayings with your family and friends on WhatsApp, Facebook, Twitter, Instagram, and Pinterest and inspire them to take their life to the next level and achieve greatness and success!