Andrew Charles Grammer is an American singer, songwriter and record producer signed to S-Curve Records.
Born on December 3, 1983, in Los Angeles, he is the son of Kathryn Willoughby and recording artist Robert Crane "Red" Grammer.
Growing up in Chester, New York, Grammer was musically inclined, playing instruments like trumpet, guitar and piano and started songwriting at 15.
He attended California State University, Northridge, graduating with a B.A. in music industry studies.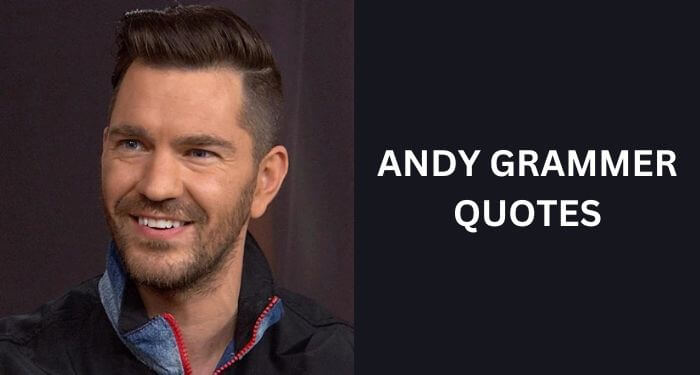 Grammer's breakthrough came from his debut album in 2011 with hits like "Keep Your Head Up" and "Honey, I'm Good", the latter being his most successful.
He began his music career busking in Santa Monica and was discovered in 2009. Grammer's influences span guitarists like Jason Mraz to hip-hop artists like Jay-Z.
He's married to Aijia Grammer and they have two daughters.
Andrew Grammer most famous song is "Honey, I'm Good".
I have made a list of best quotes by Andy Grammer.
---
Best Andy Grammer Quotes
I don't really think in terms of goals. ~ Andy Grammer.
I have a thing: I will always put money in for any street musician anywhere in the country, anywhere in the world. It's like giving back the money I got. ~ Andy Grammer.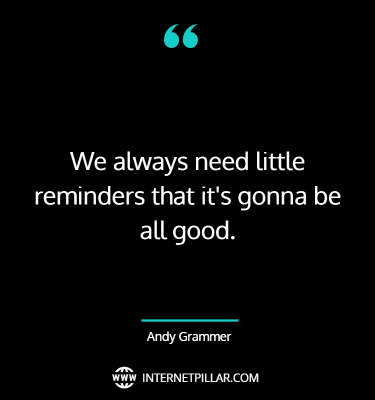 We always need little reminders that it's gonna be all good. ~ Andy Grammer.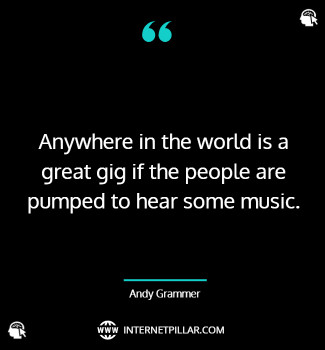 Anywhere in the world is a great gig if the people are pumped to hear some music. ~ Andy Grammer.
I love me some 'Family Guy.' ~ Andy Grammer.
Life is hard, you know. If I can give someone on the radio three minutes to make them feel happier, that's a cool thing. ~ Andy Grammer.
Who are you writing this for? For a commercial reason, or because you want to make great art and give it to your fans? ~ Andy Grammer.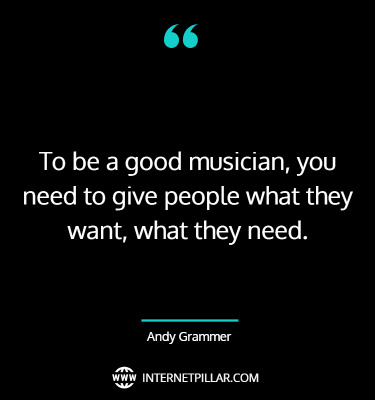 To be a good musician, you need to give people what they want, what they need. ~ Andy Grammer.
Seeing what kinds of songs work in other cities and other parts of the world was pretty eye-opening. I know it changed how I approached the second record big-time. ~ Andy Grammer.
Famous Andy Grammer Quotes
I'm a singer-songwriter, but we get loud and we jump around. We have dance moves; we freak out. It's really fun, man! ~ Andy Grammer.
Life is hard, but there are moments, sometimes hours – and, if you're really lucky, full days – where everything feels just right. ~ Andy Grammer.
I wrote my first single, 'Keep Your Head Up,' and that's what got me on the radio and helped me develop a whole base around the country. ~ Andy Grammer.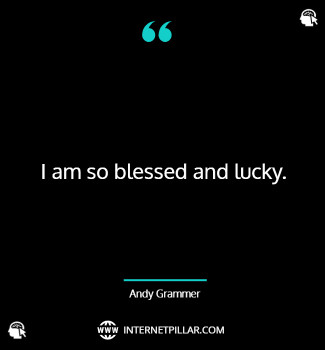 I am so blessed and lucky. ~ Andy Grammer.
I think I was 15 the first time I wrote a good song. ~ Andy Grammer.
I'm a humble guy, but I'm audacious. ~ Andy Grammer.
Touring is really hard because you're gone for three months at a time. ~ Andy Grammer.
It's a weird business. You're trying to write something that's built on magic, which is pretty stressful. ~ Andy Grammer.
It's one thing when you're driving to go play at a radio station and you hear it on that station. It's another thing when you're just out in the middle of nowhere, and the song just comes on the radio, and you're like "Oh my God! ~ Andy Grammer.
Top Andy Grammer Quotes
You gain a level of fearlessness performing when no one's there to see you. ~ Andy Grammer.
I think it would be really brutal to put on a persona and get famous for that persona. Like, 'I'm number one, I'm the best!' because that sounds like a lot of pressure. ~ Andy Grammer.
I love songs, and I love to tell stories, and so a lot of times, if you really want a good story, you got to flip the radio dial over to country. ~ Andy Grammer.
We all need songs that bring out our inner swagger just listening to it. ~ Andy Grammer.
I don't know how to dance, and I don't have any extra flexible skills. ~ Andy Grammer.
It's not hard to create a song, but to write a song that's really going affect somebody? That takes a hell of a lot of time. ~ Andy Grammer.
I love magic. Like, 'pull a scarf out of your fake thumb' magic. I have a legit bag of 'Magic Stuff' in my garage. ~ Andy Grammer.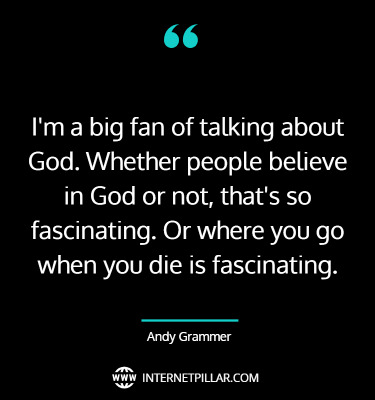 I'm a big fan of talking about God. Whether people believe in God or not, that's so fascinating. Or where you go when you die is fascinating. ~ Andy Grammer.
Women take so long to get ready, but when they get out of the bathroom, they look smokin' hot. That's the struggle of men throughout history, waiting by the door. The wait is so worth it. Always. ~ Andy Grammer.
Popular Andy Grammer Quotes
When your dad makes a living as a children's singer, you figure, 'I can do anything.' He made up his own job and did it. ~ Andy Grammer.
Stevie Wonder makes my heart happy and is my spirit animal. That is all. ~ Andy Grammer.
I think that's what makes a great show: when the performers onstage aren't putting on a show, they're legitimately just having a freaking awesome time. ~ Andy Grammer.
You either create something there on the street, or nothing happens. It's brutal. But if you go through that for two or three years, it really toughens you up. ~ Andy Grammer.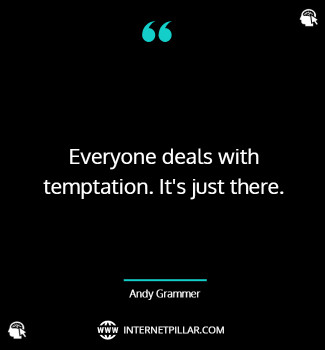 Everyone deals with temptation. It's just there. ~ Andy Grammer.
As a musician, you just want to be able to do what you love. ~ Andy Grammer.
I'm from New York, so I'm simultaneously a snob and will also eat any pizza you put in front of me. ~ Andy Grammer.
Only rainbows after rain…The sun will always come again. ~ Andy Grammer.
Well, there are two kinds of happiness, grounded and ungrounded. Ungrounded happiness is cheesy and not based on reality. Grounded happiness is informed happiness based on the knowledge that the world sometimes sucks, but even then you have to believe in yourself. ~ Andy Grammer.
You have to do what you want to do, and I genuinely believe that if you start interacting in the world that way that there is a respect in that. ~ Andy Grammer.
---
So these were the 38 top quotes about Andy Grammer.
If you like these quotes and sayings, then you can also read my other posts on Michael Shermer quotes and Ralph Abernathy quotes.