Bill Burr is a popular standup comedian, podcaster and actor known for his witty and observational humor.
He studied radio at Emerson College and began doing standup in 1992. In 1996 Burr landed a TV role on "Townies" followed by guest appearances on various shows and small film parts.
His first comedy album "Emotionally Unavailable" was released in 2003 and he started his podcast in 2007.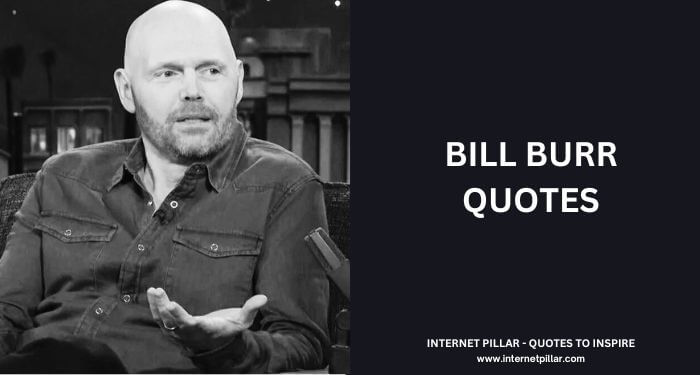 Burr has had specials on late-night shows and a recurring role on "Breaking Bad."
His comedy album "Live at Andrew's House" was released in 2014.
He continues to tour and perform standup nationwide.
Here are some of the most funniest quotes by Bill Burr.
---
Top Bill Burr Quotes on Success, Happiness, and Life
1. "Only an adult with dying dreams can appreciate how awesome it is to have a dog." ~ (Bill Burr).
2. "There is no reason to hit a woman. And I was just like, really? I could give you like 17 right off the top of my head." ~ (Bill Burr).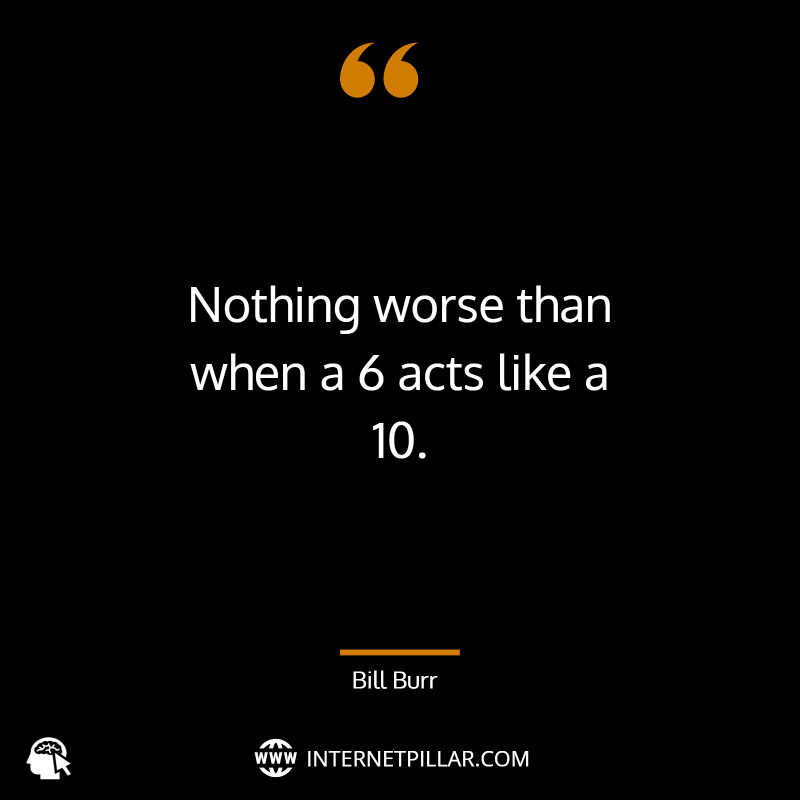 3. "Nothing worse than when a 6 acts like a 10." ~ (Bill Burr).
4. "I'm a standup comedian who gets to act. I'm never going to not do standup. I love doing it and when I go through periods where I'm doing a lot of acting work, I still do standup." ~ (Bill Burr).
5. "You wanna know how you know you're informed as a protestor? They don't show your interview on TV." ~ (Bill Burr).
6. "Deny your emotions and act like you have answers." ~ (Bill Burr).
7. "Your twenties is all about taking your childhood out on everyone that you run into." ~ (Bill Burr).
8. "To me this is not yelling. I am not yelling. I'm just passionate about my opinions and I want to tell you all of them before you start talking again." ~ (Bill Burr).
9. "I think I know how to raise a kid. You just play catch with 'em. You just talk about life, and you distract them by throwing the ball. They don't even notice that you're filling up their heads with your theories." ~ (Bill Burr).
10. "I am so pro-swine flu it's ridiculous." ~ (Bill Burr).
11. "Gold diggers are the wife beaters of men!" ~ (Bill Burr).
12. "Haven't you noticed that every time the government f-ks up McDonald's has a new sandwich?" ~ (Bill Burr).
Best Bill Burr Quotes
13. "A lot of my fears and anxieties are the fears and anxieties of a six-year-old boy. When I finally confront them, they're really small." ~ (Bill Burr).
14. "My favorite kind of humor is basically if it was happening to you, it wouldn't be funny, but to observe it, it's hilarious." ~ (Bill Burr).
15. "I've never wanted to kill myself over anything major. It's always the little things that do me in." ~ (Bill Burr).
16. "You have no idea how long a year is until you're stone sober." ~ (Bill Burr).
17. "Pitbulls are like a gun you can pet." ~ (Bill Burr).
18. "I'm not easy to live with. My wife is a saint." ~ (Bill Burr).
19. "Let's go to Brunch. What a great idea! Why would you want to sleep in on a Sunday when you can go pay $18 for eggs? Now, you're thinking." ~ (Bill Burr).
20. "I still remember the first gig where I got people going, it was Rascals in New Jersey, and the place was packed. I was scared. People were expecting me to be funny. I gotta be honest, every time I walk into a club, it's that same fear." ~ (Bill Burr).
21. "I wish they would teach it in schools: Give people the belief that they are going to do well. A lot of people are really talented and scared to follow their talent because you don't know where it's going." ~ (Bill Burr).
23. "You know, it wasn't even that I'm a funny guy, I just loved stand-up comedy and I wanted to do it. It was one of the few things in my life that I knew I was going to be able to do, and I also felt as though I'd be able to do it the way I wanted to do it." ~ (Bill Burr).
24. "Patrice O'Neal is the best comic I ever saw." ~ (Bill Burr).
25. "Podcasting is great. Total freedom." ~ (Bill Burr).
26. "What would you rather be? 52 and look 52, or 52 and look like a 28-year-old lizard?" ~ (Bill Burr).
27. "I'm not going to lie. I am a psycho. Luckily, I get most of it out on stage." ~ (Bill Burr).
28. "Being a comedian is an incredible thing, but it can be scary sometimes." ~ (Bill Burr).
29. "I gotta be honest with you. I'm kind of jealous of the way my dad gets to talk to my mom sometimes. Where are all those old-school women you can just take your day out on? When did they stop making those angels?" ~ (Bill Burr).
30. "I bet The Walking Dead gets really low ratings out in Montana, just because all they need to do is look out their f-king window, am I right?" ~ (Bill Burr).
Famous Bill Burr Quotes
31. "I used to think you had to live this miserable life and that that would make you funnier, but you don't. The misery will come. The misery will find you." ~ (Bill Burr).
32. "Once you do a joke and it works it's only good for so long, like shooting fish in a barrel." ~ (Bill Burr).
33. "Oh look, an ATM! Ok, here we go! I lost all my money, now what do I do? Get a gun! Rob a casino! Good idea! Look at all the lights! This is beautiful." ~ (Bill Burr).
34. "The first guy who got Aids was a French flight attendant. How you like that Frenchie! You know when I come back and run for office, that may be the one that comes back and haunts me." ~ (Bill Burr).
35. "If I can sell out clubs and theaters and play dirtbags in movies, and get blown up in a car or get the crap beat out of me in a movie, that's good for me; I'm good." ~ (Bill Burr).
Hilarious Bill Burr Quotes
36. "Everyone should just drive out to the Mojave Desert and just experience it, and it's a fun place to live." ~ (Bill Burr).
37. "Do you know how many times a week people ask me why I'm yelling?" ~ (Bill Burr).
38. "I love making movies, and being in any that I can be in. I'd like to be in those giant movies, as the fifth or sixth lead, and have three or four killer scenes. You don't have the responsibility of the entire movie being on you. I like those roles. I'm shooting for the middle." ~ (Bill Burr).
39. "The only time I get sick of making people laugh is when I'm in a non-writing-joke mode, and I just can't seem to come up with anything new that's funny. That's a tough place to be as a comedian." ~ (Bill Burr).
40. "My parents have a ridiculous work ethic; my dad just works, works, works, works, works. I think it would be hard to find a guy who's logged more hours than that guy." ~ (Bill Burr).
41. "I was painfully shy when I was younger but at some point you've gotta grow up. I think the genius in the man-boy thing is you tap into a woman's motherly instincts." ~ (Bill Burr).
42. "If you try to deliver a funny line in a funny way, it comes out as wacky and you ruin the scene." ~ (Bill Burr).
43. "When I watch 'Breaking Bad,' my stomach is in knots." ~ (Bill Burr).
44. "There is a very difficult period in a comedian's career – it's that window of time where you're good enough to draw tickets but nobody knows you yet." ~ (Bill Burr).
45. "Business runs hot and cold so the more you're in charge of your own destiny, the better off you are." ~ (Bill Burr).
Funny Bill Burr Quotes
46. "I'm always looking at new ways to tell a joke so that it doesn't get stale while working on new jokes every night or I would go absolutely crazy and would want to kill myself. I just want to go in there and talk about what's bugging me." ~ (Bill Burr).
47. "Working on the Dave Chappelle show was amazing." ~ (Bill Burr).
48. "Being a stand-up comic, this isn't a stepping-stone for me; it's what I do, and this is what I'm always going to do. And even if I do a TV show, the only reason to do a TV show is to get more people to know me to come out to my stand-up shows." ~ (Bill Burr).
49. "I'm trying to get away from trashing women, to be honest. I think I've done enough of that in my career." ~ (Bill Burr).
50. "I used to always work in, like, warehouses, because if my boss gave me a rough time, I could just get on a forklift and just, like, drive away from him." ~ (Bill Burr).
51. "Carnegie Hall is as good as they say it is. It's not like Stonehenge which looks great in books but then you go there and it's a pile of rocks next to a highway. There's actually a highway right next to it, but you don't see that in pictures." ~ (Bill Burr).
52. "Acting in a sitcom or a comedy movie is like a comedy routine with the setups." ~ (Bill Burr).
53. "I heard a quote once in a documentary about a band that said you're better off owning everything 100 percent and selling 20,000 copies of an album than signing with a record company and selling a million copies. There has never been a truer statement about show business than that." ~ (Bill Burr).
54. "People make a big deal about podcasts but it's basically an online radio show with the sound effects and sidekicks, but because you can curse it's more like satellite radio. Most of the podcasters were morning guys who were fired when Clear Channel decimated the radio landscape." ~ (Bill Burr).
55. "I do my podcast on Mondays for a specific reason. A lot of people go to work and don't like their jobs. If you give people something to laugh about, it's good." ~ (Bill Burr).
56. "You have to understand how bad I wanted to be a comedian, how much I loved doing it. I still can't believe I get to do this for a living and have people come up and want to see me." ~ (Bill Burr).
57. "I love doing radio, and I love doing stand-up, obviously. I'm good flying up to four hours, but anything past that, I want to kill myself." ~ (Bill Burr).
58. "If this goes into sweatshop labor, I'm quitting this podcast." ~ (Bill Burr).
59. "Comedians have the ability to feel other emotions." ~ (Bill Burr).
60. "I've battled with that type of stuff, but what I've found is that by doing stand-up, I've actually learned about depression and how to combat it. I don't have clinical, but I've definitely had my bouts with it." ~ (Bill Burr).
Short Bill Burr Quotes
61. "I love doing radio, and I love doing stand-up, obviously." ~ (Bill Burr).
62. "I think it's a privilege to be able to fly to somewhere where people want to see my show." ~ (Bill Burr).
63. "I just do my act. If people in England don't get my joke I make fun of myself for telling it." ~ (Bill Burr).
64. "Like most comics, I tried to come up with a sitcom idea that was based around my life. And it didn't work out. But maybe because it didn't work out, that's why I ended up on 'Breaking Bad;' I don't know." ~ (Bill Burr).
65. "I love my dog. I hate bankers. I have issues with women. In my head, I'm a great guy." ~ (Bill Burr).
---
Here is Bill Burr in full flow with his stand-up comedy.
---
So these were the 83 quotes by Bill Burr.
If you like these quotes and sayings, then you can also read my other popular blog posts on the topics of Rosa Parks Quotes and Helen Keller Quotes.