A camping trip is a thrilling experience full of pleasure and excitement!
It's an activity that encourages us to connect with nature and one of the delights is the chance to gather around a blazing campfire and share tales and laughs beneath the open sky.
This collection of the best camping quotes is intended to awaken the adventurer in all of us.
These quotes about camping are ideal for anybody who fantasizes about leaving the hustle and bustle of daily life to spend a peaceful night under a blanket of glittering stars.
These phrases reflect the spirit of camping, from appreciating the calm of the outdoors to savoring the simple pleasures of a campfire.
They remind us of the distinct joy of pitching a tent in the woods, finding calm under a starlit sky and forming relationships over a campfire.
---
Table of Contents
Inspiring Camping Quotes
Camping hair don't care. ~ Unknown.
Campers have some more fun. ~ Unknown.
Home is where you park it. ~ Unknown.
Life is best when you're camping. ~ Unknown.
Home is where you pitch your tent. ~ Unknown.
Good things come to those who camp. ~ Unknown.
Camping – because therapy is expensive. ~ Unknown.
The woods are lovely, dark and deep… ~ Robert Frost.
Related Quotes: 73 Vacation Quotes to Inspire You To Travel and 70 Best Travel Quotes for Travelers and Wanderlust Person
Best Camping Quotes
Cold air dark night warm fire bright stars. ~ Unknown.
I do have a retirement plan … I plan on camping. ~ Unknown.
I don't need Therapy. I just need to go camping. ~ Unknown.
Light a campfire and everyone's a storyteller. ~ John Geddes.
Just another coffee drinker with a camping problem. ~ Unknown.
How glorious a greeting the sun gives the mountains! ~ John Muir.
In the woods we return to reason and faith. ~ Ralph Waldo Emerson.
Amazing Camping Sayings
A bad day camping is still better than a good day working. ~ Unknown.
Camping is nature's way of promoting the motel business. ~ Dave Barry.
Real freedom lies in wildness, not in civilization. ~ Charles Lindbergh.
There is no such thing as bad weather, just soft people. ~ Bill Bowerman.
It is almost impossible to watch a sunset and not dream. ~ Bern Williams.
Wilderness is not a luxury but necessity of the human spirit. ~ Edward Abbey.
A crude meal, no doubt, but the best of all sauces is hunger. ~ Edward Abbey.
In a well-ordered universe… camping would take place indoors. ~ Morgan Matson.
Perfect Camping Quotes
I went camping for 33 days, and now everybody seems to care. ~ Colleen Haskell.
Before men ever dreamed of shelter, campfires were their homes. ~ Sigurd Olson.
There's no such thing as a bad camping trip – only unprepared campers. ~ Unknown.
The glories of a mountain campfire are far greater than may be guessed. ~ John Muir.
The fire is the main comfort of camp, whether in summer or winter. ~ Henry David Thoreau.
Look deep into nature, and then you will understand everything better. ~ Albert Einstein.
There's no wi-fi in the mountain but I promise you'll find a better connection. ~ Unknown.
Quotes about Camping
My wish is to stay always like this, living quietly in a corner of nature. ~ Claude Monet.
I go to nature to be soothed and healed, and to have my sense put in order. ~ John Burroughs.
We had come a far piece into a strange land, a trail lit by lonely campfires. ~ Louis L'Amour.
I peered up through the tent's mesh roof at faraway stars, faint glitter, giddy. ~ Aspen Matis.
Roses are red, mud is brown, the wood are better than any night on the town. ~ Earl Dibbles Jr.
It's impossible to go for a walk in the woods and be in a bad mood at the same time. ~ Unknown.
The wilderness holds answers to questions we have not yet learned to ask. ~ Nancy Wynne Newhall.
Fun Camping Quotes
If I went on vacation, I'd rather go camping than stay in some four-star hotel. ~ Travis Fimmel.
The greatest threat to the planet is the belief someone else will take care of it. ~ Robert Swan.
Almost everything will work again if you unplug it for a few minutes, including you. ~ Anne Lamott.
A perfect day would be to get into the car, drive out to Yosemite, and go camping. ~ Michael Steger.
Remember, a good marriage is like a campfire. Both grow cold if left unattended. ~ H. Jackson Brown, Jr.
And at the end of the day, your feet should be dirty, your hair messy and your eyes sparkling. ~ Shanti.
The first campfire didn't exist until something nearly human shambled over and camped near it. ~ Buck Tilton.
The camp is the space that is opened when the state of exception begins to become the rule. ~ Giorgio Agamben.
Best Camping Captions
The stars were better company anyway. They were very beautiful, and they almost never snored. ~ David Eddings.
We now no longer camp as for a night, but have settled down on earth and forgotten heaven. ~ Henry David Thoreau.
Sleep under a blanket of stars, and your heart will forever be kept warm by your love of life. ~ Anthony T. Hincks.
If people sat outside and looked at the stars each night, I'll bet they'd live a lot differently. ~ Bill Watterson.
The farther one gets into the wilderness, the greater is the attraction of its lonely freedom. ~ Theodore Roosevelt.
Perhaps there is no thrill so great as that which comes with a walk in the freshness of morning air. ~ Helen Keller.
Inspirational Camping Quotes
How is it that one match can start a forest fire, but it takes a whole box of matches to start a campfire? ~ Christy Whitehead.
Life is a fatal adventure. It can only have one end. So why not make it as far-ranging and free as possible. ~ Alexander Eliot.
Now I see the secret of making the best person, it is to grow in the open air and to eat and sleep with the earth. ~ Walt Whitman.
Cooking and eating food outdoors makes it taste infinitely better than the same meal prepared and consumed indoors. ~ Fennel Hudson.
Awesome Camping Quotes
My tent doesn't look like much but, as an estate agent might say, It is air-conditioned and has exceptional location. ~ Fennel Hudson.
I think camping is one of those things where if you're forced into it as a child, you'll probably hate it as an adult. ~ Jeremy Irvine.
I've been camping and stuff, but if you left me in the woods I'd probably just curl up and cry until someone found me. ~ Norman Reedus.
A great many people, and more all the time, live their entire lives without ever once sleeping out under the stars. ~ Alan S. Kesselheim.
Best Quotes About Camping
I felt my lungs inflate with the onrush of scenery. Air, mountains, tree, people. I thought, 'This is what it is to be happy.' ~ Sylvia Plath.
Camping is not a date; it's an endurance test. If you can survive camping with someone, you should marry them on the way home. ~ Yvonne Prinz.
Camping: The art of getting closer to nature while getting farther away from the nearest cold beverage, hot shower, and flush toilet. ~ Unknown.
It always rains on tents. Rainstorms will travel thousands of miles, against prevailing winds for the opportunity to rain on a tent. ~ Dave Barry.
You don't have to say everything to be a light. Sometimes a fire built on a hill will bring interested people to your campfire. ~ Shannon L. Alder.
In a cool solitude of trees, where leaves and birds a music spin, mind that was weary is at ease, new rhythms in the soul begin. ~ William Kean Seymour.
Nature has been for me, for as long as I remember, a source of solace, inspiration, adventure, and delight; a home, a teacher, a companion. ~ Lorraine Anderson.
Some national parks have long waiting lists for camping reservations. When you have to wait a year to sleep next to a tree, something is wrong. ~ George Carlin.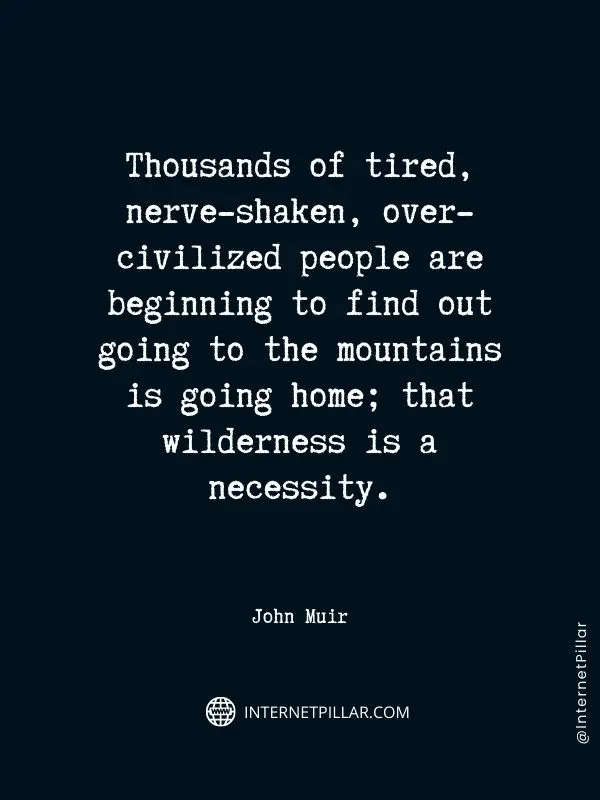 Thousands of tired, nerve-shaken, over-civilized people are beginning to find out going to the mountains is going home; that wilderness is a necessity. ~ John Muir.
To be whole. To be complete. Wildness reminds us what it means to be human, what we are connected to rather than what we are separate from. ~ Terry Tempest Williams.
Camping rules. Stare at the fire. Listen to the birds. Jump in the lake. Read. Take a nap. Relax. Watch the sunset. Cook over the fire. Breathe the fresh air. ~ Unknown.
---
So these were the 70 Quotes about Camping.
If you like these quotes, then you can also read our other posts on Happy Friday Quotes and New Month Quotes and Greek Mythology Quotes and Social Work Quotes and Special Needs Quotes.
---
External Sources: