Chapter Closed means that challenging part of our lives has ended and we need to move on.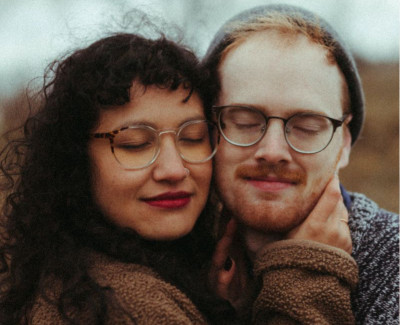 ---
Chapter Closed Quotes
There comes a time when you have to choose between turning the page and closing the book. ~ Josh Jameson.
Your soul knows when it is time to close a chapter…. ~ Unknown.
You can't start the next chapter of your life if you keep re-reading your last one. ~ Michael McMillian.
Life is like a book that never ends. Chapters close, but not the book itself. ~ Marianne Williamson.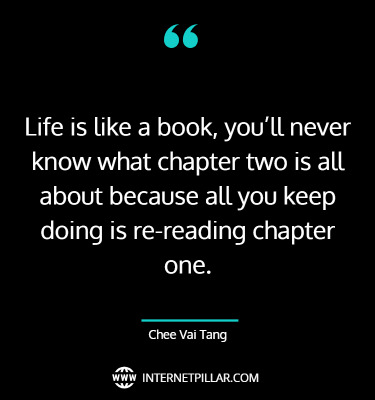 Life is like a book, you'll never know what chapter two is all about because all you keep doing is re-reading chapter one. ~ Chee Vai Tang.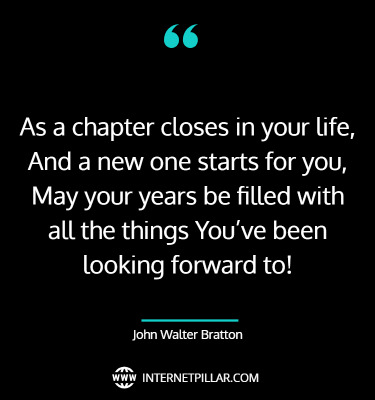 As a chapter closes in your life, And a new one starts for you, May your years be filled with all the things You've been looking forward to! ~ John Walter Bratton.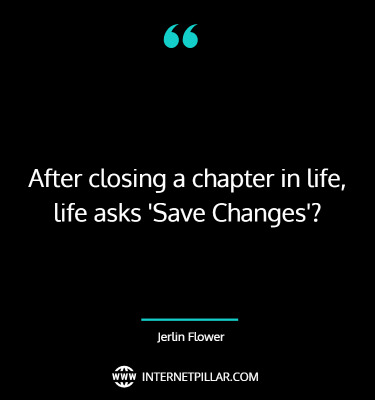 After closing a chapter in life, life asks 'Save Changes'? ~ Jerlin Flower.
It was like I closed a chapter in my life and I am now able to move on. By completing that, I've just proven that if I set my mind to it, I can do it. ~ Aaron Lindemann.
It is always important to know when something has reached its end. Closing circles, shutting doors, finishing chapters, it doesn't matter what we call it; what matters is to leave behind us in the past those moments in life that are over. ~ Paulo Coelho.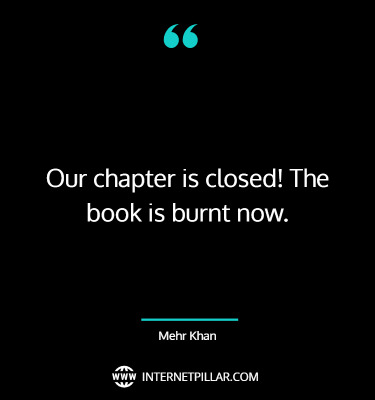 Our chapter is closed! The book is burnt now. ~ Mehr Khan.
Live albums are very important for Rush, and they became sort of a closing chapter for us. ~ Geddy Lee.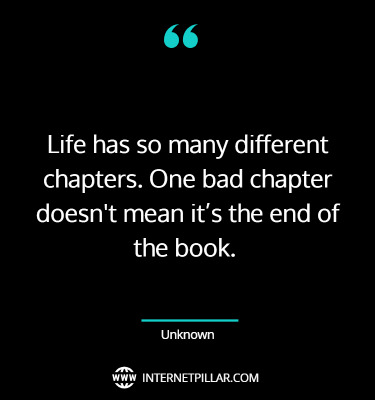 Life has so many different chapters. One bad chapter doesn't mean it's the end of the book. ~ Unknown.
Best Chapter Closed Quotes
The end of one physical incarnation is like the end of a chapter, on some level setting up the beginning of another. ~ Marianne Williamson.
Move on. It's just a chapter in the past. But don't close the book, just turn the page. ~ Unknown.
Life is like a book. With every page that turns, something new happens. And each chapter gives you more perspective of what's to come. ~ Unknown.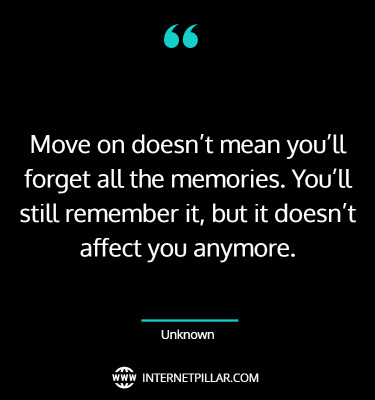 Move on doesn't mean you'll forget all the memories. You'll still remember it, but it doesn't affect you anymore. ~ Unknown.
End of Chapter Quotes
Life has many chapters. Just because you're at a bad chapter, it doesn't mean it's the end of the book. ~ Edenia Archuleta.
With every opinion, it is closing another chapter in the story. ~ Kevin Neely.
Today I close the door to the past, open the door to the future, take a deep breath, step on through and start a new chapter in my life. ~ Unknown.
Closing the last chapter of our personal history and taking the first step on the journey will come with the recognition of the futility of spiritual seeking. ~ Frank M. Wanderer.
Life has many different chapters for us. One bad chapter doesn't mean it's the end of the book. ~ Unknown.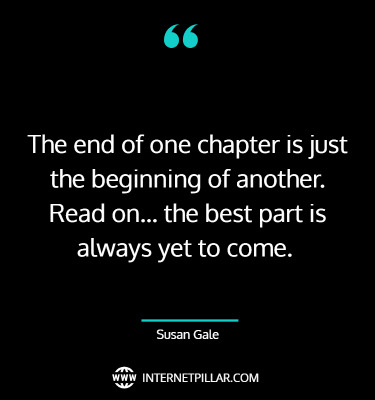 The end of one chapter is just the beginning of another. Read on… the best part is always yet to come. ~ Susan Gale.
Let's get it over and the door closed shut on it! Let's close it like a book and go on reading! New chapter, new life. ~ John Steinbeck.
Chapter is Closed Quotes
We have just about closed this chapter. ~ Virginia Jaramillo.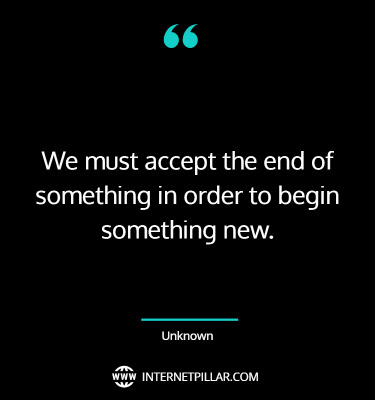 We must accept the end of something in order to begin something new. ~ Unknown.
You cannot finish a book without closing its chapters. If you want to go on, then you have to leave the past as you turn the pages of life. ~ Unknown.
Trying to close your chapter in my life book. ~ Unknown.
Life is like a book. Some chapters are sad, some happy, and some exiting. But if you never turn the page, you will never know what the next chapter holds. ~ Unknown.
Closing the Chapter Quotes
I feel like I've started a new chapter in my life, and I need to leave the past behind. ~ Jennifer Capriati.
When someone leaves, it's because someone else is about to arrive. ~ Paulo Coelho.
Sometimes you get to what you thought was the end and you find it's a whole new beginning. ~ Anne Tylor.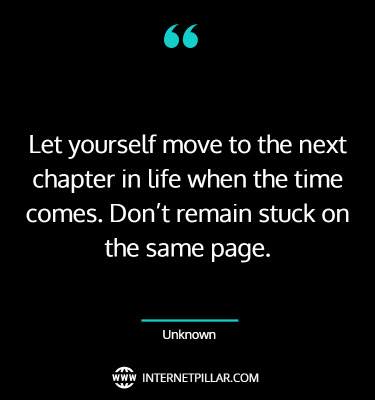 Let yourself move to the next chapter in life when the time comes. Don't remain stuck on the same page. ~ Unknown.
Closed Chapter Quotes
I am the kind of person who does not like to carry baggage. In fact, I don't go back and listen to my own music. I believe in closing chapters and moving forward. That's what gives me peace. ~ A. R. Rahman.
Don't close the book when bad things happen in your life! Just turn the page and start a new chapter! ~ LaToya Jackson.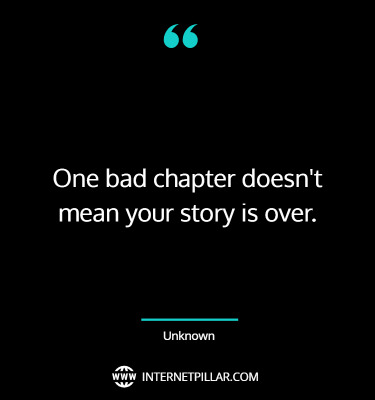 One bad chapter doesn't mean your story is over. ~ Unknown.
Life is like a novel. You can guess what will happen on the next chapter, but you will not know until you're there. ~ Unknown.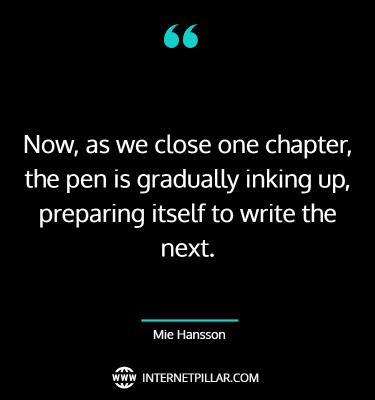 Now, as we close one chapter, the pen is gradually inking up, preparing itself to write the next. ~ Mie Hansson.
Sometimes the people you wanted as part of your story are only meant to be a chapter. ~ Unknown.
---
So these were the 40 quotes about Chapter Closed.
If you like these quotes and sayings, then you can also read my other popular blog posts on the topics of Chase Your Dreams quotes and Dream Big quotes and Short Dreams quotes and Kintsugi quotes.