"Dream big" represents fostering grand aspirations for the future, as these lofty goals inspire diligent efforts towards their realization.
While it's often advocated to dream big, executing it can be challenging. A bucket list serves as a source of inspiration, but sometimes an extra push is required.
That's why I've crafted this list of 'dream big' quotes to provide you that necessary boost.
Once inspired, it's vital to take actionable steps towards your dreams, relentlessly pursuing them until they're achieved.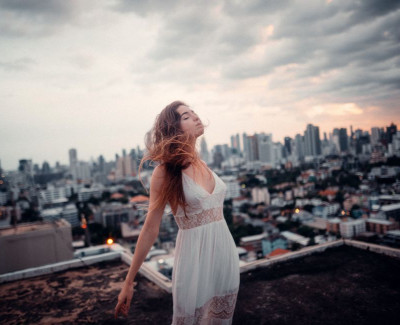 The daily grind may burden us, yet it's important not to let it dampen our imagination or limit our dreams.
Big dreams ignite our inner passion, fueling our burning desire continually.
If you've forgotten how to dream big then no worry as I've compiled a comprehensive collection of dream big quotes to help you in rekindling your capacity to dream big.
---
Top 10 Dream Big Quotes
Dream lofty dreams, and as you dream, so shall you become. ~ John Ruskin.
No matter where you're from, your dreams are valid. ~ Lupita Nyong'o.
You say I dream too big, I say you think too small. ~ Unknown.
If you don't build your dream, someone will hire you to help build theirs. ~ Tony Gaskins.
It's better to have an impossible dream than no dream at all. ~ Unknown.
The bigger the dream, the better the story. ~ Richelle E. Goodrich.
A dream you dream alone is only a dream. A dream you dream together is reality. ~ Yoko Ono.
Make sure that you dream big so that whatever you accomplish in your life can be meaningful. ~ Michael Henson.
If your dreams don't scare you, they are too small. ~ Richard Branson.
I have had dreams, and I've had nightmares. I overcame the nightmares because of my dreams. ~ Jonas Salk.
Related Quotes: Chase Your Dreams quotes.
Dream Big Quotes to Inspire You to Follow Yours
Never give up on a dream just because of the time it will take to accomplish it. The time will pass anyway. ~ Unknown.
Stop being afraid of what could go wrong, and start getting excited about what could go right. ~ Tony Robbins.
You are never too old to set another goal or to dream a new dream. ~ C. S. Lewis.
Dreams are the touchstones of our character. ~ Henry David Thoreau.
If you can dream it, you can do it. ~ Walt Disney.
Through hard work, perseverance and a faith in God, you can live your dreams. ~ Ben Carson.
When you cease to dream, you cease to live. ~ Malcolm Forbes.
During your life, never stop dreaming. No one can take away your dreams. ~ Tupac Shakur.
Dream Big Quotes to Inspire and Encourage You
The world needs dreamers and the world needs doers. But above all, the world needs dreamers who do. ~ Sarah Ban Breathnach.
All your dreams are within reach, no matter how big or crazy they might seem. ~ Jeannette Maw.
Life is a dream. We wake up when we die. ~ Bangambiki Habyarimana.
The important thing is to dare to dream big, then take action to make it come true. ~ Joe Girard.
Think big when you set your goals. Dare to think big and then set a series of smaller goals to get you there. ~ Les Brown.
You must dream big and dream often. Take risks and see what happens. ~ Debasish Mrida.
Don't let anyone turn your sky into a ceiling. ~ Unknown.
The indispensable first step to getting the things you want out of life is this: decide what you want. ~ Ben Stein.
What you have done is nothing compared to what you can do. ~ Grant Cardone.
Best Quotes About Dreaming Big
The sky is not the limit. There are infinite possibilities. Just keep reaching for the stars. ~ Chandan Negi.
The more you can dream, the more you can do. ~ Michael Korda.
The possibility of the dream gives strength. ~ Lailah Gifty Akita.
The question isn't who is going to let me, it's who is going to stop me. ~ Ayn Rand.
I am grateful to people who push boundaries, who do things differently, and who trust in miracles, dreams, and big possibilities. ~ Emma Wright.
Think big, dream big, believe big, and the results will be big. ~ Unknown.
The sky's the limit. ~ Unknown.
Dreams grow if you grow. ~ Zig Ziglar.
Never give up on what you really want to do. The person with big dreams is more powerful than the one with all the facts. ~ H. Jackson Brown, Jr.
Great Quotes on Dreaming Big
A pencil and a dream can take you anywhere. ~ Joyce A. Myers.
Always remember, you have within you the strength, the patience, and the passion to reach for the stars to change the world. ~ Harriet Tubman.
Remember this dear, if you play small, you stay small. ~ Unknown.
Each man should frame life so that at some future hour fact and his dreaming meet. ~ Victor Hugo.
Between the great things we cannot do and the small things we will not do, the danger is that we shall do nothing. ~ Adolph Monod.
I was always a dreamer, in childhood especially. People thought I was a little strange. ~ Charley Pride.
Reality is wrong. Dreams are for real. ~ Tupac Shakur.
Twenty years from now you will be more disappointed by the things you didn't do than by the ones you did. So throw off the bowlines. Sail away from the safe harbor. Catch the trade winds in your sails. Explore. Dream. Discover. ~ Mark Twain.
Do not follow where the path may lead. Go instead where there is no path and leave a trail. ~ Ralph Waldo Emerson.
Best Dream Big Quotes To Aim For The Sky
So many of our dreams at first seem impossible, then they seem improbable, and then, when we summon the will, they soon become inevitable. ~ Christopher Reeve.
This one step: choosing a goal and sticking to it, changes everything. ~ Scott Reed.
A man's dreams are an index to his greatness. ~ Zadoc Rabinowitz.
We are the dreamers Of dreaming. ~ Roald Dahl.
Dream big dreams! Imagine that you have no limitations and then decide what's right before you decide what's possible. ~ Brian Tracy.
Ask yourself, 'How long am I going to work to make my dreams come true?' I suggest you answer, 'As long as it takes.' ~ Jim Rohn.
Don't let anyone steal your dream. It's your dream, not theirs. ~ Dan Zadra.
Don't ever let anyone tell you, You can't do something great. You have the power to achieve, Anything your heart desires. So go out and make your dreams come true, And never give up on yourself. Believe in yourself and you will see, You can do anything you dream. ~ Chandan Negi.
Famous Dream Big Quotes
A person is the product of their dreams. So make sure to dream great dreams. And then try to live your dream. ~ Maya Angelou.
Don't give up on your dreams, or your dreams will give up on you. ~ John Wooden.
Dreams come in a size too big so that we may grow into them. ~ Josie Bisse.
Dream big dreams; only big dreams have the power to move men's souls. ~ Marcus Aurelius.
Whatever you can do or dream you can, begin it. Begin it now. ~ Johann Wolfgang von Goethe.
The biggest adventure you can take is to live the life of your dreams. ~ Oprah Winfrey.
A single dream is more powerful than a thousand realities. ~ J.R.R Tolkien.
The future belongs to those who believe in the beauty of their dreams. ~ Eleanor Roosevelt.
I tell people I'm too stupid to know what's impossible. I have ridiculously large dreams, and half the time they come true. ~ Debi Thomas.
Inspiring Dream Big Quotes
Every great dream begins with a dreamer. Always remember, you have within you the strength, the patience, and the passion to reach for the stars to change the world. ~ Harriet Tubman.
Don't let small minds convince you that your dreams are too big. ~ Unknown.
It may be that those who do most, dream most. ~ Stephen Butler Leacock.
Don't downgrade your dreams just to fit your reality. Upgrade your conviction to match your destiny. ~ Stuart W. Scott.
You are never too old to set new goals or to dream a new dream. ~ Unknown.
---
So these were the 73 quotes about Dreaming Big.
If you like these quotes and sayings, then you can also read my other popular blog posts on the topics of Follow Your Dreams quotes and Dreams Come True quotes.