Colorado, commonly known as the "Centennial State," is a lovely and picturesque state with breathtaking mountains, scenic lakes, and a plethora of outdoor activities.
Colorado has something for everyone, from skiing and snowboarding to hiking and riding.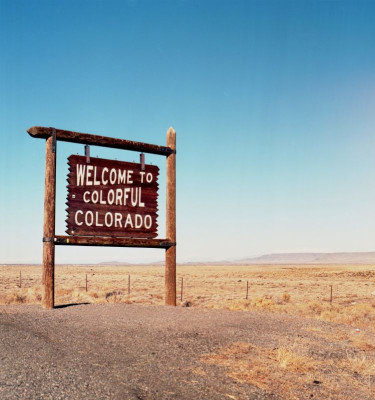 We'll look at some of the top Colorado quotes and captions that represent the beauty and spirit of the Centennial State in this article.
---
Table of Contents
Colorado Quotes
You had me at Colorado. ~ Unknown.
I love you, Aspen. You'll always be my prince. ~ Kiera Cass.
If words were water the state would never run dry. ~ John Hickenlooper.
Heaven is a little bit closer in Colorado. ~ Unknown.
Denver and Boulder are good record-buying cities. I don't know why. ~ Mike D.
People in Colorado are resilient. ~ Phil Heath.
Aspen is the life to live, see how much there is to give. See how strongly you believe, see how much you may receive. ~ John Denver.
Fishing along the Arkansas River is some of the best in Colorado, and there are raft trips available through local companies. ~ Lee McKinney.
Also Read: 91 California Quotes and Sayings about The Golden State and 60 Illinois Quotes about the The Prairie State
Colorado Captions for Instagram
Getting lost in Colorado.
Go and brush your Boulder off.
Don't go Breckenridge my heart.
Nothing but blue skies and heart eyes.
My soul lives in Colorado.
It's time to Pueb-go home.
The mile high state.
There's no business like snow business.
Snow long, farewell, auf wiedersehen, good night.
Doing this sweet thing called hiking.
Always take the scenic route.
On top of mountains and under the stars.
Adventuring.
I hear Colorado Fort Collins my name.
We'll be there in snow time.
I always apres-ciate my time in Colorado.
Well, that escalated very quickly.
Once upon a Dream Lake.
Think of it as an adventure.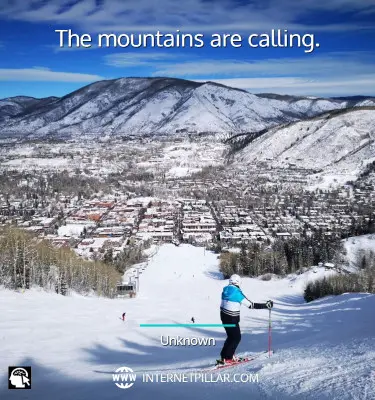 The mountains are calling.
Do more things that make you feel alive.
Feelin' young, wild, and free.
Life is better in Colorado.
You'll find me in the mountains.
Colorado officially has my heart.
That's a thinly Vail-ed insult.
Don't peak, I know just what you're saying.
I love Colorado.
Oh hail no!
We're having a great time. Thanks for Aspen!
Climbing this mountain for the 'Gram.
To the top of the world and beyond.
Stay curious in Colorado.
I've never met a mountain I didn't like.
Take me to the mountains.
Colorado is in my heart.
Adventure awaits.
Good morning Colorado.
Beautiful Colorado Quotes
The Colorado River did not form the Grand Canyon. The Grand Canyon was formed as the flood went down. ~ Kent Hovind.
Home is where the heart is, and the heart is in Colorado. ~ Unknown.
Boulder should be next to the word 'community' in the dictionary. ~ Kimbal Musk.
Colorado has always been a good place to find what you're made of. ~ John Hickenlooper.
My soul lives in Colorado. ~ Unknown.
This year, we must address the Colorado Paradox. We have more college degrees per capita than any state. Yet we lag the nation in the percentage of students who go on to higher education. ~ Bill Owens.
Colorado vibes. ~ Unknown.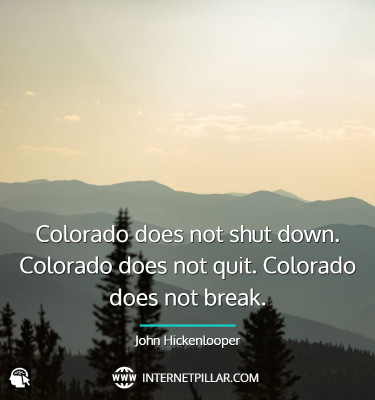 Colorado does not shut down. Colorado does not quit. Colorado does not break. ~ John Hickenlooper.
There were those green, undulating hills, and this very beautiful river, the Colorado. The place is inspired and inspiring. ~ Terrence Malick.
Best Colorado Quotes
Growing up in Denver, I'm sure it started with loving the Colorado mountains. ~ Gale Norton.
With more residents and tourism activity in Colorado, the 'great outdoors' is becoming a little crowded. ~ Nancy S. Greif.
I love to hike, fly-fish, and ski in the mountains where I live in Colorado. ~ Blake Crouch.
Colorado Springs is one of the best places in the world to see the history of the Earth. ~ Kirk Johnson.
I'm a nature girl. I grew up in Colorado and was always outside. I still am, even when I'm in the city. ~ Kate Hudson.
Happiness is not a state of mind, but a trip to Colorado. ~ Unknown.
Ninety percent of the time, I'm sitting in a bus driving through someplace like the Colorado mountains and thinking, 'Wow, we're not in a pub in London anymore. ~ Ted Dwane.
Each year, millions of skiers come to Colorado to experience its superb emergency medical facilities. ~ Dave Barry.
I'm grateful for anything that brings me back to Colorado. ~ Sheryl Lee.
But the Colorado rocky mountain high, I've seen it rainin' fire in the sky… ~ John Denver.
Some of the most beautiful and colorful parts of Colorado are found in the clouds above. ~ Mike Nelson.
Famous Colorado Quotes
Only a stone's throw from downtown Denver is an easy walk through time that leads past dinosaur tracks, bones, ripple marks, and other traces of Colorado's vanished life and ancient environments. ~ Ralph Lee Hopkins.
We are in Colorado. That means something more to me than thoughts of electrical power or a harnessed river. ~ Barry Goldwater.
You don't need missionaries in Colorado; you got Colorado. ~ Trey Parker.
Colorado's majestic landscapes are one of our most valuable assets, and it's important that we work to preserve these treasures. ~ Michael Bennet.
I think Colorado looks pretty good on me. ~ Unknown.
I think the Colorado Plateau is the most scenic area in the world – let's begin with that. Not just the United States. ~ Stewart Udall.
Inspiring Colorado Quotes
One day the Constitution of Colorado is the highest law of the state. The next day it's waste paper. ~ Robert F. Williams.
If you want to see an awesome color, then go to Colorado it's beauty is like no others. ~ Unknown.
Denver is a city that will be far more defined by its future than its past. ~ John Hickenlooper.
I had my house converted to the Colorado altitude, so I am always above sea level. ~ Gilbert Arenas.
I went to university in Colorado and studied art history. I did some photography classes there, although it felt really pretentious. ~ Pamela Hanson.
A bad day in Colorado is better than a good day anywhere else. ~ Unknown.
Do what we will, Colorado will one day find an unimpeded way to the sea. ~ Donald Worster.
There's a sense of family in Colorado; there's such a pride factor there. ~ Ivan Moody.
On a date with Colorado. ~ Unknown.
Boulder was my U.S. base for the better part of 20 years, and it will always have a special place in my heart. ~ Tyler Hamilton.
Taking an adventure in Colorado. ~ Unknown.
Amazing Colorado Quotes
I'm a blue collar kid from Colorado. I grew up on a farm. ~ Ivan Moody.
We just love Denver. The love and support from people here is amazing. ~ Griz.
Too much fresh air is not a thing. ~ Unknown.
Colorado is known for many great things. ~ John Hickenlooper.
The Colorado plateau is a strange, harsh, but wonderful country, indeed. ~ Donald L. Baars.
Color me Colorado. ~ Unknown.
You get a compound fracture in Colorado where I live, and you can probably be in a hospital within a matter of hours, certainly within a day. ~ Jon Krakauer.
'Have you ever been to Colorado?' I frowned. 'Is that one of those square ones, in the middle?' ~ James Patterson.
Life is beautiful in Colorado. ~ Unknown.
Colorado's right next to Utah – you know, Mormon Central. ~ Trey Parker.
Top Colorado Quotes
Denver is home to me, and to be recognized for my achievements in the sports community here is a great honor. ~ Carmelo Anthony.
My favorite Aspen memory is saving an upside-down cake that had exploded from the high altitude. ~ Emeril Lagasse.
I would love to rent a little cottage or cabin in Colorado and learn to ski or snowboard. ~ Karlie Kloss.
When people think 'Colorado', many of the images that pop into their minds are of majestic mountains, forests, rivers, canyons, and other natural features. ~ Nancy S. Greif.
I'm in a good place right now. Not emotionally, I'm just in Colorado. ~ Unknown.
Mountains teach that not everything in this world can be rationally explained. ~ Aleksander Lwow.
Popular Colorado Quotes
The view of the Rocky Mountains from the Divide near Kiowa Creek is considered one of the finest in Colorado. ~ Bayard Taylor.
The elements that unite to make the Grand Canyon the most sublime spectacle in nature are multifarious and exceedingly diverse. ~ John Wesley Powell.
To the top of the world and beyond. ~ Unknown.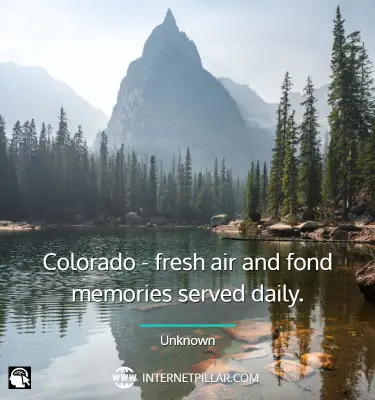 Colorado – fresh air and fond memories served daily. ~ Unknown.
If you like the outdoors, Colorado is a big adventure playground for adults: it's great for skiing, cycling, climbing, and hiking. ~ Tyler Hamilton.
Short Colorado Captions
Turn the other Creek.
Colorado dreamin'
What a frost-y reception.
Hold your Horsetooth.
I can't Bear Canyon to leave.
Hike more and worry less.
Get some range.
You had me at Colorado.
Cry me a Colorado river.
On a date with Colorado.
In case you were wondering, I'm peaking.
Making memories in Colorado.
You're a black diamond in the rough.
She's a Crested Butte.
Colorado state of mind.
But first, let's go to Colorado.
Oh, what a world.
Drop the Pike.
Welcome to colorful Colorado.
Colorado vibes.
Tell the wild I'm here.
It's just Rocky roll to me.
Colorado is my happy place.
Taking an adventure in Colorado.
All you need is love and a little time in the mountains.
Colorado doesn't whisper, it Aurora-s.
Mountains are just hill-areas.
Colorado is calling I must go.
Above the mountains beneath the stars.
All you need is gloves.
Get, that, dirt off your Boulder.
Your adventure starts here.
Adjusting my altitude in Colorado.
Destination: Colorado.
Colorado(will be my home someday.
You're home and adventure all at once.
I think Colorado looks pretty good on me.
Hope Colorado Springs eternal.
Too much fresh air is not a thing.
I'd love to go up to Pike's Peak, but I don't see the point.
In Colorado they say ice to meet you.
All I need is mountain breeze & tall trees.
Roam far & wander wide.
Adventures are forever.
Telluride that it's time to go home.
Colorado is a Denver of thieves.
Yous Arapahoe.
I'd rather be in Colorado.
---
So these were the 150 quotes and captions about Colorado state of United States.
If you like these quotes and sayings, then you can also read my other popular blog posts on the topics of Arizona quotes and Arkansas quotes.
---
References and Sources: