These Walking Away quotes will help you move away from a bad relationship.
To walk away from someone or something implies avoiding carrying out or incurring any obligations by leaving them.
When two individuals are incompatible, a relationship can fail and therefore it's a good thing to walk away.
---
Best Walking Away Quotes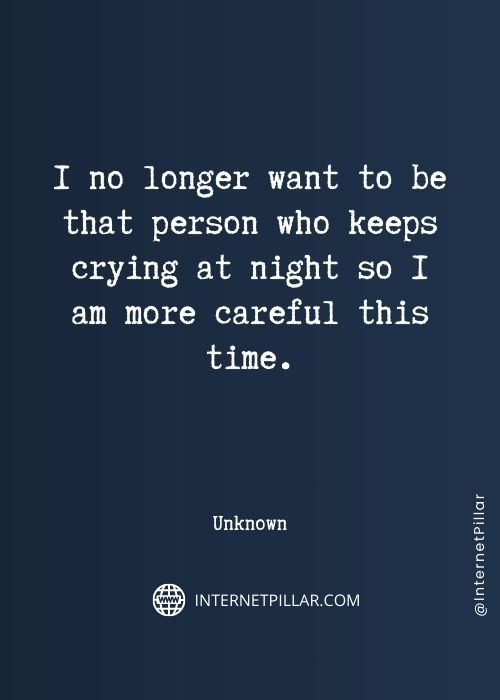 I no longer want to be that person who keeps crying at night so I am more careful this time. ~ Unknown.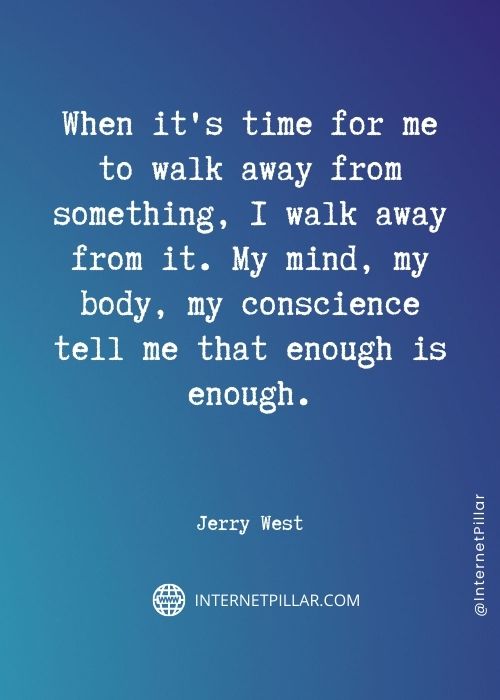 When it's time for me to walk away from something, I walk away from it. My mind, my body, my conscience tell me that enough is enough. ~ Jerry West.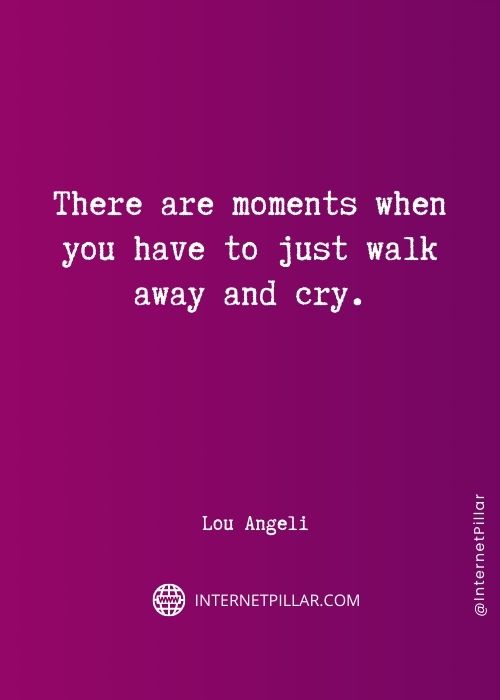 There are moments when you have to just walk away and cry. ~ Lou Angeli.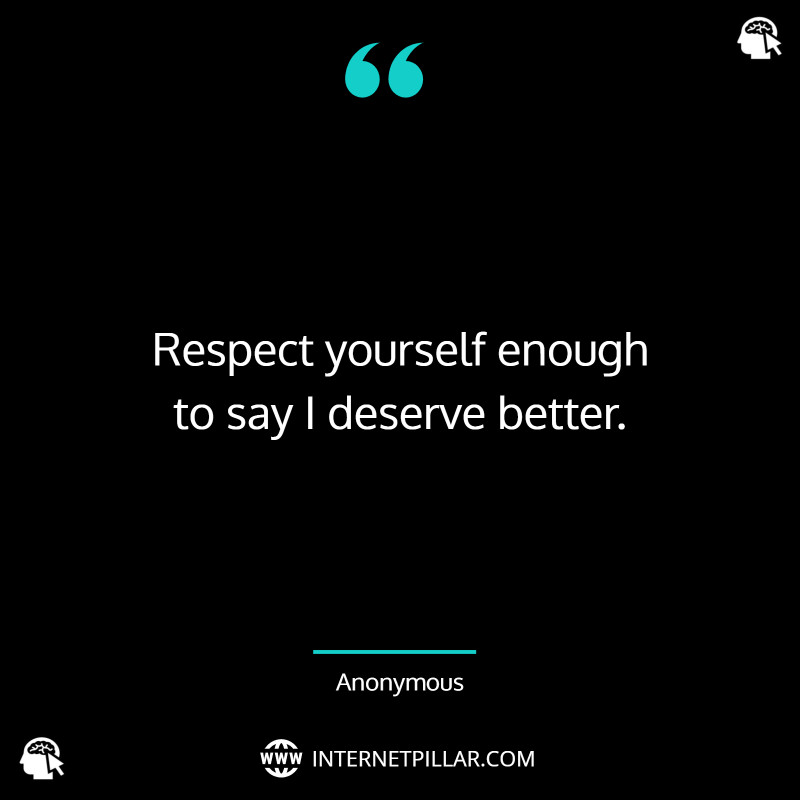 Respect yourself enough to say I deserve better. ~ Anonymous.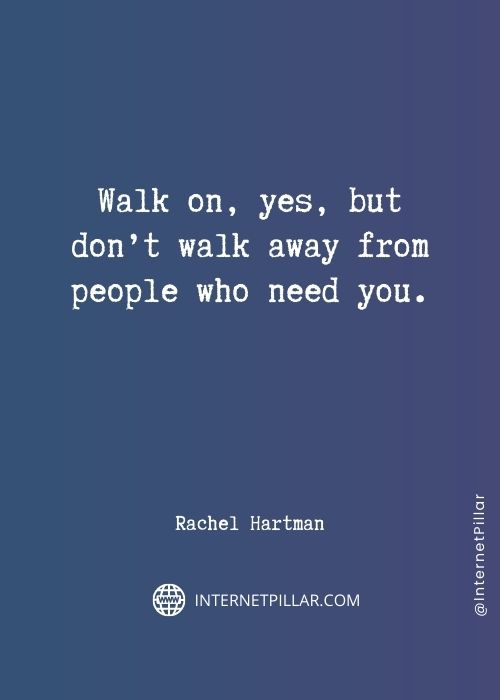 Walk on, yes, but don't walk away from people who need you. ~ Rachel Hartman.
I just can't walk away from something I've done all my life. it's part of me. ~ Chuck Jordan.
I truly loved you, but now I'm walking away. ~ Jonny Lang.
Knowing when to walk away, is wisdom. Being able to is courage. Walking away with grace, and your head held high, is dignity. ~ Ritu Ghatourey.
As we grow older and wiser, we begin to realize what we need in life and what we need to leave behind. Sometimes walking away is just a step forward. ~ Unknown.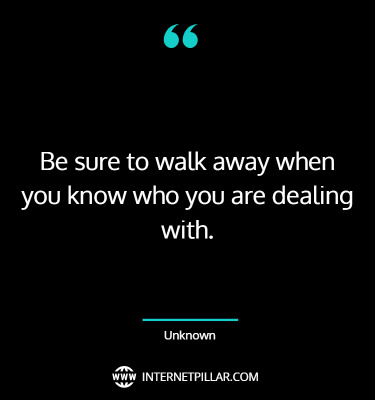 Be sure to walk away when you know who you are dealing with. ~ Unknown.
In the end, only three things matter: how much you loved, how gently you lived, and how gracefully you let go of things not meant for you. ~ Gautama Buddha.
Related Quotes: 93 Missing a Friend Quotes for Far Away Missing Friends and 43 Pushing Me Away Quotes That Are Worth Reading
Famous Walking Away Quotes
I've often tried to explain it and now realize something can never be explained, nor should you waste your time trying. Just walk away. ~ Ellie Borak.
Don't fear walking alone. Fear walking in wrong direction. ~ Garima Soni.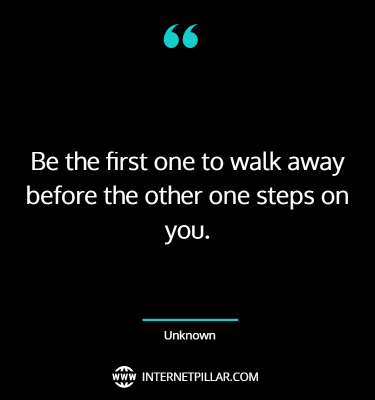 Be the first one to walk away before the other one steps on you. ~ Unknown.
Knowing when to walk away, is Wisdom. Being able to, is Courage. Walking away with Grace, and your held head high, is Dignity. ~ Unknown.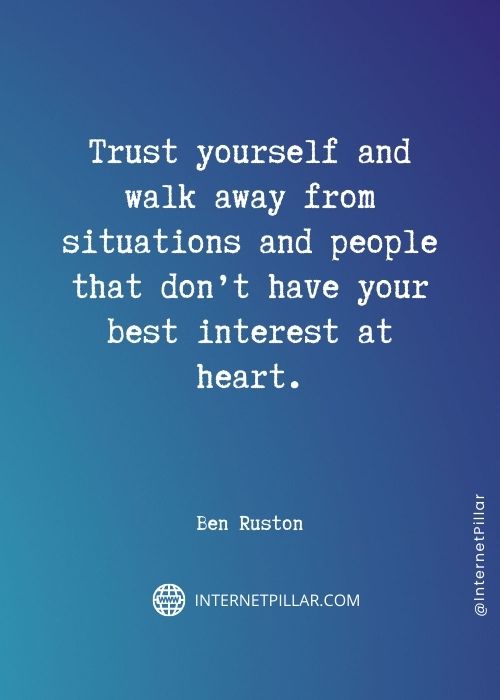 Trust yourself and walk away from situations and people that don't have your best interest at heart. ~ Ben Ruston.
The moment he makes you feel like he's done something to benefit you, walk away, because it's what will get you into the most trouble. ~ K. Weikel.
You can't walk away from beauty, but you can destroy it. ~ Anthony T. Hincks.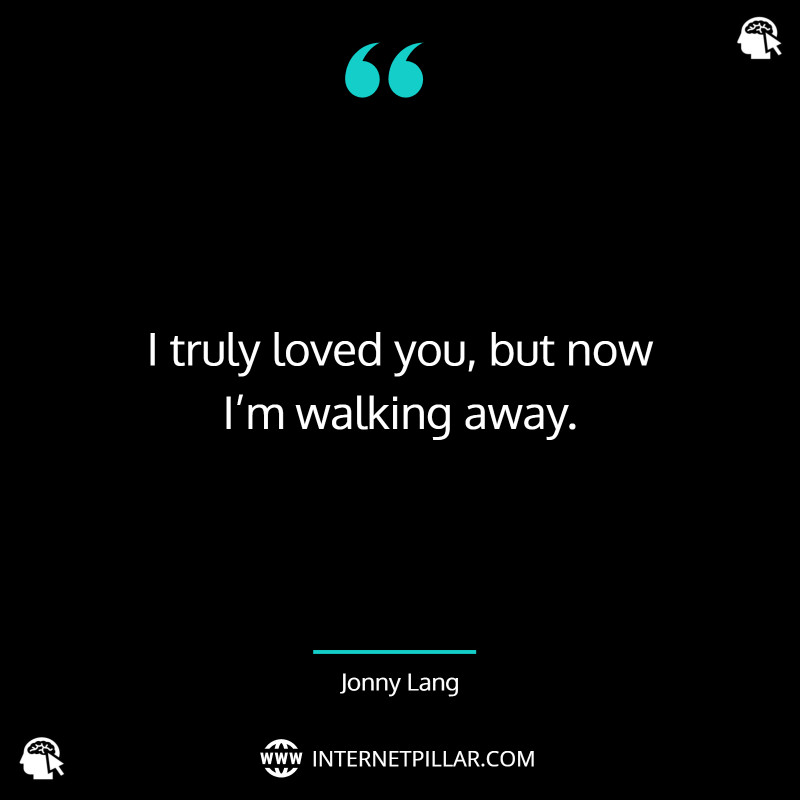 I truly loved you, but now I'm walking away. ~ Jonny Lang.
If you don't walk away, you'll hurt yourself beyond repair. Remember, you're a precious child of God, deserving to be treated kindly. ~ Zenobia Davis.
I called one last time before I walked away. ~ Unknown.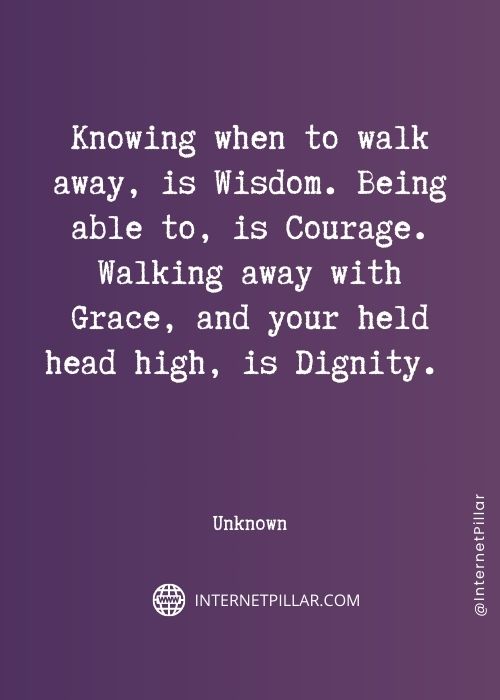 Knowing when to walk away, is Wisdom. Being able to, is Courage. Walking away with Grace, and your held head high, is Dignity. ~ Unknown.
Do not walk on the road of no return. ~ Lailah Gifty Akita.
Sometimes a walk is the solution to all our problems! ~ Avijeet Das.
Learn to walk away from the arms where you don't belong before you end up suffocating there. ~ Sai Pradeep.
I am good at walking away. Rejection teaches you how to reject. ~ Jeanette Winterson.
Walk away or stay forever. It is your choice. ~ Unknown.
Popular Walking Away Quotes
Know your worth. You must find the courage to leave the table if respect is no longer being served. ~ Tene Edwards.
Some people believe holding on and hanging in there are signs of great strength. However, there are times when it takes much more strength to know when to let go and then do it. ~ Ann Lander.
Any landing you could walk away from was a good landing. ~ Ilona Andrews.
If they can walk away from you when you're in tears, there really is nothing left to do or say. ~ Nitya Prakash.
When the tears are too many and the love is too little, when you want to smile but you have to sigh and you're tired of the lies but your heart can't handle the truth, that's when you have to decide, if it's better to stay or just walk away. ~ Rashida Rowe.
Sometimes you have to walk away from people, not because you don't care, but because they don't. ~ Melchor Lim.
Happiness is letting go of what you think your life is supposed to look like and celebrating it for everything that it is. ~ Mandy Hale.
You don't just walk away from someone when things get tough, you find a way to stick it out and figure out what's gone wrong. ~ Shana Norris.
Anyone or anything that is negative, you should walk away from. Make room for all the positives. ~ Wendy John.
You don't walk away if you love someone. You help the person. ~ Hillary Clinton.
Selfhood begins with a walking away, And love is proved in letting go. ~ Cecil Day-Lewis.
Learning to walk away is hard but staying to suffer is harder. ~ Mariel Avila.
Top Walking Away Quotes
Some of us think holding on makes us strong, but sometimes it is letting go. ~ Herman Hesse.
It takes faith to walk away from anything that keeps you away from the face of God. ~ Gift Gugu Mona.
Once you realize you deserve a bright future, letting go of your dark past is the best choice you will ever make. ~ Roy T. Bennett.
Most of us need something not to walk away from. ~ Josh Stern.
Accept yourself, love yourself, and keep moving forward. If you want to fly, you have to give up what weighs you down. ~ Roy T. Bennett.
Don't be afraid. We're walking away from death, not toward it. Death is going back. ~ Rachel Hartman.
It is love that walks away and yet we have terrible mouths and soft milk hands. We worry with like. We walk away like love. ~ Anne Sexton.
Part of being a winner is knowing when enough is enough. Sometimes you have to give up the fight and walk away, and move on to something that's more productive. ~ Donald Trump.
Be strong enough to walk away. ~ Unknown.
It's better to walk away than to tolerate nonsense. ~ Anonymous.
Letting go means to come to the realization that some people are a part of your history, but not a part of your destiny. ~ S. Maraboli.
Every wise man have walked away from the world in his way with the only obstinacy to make it. ~ P.S. Jagadeesh Kumar.
The only thing a person can ever really do is keep moving forward. Take that big leap forward without hesitation, without once looking back. Simply forget the past and forge toward the future. ~ Alyson Noel.
How do you look at someone you love and tell yourself it's time to walk away? ~ The Vow.
Goodbye is the absolute hardest thing to say because you have to walk away with just a memory and after awhile that memory fades. ~ Sarah Dillon.
Amazing Walking Away Quotes
Sometimes it's best to just walk away, count your loss, say a prayer and go on with your life. Time and forgiveness has a way of healing the pain and hurt that you will undoubtedly feel. ~ David Kreger.
Letting go is hard, but there comes a time when you accept the fact, that you can't go back to how it was and it's time to wish them best and walk away. ~ Punkinhead Abhishek.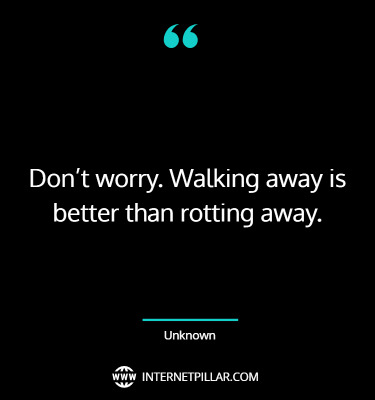 Don't worry. Walking away is better than rotting away. ~ Unknown.
The moment you feel like you have to prove your worth to someone is the moment to absolutely and utterly walk away. ~ Alysia Harris.
Sometimes you have to smile and pretend everything's okay. Hold back the tears, and just walk away. ~ Anurag Prakash Ray.
Short Walking Away Quotes
Walk away while you can. ~ Unknown.
If you have to force it, leave it. Relationships. Friendships. Yoga poses. Perfect ponytails. Let that shit go. ~ Akua Naru.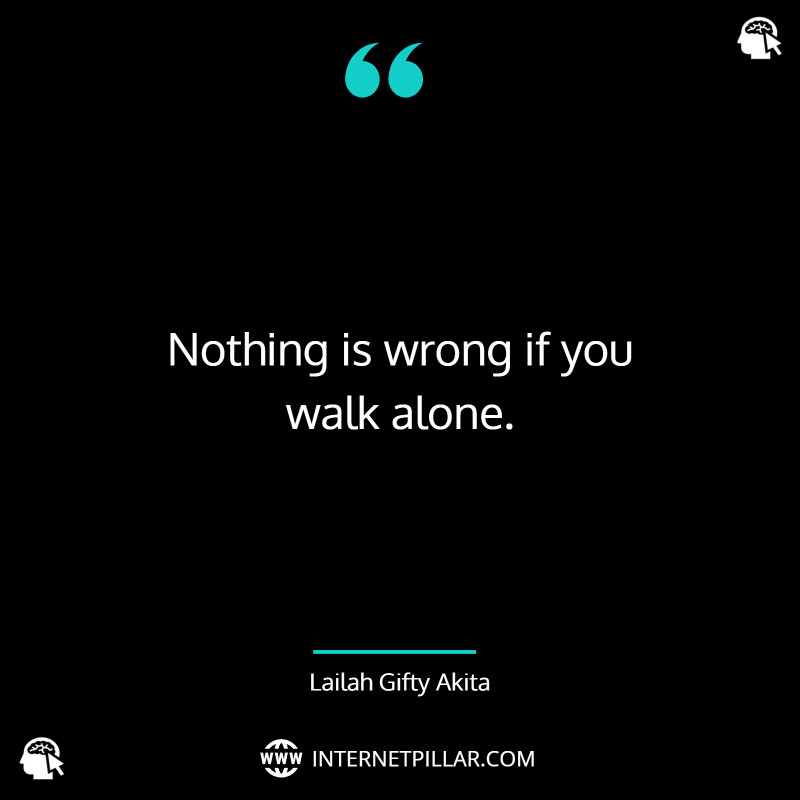 Nothing is wrong if you walk alone. ~ Lailah Gifty Akita.
You can walk away and say "We don't need this." but something in your eyes says "We can beat this. ~ Taylor Swift.
When you no longer care what other people think of you, you have reached freedom. Life truly begins the moment you realize you don't have to prove anything to anyone but yourself. ~ Anonymous.
Walk away to preserve yourself. ~ Unknown.
When trust is broken how can you repair it? Sometimes you just have to walk away. ~ Hattie Lou.
Courage is the power to let go of the familiar. ~ Raymond Lindquist.
Just pick up your courage and walk away. Don't waste time. The longer one drags on, the amount of pain accumulates. ~ Dick Hirayama.
Don't dwell on what went wrong. Instead, focus on what to do next. Spend your energy moving forward together towards an answer. ~ Denis Waitley.
---
So these were the 70 quotes about Walking Away.
If these quotes and sayings connect with you, check out our other posts on secret love quotes and funny Saturday quotes.
---
Sources: