A community is a group of people who are working together to make their surroundings a better place to live.
Members of these communities work together in order to create a pleasant and supportive atmosphere for all through collaborating, empathizing and engaging with one another.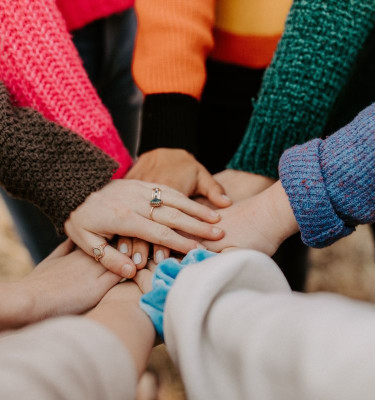 ---
Top 10 Quotes on Community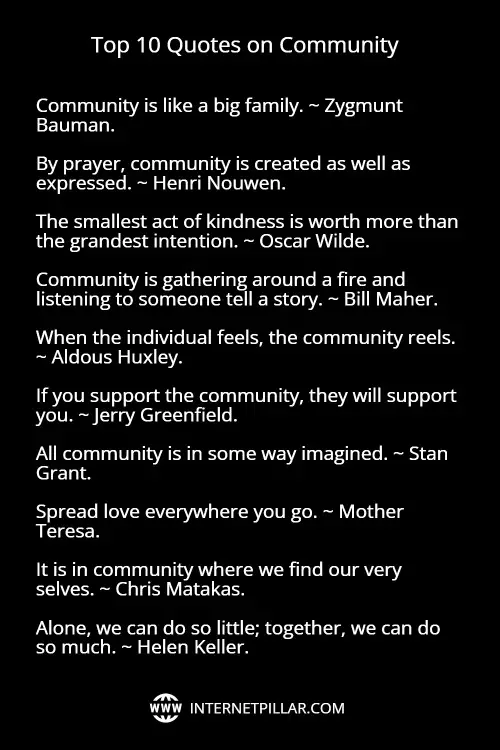 Community Quotes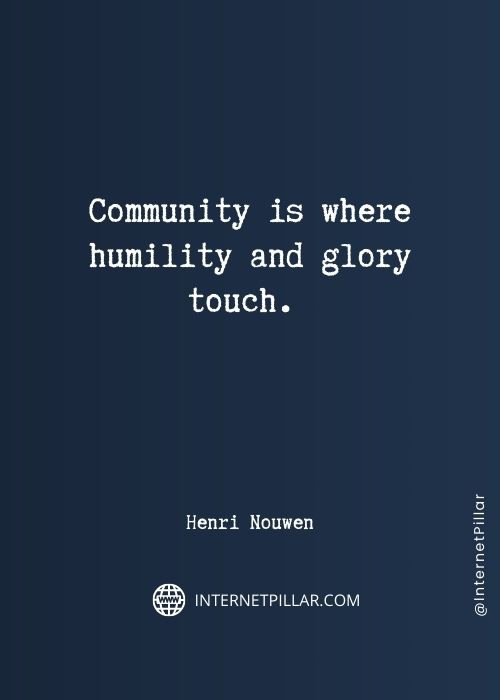 Community is where humility and glory touch. ~ Henri Nouwen.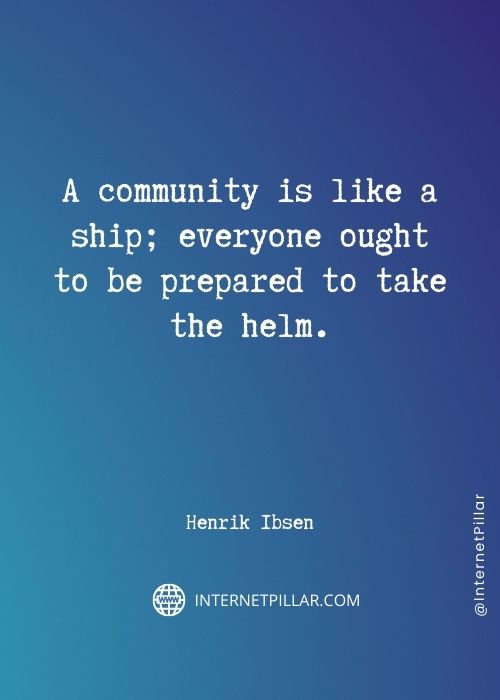 A community is like a ship; everyone ought to be prepared to take the helm. ~ Henrik Ibsen.
The community protects and shares out of caring; love is never far away. ~ Peter Abrahams.
No man can become rich without himself enriching others. ~ Andrew Carnegie.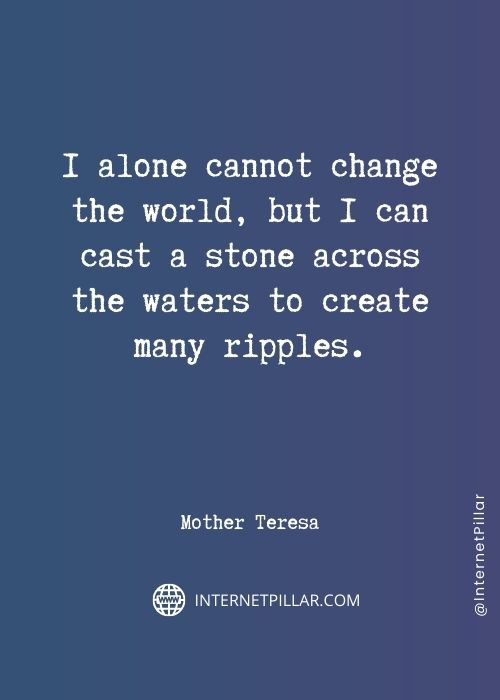 I alone cannot change the world, but I can cast a stone across the waters to create many ripples. ~ Mother Teresa.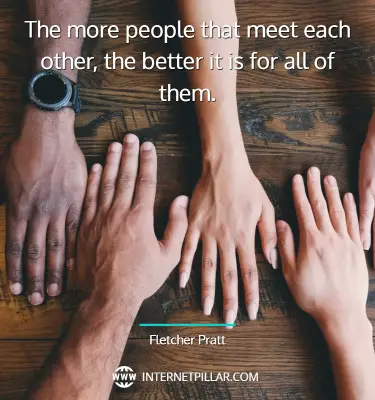 The more people that meet each other, the better it is for all of them. ~ Fletcher Pratt.
There is immense power when a group of people with similar interests gets together to work toward the same goals. ~ Idowu Koyenikan.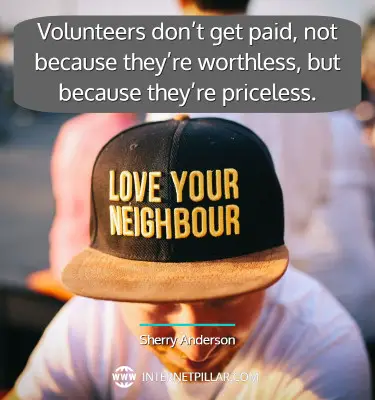 Volunteers don't get paid, not because they're worthless, but because they're priceless. ~ Sherry Anderson.
Communication leads to community, that is, to understanding, intimacy and mutual valuing. ~ Rollo May.
Law; an ordinance of reason for the common good, made by him who has care of the community. ~ Thomas Aquinas.
No man is an island, entire of itself; every man is a piece of the continent, a part of the main. ~ John Donne.
When the people who support and are a part of your community, the community you have… that's where all the best business happens. ~ Chris Brogan.
Other Topic Quotes: 61 Small Town Quotes and Sayings to Love Your Community and 50 Bonding Quotes on Friends, Family and Loved Ones
Best Community Quotes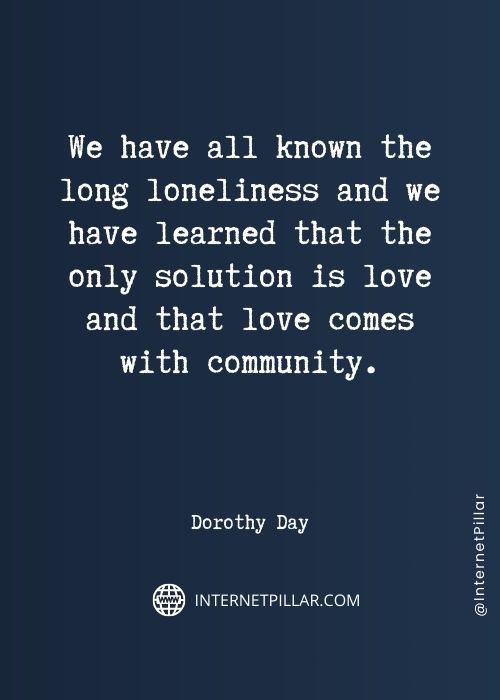 We have all known the long loneliness and we have learned that the only solution is love and that love comes with community. ~ Dorothy Day.
We cannot live only for ourselves. A thousand fibers connect us with our fellow men. ~ Herman Melville.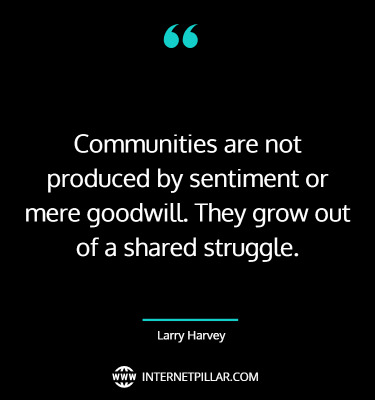 Communities are not produced by sentiment or mere goodwill. They grow out of a shared struggle. ~ Larry Harvey.
Do not let where you come from define you, but never forget the values you learned from your close community. ~ Anthony Carmona.
Teaching kids how to feed themselves and how to live in a community responsibly is the center of an education. ~ Alice Waters.
Quality of life actually begins at home – it's in your street, around your community. ~ Charles Kennedy.
The greatness of a community is most accurately measured by the compassionate actions of its members. ~ Coretta Scott King.
Inspirational Community Quotes
To build community requires vigilant awareness of the work we must continually do to undermine all the socialization that leads us to behave in ways that perpetuate domination. ~ Bell Hooks.
It's easy to make a buck. It's a lot tougher to make a difference. ~ Tom Brokaw.
The true meaning of life is to plant trees under whose shade you do not expect to sit. ~ Nelson Henderson.
Wherever there is a human being, there is an opportunity for a kindness. ~ Lucius Annaeus Seneca.
Every successful individual knows that his or her achievement depends on a community of persons working together. ~ Paul Ryan.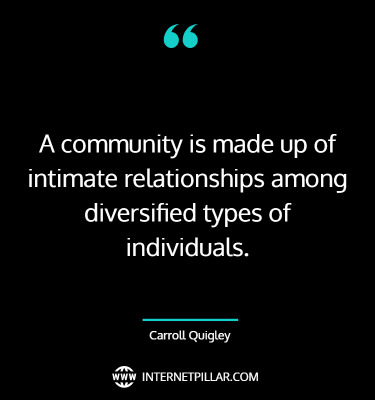 A community is made up of intimate relationships among diversified types of individuals. ~ Carroll Quigley.
One of the most important things you can do on this earth is to let people know they are not alone. ~ Shannon L. Alder.
They call this a community I like to think of it as home. ~ Pet Shop Boys.
By prayer, community is created as well as expressed. ~ Henri Nouwen.
Positive Community Quotes
A genuine leader is not a searcher for consensus but a molder of consensus. ~ Martin Luther King, Jr.
We should all exercise our gift to build community. ~ Jean Vanier.
The community stagnates without the impulse of the individual; the impulse dies away without the sympathy of the community. ~ William James.
It is vain to talk of the interest of the community, without understanding what is the interest of the individual. ~ Jeremy Bentham.
Saints cannot exist without a community, as they require, like all of us, nurturance by a people who, while often unfaithful, preserve the habits necessary to learn the story of God. ~ Stanley Hauerwas.
Empathy is the starting point for creating a community and taking action. It's the impetus for creating change. ~ Max Carver.
The smallest act of kindness is worth more than the grandest intention. ~ Oscar Wilde.
People are never truly alone or separate from community, and cannot be. ~ Ichiro Kishimi.
In every community, there is work to be done. In every nation, there are wounds to heal. In every heart, there is the power to do it. ~ Marianne Williamson.
This world of ours… must avoid becoming a community of dreadful fear and hate, and be, instead, a proud confederation of mutual trust and respect. ~ Dwight D. Eisenhower.
Success isn't about how much money you make; it's about the difference you make in people's lives. ~ Michelle Obama.
The Power of Community Quotes
Community is gathering around a fire and listening to someone tell a story. ~ Bill Maher.
Human kindness has never weakened the stamina or softened the fiber of a free people. ~ Franklin D. Roosevelt.
Community is universal love. ~ H. Marsh.
We make a living by what we get, but we make a life by what we give. ~ Winston Churchill.
Community is a context and can either facilitate or inhibit the movement of change for the individual. ~ Sharon Weil.
The best way to find yourself is to lose yourself in the service of others. ~ Mahatma Gandhi.
When the individual feels, the community reels. ~ Aldous Huxley.
Community is a sign that love is possible in a materialistic world where people so often either ignore or fight each other. It is a sign that we don't need a lot of money to be happy–in fact, the opposite. ~ Jean Vanier.
There is no power for change greater than a community discovering what it cares about. ~ Margaret J. Wheatley.
The need for connection and community is primal, as fundamental as the need for air, water, and food. ~ Dean Ornish.
Powerful Community Quotes
A community is alive when it is poor and its members feel they have to work together and remain united, if only to ensure that they can all eat tomorrow! ~ Jean Vanier.
We were born to unite with our fellow men, and to join in community with the human race. ~ Cicero.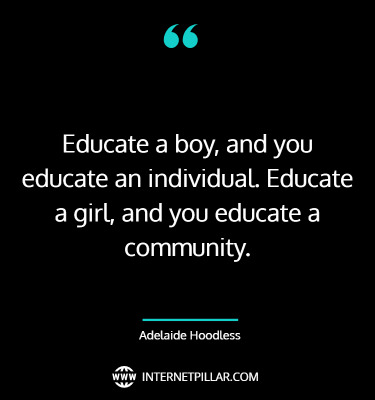 Educate a boy, and you educate an individual. Educate a girl, and you educate a community. ~ Adelaide Hoodless.
Community is composed of that which we don't attempt to measure, for which we keep no record and ask no recompense. Most are things we cannot measure no matter how hard we try. ~ Dee Hock.
Life's most persistent and urgent question is, 'What are you doing for others?' ~ Martin Luther King, Jr.
Many people are good at talking about what they are doing, but in fact do little. Others do a lot but don't talk about it; they are the ones who make a community live. ~ Jean Vanier.
For a community to be whole and healthy, it must be based on people's love and concern for each other. ~ Millard Fuller.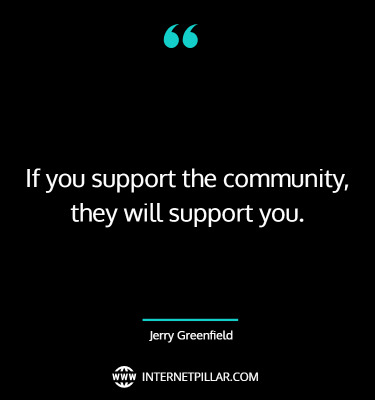 If you support the community, they will support you. ~ Jerry Greenfield.
As the world community develops in peace, it will open up great untapped reservoirs in human nature. ~ Emily Greene Balch.
The closest natural area to you is the wild, naturally intelligent biological community within you. ~ Michael J. Cohen.
Wise Community Quotes
All community is in some way imagined. ~ Stan Grant.
Spread love everywhere you go. ~ Mother Teresa.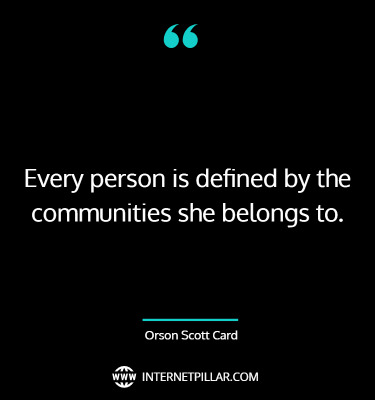 Every person is defined by the communities she belongs to. ~ Orson Scott Card.
Every community is called to be an instrument for the liberation and promotion of the poor. ~ Jonathan Pryce.
A sense of community strengthens people's faith in humanity. ~ Jessica Marie Baumgartner.
It is in community where we find our very selves. ~ Chris Matakas.
The way to change the world is through individual responsibility and taking local action in your own community. ~ Jeff Bridges.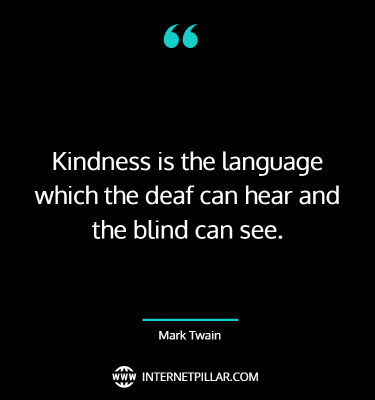 Kindness is the language which the deaf can hear and the blind can see. ~ Mark Twain.
The golden way is to be friends with the world and to regard the whole human family as one. ~ Mahatma Gandhi.
Meaningful Community Quotes
While earning your daily bread, be sure you share a slice with those less fortunate. ~ H. Jackson Brown, Jr.
The power of community to create health is far greater than any physician, clinic or hospital. ~ Mark Hyman.
We don't heal in isolation, but in community. ~ S. Kelley Harrell.
In our community, we have a duty to strengthen the weakest among us to build a better society. ~ Bill Courtney.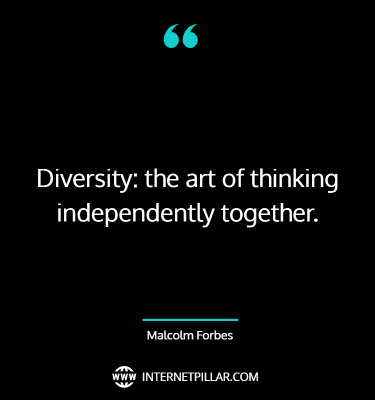 Diversity: the art of thinking independently together. ~ Malcolm Forbes.
Where there is no community, trust, respect, and ethical behavior are difficult for the young to learn and for the old to maintain. ~ Robert K. Greenleaf.
Without a sense of caring, there can be no sense of community. ~ Anthony J. D'Angelo.
Alone, we can do so little; together, we can do so much. ~ Helen Keller.
Famous Community Quotes
A healthy social life is found only when, in the mirror of each soul, the whole community finds its reflection, and when, in the whole community, the virtue of each one is living. ~ Rudolf Steiner.
A community best serves itself when it truly serves the awakening of the unique story trying to come to life through each person born. ~ Michael Meade.
Without community service, we would not have a strong quality of life. It's important to the person who serves as well as the recipient. It's the way in which we ourselves grow and develop. ~ Dorothy Height.
A community that is engaged and working together can be a powerful force. ~ Idowu Koyenikan.
A community needs a soul if it is to become a true home for human beings. ~ Pope John Paul II.
Community is not an ideal; it is people. It is you and I. In a community, we are called to love people just as they are with their wounds and their gifts, not as we want them to be. ~ Jean Vanier.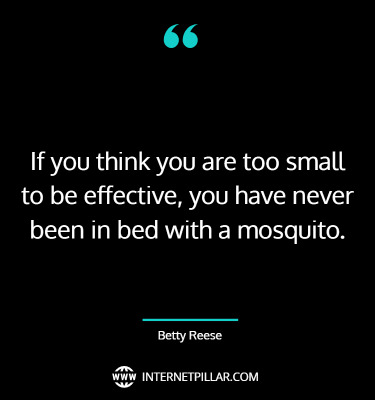 If you think you are too small to be effective, you have never been in bed with a mosquito. ~ Betty Reese.
Some people think they are in community, but they are only in proximity. True community requires commitment and openness. It is a willingness to extend yourself to encounter and know the other. ~ David Spangler.
One of the marvelous things about community is that it enables us to welcome and help people in a way we couldn't as individuals. ~ Jean Vanier.
Unless someone like you cares a whole awful lot, nothing is going to get better. It's not. ~ Dr. Seuss
---
So these were the 90 quotes about Community.
If you like these quotes and sayings, then you can also read my other popular blog posts on the topics of Compassion quotes and Healing quotes and Narcissist quotes and Stress Relief quotes.
---
References and Sources: