A "Cuddle" is a loving activity between two people.
Cuddling is a heartwarming expression of love, providing comfort and a sense of security when embracing our loved ones.
The act of holding someone close, listening to their heartbeat and feeling their warmth highlights the deep bond we share with them.
Cuddling is a powerful way to communicate love and safety without words. These tender moments often evoke the purest feelings of affection.
Explore a collection of beautiful cuddle quotes that can enhance your special moments with your loved ones.
Share these quotes with your partner or even a close friend while cuddling to make the experience even more sweet and memorable, celebrating the joy of closeness and connection.
---
Top 10 Cuddle Quotes
The cuddle says it all. ~ Rob Grader.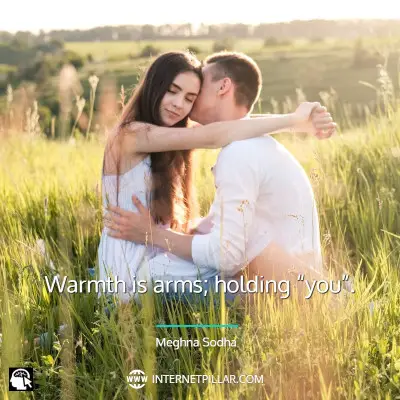 Warmth is arms; holding "you". ~ Meghna Sodha.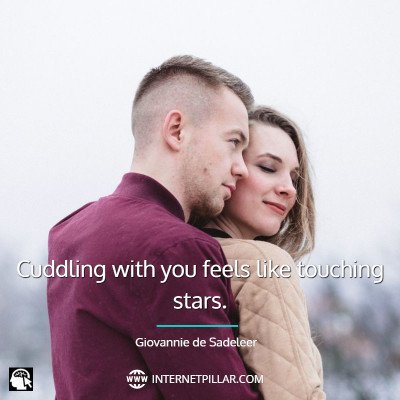 Cuddling with you feels like touching stars. ~ Giovannie de Sadeleer.
Above all else, a cuddle must be comfortable for it to be comforting. ~ Rob Grader.
Let me lie with you while I embrace you in my arms until eventually, we fall asleep, darling. ~ Anonymous.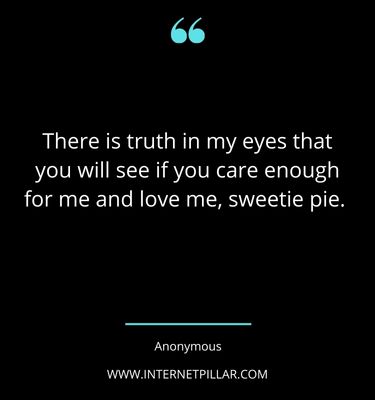 There is truth in my eyes that you will see if you care enough for me and love me, sweetie pie. ~ Anonymous.
One of the magical things about cuddling is that anyone can do it. It is not limited by gender, age, size, or acrobatic abilities. ~ Rob Grader.
Men don't like to cuddle. We only like it if it leads to, you know, lower cuddling. ~ Ray.
I'd do anything to cuddle up to you, lay my head on your chest and fall asleep while you hold me right now. ~ Dungeons and Dragons.
Don't get me wrong, I like to cuddle. But there is such a fine line between cuddling and holding someone down so that they can't get away. ~ Dave Attell.
Famous Cuddle Quotes
Living cuddled in your life is one thing I would give my life for, having to be kissed by you every morning I would die for and without you; my life is not worth living. ~ James Clarke.
Love for me is innocence, honesty, compassion, trust, loyalty, a gentle summer breeze, sunshine, a great cuddle. ~ AJ McLean.
One day, when it is raining, and the weather is not good, let us go for a cuddle session, dear. ~ Anonymous.
When it's cold & dark at night, and we're alone together, I long to take you in my arms, and cuddle you forever. ~ Giles Andreae.
There are days when I wonder what could be better than lying in bed and hugging you tight. ~ Anonymous.
Love for me is innocence, honesty, compassion, trust, loyalty, a gentle summer breeze, sunshine, a great cuddle. ~ A. J. McLean.
Things I like: cuddling, you, cuddling with you. ~ Serpil Ozturkmen.
I don't have any particular burning desire to go back to being cuddly. Not really. ~ Hugh Grant.
Come cuddle close in daddy's coat
Beside the fire so bright
And hear about the fairy folk
That wander in the night. ~ Robert Bird.
Being cuddly has nothing to do with size. ~ Brigitte Nielsen.
There's nothing else I would rather do, unless there was a profession that involved cuddling bunny rabbits and kittens all day for money. ~ Kat Dennings.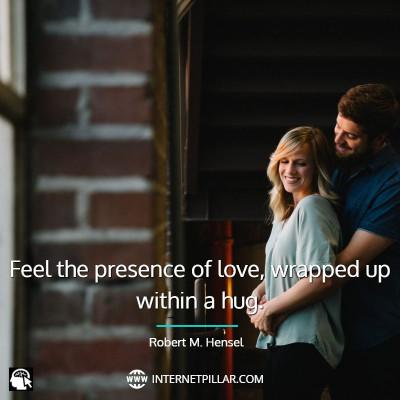 Feel the presence of love, wrapped up within a hug. ~ Robert M. Hensel.
If models are made for modeling, thick girls are made for cuddling. ~ Andre Benjamin.
I read that when cats are cuddling and kneading you, and you think it's cute, they're really just checking your vitals for weak spots. ~ Kandyse Mcclure.
My days, if they start in the morning with a cuddle from my son, are just so much more glorious than they were prior to that. ~ Russell Crowe.
Petting, scratching, and cuddling a dog could be as soothing to the mind and heart as deep meditation and almost as good for the soul as prayer. ~ Dean Koontz.
Also Read: 95 Best Spirituality Quotes to Awaken Your Life and Lift Up Your Soul and 95 Inner Beauty Quotes to Love and Embrace Yourself
Unique Cuddle Quotes
It's similar to the way you feel cuddling an infant or a kitten when you want to squeeze it so hard you'd kill it. ~ Zoe Heller.
I don't need you, but the world, sometimes, seems more peaceful and manageable when holding someone. ~ Darnell Lamont Walker.
I get really upset some days , and I really just wish I had someone there to cuddle. ~ Harry Styles.
Cuddling was for great aunts and teddy bears. Cuddling gave him cramp. ~ David Nicholls.
I'm a little monster. Cuddling is my special attack. ~ Crina Popescu.
I began to wonder why we cuddle some animals and put a fork in others. ~ Henry Spira.
Just the thought of being with you tomorrow is enough to get me through the day. ~ Sara Baio.
I want to talk to you more in the most intimate ways, for that is how I love you so. ~ Anonymous.
When I say that I miss you, it actually means that I need to kiss you, hug you and cuddle with you to wipe all my sorrows away. ~ Anonymous.
What the world really needs is more love and less paperwork. ~ Pearl Bailey.
Cuddle up. Rain always stops. It always stops. It always does. ~ Ellen Gilchrist.
Popular Cuddle Quotes
When you miss your loved one, remember the beautiful moments you've had with them. And when your heart swells, cuddle your pillow and let your tears soothe the pain. ~ Anoir Ou-Chad.
All I really wanted to do was cuddle back under the blankets, maybe with a certain stuffed toy penguin I knew. Yeah, hiding sounded good. ~ Laurell K Hamilton.
Even the memory of cradling her in my arms is pure euphoria. And all that I ask out of life is that it be constant and unending euphoria. ~ Roman Payne.
I wrapped my arms around him, threading my fingers through his hair, wanting to be as close as humanly possible to this person I loved so much. ~ Raleigh Ruebins.
I know I look like a person that does not like to cuddle at all, but the truth is that I do. ~ Anonymous.
Didn't know it was possible to fit so perfectly inside someone else's arms. ~ Tomi Adeyemi.
Sweet dreams, baby,' he whispered into my hair, his arm giving me a squeeze. 'See you on the other side. ~ Kristen Ashley.
I have to tell them that last night was a shameful train wreck filled with blind cuddly puppies. ~ Charlie Sheen.
Let us go on and hug each other more often; there is something about it that I find soothing. ~ Anonymous.
Whenever I get to have you in my arms, I am satisfied because I feel your love, dear. ~ Anonymous.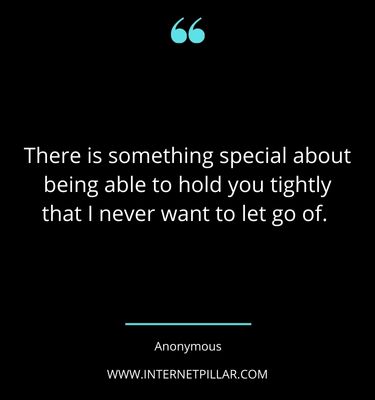 There is something special about being able to hold you tightly that I never want to let go of. ~ Anonymous.
Love Cuddle Quotes
Cuddling with you feels like touching stars. ~ Giovannie de Sadeleer.
Moms are always busy but never too busy to give you a quick cuddle. ~ Richard Exley.
Cuddling is the perfect medicine for those that are feeling a little bit blue and sadder. ~ Anonymous.
There is no wrong way to cuddle, but there are ways to make your cuddles more intimate and enjoyable. ~ Rob Grader.
Memories keep us stay alive as they gently cuddle us along the squirming roads of our lives and even warn us sometimes of insidious pitfalls. ~ Erik Pevernagie.
Yeah, I treat all my heroines like children now. I pick them up, I cuddle them, I call them baby. ~ Shahrukh Khan.
End up blowing all of his wages for the week, all for a cuddle and a peck on the cheek. ~ Ray Davies.
Would like to crawl under the sheets with you and cuddle until sunrise, forever. ~ Cora Nigro.
What is life, without your arms around me?… Cuddle me, love me and promise never to ever live my side. ~ Jane Thomson.
Our bodies are made to nurture and cuddle and all of those amazing things that come along with being a mom. ~ Alyssa Milano.
I'm tired of going to an empty bedroom every night. I wish I had a girl I could cuddle with. ~ Harry Styles.
To hold on to the person you love is like being near a fireplace in the middle of a winter night.~ Anonymous.
He looks such a wooly cuddle and sounds smoother than a pint of Guinness going down a dry throat. ~ Clive James.
I feel your love so real in my love, so true and strong especially when you put your arms around me. You make me always crave your cuddles. ~ Purity Hogan.
I do not like to cuddle that much, but I always want to do it with you. ~ Anonymous.
You go out into a world full of doubt, but when the person you love hugs you tight, you feel okay. ~ Anonymous.
Cuddling can sometimes be the thing you do to remove all the sadness and pain inside you. ~ Anonymous.
Demand less from me as I plan on giving you more of me anyways, now. Let us keep hugging! ~ Anonymous.
Cuddle time can help your baby calm down after an upset or get ready for naps and beds. Make cuddling a frequent part of your daily routine. ~ Elizabeth Verdick.
I want to hug you tight and never let go of you, for you are everything to me, darling. ~ Anonymous.
Each embrace you give me feels like the world to me, as if I am holding some fragile thing. ~ Anonymous.
---
Cuddle Messages and Wishes
Have a break, have a cuddle.
Make the world a better place with cuddle.
Cuddle first at the finish line!
Splash cuddle All Over.
I need cuddle right now.
Cuddle – it's like heaven!
You better get your cuddle out.
Women love cuddle.
Cuddle for all.
It's a cuddle Adventure.
Cuddle, let the good times roll.
Cuddle always the right choice.
I Want My cuddle.
Feel good with cuddle.
Cuddle – once you have it, you love it.
A Cuddle A Day Helps You Work, Rest and Play.
Up, up and away with cuddle.
The joy of cuddle.
Cuddle, there's no better way.
Cuddle – once you have it, you love it.
---
So these were the 90 top Cuddle quotes, messages and wishes.
If you like these quotes and sayings, then you can also read my other posts on Faith in God quotes and Wednesday Morning quotes.
---
References and Sources: