Are you looking for motivation, then great, you have came to the right place.
Deep motivational quotes are popular because they inspire and make us feel meaningful like they're reflecting our own thoughts but with a writer's flair.
These powerful motivational quotes can spur us to act help us in facing challenges or start something new in our life.
They're like wisdom-packed nuggets that successful people use to push them through tough times or spark creativity and productivity.
Here's an amazing selection of deep motivational quotes to keep you motivated whenever you need a boost.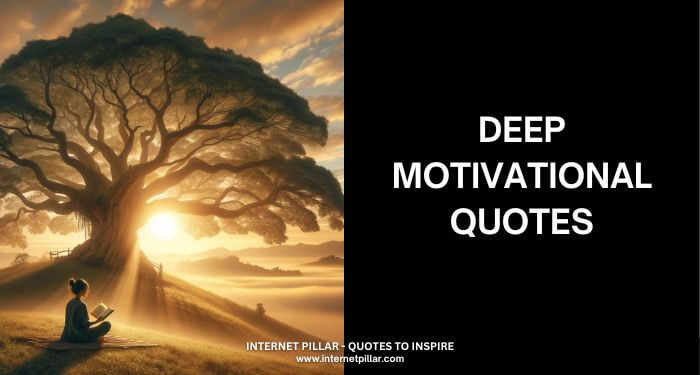 So what are we waiting for, let's get started.
---
Deep Motivational Quotes
Dream bigger. Do bigger. ~ Unknown.
Little things make big days. ~ Unknown.
Who, being loved, is poor? ~ Oscar Wilde.
I rebel, therefore I exist. ~ Albert Camus.
Don't wait for opportunity. Create it. ~ Unknown.
The best revenge is massive success. ~ Frank Sinatra.
Fall seven times and stand up eight. ~ Japanese Proverb.
Also read: Inspirational Success Quotes for Life and Business
Deep Motivational Quotes for Success
All limitations are self-imposed. ~ Oliver Wendell Holmes.
You miss 100% of the shots you don't take. ~ Wayne Gretzky.
Determine your priorities and focus on them. ~ Eileen McDargh.
Don't stop when you're tired. Stop when you're done. ~ Unknown.
Believe you can and you're halfway there. ~ Theodore Roosevelt.
Your passion is waiting for your courage to catch up. ~ Unknown.
If I love myself, I love you. If I love you, I love myself. ~ Rumi.
Act as if what you do makes a difference. It does. ~ William James.
Wake up with determination. Go to bed with satisfaction. ~ Unknown.
The only way to do great work is to love what you do. ~ Steve Jobs.
See also: Daily Motivational Quotes for Success
Deep Motivational Quotes for Life
It's going to be hard, but hard does not mean impossible. ~ Unknown.
It is never too late to be what you might have been. ~ George Eliot.
Life shrinks or expands in proportion to one's courage. ~ Anais Nin.
Every saint has a past, and every sinner has a future. ~ Oscar Wilde.
May your choices reflect your hope, not your fears. ~ Nelson Mandela.
Start where you are. Use what you have. Do what you can. ~ Arthur Ashe
The best way to predict your future is to create it. ~ Abraham Lincoln.
Best Deep Motivational Quotes
All things excellent are as difficult as they are rare. ~ Baruch Spinoza.
Every man is born as many men and dies as a single one. ~ Martin Heidegger.
Everything you've ever wanted is on the other side of fear. ~ George Addair.
It does not matter how slowly you go as long as you do not stop. ~ Confucius.
Your time is limited, don't waste it living someone else's life. ~ Steve Jobs.
If you want to lift yourself up, lift up someone else. ~ Booker T. Washington.
You can't use up creativity. The more you use, the more you have. ~ Maya Angelou.
You can't depend on your eyes when your imagination is out of focus. ~ Mark Twain.
Happiness is not something readymade. It comes from your own actions. ~ Dalai Lama.
Build your own dreams, or someone else will hire you to build theirs. ~ Farrah Gray.
Learn as if you will live forever, live like you will die tomorrow. ~ Mahatma Gandhi.
I am not a product of my circumstances. I am a product of my decisions. ~ Stephen Covey.
Deep Motivational Quotes to Inspire You
Your pain is the breaking of the shell that encloses your understanding. ~ Kahlil Gibran.
Life is not a problem to be solved, but a reality to be experienced. ~ Soren Kierkegaard.
When you change your thoughts, remember to also change your world. ~ Norman Vincent Peale.
Our greatest glory is not in never falling, but in rising every time we fall. ~ Confucius.
Sometimes we're tested not to show our weaknesses, but to discover our strengths. ~ Unknown.
The only person you should try to be better than is the person you were yesterday. ~ Unknown.
The best time to plant a tree was 20 years ago. The second best time is now. ~ Chinese Proverb.
The state of your life is nothing more than a reflection of your state of mind. ~ Sigmund Freud.
Deep Motivational Quotes to Overcome Obstacles
Do not wait to strike till the iron is hot; but make it hot by striking. ~ William Butler Yeats.
The only person you are destined to become is the person you decide to be. ~ Ralph Waldo Emerson.
I have learned over the years that when one's mind is made up, this diminishes fear. ~ Rosa Parks.
The only limit to our realization of tomorrow will be our doubts of today. ~ Franklin D. Roosevelt.
Don't judge each day by the harvest you reap but by the seeds that you plant. ~ Robert Louis Stevenson.
Go confidently in the direction of your dreams. Live the life you have imagined. ~ Henry David Thoreau.
We cannot solve problems with the kind of thinking we employed when we came up with them. ~ Albert Einstein.
The two most important days in your life are the day you are born and the day you find out why. ~ Mark Twain.
Success is not final, failure is not fatal: It is the courage to continue that counts. ~ Winston S. Churchill.
I can't change the direction of the wind, but I can adjust my sails to always reach my destination. ~ Jimmy Dean.
Deep Motivational Quotes for Getting Ahead
What lies behind us and what lies before us are tiny matters compared to what lies within us. ~ Ralph Waldo Emerson.
If you hear a voice within you say 'you cannot paint,' then by all means paint and that voice will be silenced. ~ Vincent Van Gogh.
When you give joy to other people, you get more joy in return. You should give a good thought to happiness that you can give out. ~ Eleanor Roosevelt.
Nature has given us all the pieces required to achieve exceptional wellness and health, but has left it to us to put these pieces together. ~ Diane McLaren.
It is only when we take chances, when our lives improve. The initial and the most difficult risk that we need to take is to become honest. ~ Walter Anderson.
Stay away from those people who try to disparage your ambitions. Small minds will always do that, but great minds will give you a feeling that you can become great too. ~ Mark Twain.
---
I hope this amazing and powerful collection of quotes about deep motivation will help you to take your life to the next level.