David Dreman, born in 1936, is a prominent investor and founder of Dreman Value Management.
He has contributed many scholarly articles, penned four books and writes a Forbes magazine column.
Dreman is also a board member of the Institute of Behavioral Finance.
He began his career after graduating from the University of Manitoba in 1958, holding positions at Rauscher Pierce, Seligman and Value Line Investment Service.
In 1977, he established Dreman Value Management, serving as president and chairman.
The firm was part of a series of acquisitions culminating in Deutsche Bank. In 2009, Dreman's firm adhered to his contrarian value investing approach by retaining banking stocks during a crash, leading to the firm's removal from managing the DWS Dreman High Return Equity Fund due to poor performance.
Similar: Michael Burry Quotes from Top Investor and Warren Buffett Quotes on Money and Investing
In this post I have compiled the most famous quotes by David Dreman.
---
Best David Dreman Quotes
Experts are often wrong – sometimes remarkably so. ~ David Dreman.
The great majority of money managers have consistently lagged behind the market averages. ~ David Dreman.
Analysts have always been overly optimistic. ~ David Dreman.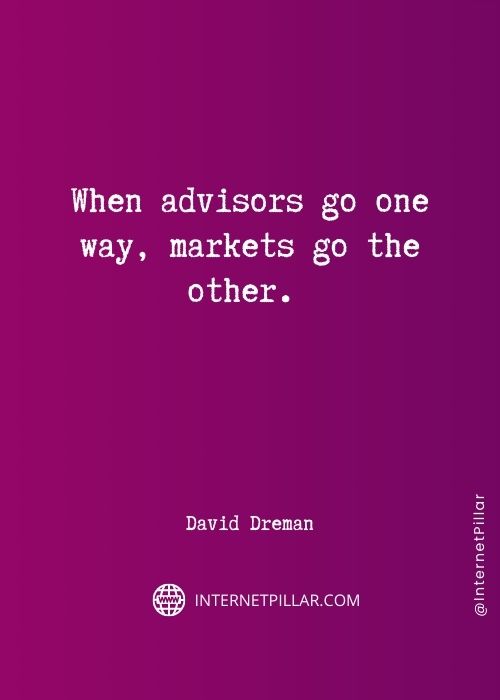 When advisors go one way, markets go the other. ~ David Dreman.
Patience is a crucial but rare investment commodity. ~ David Dreman.
Investors repeatedly jump ship on a good strategy just because it hasn't worked so well lately, and, almost invariably, abandon it at precisely the wrong time. ~ David Dreman.
If you have good stocks and you really know them, you'll make money if you're patient over three years or more. ~ David Dreman.
Famous David Dreman Quotes on Investing
Psychology, no matter how much you've studied it or think you know it, can reduce both your ego and your net worth very quickly. ~ David Dreman.
I buy stocks when they are really battered. ~ David Dreman.
The market does not run on chance or luck. Like the battlefield, it runs on probabilities and odds. ~ David Dreman.
If you play it out long enough it blows up. ~ David Dreman.
People are not good intuitive statisticians, particularly under difficult conditions. ~ David Dreman.
Ingesting large amounts of investment information can lead to worse rather than better decisions. ~ David Dreman.
Buy only contrarian stocks because of their superior performance characteristics. ~ David Dreman.
When people are frightened, they cut their time horizon dramatically, … Even advisers will say to sell because they see portfolios crumble and they fear people will have nothing left. It's really not rational, but it does happen. ~ David Dreman.
I paraphrase Lord Rothschild: 'The time to buy is when there's blood on the streets.' ~ David Dreman.
I always buy stocks with low price-earnings ratios, low price-to-book value ratios, low price-to-cash-flow ratios and higher-than-average yield. ~ David Dreman.
Top David Dreman Quotes on Investing
In any single year, there is always some style that will take the lead and then fade out over the next few years. ~ David Dreman.
Positive surprises result in major appreciation for out-of-favor stocks, while having minimal impact on favorites. ~ David Dreman.
Psychology is probably the most important factor in the market – and the one that is least understood. ~ David Dreman.
Favored stocks underperform the market, while out-of-favor companies outperform the market, but the reappraisal often happens slowly, even glacially. ~ David Dreman.
Nobody beats the market, they say. Except for those of us who do. ~ David Dreman.
Buy medium or large sized stocks listed on the New York Stock Exchange, or only larger companies on Nasdaq or the American Stock Exchange. ~ David Dreman.
One of the big problems with growth investing is that we can't estimate earnings very well. I really want to buy growth at value prices. I always look at trailing earnings when I judge stocks. ~ David Dreman.
---
---
You Might Like