Suze Orman, born June 5, 1951, is an esteemed American financial advisor, author and podcast host, renowned for her profound insights on finance and investing.
Starting from humble beginnings in Chicago, with parents working in a chicken factory and as a secretary, Orman gained a social work degree from the University of Illinois before venturing into the finance sector.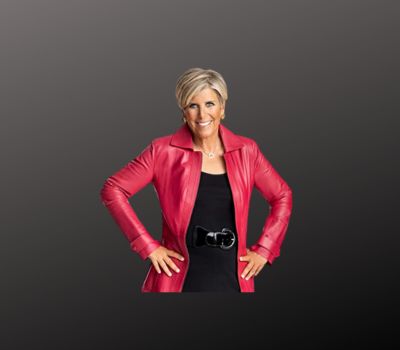 Following a short-lived waitress stint and a failed restaurant venture, she joined Merrill Lynch, earning the title of account executive due to her profitable strategies.
By 1983, Orman was vice president of investments at Prudential Bache Securities, later establishing her own Suze Orman Financial Group.
Her TV show, "The Suze Orman Show," which aired on CNBC from 2002-2015 and her multiple appearances on "The Oprah Winfrey Show" and "Larry King Live," catapulted her to fame.
Related: Dave Ramsey Quotes and Financial Management Quotes
Authoring several best-selling books on personal finance, Orman also serves as a personal finance educator for the U.S. Army and as a special advocate for the National Domestic Violence Hotline.
Here are the top quotes from Suze Orman for you.
---
Best Suze Orman Quotes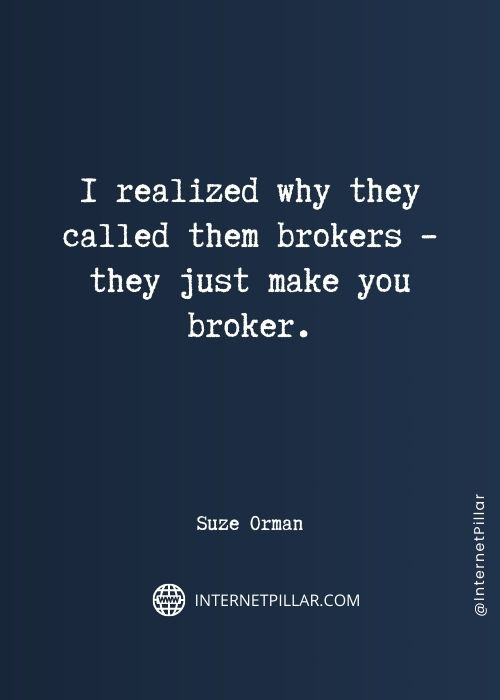 I realized why they called them brokers – they just make you broker. ~ Suze Orman.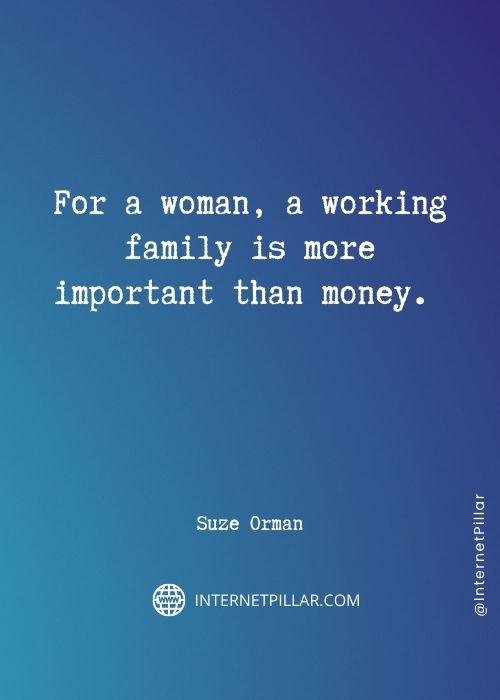 For a woman, a working family is more important than money. ~ Suze Orman.
Cleanliness is a state of purity, clarity, and precision. ~ Suze Orman.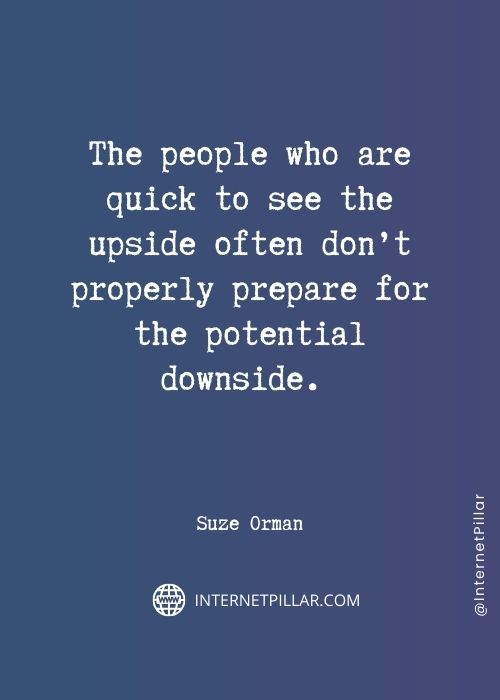 The people who are quick to see the upside often don't properly prepare for the potential downside. ~ Suze Orman.
Money is the currency of life because it is the external measurement system that all of us have as to how we judge where we are in our own lives. ~ Suze Orman.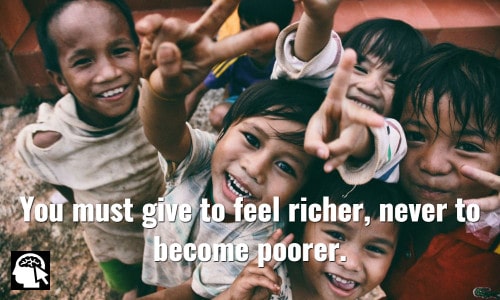 You must give to feel richer, never to become poorer. ~ Suze Orman.
The biggest mistake I see entrepreneurs make is that they get so caught up in their passion that they make a mess of their financial life. ~ Suze Orman.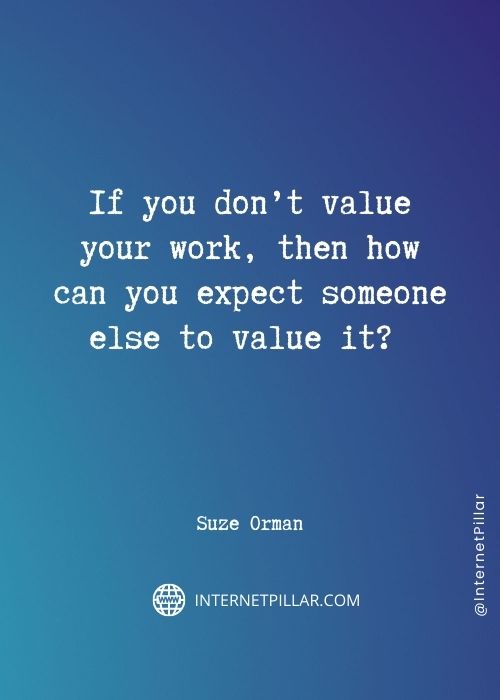 If you don't value your work, then how can you expect someone else to value it? ~ Suze Orman.
You are not to use money as an excuse for sticking with something you hate. ~ Suze Orman.
No one's ever achieved financial fitness with a January resolution that's abandoned by February. ~ Suze Orman.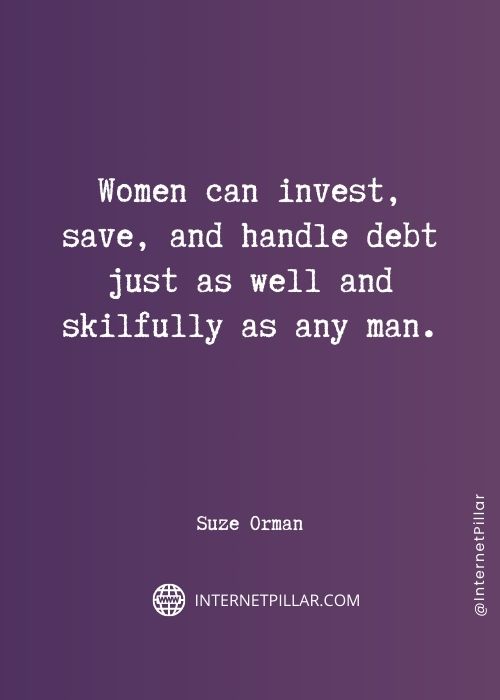 Women can invest, save, and handle debt just as well and skilfully as any man. ~ Suze Orman.
If we persist in denying money its place in our lives, if we don't give it the respect it most certainly deserves, then it will surely lead to unhappiness. ~ Suze Orman.
Two of life's greatest pleasures: counting your money as it grows and dreaming you'll spend it when the time comes. ~ Suze Orman.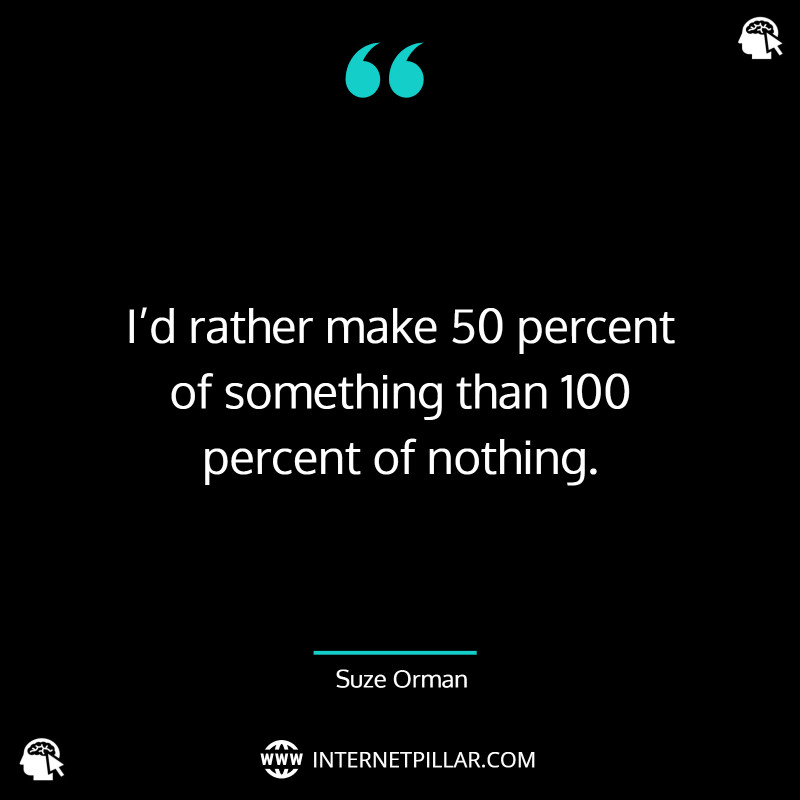 I'd rather make 50 percent of something than 100 percent of nothing. ~ Suze Orman.
Money is such an amazing teacher: What you choose to do with your money shows whether you are truly powerful or powerless. ~ Suze Orman.
Top Suze Orman Quotes
The things that matter most in this world are those that carry no price tag, for they can neither be bought nor sold at any price. ~ Suze Orman.
Financial Freedom is the pathway to inner and outer happiness, and the power to discover that pathway is within you. ~ Suze Orman.
Owning a home is a keystone of wealth – both financial affluence and emotional security. ~ Suze Orman.
It is very dangerous to base spending today on what you hope will play out for you tomorrow. ~ Suze Orman.
Live below your means but within your needs. ~ Suze Orman.
Personal financial storms can arrive in every season. ~ Suze Orman.
Some people prosper when times are challenging, and some people never do, even in good times. ~ Suze Orman.
I love the Roth IRA. Tax-free income in retirement is a truly great deal. ~ Suze Orman.
People have got to learn: if they don't have cookies in the cookie jar, they can't eat cookies. ~ Suze Orman.
Truth creates money, lies destroy it. ~ Suze Orman.
Even though people know in their hearts and minds that they should take action, they are paralyzed with fear. ~ Suze Orman.
It is far easier to make a false first financial impression than a false first personal impression. ~ Suze Orman.
If you can't afford to make a down payment, it's a sign you can't afford a home. ~ Suze Orman.
Stop buying things you don't need, to impress people you don't even like. ~ Suze Orman.
Famous Suze Orman Quotes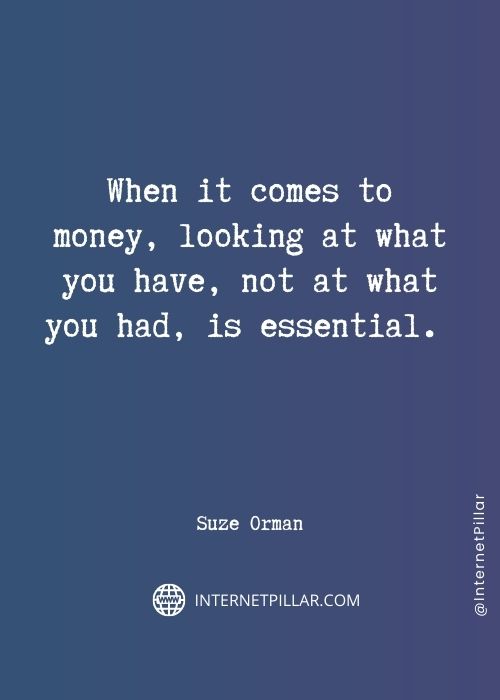 When it comes to money, looking at what you have, not at what you had, is essential. ~ Suze Orman.
Good people everywhere will like you for who you are, not for what you have. ~ Suze Orman.
The past doesn't have any power over you – not unless you give it power. ~ Suze Orman.
We cannot measure our self-worth by our net worth. ~ Suze Orman.
All destruction starts with a lie, personal or financial. ~ Suze Orman.
Success is not how many zeroes your bank account has. It's about making the most of the life you have. ~ Suze Orman.
Seek abundance, and you will have abundance. ~ Suze Orman.
It's easy to underestimate the real cost of home ownership. ~ Suze Orman.
If you expect your money to take care of you, you must take care of your money. ~ Suze Orman.
Each decision you make with your money puts you at a crossroads between truth and lies. One road leads to creating what you want, the other to destroying what you have. ~ Suze Orman.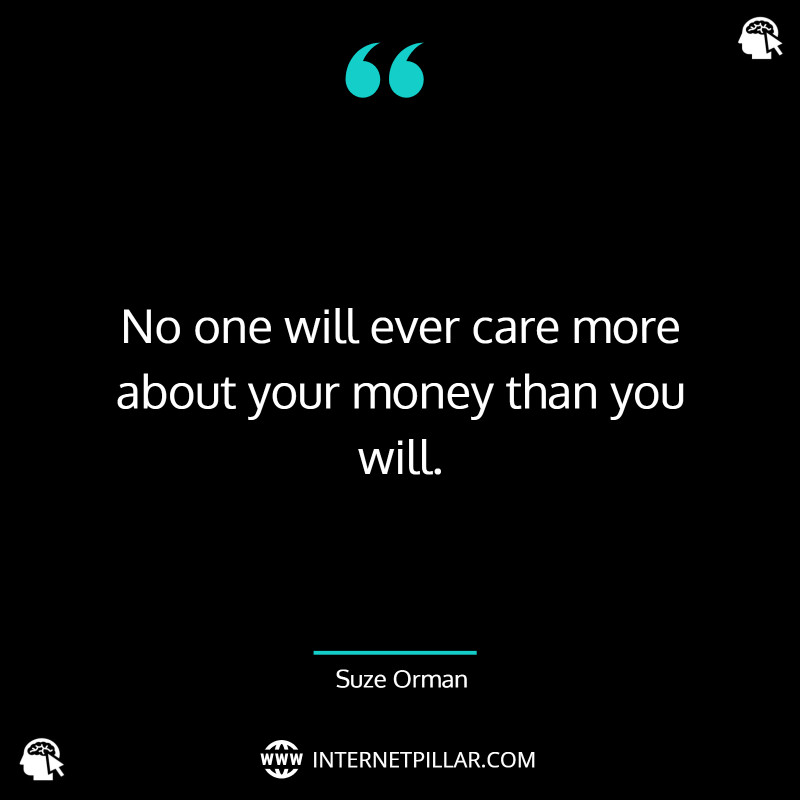 No one will ever care more about your money than you will. ~ Suze Orman.
Abundance is about being rich, with or without money. ~ Suze Orman.
Time is a key to building your financial security. ~ Suze Orman.
True power does not reside in a bank account. ~ Suze Orman.
When lies are woven into the fabric of your financial life, that fabric will inevitably fray. ~ Suze Orman.
Thoughtful financial planning can easily take a backseat to daily life. ~ Suze Orman.
When you undervalue what you do, the world will undervalue who you are. ~ Suze Orman.
In order to become rich, you must believe that you can do it, and you must take the actions necessary to achieve your goal. ~ Suze Orman.
Life is journey, and if you open yourself up to its possibilities, it can take you in directions you never imagined. ~ Suze Orman.
Popular Suze Orman Quotes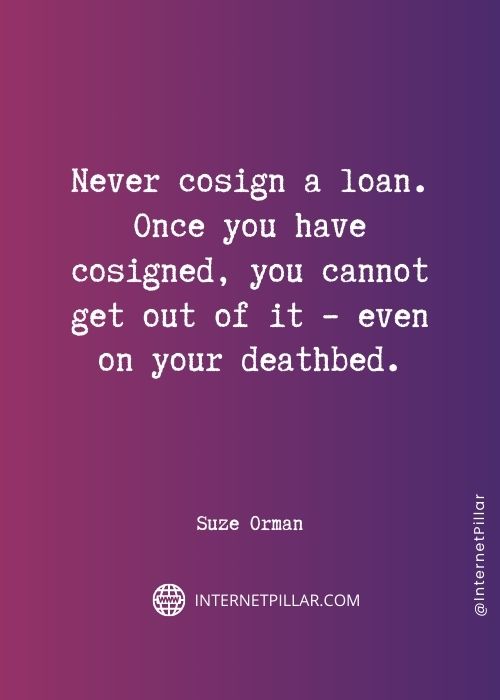 Never cosign a loan. Once you have cosigned, you cannot get out of it – even on your deathbed. ~ Suze Orman.
Money is not stagnant; it is ever-changing. ~ Suze Orman.
I believe that you cannot build a strong financial future on a base that is undermined by debt. ~ Suze Orman.
The road to financial freedom begins… in your head. It begins with your thoughts. ~ Suze Orman.
To enjoy a long, comfortable retirement, save more today. ~ Suze Orman.
Money has no power on its own. ~ Suze Orman.
If you clear the path for your money to flow and grow, then you will leave a powerful legacy for generations to come. ~ Suze Orman.
The quality of your life does not depend solely on how you accumulate, save, and spend your money. True richness lies in defining yourself by who and what you are – not by what you do or do not have. ~ Suze Orman.
True financial harmony is achieved when your pleasure in saving money equals or exceeds your pleasure in spending it. ~ Suze Orman.
Inspiring Suze Orman Quotes
By talking to your children about money, you will be talking to them about the way the world really works. And you'll be teaching them well. ~ Suze Orman.
Every financial worry you want to banish and financial dream you want to achieve comes from taking tiny steps today that put you on a path toward your goals. ~ Suze Orman.
If a child, a spouse, a life partner, or a parent depends on you and your income, you need life insurance. ~ Suze Orman.
When you can be happy in your sadness as you are in your happiness. Then you know the key to life. ~ Suze Orman.
The happiest moment of my life happens once a day. ~ Suze Orman.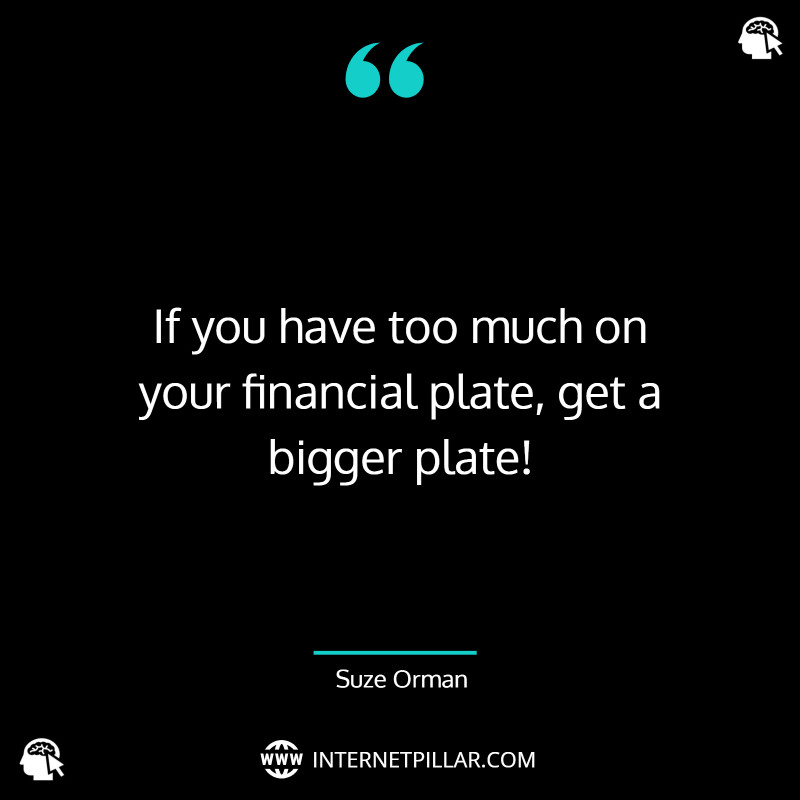 If you have too much on your financial plate, get a bigger plate! ~ Suze Orman.
A big part of financial freedom is having your heart and mind free from worry about the what-ifs of life. ~ Suze Orman.
There is nothing more beautiful than a confident woman. ~ Suze Orman.
Although money alone won't make us happy, the lack of money surely will make us miserable. ~ Suze Orman.
It's impossible to map out a route to your destination if you don't know where you're starting from. ~ Suze Orman.
If you're financially responsible, your children have a much better chance to grow up financially responsible. ~ Suze Orman.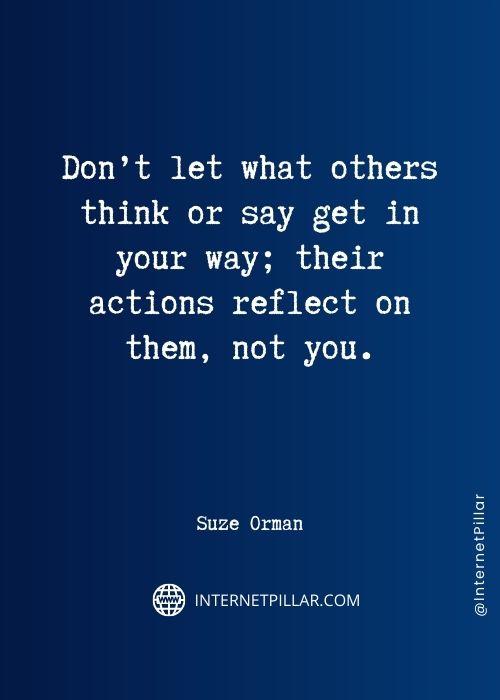 Don't let what others think or say get in your way; their actions reflect on them, not you. ~ Suze Orman.
Look within to see why you are doing without. If you don't have the money that you want in your life today, ask yourself what you are doing to block it. ~ Suze Orman.
---
---
You Might Like