As the name implies, dirt roads are often comprised of soil, gravel, or other natural elements that may be compacted to form a reasonably smooth surface.
Dirt roads are often smaller and less well-maintained than paved roads, making them rougher and more difficult to drive on, particularly in rainy or muddy circumstances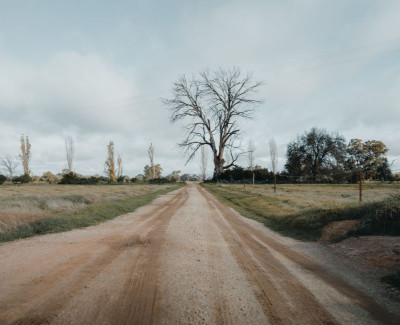 ---
Table of Contents
Dirt Roads Quotes
I grew up on a dirt road with brothers. ~ Josh Holloway.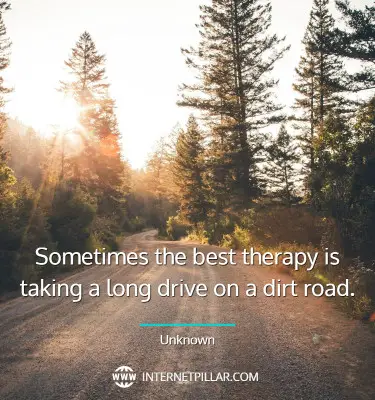 Sometimes the best therapy is taking a long drive on a dirt road. ~ Unknown.
Of all the paths you take in life make sure a few of them are dirt. ~ Unknown.
I grew up in the south, poor – on rock, dirt roads. ~ Tina Turner.
Dirt roads give you a piece of mind. ~ Unknown.
Most of my memories come from some old dirt road. ~ Unknown.
Dirt roads are the best roads. ~ Chandan Negi.
There's just something about dirt roads that makes the life feel a little more simple. ~ Chandan Negi.
Also Read: Road Trip Quotes and Sayings For Your Next Adventure and Best Quotes About Journey to Explore The World
Quotes about Dirt Roads
My wife, Daniela, and I live in an old house from 1810 with three fireplaces at the end of a dead-end dirt road on Cape Cod, so I turn the trees into firewood for us and a friend of mine sells the rest. ~ Sebastian Junger.
I tell people, 'I was born in a little house at the dead end of a dirt road that had no name and no number, and you can go anywhere from nowhere.' ~ Robert H. Schuller.
I'm a contemporary artist with a bit of an unexpected background. I was in my 20s before I ever went to an art museum. I grew up in the middle of nowhere on a dirt road in rural Arkansas, an hour from the nearest movie theater. ~ Shea Hembrey.
Dirt roads remind me of home. ~ Chandan Negi.
I was born in 1940 in Minnesota and grew up in the country… dirt roads, swamps, lakes, woods. ~ Terry Gilliam.
The best way poor people can come out of their poverty is to get on the global highway, not on some dirt side road. ~ Iqbal Quadir.
Best Dirt Roads Quotes
I moved away when I was young, when I was about 19. I'd literally come from an area with dirt roads and stuff like that, right to the centre of a city of about five million people. It's been great. I'm based in New York, and every day, it's amazing. ~ Diego Klattenhoff.
Maddy: "Um…..William?" she said, driving up the narrow dirt road. "Is there a particular reason you keep a sword behind your backseat?" William: "Because I don't own a gun yet. ~ Janet Chapman.
I don't keep diaries anymore; They're quite incriminating. I just keep all the dirt road diaries in my head. ~ Luke Bryan.
I can sometimes gaze out of the window, at the sheep, ponies, grazing deer, and numerous woodland folk. It's a wonderful setting in which to write. I live on a dirt road, miles from anywhere, with no neighbors. ~ Raymond Buckland.
Dirt Road Diaries,' in my mind, is a perfect country guy song. It speaks to the hard-working guy, and I'm excited for the fans to hear that one. ~ Luke Bryan.
I am early in my story, but I believe I will stretch out into eternity, and in heaven I will reflect upon these early days, these days when it seemed God was down a dirt road, walking toward me. Years ago He was a swinging speck in the distance; now He is close enough I can hear His singing. Soon I will see the lines on His face. ~ Donald Miller.
Interesting Dirt Roads Quotes
I have bougainvillea and a magnolia tree outside my window. Not that anything will ever beat the view I had from my desk window in my little farmhouse in Nebraska. Just a dirt road stretching out as far as you could see, with prairie grass on either side. ~ Meghan Daum.
Yeah I'm chillin' on a dirt road, laid back swervin' like I'm George Jones. ~ Jason Aldean.
"It's a road," Corey said, pointing. "A dirt road," Hayley muttered. "So? We've been slogging through the forest for two days. What do you want? A six-lane highway? ~ Kelley Armstrong.
I grew up like a lot of country boys and girls do – amongst the pine trees, dirt roads, farms, mules and people who were real. ~ Josh Turner.
I have always been inspired by the dream of America-families in the country, weathered trucks and farmhouses; sailing off the coast of Maine; following dirt roads in an old wood-paneled station wagon; a convertible filled with young college kids sporting crew cuts and sweatshirts and frayed sneakers. ~ Ralph Lauren.
I grew up on a dirt road in Maine, and pretty much everybody on that dirt road was related to me, and they were old. And so grumpy. ~ Elizabeth Strout.
I'm a dirt road out in the country kind of person, but I remember thinking, I could live in Chicago. ~ Maggie Stiefvater.
Whether you are a low-income elderly woman living at the end of a dirt road in Vermont or a wealthy CEO living on Park Avenue, you get your mail six days a week. And you pay for this service at a cost far less than anywhere else in the industrialized world. ~ Bernie Sanders.
Beautiful Dirt Roads Quotes
He is the playfulness of creation, scandal and utter goodness, the generosity of the ocean and the ferocity of a thunderstorm; he is cunning as a snake and gentle as a whisper; the gladness of sunshine and the humility of a thirty-mile walk by foot on a dirt road. ~ John Eldredge.
The information superhighway is a dirt road that won't be paved over until 2025. ~ Sumner Redstone.
Speed is relative. Does it feel fast going 70 miles per hour down an eight lane highway? No, probably not, but I bet it does if you are going down some single lane dirt road. It's the same in a race car. It depends on the track. ~ Kyle Petty.
---
So these were the 32 quotes about Dirt Roads.
If you like these quotes and sayings, then you can also read my other popular blog posts on the topics of Relationship Stress quotes and Nothing is Free quotes and Never Too Old quotes and I Want You To Be Happy quotes.
References and Sources: