The wish for you to be happy at all times stems from great compassion and care.
I really wish that your days are full with joy, laughter and happiness.
A smile is more than just a symbol of happiness; it is a statement of contentment, tranquility and completion.
It's a sign of genuine happiness, when worries disappear into the background and ecstasy takes center stage.
You can see the sparkle in your eyes and the lightness in your spirit when you're genuinely pleased.
Rather than transient moments of happiness, this want is for a deep, lasting pleasure that penetrates every aspect of your life, painting your surroundings with beautiful colors of ecstasy and contentment.
---
Table of Contents
I Want You To Be Happy Quotes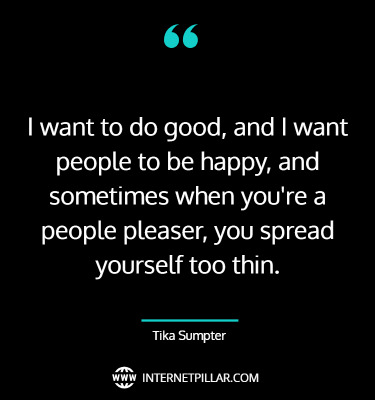 I want to do good, and I want people to be happy, and sometimes when you're a people pleaser, you spread yourself too thin. ~ Tika Sumpter.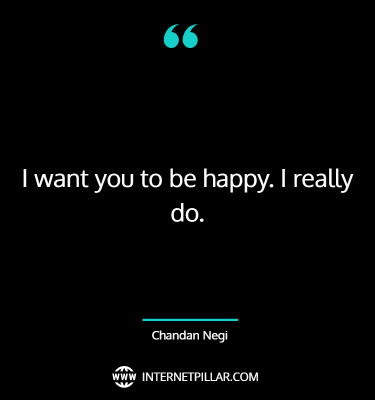 I want you to be happy. I really do. ~ Chandan Negi.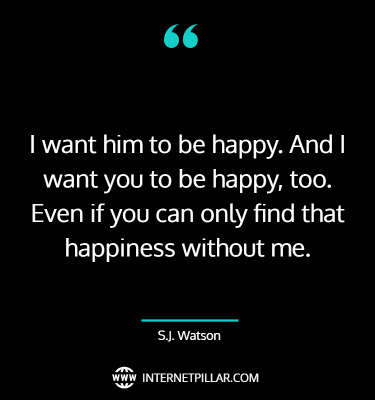 I want him to be happy. And I want you to be happy, too. Even if you can only find that happiness without me. ~ S.J. Watson.
If God came in and said, I want you to be happy for the rest of your life, what would you do? ~ Bernie Siegel.
If you want to be happy. Be. ~ Unknown.
I just want to be normal, like everybody else. Are you sure that being like everybody else will make you happy? ~ Lauren Oliver.
You deserve to be happy. You owe that to yourself. ~ Chandan Negi.
I just want to be happy. You know what I'm saying? I just want to be happy, and I want to be able to make somebody else happy. ~ Sean Combs.
I want to be myself. That's when you feel the most comfortable, that's when you have the most success, and that's when you're the most happy. ~ Leighton Meester.
Here's a little song I wrote. You might want to sing it note for note. Don't worry, be happy. ~ Bobby McFerrin.
Related Topics Quotes: 63 Happy Heart Quotes to Brighten Your Day and 70 Laughter Quotes and Sayings to Make You Happy
Best I Want You To Be Happy Quotes
You know, I do not know, I just want to date someone who makes me happy. ~ Caprice Bourret.
I want everybody to be happy because, if you're happy, you are more open to other people. Don't let misery bring you down. ~ Angelique Kidjo.
I don't care about anything but you, and that's enough for the present. I want you to be happy – not to think of anything sad; only to feel that I'm near you and I love you. Why should there be pain? In such hours as this what have we to do with pain? That's not the deepest thing; there's something deeper. ~ Henry James.
I want you to be…. Happy. ~ Nicholas Sparks.
If you want to be happy in life, consider yourself a student. Every day of your life, think: how can I improve? ~ Nick Offerman.
I want you to be happy, and him to be happy. And yet when you walk that aisle to meet him and join yourselves forever you will walk an invisible path of the shards of my heart Tessa. I would give over my own life for either of yours. ~ Cassandra Clare.
I want you to be happy…to laugh, smile and rejoice in order that others may be made happy by you. ~ Abdu'l-Bahá.
Lovely I Want You To Be Happy Quotes
I just want you to be happy. If that's with me or with someone else or with nobody. I just want you to be happy. ~ John Green.
Thanks to you, I always am so happy. Now I want to give you all the happiness on your birthday. ~ Richard Bach.
I want you to be happy but I want to be the reason. ~ Unknown.
I am an eternal optimist. Being happy is a choice. And you can make that choice every day, if you want to. ~ Brittany Murphy.
I do not want horses or diamonds – I am happy in possessing you. ~ Clara Schumann.
Men like to squash you. I just want someone who's happy with himself, happy with his life. He doesn't have to squash mine. ~ Sarah Silverman.
Well. Like I said, I don't want to fight anymore. I don't want us to hate each other. And … well … I squeezed my eyes shut and then opened them. No matter how I feel about us … I want you to be happy. ~ Richelle Mead.
You deserve a great life. I want to see you become unreasonably happy. And you can. And you will. ~ Hill Harper.
I had a happy marriage and a nice wife. I accomplished everything you can. What more can you want? ~ Max Schmeling.
Great I Want You To Be Happy Quotes
The best relationships are when you both want to make each other happy – you buy the groceries, I do the dishes. ~ Lyndsy Fonseca.
You have a choice whether you want to be happy or not. I choose to be happy. ~ Vanessa Hudgens.
If you want me to be straight, gay, into monkeys, dating Kylie, whatever, I'm happy for people to project whatever onto me! ~ Darren Hayes.
I want just to be happy and peaceful. And that's not always the case when you're married. ~ Olivier Martinez.
Every single day I want you to be happy and full of joy, just like you make me happy by just passing through my mind. ~ Donna White.
I'm a happy person. If you want to be around me, you can either choose to be happy too, or follow the signs to the nearest exit! ~ Sharon Swan.
Always upbeat, always happy, always putting you in a good mood. That's what I want to achieve with my music. ~ Kim Dotcom.
Quotes about I Want You To Be Happy
You gotta let the fans shine their glory the way they want. It's like I have a million bosses and my job is to make them happy. ~ Rakim.
When you're in the Middle of an Argument, ask yourself: Do I want to be Right or be Happy? ~ Wayne Dyer.
When you can look forward, and the road is clear ahead, and now you are going to create something – that's as happy as I'd want to be. ~ Alfred Hitchcock.
I am quite happy to take a cut. You've got to, if you want to work and continue working. ~ Paul O'Grady.
I'm only saying I want you to be happy. I hate your being unhappy. I don't mind anything you do that makes you happy." You just want an excuse. If I sleep with anybody else, you feel you can do the same – any time." That's neither here nor there. I want you to be happy, that's all." You'd make my bed for me?" Perhaps. ~ Graham Greene.
I want you to be happy, you're my best friend. But it's so hard to let you go now with all that could have been. I'll always have the memories. She'll always have you. Fate has a way of changing just when you don't want it to. Throw away the chains, let love fly away. Till love comes again, I'll be okay. ~ Amanda Marshall.
---
So these were the 43 quotes about I Want You To Be Happy.
If you like these quotes and sayings, then you can also read my other popular blog posts on the topics of End of Journey quotes and Relationship Stress quotes and Nothing is Free quotes and Never Too Old quotes.
---
References: