These Road Trip Quotes and Sayings are going to inspire you for your next adventure!
Road trips provide an exceptional chance and opportunity for adventure and self-discovery.
A road trip gives you entire control over your travel and gives you the freedom to to stop and explore new locations anytime you choose.
Few travel experiences can compare to the thrill of beginning on a lengthy road journey, finding new places and appreciating the unique tales and moments that emerge along the route.
Slow travel is exemplified by road vacations, when the focus is on the journey itself, the people you meet and the shared experiences that become priceless.
We have selected over 97 fantastic road trip quotes that capture the spirit of this remarkable kind of travel, expressing the emotions, fun and companionship that make these experiences so memorable.
These road trip quotes feature both amusing tales and observations on the ties developed when traveling with friends or loved ones.
---
Table of Contents
Top 10 Road Trip Quotes
No road is long with good company. ~ Turkish proverb.
Roads were made for journeys, not destinations. ~ Confucius.
If you're on a road trip, you need driving music. ~ Edgar Wright.
Roads are a record of those who have gone before. ~ Rebecca Solnit.
People don't take trips, trips take people. ~ John Steinbeck.
A journey is best measured in friends, rather than miles. ~ Tim Cahill.
The road goes on forever and the party never ends. ~ Robert Earl Keen.
Life is beautiful if you are on the road to somewhere. ~ Orhan Pamuk.
Look on every exit as being an entrance somewhere else. ~ Tom Stoppard.
Discovery consists not in seeking new landscapes, but in having new eyes. ~ Marcel Proust.
Related Quotes: 32 Dirt Roads Quotes to Live Freely and 70 Best Travel Quotes for Travelers and Wanderlust Person
Famous Road Trip Quotes
I may not have ended up where I intended to go, but I think I have ended up where I intended to be. ~ Douglas Adams.
It is good to have an end to journey toward, but it is the journey that matters in the end. ~ Ursula K. Le Guin.
To move, to breathe, to fly, to float, To gain all while you give, To roam the roads of lands remote, To travel is to live. ~ Hans Christian Andersen.
My favourite thing to do is to go where I've never been. ~ Diane Arbus.
Once you have traveled, the voyage never ends, but is played out over and over again in the quietest chambers. The mind can never break off from the journey. ~ Pat Conroy.
Do Not Follow Where The Path May Lead. Go Instead Where There Is No Path And Leave A Trail. ~ Ralph Waldo Emerson.
Look at life through the windshield, not the rearview mirror. ~ Byrd Baggett.
In life, it's not where you go – it's who you travel with. ~ Charles M. Schulz.
The best journeys are the ones that answer questions that at the outset you never even thought to ask. ~ Rick Ridgeway.
Good company in a journey makes the way seem shorter. ~ Izaak Walton.
Life is either a daring adventure or nothing. ~ Helen Keller.
Lovely Road Trip Quotes
I want to be an actor, and I am being an actor. I'm not ready to run off on a road trip. Yet. ~ Liane Balaban.
You Can't Find The Right Roads When The Streets Are Paved. ~ Bob Marley.
The pleasure we derive from journeys is perhaps dependent more on the mindset with which we travel than on the destination we travel to. ~ Alain de Botton.
I travel not to go anywhere, but to go. I travel for travel's sake. The great affair is to move. ~ Robert Louis Stevenson.
A tourist is a fellow who drives thousands of miles so he can be photographed standing in front of his car. ~ Emile Ganest.
I'm on the road constantly. I'm a nomad. I don't really have a home right now. I don't identify with one place in particular. ~ Daya.
Sometimes you find yourself in the middle of nowhere and sometimes in the middle of nowhere you find yourself. ~ Stacy Westfall.
A journey is like marriage. The certain way to be wrong is to think you control it. ~ John Steinbeck.
Inspiring Road Trip Quotes
One of the great things about travel is that you find out how many good, kind people there are. ~ Edith Wharton.
Only those who risk going too far can possibly find out how far they can go. ~ T.S Eliot.
Stop worrying about the potholes in the road and enjoy the journey. ~ Babs Hoffman.
Never go on trips with anyone you do not love. ~ Ernest Hemingway.
That's why I love road trips, dude. It's like doing something without actually doing anything. ~ John Green.
The open road is there, it will always be there. You just have to decide when to take it. ~ Chris Humphrey.
Sometimes the road less travelled is less travelled for a reason. ~ Jerry Seinfeld.
Beautiful Road Trip Quotes
The freedom of the open road is seductive, serendipitous and absolutely liberating. ~ Aaron Lauritsen.
If you come to a fork in the road, take it. ~ Scott Myers.
I love road trips! My husband and I love that. We bought a truck with a bench seat so we could put the dog in the middle. ~ Barbra Streisand.
What we find in a soul mate is not something wild to tame, but something wild to run with. ~ Robert Brault.
When all's said and done, all roads lead to the same end. So it's not so much which road you take, as how you take it. ~ Charles de Lint.
When you're on a road trip, anything goes. ~ Casey Wilson.
She wasn't where she had been. She wasn't where she was going, but she was on her way. ~ Jodi Hills.
Wherever you get to is better than where you started. To stay on the road is a massive achievement. ~ Anthony Joshua.
The pleasure we derive from journeys is perhaps dependent more on the mindset with which we travel than on the destination we travel to. ~ Alain de Botton.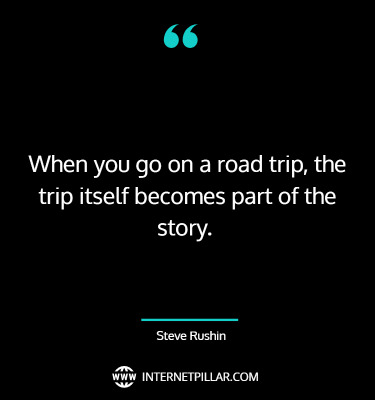 When you go on a road trip, the trip itself becomes part of the story. ~ Steve Rushin.
Best Road Trip Quotes
Now, on this road trip, my mind seemed to uncrinkle, to breathe, to present to itself a cure for a disease it had not, until now, known it had. ~ Elizabeth Berg.
A bend in the road is not the end of the road….unless you fail to make the turn. ~ Helen Keller.
You may not find a path, but you will find a way. ~ Tom Wolfe.
I can speak to my soul only when the two of us are off exploring deserts or cities or mountains or roads. ~ Paulo Coelho.
Look for chances to take the less-traveled roads. There are no wrong turns. ~ Susan Magsamen.
Inspirational Road Trip Quotes
The open road is a beckoning, a strangeness, a place where a man can lose himself. ~ William Least Heat Moon.
We are all travelers in the wilderness of the world & the best we can find in our travels is an honest friend. ~ Robert Louis Stevenson.
A journey is measured in friends, rather than miles. ~ Tim Chaill.
I love road trips. You get into this Zen rhythm; throw the sense of time out the window. ~ Miriam Toews.
Travel isn't always pretty. It isn't always comfortable. Sometimes it hurts, it even breaks your heart. But that's okay. The journey changes you; it should change you. ~ Anthony Bourdain.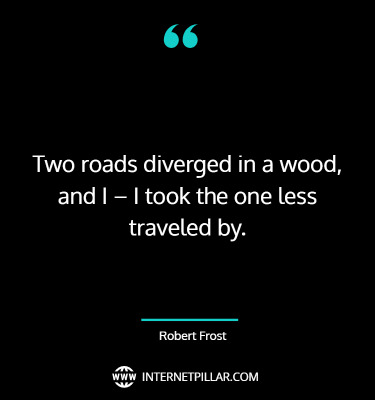 Two roads diverged in a wood, and I – I took the one less traveled by. ~ Robert Frost.
God made the world round so we would never be able to see too far down the road. ~ Isak Dinesen.
Our battered suitcases were piled on the sidewalk again; we had longer ways to go. But no matter, the road is life. ~ Jack Kerouac.
Popular Road Trip Quotes
One's destination is never a place, but rather a new way of seeing things. ~ Henry Miller.
I love being on the road. I love that lifestyle, traveling city to city, rocking out and moving on to the next place. ~ Caleb Johnson.
Still, round the corner, there may wait, a new road or a secret gate. ~ J. R. R. Tolkien.
I see my path, but I don't know where it leads. Not knowing where I'm going is what inspires me to travel it. ~ Rosalia De Castro.
Difficult roads often lead to beautiful destinations. ~ Unknown.
Kilometers are shorter than miles. Save fuel, take your next trip in Kilometers. ~ George Carlin.
A road trip is a way for the whole family to spend time together and annoy each other in interesting and new places. ~ Tom Lichtenheld.
If we wait until we are ready, we will be waiting for the rest of our life! ~ Lemony Snicket.
Powerful Road Trip Quotes
Sometimes the most scenic roads in life are the detours you didn't mean to make. ~ Angela N Blount .
Take care of your car in the garage, and the car will take care of you on the road. ~ Amit Kalantri.
I climb behind the steering wheel… I drive off immediately without once looking back; it's a long journey but it leads to freedom. ~ Corinne Hofmann.
Road trips require a couple of things: a well balanced diet of caffeine, salt and sugar, and an excellent set of tunes – oh, and directions. ~ Jenn McKinlay.
Driving at night is about communicating with lights. ~ Lukhman Pambra.
In 1903 the Wright brothers invented airplanes, because in 1902 they took a road trip across the country with their family. ~ Bill Engvall.
If you make the mistake of looking back too much, you aren't focused enough on the road in front of you. ~ Brad Paisley.
Straight roads do not make skillful drivers. ~ Paulo Coelho.
There is an unspoken bond you create with the friends you travel with. ~ Kristen Sarah.
A journey is a person in itself; no two are alike. And all plans, safeguards, policing, and coercion are fruitless. ~ John Steinbeck.
I just go with the flow, I follow the yellow brick road. I don't know where it's going to lead me, but I follow it. ~ Grace Jones.
Positive Road Trip Quotes
A passenger on a road journey is in the hands of a driver; a reader embarking on a book is in the hands of a narrator. ~ Romesh Gunesekera.
Every journey is simultaneously a beginning and an ending: I was leaving my old life behind and starting on a road trip to find a new me. ~ Debi Tolbert Duggar.
On a two week road trip I know I can get by better with no underwear than no laptop. ~ Curt Schilling.
Some beautiful paths can't be discovered without getting lost. ~ Erol Ozan.
I have found out that there ain't no surer way to find out whether you like people or hate them than to travel with them. ~ Mark Twain.
You know more of a road by having traveled it than by all the conjectures and descriptions in the world. ~ William Hazlitt.
I have never taken a road trip. Unless you count Los Angeles to Vegas. ~ Jamie-Lynn Sigler.
Thought-Provoking Road Trip Quotes
The only impossible journey is the one you never begin. ~ Tony Robbins .
Because the greatest part of a road trip isn't arriving at your destination. It's all the wild stuff that happens along the way. ~ Emma Chase.
All he needed was a wheel in his hand and four on the road. ~ Jack Kerouac.
It's not the destination, it's the journey. ~ Ralph Waldo Emerson.
Map out your future – but do it in pencil. The road ahead is as long as you make it. Make it worth the trip. ~ Bon Jovi.
I take to the open road. Healthy, free, the world before me. ~ Walt Whitman.
If you're not lost, you're not much of an explorer. ~ John Perry Barlow.
The entire road trip could be summed up as one giant attempt to keep from crashing the car during fits of rage and fits of hysteria. ~ Kari Martindale.
---
So these were the 97 top quotes about Road Trip.
If you like these quotes and sayings, then you can also read my other posts on Night Sky quotes and Moonlight quotes.
---
Sources: