These Fighting Cancer Quotes are going to give hope to cancer patients and survivors.
Cancer occurs when cells in the body begin to multiply uncontrollably, disrupting the regular functioning of various systems.
This potentially fatal illness presents a considerable threat to those afflicted.
In such trying times, when you or a loved one is fighting cancer, words of inspiration and encouragement can offer much-needed solace and even serve as a guiding principle for embracing life.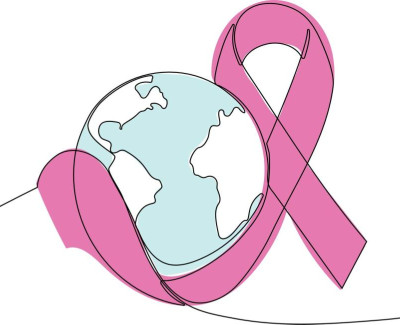 To extend our support, we have assembled a selection of our favorite cancer-focused quotes in this compilation.
If you discover any uplifting or motivational quotes for cancer patients that we have not featured, we encourage you to review and share your top choices in the comments section below.
These empowering words can genuinely impact the lives of those navigating this daunting journey.
---
Top 10 Fighting Cancer Quotes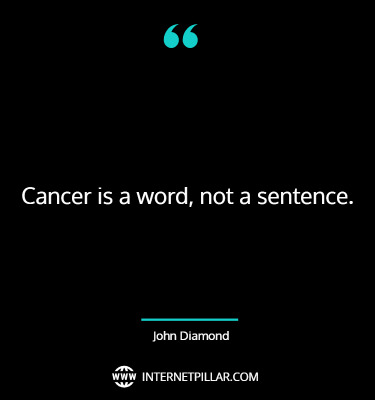 Cancer is a word, not a sentence. ~ John Diamond.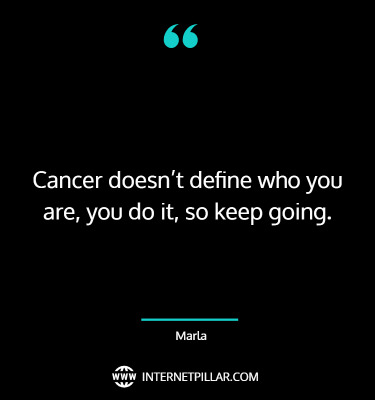 Cancer doesn't define who you are, you do it, so keep going. ~ Marla.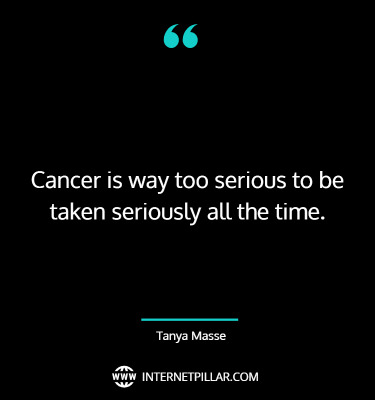 Cancer is way too serious to be taken seriously all the time. ~ Tanya Masse.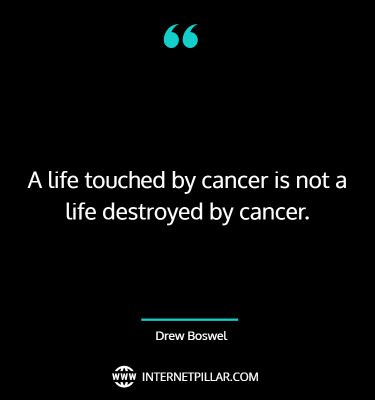 A life touched by cancer is not a life destroyed by cancer. ~ Drew Boswel.
People ask if I had it to do again, would I choose cancer? Yes. ~ Sally Morgan.
I am not thankful for cancer but I am thankful for what cancer has taught me. ~ Brett Conley.
Cancer served a real purpose, making me a little bit more conscious of time. ~ Gloria Steinem.
I have cancer. Cancer doesn't have me. ~ Marco Calderon.
Cancer is a fight to the death. Either you kill it, or it will kill you. Get ready to brawl. ~ Lawrence Wray.
Cancer has shown me what family is. It showed me a love that I never knew really existed. ~ Michael Douglas.
Related Quotes: 47 Best Fighting Quotes and Sayings of All Time and 75 Fighter Quotes to Discover the Warrior Within You
Best Fighting Cancer Quotes
We must embrace pain and burn it as fuel for our journey. ~ Kenji Miyazawa.
You never know how strong you are until being strong is the only choice you have. ~ Cayla Mills.
Yes, I have cancer and it might not go away, but I can still have a future because life goes on. ~ Kris Carr.
Pain is temporary. Quitting lasts forever. ~ Lance Armstrong.
Don't let pain define you, let it refine you. ~ Tim Fargo.
I cried like a baby. When no one could see me or hear me. Not because I feared what cancer would do, but because I didn't want the disease. I wanted my life to be normal, which it could no longer be. ~ Yuvraj Singh.
Cancer is a journey, but you walk the road alone. There are many places to stop along the way and get nourishment – you just have to be willing to take it. ~ Emily Hollenberg.
My father's death from prostate cancer in 1993 was tragic. He never complained about pain. He was a fighter. ~ Zoe Wanamaker.
When you die, it does not mean that you lose to cancer, you beat cancer by how you live, why you live and in the manner in which you live. ~ Stuart Scott.
The important thing is not how many years in your life but how much life in your years. ~ Edward J. Stieglitz.
Strength is born in the deep silence of long-suffering hearts; not amidst joy. ~ Felicia Hemans.
Cancer taught my family that my mom is much stronger than we ever thought. Faced with a devastating diagnosis, she just kept going and living – never complaining. ~ Richard Grenell.
Enjoy every day without worrying about the next. ~ Diego Zamora.
I think cancer is a hard battle to fight alone or with another person at your side, but I will say having someone to pick you up when you fall, standing by your side through every appointment and delivery of bad news, is priceless. ~ Jenna Morasca.
Inspiring Fighting Cancer Quotes
One of the things that can help people with cancer is having something that you really look forward to doing, so that you can focus on that while the treatments are going on. I guess it's like saying, 'I have unfinished business left before I die. ~ Joe Marelle.
Cancer is only going to be a chapter in your life, not the whole story. ~ Joe Wasser.
Be your own healthcare advocate. You owe it to yourself and the people that love you. ~ Dawnia.
There can be life after breast cancer. The prerequisite is early detection. ~ Ann Jillian.
I now know why people fear cancer: because it is a slow and inevitable death, it is the very definition of cynicism and loss of spirit. So, I believed. ~ Lance Armstrong.
Our way is not soft grass; it's a mountain path with lots of rocks. But it goes upwards, forward, toward the sun. ~ Ruth Westheimer.
I'm battling cancer. It's another battle I intend to win. ~ Arlen Specter.
Broken crayons still color. Nobody's perfect. If you feel broken, don't let that determine your worth. You can still do so much. ~ Unknown.
We can only appreciate the miracle of the sunrise if we have waited in the darkness. ~ Unknown.
Cancer is the be-all and end-all of the sport, and the only thing you can do is show up to the game with your jersey on. ~ Colleen Hoover.
It's possible not just to survive, but to thrive and to live a healthy, wonderful life again. ~ Erika Evans.
Acceptance of death and cancer did not mean I intended to give up, just the opposite. I was prepared to fight cancer not out of fear of dying, but out of joy of living. ~ Edie Littlefield Sundby.
You can be a victim of cancer or a survivor of cancer. It's a mindset. ~ Dave Pelzer.
The most important thing in illness is never to lose heart. ~ Nikolai Lenin.
Cancer doesn't have to define you. ~ Nelda Blair.
Everyone in this world is breathing borrowed air. ~ Rachael Lippincott.
Optimism is the foundation of courage. ~ Nicholas Murray Butler.
Hopeful Quotes for Cancer Patients
Once cancer happens it changes the way you live for the rest of your life. ~ Hayley Mills.
When I hear a guy lost a battle to cancer, that really did bother me, that that's a term. It implies that he failed and that somebody else that defeated cancer is heroic and courageous. ~ Norm MacDonald.
Cancer affects all of us, whether you're a daughter, mother, sister, friend, coworker, doctor, or patient. ~ Jennifer Aniston.
Cancer can take away all of my physical abilities. It cannot touch my mind, it cannot touch my heart, and it cannot touch my soul. ~ Jim Valvano.
Above all, cancer is a spiritual practice that teaches me about faith and resilience. ~ Kris Carr.
There's always hope beyond what you see. ~ Cora Connor.
Cancer is not a death sentence, but rather it is a life sentence; it pushes one to live. ~ Marcia Smith.
The failure to think positively can weigh on a cancer patient like a second disease. ~ Barbara Ehrenreich.
Cancer recovery is hard work. Life is hard work. And it really pays off. Hang in there. ~ Helen Szablya.
I'm in good shape. My cancer means I have lost a lot of organs and I'm a lot lighter. I have devoted myself to yoga and I'm doing handstands. ~ Eve Ensler.
The truth is that you can be angry and scared and happy and grateful and tired and fed up at the same time. I guess that's the gift of cancer. ~ Mary Elizabeth Williams.
Surviving cancer is not the end of a gruesome story, it's the beginning of a beautiful one. ~ Casey.
I am grateful to be alive and still have the quality of life which makes it possible for me to spread awareness related to the benefits of detecting prostate cancer early. ~ Mical J. Roy.
Cancer is not a straight line. It's up and down. ~ Elizabeth Edwards.
Inspirational Quotes for Cancer Survivors
You are stronger than cancer beat it. ~ Odeta Stuikys Rose.
Life is not a matter of holding good cards, but of playing a poor hand well. ~ Robert Louis Stevenson.
Nah. I'm a tough cookie. Except for the cancer, I'm fine. ~ Lisa Scottoline.
Cancer does not stop your life, giving up your dreams or your goals, it is simply a parameter to manage, no more, no less than all the other parameters of life. ~ Gérard Bourrat.
When we long for life without difficulties, remind us that oaks grow strong in contrary winds, and diamonds are made under pressure. ~ Peter Marshall.
Berries are the healthiest fruit, offering potential protection against cancer and heart disease, boosting the immune system and acting as a guard for the liver and brain. ~ Michael Greger.
Time is shortening. But every day that I challenge this cancer and survive is a victory for me. ~ Ingrid Bergman.
Cancer opens many doors. One of the most important is your heart. ~ Greg Anderson.
Cancer is messy and scary. You throw everything at it, but don't forget to throw love at it. It turns out that might be the best weapon of all. ~ Regina Brett.
There is no hope unmingled with fear, no fear unmingled with hope. ~ Baruch Spinoza.
When you go through deep waters, I will be with you. ~ Isaiah 43:2.
You know, once you've stood up to cancer, everything else feels like a pretty easy fight. ~ David H. Koch.
Having cancer gave me membership in an elite club I'd rather not belong to. ~ Gilda Radner.
Don't lose hope. When the sun goes down, the stars come out. ~ Unknown.
Famous Fighting Cancer Quotes
Once I overcame breast cancer, I wasn't afraid of anything anymore. ~ Melissa Etheridge.
My cancer scare changed my life. I'm grateful for every new, healthy day I have. It has helped me prioritize my life. ~ Olivia Newton-John.
Parents with children who have cancer: I was your child 30 years ago, and I'm here today. ~ Nora Kulkarni.
Yesterday is gone, tomorrow has not yet come. We have only today, let us begin. ~ Mother Teresa.
When someone has cancer, the whole family and everyone who loves them does, too. ~ Terri Clark.
It is often in the darkest skies that we see the brightest stars. Try and find some beauty in your situation. ~ Unknown.
Inspirational Cancer Quotes
Stand in your light and shine brightly because that is how you defeat darkness. ~ Leslie Esperanza Espaillat.
No matter what the statistics say, there is always a way. ~ Bernie Siegel.
Since I had cancer I've realized that every day is a bonus. ~ Geoffrey Boycott.
Remember that all cancers are not the same. Take each day as it comes and spend time doing things you enjoy with your loved ones. ~ Robin Squellati.
It's about focusing on the fight and not the fright. ~ Robin Roberts.
All we've got is hope, and we hang on to that every single day. ~ Caleb Scott.
Powerful Fighting Cancer Quotes
I've had a hip replacement, I've beaten cancer, I had my hand operation, and I stopped drinking. Something inside of me just went, 'I'm done.' ~ Eddie Van Halen.
I won't let cancer define me, but I'll use my journey to help others. ~ Douglas Clarke.
We have two options, medically and emotionally: give up or fight like hell. ~ Lance Armstrong.
You have to fight because if you don't, you let the opponent win, and if your opponent is cancer, the results can be deadly. ~ Lawrence Wray.
Cancer is such a ruthless adversary because it behaves as if it has its own fiendishly cunning agenda. ~ Paul Davies.
In terms of fitness and battling through cancer, exercise helps you stay strong physically and mentally. ~ Grete Waitz.
Cancer is a marathon – you can't look at the finish line. You take it moment by moment, sometimes breath by breath, other times step by step. ~ Sarah Betz Bucciero.
Cancer didn't bring me to my knees, it brought me to my feet. ~ Michael Douglas.
Don't give up. Every day is worth it. ~ Hashmat Effendi.
I'm going to beat this cancer or die trying. ~ Michael Landon.
Cancer does not define who I am, although it is a significant part of me and who I am becoming. ~ Carrie Kreiswirth.
---
So these were the 93 quotes about Fighting Cancer.
If you like these quotes, then you can also read our other posts on Toxic Mother quotes and Toxic Father quotes and Abandonment Issues quotes and Living in the Moment quotes.
---
Sources: