Fionnula Flanagan is an Irish actress who has appeared on stage, screen, and television.
---
Best Fionnula Flanagan Quotes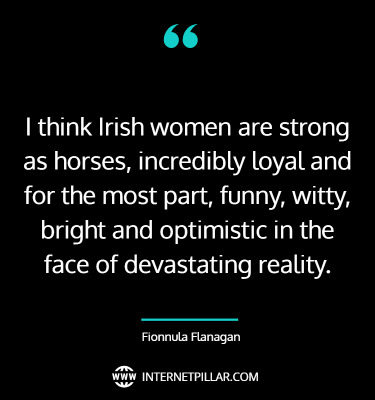 1. "I think Irish women are strong as horses, incredibly loyal and for the most part, funny, witty, bright and optimistic in the face of devastating reality." ~ Fionnula Flanagan.
2. "I'm Irish and always will be, but America has taught me so much. Maybe it's here in the U.S. that we find a healing, for in the broader melting pot we get to look at some of these self-destructive attributes that we bring to bear upon our own quarrels and begin to solve them in ways other than just splitting apart." ~ Fionnula Flanagan.
3. "People think we are such great talkers, but there is so much silence in Ireland about certain issues." ~ Fionnula Flanagan.
4. "When I first came to Hollywood, I could not break into movies." ~ Fionnula Flanagan.
Famous Fionnula Flanagan Quotes
5. "The image of Ireland is projected as a male image in the acting world, similar to the way that the word of Ireland is male-dominated." ~ Fionnula Flanagan.
6. "We had a wild night out with them in Wilmington (North Carolina, where filming took place)." ~ Fionnula Flanagan.
7. "It's wonderful, … I'm going to immediately send a fax to all the actors in the show. We done good. And the picture has given such delight to people." ~ Fionnula Flanagan.
So these are the top Fionnula Flanagan Quotes.
---
You Might Like