Goal setting is about making a list of the things that you want to do and then complete them.
Setting goals is an essential habit for people of all ages, regardless of the scale or complexity of their objective.
The act of imagining, articulating, and working for our goals helps to bring our ambitions to life, offering a concrete road to accomplishment.
Furthermore, motivation, which can be obtained from sources such as inspirational quotes, can significantly enhance this practice.
As a result, we've compiled goal-setting quotes to inspire tenacity and endurance.
---
Top 10 Goal Setting Quotes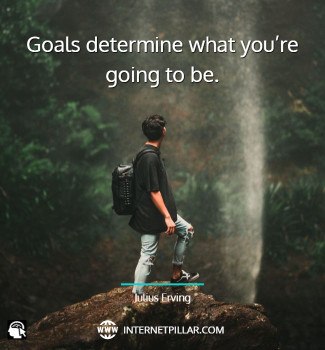 Goals determine what you're going to be. ~ Julius Erving.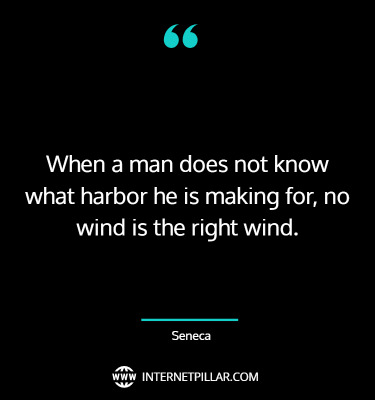 When a man does not know what harbor he is making for, no wind is the right wind. ~ Seneca.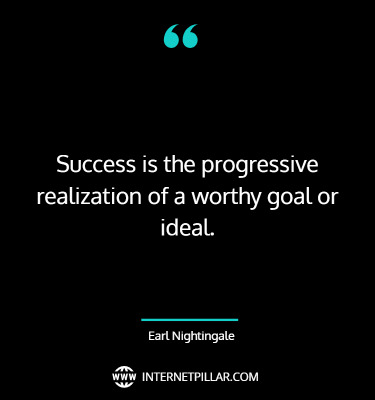 Success is the progressive realization of a worthy goal or ideal. ~ Earl Nightingale.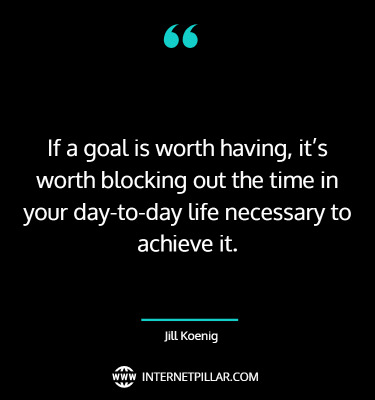 If a goal is worth having, it's worth blocking out the time in your day-to-day life necessary to achieve it. ~ Jill Koenig.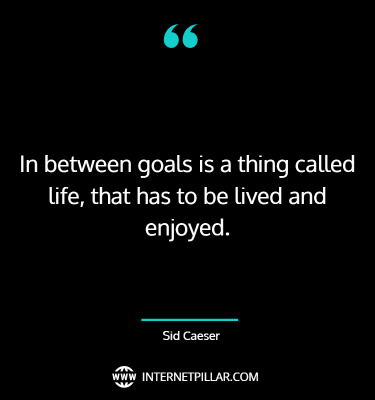 In between goals is a thing called life, that has to be lived and enjoyed. ~ Sid Caeser.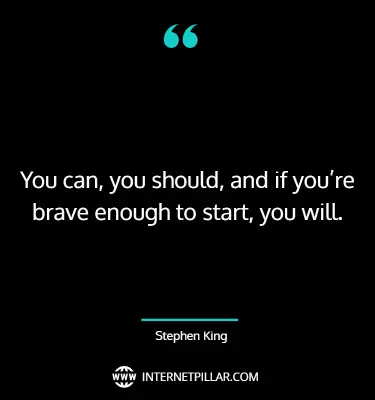 You can, you should, and if you're brave enough to start, you will. ~ Stephen King.
Discipline is the bridge between goals and accomplishment. ~ Jim Rohn.
Your goals are the road maps that guide you and show you what is possible for your life. ~ Les Brown.
Envision, create, and believe in your own universe, and the universe will form around you. ~ Tony Hsieh.
Setting a goal is not the main thing. It is deciding how you will go about achieving it and staying with that plan. ~ Tom Landry.
Related Quotes: 75 Greatest Goals Quotes to Turn Dreams into Reality and 40 Best Future Quotes and Sayings of All Time
Famous Goal Setting Quotes
Most impossible goals can be met simply by breaking them down into bite-size chunks, writing them down, believing them and going full speed ahead as if they were routine. ~ Don Lancaster.
Goal setting is a powerful tool and process for motivating you. When effective goals are set, a giant step towards the life you desire is taken. ~ K.C. Rowntree.
By recording your dreams and goals on paper, you set in motion the process of becoming the person you most want to be. Put your future in good hands – your own. ~ Mark Victor Hansen.
It is never too late to be who you might have been. ~ George Eliot.
If you're bored with life – you don't get up every morning with a burning desire to do things – you don't have enough goals. ~ Lou Holtz.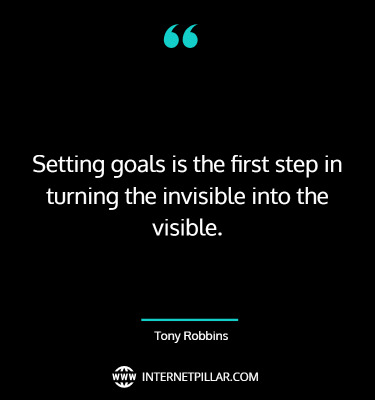 Setting goals is the first step in turning the invisible into the visible. ~ Tony Robbins.
I do know that when I am 60, I should be attempting to achieve different personal goals than those which had priority at age 20. ~ Warren Buffett.
If you set your goals ridiculously high and it's a failure, you will fail above everyone else's success. ~ James Cameron.
People often say I have so much energy, that I never stop; but that's what it takes to accomplish your goals. ~ Curtis Jackson.
A dream becomes a goal when action is taken toward its achievement. ~ Bo Bennett.
Vision without action is a daydream. Action without vision is nightmare. ~ Japanese Proverb.
Popular Goal Setting Quotes
There are only two rules for being successful. One, figure out exactly what you want to do, and two, do it. ~ Mario Cuomo.
A good archer is known not by his arrows but by his aim. ~ Thomas Fuller.
A goal is a dream with a deadline. ~ Napoleon Hill.
It's important to set your own goals and work hard to achieve them. ~ Yuichiro Miura.
Your goal should be just out of reach, but not out of sight. ~ Denis Waitley and Remi Witt.
There is strange comfort in knowing that no matter what happens today, the Sun will rise again tomorrow. ~ Aaron Lauritsen.
Goals are not only absolutely necessary to motivate us. They are essential to really keep us alive. ~ Robert H. Schuller.
If we have a goal and a plan, and are willing to take risks and mistakes and work as team, we can choose to do the hard thing. ~ Scott Kelly.
An idiot with a plan can beat a genius without a plan. ~ Warren Buffet.
Best Goal Setting Quotes
If you don't design your own life plan, chances are you'll fall into someone else's plan. And guess what they have planned for you? Not much. ~ Jim Rohn .
Give me a stock clerk with a goal and I'll give you a man who will make history. Give me a man with no goals and I'll give you a stock clerk. ~ J.C. Penney.
What would you attempt to do if you knew you could not fail? ~ Robert H. Schuller.
It's harder to stay on top than it is to make the climb. Continue to seek new goals. ~ Pat Summitt.
All successful people men and women are big dreamers. They imagine what their future could be, ideal in every respect, and then they work every day toward their distant vision, that goal or purpose. ~ Brian Tracy.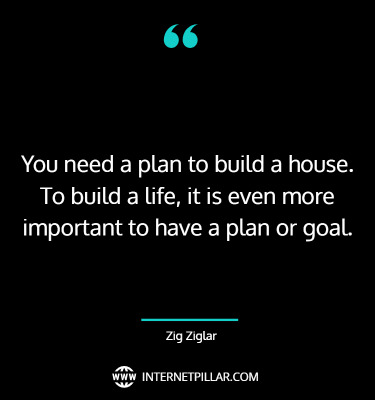 You need a plan to build a house. To build a life, it is even more important to have a plan or goal. ~ Zig Ziglar.
The trouble with not having a goal is that you can spend your life running up and down the field and never score. ~ Bill Copeland.
Aim at the sun, and you may not reach it; but your arrow will fly far higher than if aimed at an object on a level with yourself. ~ J. Howes.
If something is important enough, even if the odds are against you, you should still do it. ~ Elon Musk.
If you want to be happy, set a goal that commands your thoughts, liberates your energy and inspires your hopes. ~ Andrew Carnegie.
Powerful Goal Setting Quotes
It always seems impossible until it's done. ~ Nelson Mandela.
With ordinary talent and extraordinary perseverance, all things are attainable. ~ Thomas Fowell Buxton.
Think little goals and expect little achievements. Think big goals and win big success. ~ David Joseph Schwartz.
The people who are crazy enough to think they can change the world are the ones who do. ~ Steve Jobs.
Be practical as well as generous in your ideals. Keep your eyes on the stars, but remember to keep your feet on the ground. ~ Theodore Roosevelt.
Without some goals and some efforts to reach it, no man can live. ~ John Dewey.
A goal properly set is halfway reached. ~ Zig Ziglar.
One way to keep momentum going is to have constantly greater goals. ~ Michael Korda.
Never quit. It is the easiest cop-out in the world. Set a goal and don't quit until you attain it. When you do attain it, set another goal, and don't quit until you reach it. Never quit. ~ Bear Bryant.
Inspiring Goal Setting Quotes
A goal is not always meant to be reached, it often serves simply as something to aim at. ~ Bruce Lee.
You should set goals beyond your reach so you always have something to live for. ~ Ted Turner.
What you get by achieving your goals is not as important as what you become by achieving your goals. ~ Henry David Thoreau.
A good goal is like a strenuous exercise – it makes you stretch. ~ Mary Kay Ash.
The moment you put a deadline on your dream, it becomes a goal. ~ Harsha Bhogle.
Goals are the fuel in the furnace of achievement. ~ Brian Tracy.
If you want to succeed at a goal, you need to understand why you want it. This is critical. You have to do this process for any goal you set for yourself. ~ Michael S. Dobson.
If you set goals and go after them with all the determination you can muster, your gifts will take you places that will amaze you. ~ Les Brown.
Motivational Goal Setting Quotes
All successful people have a goal. No one can get anywhere unless he knows where he wants to go and what he wants to be or do. ~ Norman Vincent Peale.
The only goals you don't achieve in life are the goals you don't set. ~ Matt Fox.
Goals give us purpose, which, in turn, motivates us to make ourselves the best version in all aspects of your life. ~ Hannah Bronfman.
Setting goals allows you to paint a vision of what you wish your future to be. ~ Catherine Pulsifer.
People with goals succeed because they know where they're going. ~ Earl Nightingale
Goals give you a compass in order to direct your path through life. Goals focus your thoughts and actions on areas that have precise purpose and meaning. ~ Catherine Pulsifer.
To unlock and unleash your full potential, you should make a habit of daily goal setting and achieving for the rest of your life. ~ Brian Tracy.
If you get clear on the what, the how will be taken care of. ~ Jack Canfield.
It must be borne in mind that the tragedy of life doesn't lie in not reaching your goal. The tragedy lies in having no goals to reach. ~ Benjamin E. Mays.
To sit back and let fate play its hand out and never influence it is not the way man was meant to operate. ~ John Glenn.
---
So these were the 70 top quotes about Goal Setting.
If you like these quotes and sayings, then you can also read my other popular blog posts on the topics of Work from Home quotes and Work Life Balance quotes.
---
Sources: