Death is usually represented by the Grim Reaper which is a fictional figure.
Grim Reaper has the appearance of a skeleton, is dressed in a long black cloak with a hood, and wields a scythe.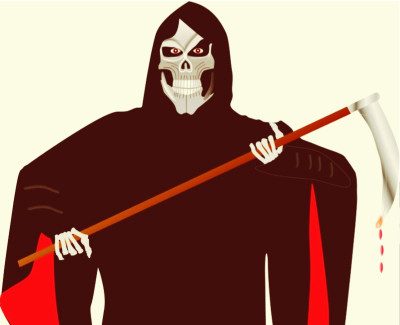 Here are some top Grim Reaper quotes to blow your mind.
---
Best Grim Reaper Quotes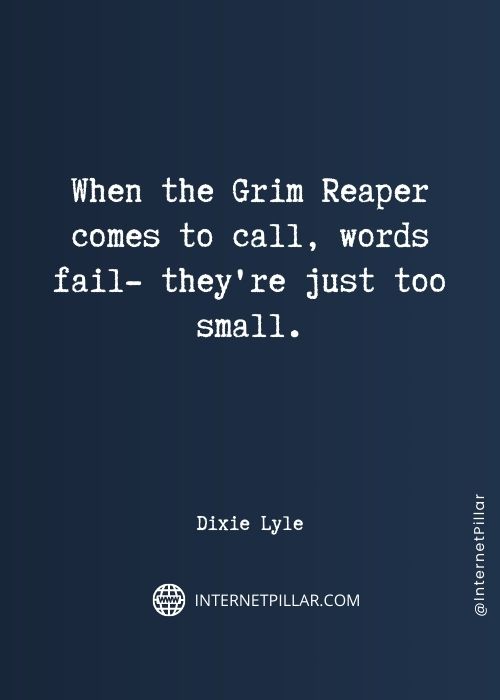 When the Grim Reaper comes to call, words fail- they're just too small. ~ Dixie Lyle.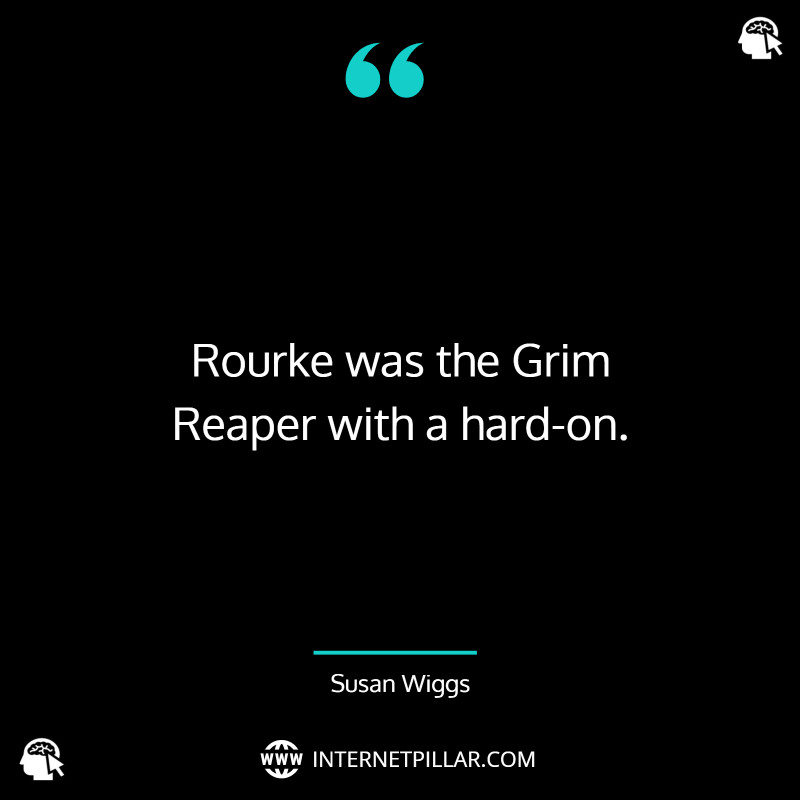 Rourke was the Grim Reaper with a hard-on. ~ Susan Wiggs.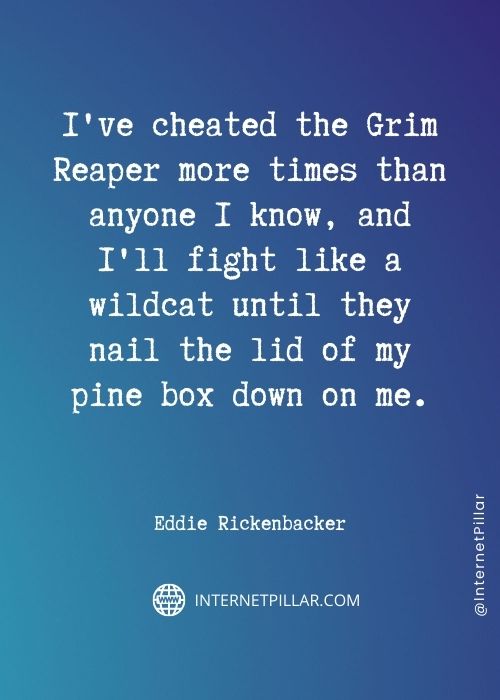 I've cheated the Grim Reaper more times than anyone I know, and I'll fight like a wildcat until they nail the lid of my pine box down on me. ~ Eddie Rickenbacker.
Life is not the end, and death is just the beginning… ~ Rebecca McNutt.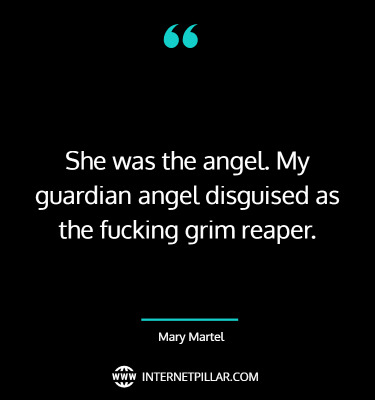 I'm so happy dancing while the grim reaper cuts, cuts, cuts, but he can't get me. I'm as clever as can be, and I'm very quick but don't forget; we've only got so many tricks. no one lives forever. ~ Danny Elfman.
You're not a woman," he said finally. "You're the Grim Reaper with red hair!" ~ Jeaniene Frost.
You become a changed person when you face the reaper and deny him your soul. ~ Martha Sweeney.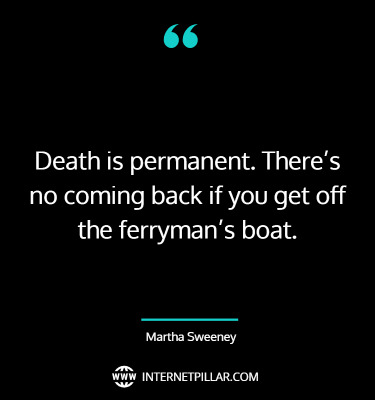 Death is permanent. There's no coming back if you get off the ferryman's boat. ~ Martha Sweeney.
It feels like getting a back massage from the Grim Reaper: one must get comfortable with the most horrifying things in the world. ~ Gerald R. Ford.
Other Topic Quotes: 70 Fear Quotes to Inspire You to Challenge Your Fears and 32 Fear is the Enemy Quotes You Can Relate To
Famous Grim Reaper Quotes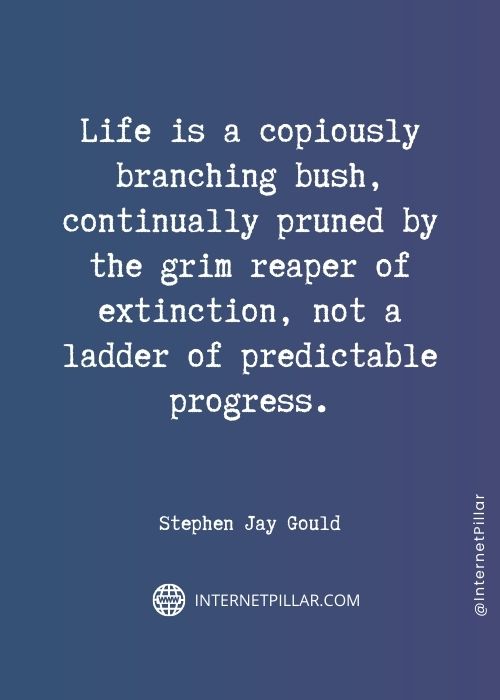 Life is a copiously branching bush, continually pruned by the grim reaper of extinction, not a ladder of predictable progress. ~ Stephen Jay Gould.
You can be a king or a street sweeper, but everyone dances with the Grim Reaper. ~ Robert Alton Harris.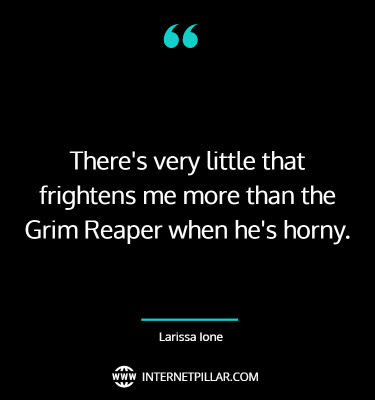 Handsome enough' is this Grim Reaper, Who can snuff all these 'brief candles,' every fluttering soul sucking the air, from this hall – The Vampire Lestat ~ Anne Rice.
Everyone knows that time is Death, that Death hides in clocks. Imposing another time powered by the Clock of the Imagination, however, can refuse his law. Here, freed of the Grim Reaper's scythe, we learn that pain is knowledge and all knowledge pain. ~ Federico Fellini.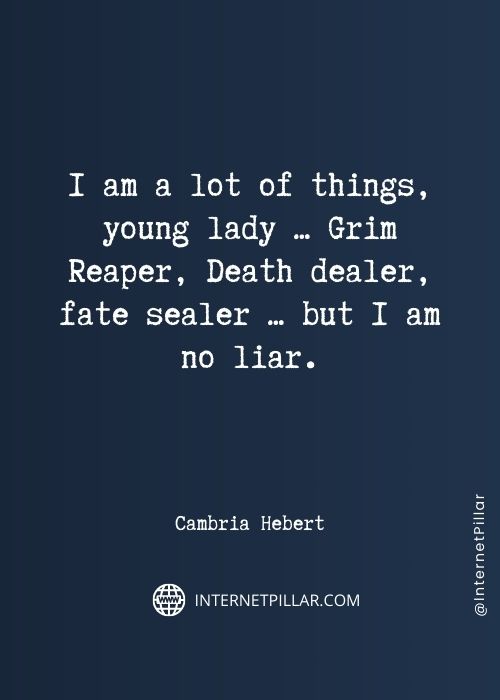 I am a lot of things, young lady … Grim Reaper, Death dealer, fate sealer … but I am no liar. ~ Cambria Hebert.
Top Grim Reaper Quotes
I drive a motorbike, so there is the whiff of the grim reaper round every corner, especially in London. ~ Benedict Cumberbatch.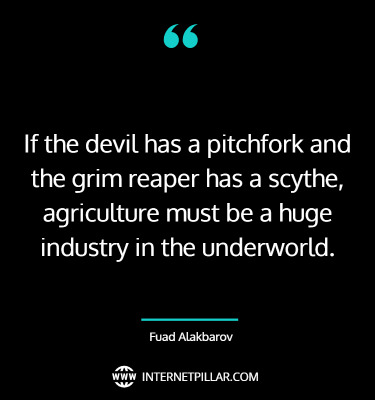 If the devil has a pitchfork and the grim reaper has a scythe, agriculture must be a huge industry in the underworld. ~ Fuad Alakbarov.
Just because you get to a certain number doesn't mean you have to roll up into a ball and wait for the grim reaper. We were put on this earth to do something! If you stop using your brain, at any age, it is going to stop working. It's like if you stop using your hand, it will atrophy. I think doing nothing is a curse. ~ Iris Apfel.
In the first book of my Discworld series, published more than 26 years ago, I introduced Death as a character; there was nothing particularly new about this – death has featured in art and literature since medieval times, and for centuries we have had a fascination with the Grim Reaper. ~ Terry Pratchett.
You don't beat the grim reaper by living longer; you beat the grim reaper by living better. ~ Randy Pausch.
I kill people with my tattoo machine. ~ Abigail Baker.
I've done a lot of death cartoons – tombstones, Grim Reaper, illness, obituaries… I'm not great at analyzing things, but my guess is that maybe the only relief from the terror of being alive is jokes. ~ Roz Chast.
I am not cute. I am the dreaded Grim Reaper. People fear me, you know. There's a whole song about it. ~ Rachel Vincent.
Still, this whole grim reaper thing should have come with a manual. Or a diagram of some kind. A flowchart would have been nice. ~ Darynda Jones.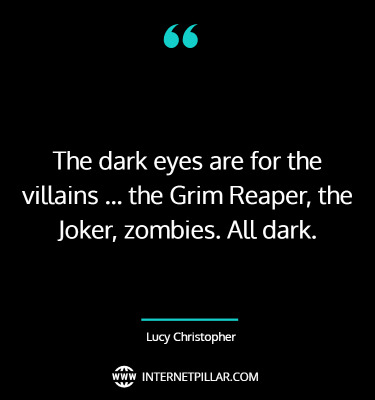 The dark eyes are for the villains … the Grim Reaper, the Joker, zombies. All dark. ~ Lucy Christopher.
Harmony glanced to her left, and my gaze followed hers to the living room, where my aunt had died, my cousin had been restored, and I'd whacked a psychotic grim reaper with a cast-iron skillet. Weirdest. Tuesday. Ever. ~ Rachel Vincent.
There is no reason for him to be in a strange land, the grim reaper holding him close, saying, Yes, today is the day, or No, not yet. ~ Suzanne Hayes.
Sadly, I can't avoid being 75. Like many people of my age, we are all heading towards the grim reaper, and I am clinging on. I just to have to sharpen my fingernails a little so that I can hang on for longer! ~ Terry Wogan.
Popular Grim Reaper Quotes
From all that I heard, and overheard, fate was a grim reaper, never kind, with little respect for who was loved and needed. ~ V.C. Andrews.
I follow her, my black shirt open and flying in the wind behind me like a vampire's cape. Either that or the grim reaper's. ~ Simone Elkeles.
A halo surrounded the grim reaper nun, Sister Maria. (By the way-I like this human idea of the grim reaper. I like the scythe. It amuses me). ~ Markus Zusak.
The Grim Reaper doesn't disappear… he catches up. ~ Patrick Carman.
Do you know, every time I've seen you you've been like the Grim Reaper of goodwill and cheer. You should find another profession. ~ Lora Leigh.
---
So these were 35 quotes about Grim Reaper.
If you like these quotes and sayings, then you can also read our other posts on standing alone quotes and Tomorrow is not promised quotes.
Sources and References: