Halloween, celebrated annually on October 31, predominantly in Western countries, is a festive tradition marking the eve of the Christian holiday, All Hallows' Day, also known as the Feast of All Saints.
This observance begins the three-day period of Allhallowtide, dedicated to remembering the deceased, including saints, martyrs and all faithful departed.
Halloween festivities include dressing in eerie costumes, visiting haunted attractions, watching horror films, storytelling, trick-or-treating and playing pranks.
These customs inspire numerous Halloween parties, where people enthusiastically display their most inventive and scariest outfits.
Amid the spooky celebrations, Halloween quotes and sayings can enhance the holiday spirit.
They encapsulate the essence of the festival, teasing friends, entertaining kids and encouraging everyone to embrace the season's uncanny vibe.
The curated selection of Halloween quotes we've assembled provides a delightful blend of humor and fright, perfectly suited for ushering in this uniquely spooky season.
---
Best Halloween Quotes
Have a ghost of a time. Have a happy Halloween! ~ Anthony T. Hincks.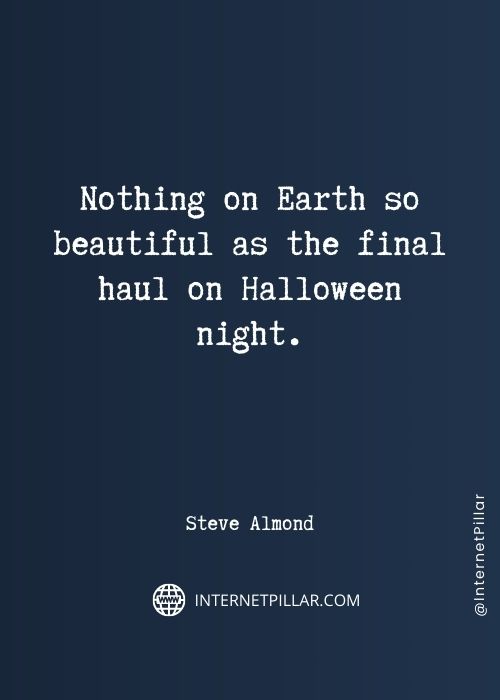 Nothing on Earth so beautiful as the final haul on Halloween night. ~ Steve Almond.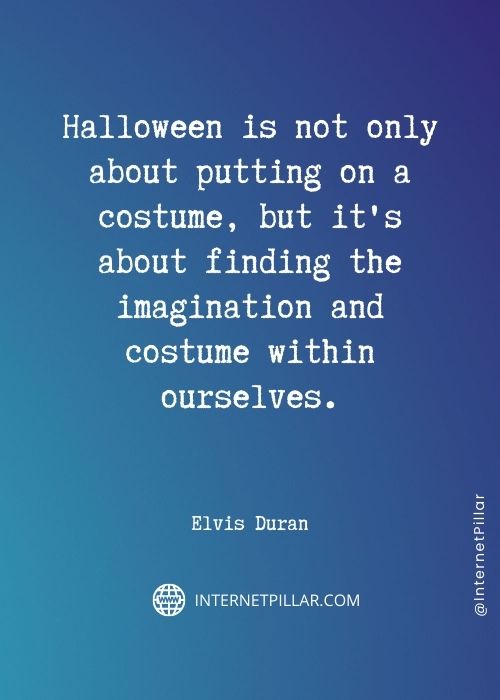 Halloween is not only about putting on a costume, but it's about finding the imagination and costume within ourselves. ~ Elvis Duran.
I can see lights in the distance trembling in the dark cloak of night. Candles and lanterns are dancing, dancing a waltz on All Souls Night. ~ Loreena McKennitt.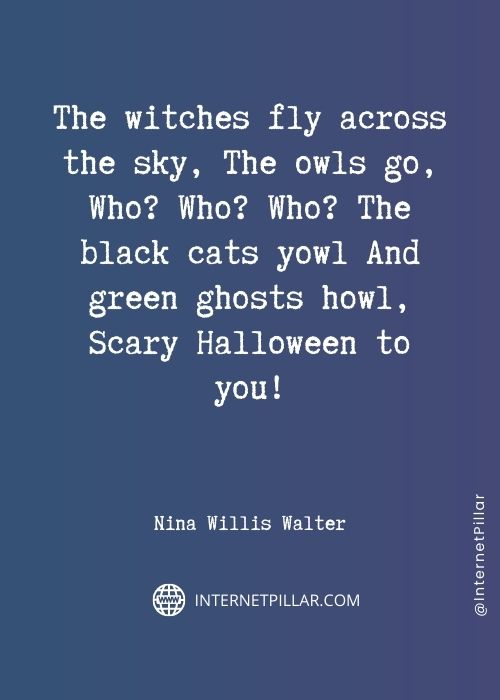 The witches fly across the sky, The owls go, Who? Who? Who? The black cats yowl And green ghosts howl, Scary Halloween to you! ~ Nina Willis Walter.
Clothes make a statement. Costumes tell a story. ~ Mason Cooley.
Top Halloween Quotes
On Halloween, witches come true; Wild ghosts escape from dreams. Each monster dances in the park. ~ Nicholas Gordon.
I'm a really big fan of all things macabre in general; Halloween happens to be my favorite holiday. ~ Dove Cameron.
It's Halloween, everyone's entitled to one good scare. ~ Brackett.
Oh how the candles will be lit and the wood of worm burn in a fiery dust. For on all Hallow's Eve will the spirits come to play, and only the fruit of thy womb will satisfy their endless roaming. ~ Solange Nicole.
Growing up, I remember planning for Halloween months in advance. It was, after all, my chance to be creative, artsy, original, and to just have fun! ~ Natalya Neidhart.
Double, double toil and trouble; Fire burn and cauldron bubble. ~ William Shakespeare.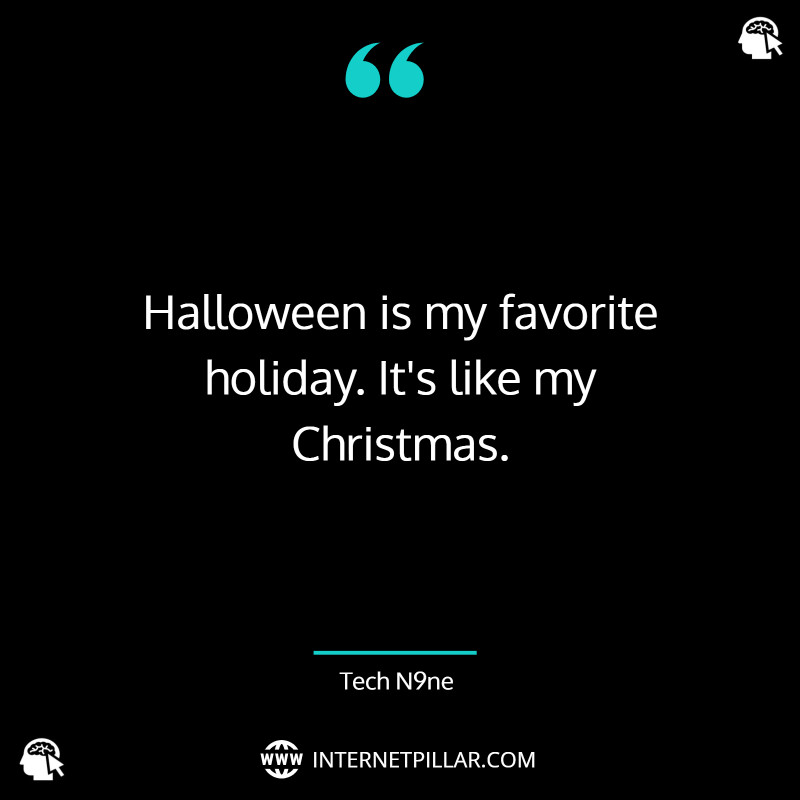 Halloween is my favorite holiday. It's like my Christmas. ~ Tech N9ne.
I don't know that there are real ghosts and goblins, but there are always more trick-or-treaters than neighborhood kids. ~ Robert Brault.
It's always been about the live show for us. We're having Halloween onstage every night. ~ Jim Root.
On Halloween, the parents sent their kids out looking like me. ~ Rodney Dangerfield.
Halloween is woke, and there's nothing we can do about it. ~ Jason Blum.
I love Halloween. I love Thanksgiving. I love Christmas. I love New Year's. ~ Madelaine Petsch.
See Also: Best New Year Resolution Quotes to a Fresh Start of New Year and Christmas Quotes and Merry Christmas Sayings
Popular Halloween Quotes
In Germany, we do not have Halloween, which is a shame. ~ Bill Kaulitz.
If human beings had genuine courage, they'd wear their costumes every day of the year, not just on Halloween. ~ Douglas Coupland.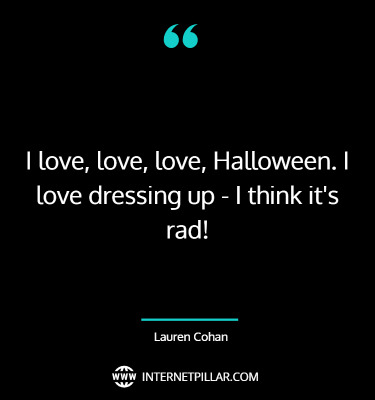 I love, love, love, Halloween. I love dressing up – I think it's rad! ~ Lauren Cohan.
I hate Halloween. I hate dressing up. I hate – I wear wigs, makeup, costumes every day. Halloween is like, my least favorite holiday. ~ Amy Poehler.
At first cock-crow the ghosts must go back to their quiet graves below. ~ Theodosia Garrison
The moon…rode bonily in the sky, looking stark and abandoned like a decoration kid had put up for Halloween and forgotten to take down. ~ William Dieter.
As spirits roam the neighborhoods at night, let loose upon the Earth till it be light… ~ Nicholas Gordon.
I love Halloween! I love it so much that I used to work at a haunted house every year. ~ Daniella Monet.
Halloween is an opportunity to be really creative. ~ Judy Gold.
October was always the least dependable of months … full of ghosts and shadows. ~ Joy Fielding.
I believe that men are generally still a little afraid of the dark, though the witches are all hung, and Christianity and candles have been introduced. ~ Henry David Thoreau.
Famous Halloween Quotes
Hark! Hark to the wind! 'Tis the night, they say, when all souls come back from the far away – the dead, forgotten this many a day! ~ Virna Sheard.
It was Halloween that did me in, that single day when your children turn to you for imagination and creativity, the one day of the year when you must transcend fantasy. ~Erma Bombeck.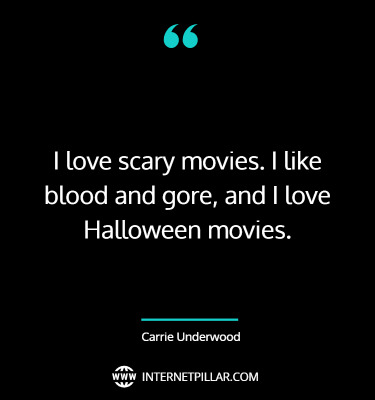 I love scary movies. I like blood and gore, and I love Halloween movies. ~ Carrie Underwood.
The farther we've gotten from the magic and mystery of our past, the more we've come to need Halloween. ~ Paula Curan.
Some people are born for Halloween, and some are just counting the days until Christmas. ~ Stephen Graham Jones.
Shadows of a thousand years rise again unseen, Voices whisper in the trees, "Tonight is Halloween!" ~ Dexter Kozen.
A grandmother pretends she doesn't know who you are on Halloween. ~ Erma Bombeck.
Inspiring Halloween Quotes
Pixie, kobold, elf, and sprite, All are on their rounds tonight; In the wan moon's silver ray, Thrives their helter-skelter play. ~ Joel Benton
On Halloween you get to become anything that you want to be. ~ Ava Dellaira.
Halloween wraps fear in innocence, As though it were a slightly sour sweet. Let terror, then, be turned into a treat. ~ Nicholas Gordon.
Every day is like Halloween or Christmas eve for me. I go to bed, and I'm so excited to get back to work. I'm very lucky that I have a career like that 'cause not many people do. ~ Adam Green.
Where there is no imagination there is no horror. ~ Arthur Conan Doyle.
When black cats prowl and pumpkins gleam, may luck be yours on Halloween. ~ Unknown.
The universe is full of magical things patiently waiting for our wits to grow sharper. ~ Eden Phillpots.
Inspirational Halloween Quotes
No good deed will I do again. ~ Elphaba.
A mask tells us more than a face. ~ Oscar Wilde.
Halloween shadows played upon the walls of the houses. In the sky, the Halloween moon raced in and out of the clouds… It was a lovely and exciting night, exactly the kind of night Halloween should be. ~ Eleanor Estes.
There is magic in the night when pumpkins glow by moonlight. ~ Unknown.
Goodbye cruel world. ~ Winifred Sanderson.
Magic is really very simple, all you've got to do is want something and then let yourself have it. ~ Aggie Cromwell.
Profound Halloween Quotes
The world turned upside down–in a good way–for one black velvet night. ~ Karen Fortunati.
Witch parking. All others will be toad. ~ Unknown.
Believe nothing you hear, and only one half that you see. ~ Edgar Allan Poe.
October proved a riot a riot to the senses and climaxed those giddy last weeks before Halloween. ~ Keith Donohue.
Halloween was confusing. All my life my parents said, 'Never take candy from strangers.' And then they dressed me up and said, 'Go beg for it.' ~ Rita Rudner.
Halloween is a celebration of the inversion of reality and a necessary Gothic hat-tip to the darker aspects of life, death, and ourselves. ~ Stewart Stafford.
---
So these were the 60 quotes about Halloween.
If these quotes and sayings connect with you, check out our other posts on sarcasm quotes and old friends quotes.