People have been celebrating the Christmas holiday since the 4th century. They would do things to celebrate it such as exchanging gifts, assembling a tree, and singing carols.
The Christians also feel close to Jesus Christ by remembering what he did for them by rising from death and going back to heaven.
There are many reasons why people celebrate this holiday. To reminisce the birth of Jesus Christ, to cherish family and friends, or to exchange gifts with loved ones.
To enjoy and celebrate the spirit of Christmas, we have handpicked most beautiful quotes about Christmas season for you.
---
Best Christmas Quotes | Most Inspiring Quotes about Christmas
The two most joyous times of the year are Christmas morning and the end of school. Alice Cooper
Christmas is a stocking stuffed with sugary goodness. Mo Rocca
Christmas is the season of joy, of gift-giving, and of families united. Norman Vincent Peale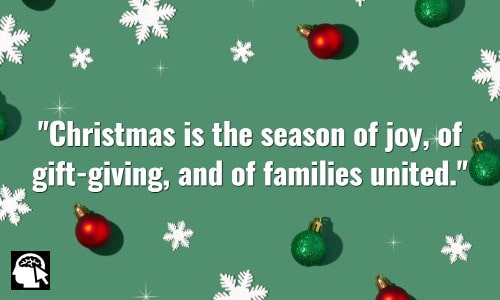 Christmas is like candy; it slowly melts in your mouth sweetening every taste bud, making you wish it could last forever. Richelle E. Goodrich
Christmas is forever, not for just one day. For loving, sharing, giving, are not to put away. Norman Wesley Brooks
Christmas is a piece of one's home that one carries in one's heart. Freya Stark
Christmas doesn't come from a store. Maybe Christmas perhaps means a little bit more. Dr. Seuss
One of the most glorious messes in the world is the mess created in the living room on Christmas Day. Andy Rooney
Nothing ever seems too bad, too hard, or too sad when you've got a Christmas tree in the living room. Nora Roberts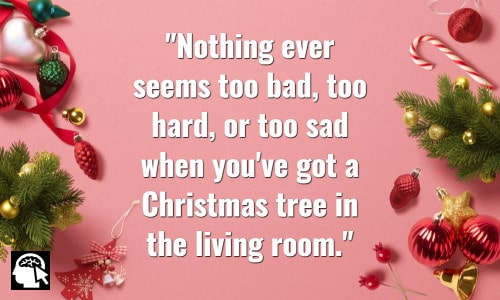 Some Christmas tree ornaments do more than glitter and glow, they represent a gift of love given a long time ago. Tom Baker
Christmas is the day that holds all time together. Alexander Smith
Christmas is a tonic for our souls. It moves us to think of others rather than of ourselves. It directs our thoughts to giving. B. C. Forbes
A lovely thing about Christmas is that it's compulsory, like a thunderstorm, and we all go through it together. Garrison Keillor
Christmas is the perfect time to celebrate the love of God and family and to create memories that will last forever. Jesus is God's perfect, indescribable gift. The amazing thing is that not only are we able to receive this gift, but we are able to share it with others on Christmas and every other day of the year. Joel Osteen
He put a ring in the toe of a stocking. On Christmas Eve, we opened our stockings and it was there at the bottom of the toe. Then he got down on his knees and he was shaking. Kyra Sedgwick
Christmas is a season not only of rejoicing but of reflection. Winston Churchill
Christmas is the spirit of giving without a thought of getting. It is happiness because we see joy in people. It is forgetting self and finding time for others. It is discarding the meaningless and stressing the true values. Thomas S. Monson
Christmas waves a magic wand over this world, and behold, everything is softer and more beautiful. Norman Vincent Peale
If you want to experience the true meaning of Christmas, give something to someone who can offer nothing in return. Toni Sorenson
He who has not Christmas in his heart will never find it under a tree. Roy L. Smith
Christmas is joy, religious joy, an inner joy of light and peace. Pope Francis
God never gives someone a gift they are not capable of receiving. If he gives us the gift of Christmas, it is because we all have the ability to understand and receive it. Pope Francis
What will you and I give for Christmas this year? Let us in our lives give to our Lord and Savior the gift of gratitude by living His teachings and following in His footsteps. Thomas S. Monson
It's true, Christmas can feel like a lot of work, particularly for mothers. But when you look back on all the Christmases in your life, you'll find you've created family traditions and lasting memories. Those memories, good and bad, are really what help to keep a family together over the long haul. Caroline Kennedy
Christmas is doing a little something extra for someone. Charles M. Schulz
I will honor Christmas in my heart, and try to keep it all the year. Charles Dickens
I don't think Christmas is necessarily about things. It's about being good to one another, it's about the Christian ethic, it's about kindness. Carrie Fisher
Gifts of time and love are surely the basic ingredients of a truly merry Christmas. Peg Bracken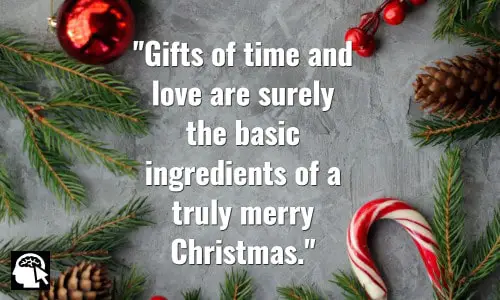 Don't let the past steal your present. This is the message of Christmas: We are never alone. Taylor Caldwell
The spirit of Christmas is the spirit of love and of generosity and of goodness. It illuminates the picture window of the soul, and we look out upon the world's busy life and become more interested in people than in things. Thomas S. Monson
That's the true spirit of Christmas; people being helped by people other than me. Jerry Seinfeld
Christmas is a season for kindling the fire for hospitality in the hall, the genial flame of charity in the heart. Washington Irving
Once again, we come to the Holiday Season, a deeply religious time that each of us observes, in his own way, by going to the mall of his choice. Dave Barry
My brothers and sisters, may the spirit of love which comes at Christmastime fill our homes and our lives and linger there long after the tree is down and the lights are put away for another year. Thomas S. Monson
I love singing Christmas carols. I know every harmony to every music-hall Christmas song. Zooey Deschanel
Christmas is a time of year that's so romantic. Katharine McPhee
My favorite holiday memory was sitting at home all day in my pajamas during winter break for school watching a bunch of old Christmas movies like 'Jack Frost' and 'Rudolph the Red-Nosed Reindeer' with my siblings and parents. Becky G
When we were children we were grateful to those who filled our stockings at Christmas time. Why are we not grateful to God for filling our stockings with legs? Gilbert K. Chesterton
Always be prepared if someone asks you what you want for Christmas. Give brand names, the store that sells the merchandise, and, if possible, exact model numbers so they can't go wrong. Be the type who's impossible to buy for, so they have to get what you want. John Waters
Finding the real joy of Christmas comes not in the hurrying and the scurrying to get more done, nor is it found in the purchasing of gifts. We find real joy when we make the Savior the focus of the season. Thomas S. Monson
What is Christmas? It is tenderness for the past, courage for the present, hope for the future. Agnes M. Pahro
Christmas is a time when you get homesick — even when you're home. Carol Nelson
Christmas is most truly Christmas when we celebrate it by giving the light of love to those who need it most. Ruth Carter Stapleton
At Christmas play and make good cheer, for Christmas comes but once a year. Thomas Tusser 
The smell of pine needles, spruce and the smell of a Christmas tree – those to me, are the scents of the holidays. Blake Lively
I think Christmas is about celebration and come on, on the inside everyone wants to dance. TobyMac
The best Christmas present I got from my husband was a week to do whatever I wanted. Olivia Williams
Christmas isn't a season. It's a feeling. Edna Ferber
Christmas makes me happy no matter what time of year it comes around. Bryan White
Unless we make Christmas an occasion to share our blessings, all the snow in Alaska won't make it 'white'. Bing Crosby
Christmas is not a time nor a season, but a state of mind. Calvin Coolidge
Christmas may be a day of feasting, or of prayer, but always it will be a day of remembrance – a day in which we think of everything we have ever loved. Augusta E. Randel
I wish we could put some of the Christmas spirit in jars and open a jar of it every month. Harlan Miller
Christmas is, of course, the time to be home – in heart as well as body. Garry Moore
Christmas means a great deal to me. I was reared in a family that celebrated Christmas to some extent, but I married into a family that celebrated Christmas in a big way. And my wife always made a big thing of Christmas for the children. We have five children, and we had a terrific time at Christmas. Billy Graham
The holidays are my favorite time of year! Christmas was always one of the biggest celebrations in Sweden, and I look forward to the festivities each year. Marcus Samuelsson
When I was a child in England before the war, Christmas pudding always contained at least one shiny new sixpence, and it was considered a sign of great good luck for the new year to find one in your helping of the pudding. Michael Korda
As for me, I like to take my Christmas a little at a time, all through the year. David Grayson
A good conscience is a continual Christmas. Benjamin Franklin
Let us keep Christmas beautiful without a thought of greed. Ann Garnett Schultz
Christmas isn't just a day, it's a frame of mind. Valentine Davies
Christmas now surrounds us, Happiness is everywhere. Our hands are busy with many tasks as carols fill the air. Shirley Sallay
Christmas is not just a time for festivity and merry making. It is more than that. It is a time for the contemplation of eternal things. The Christmas spirit is a spirit of giving and forgiving. J. C. Penney
Christmas is not a time nor a season, but a state of mind. To cherish peace and goodwill, to be plenteous in mercy, is to have the real spirit of Christmas. Calvin Coolidge
Mail your packages early so the post office can lose them in time for Christmas. Johnny Carson
Maybe Christmas, the Grinch thought, doesn't come from a store. Dr. Seuss
Christmas is a day of meaning and traditions, a special day spent in the warm circle of family and friends. Margaret Thatcher
The world has grown weary through the years, but at Christmas, it is young." Phillips Brooks
Christmas means fellowship, feasting, giving and receiving, a time of good cheer, home. W.J. Tucker
It is Christmas in the heart that puts Christmas in the air. W.T. Ellis
There's nothing cozier than a Christmas tree all lit up. Jenny Han
The best of all gifts around any Christmas tree: the presence of a happy family all wrapped up in each other. Burton Hills
Christmas is a necessity. There has to be at least one day of the year to remind us that we're here for something else besides ourselves. Eric Sevareid
Christmas to me is as many people as possible happy. Tupac Shakur
At Christmas, all roads lead home. Marjorie Holmes
Christmas, my child, is love in action. Every time we love, every time we give, it's Christmas. Dale Evans Rogers
Christmas day is the children's, but the holidays are youth's dancing-time. Booth Tarkington
---
Interesting Facts about Christmas
The National Christmas Tree was first lit on December 24, 1923.
Christmas decorations are used for decoration, but also have a purpose of being symbols of the hopes and beliefs of those who use them.
Mistletoe is supposed to be thought as a sign that someone will kiss you under it.
The first Christmas Cards were published in London and later by William Cowen of New York City. The design was a Christmas tree decorated with images and hand written sentiment on the back.
The Balsam fir is the most popular in the United States, because it has short needles and a sturdy shape for Christmas tree decoration.

Christmas trees are sent all over the world

The first Christmas card was made in the UK, 1843 by Sir Henry Cole.
Christmas cards became popular in America through Europe around 1870 because of mass printing.
Some people prefer sending electronic cards now because it is more economical.
Santa Claus" was derived from a combination of two Dutch words "Sinter Klaas" which means Saint Nicholas, who was a very popular saint to worship around Christmas time.
In ancient Europe, there were various traditions to celebrate the winter solstice, but one tradition included leaving food out for Odin's horse Sleipnir as a sign of appreciation.
Caroling is a tradition that goes back all the way to the 15th century, where people would gather together and sing loud enough for their neighbors to hear them. People who sang were often rewarded with food or drink for their performance.
---
Frequently Asked Questions (FAQs) about Christmas
What is Christmas in simple words?
Christmas is an annual festival that celebrates the birth of Jesus Christ. It is celebrated on December 25th, which is the day that Jesus was born.
Christmas
is celebrated as a religious and cultural celebration by many people around the world.
Christmas was first celebrated on January 6th, but Pope Julius I later changed that date to December 25th because of pagan traditions surrounding the winter solstice.
How was December 25th chosen for Christmas?
In the 4th century, the Christian Church designated December 25 as Christ's date of birth.

Why this date?

That's right! The early Christians picked December 25 because it coincided with the pagan festival marking the birth of Mithra, the god of light.
What is Christmas also called as?
It is also called as Noël, Nativity, Xmas.
What is the history behind Christmas?
Christmas has had a tumultuous history. Early Christians didn't celebrate it, which led to the adoption of the date of December 25th by the Church in order to convert pagans and compete with other gods' birthdays.

People typically think of Christmas as a time off from work and school and spend time with their family and friends.

The Christmas season is sometimes taken out of context and not celebrated in the true spirit. There is an emphasis on materialism for some people, but that's not what this holiday is about.
What are some cute Christmas quotes?
"Christmas is not a time nor a season, but a state of mind. To cherish peace and goodwill, to be plenteous in mercy, is to have the real spirit of Christmas." Calvin Coolidge.

"I'm dreaming of a white Christmas. Just like the ones I used to know. Where the treetops glisten and children listen to hear sleigh bells in the snow." Irving Berlin.
What are some best Christmas Movies?
Some of the best Christmas movies ever made are Elf, Home Alone, A Christmas Story, Miracle on 34th Street.
What is the real meaning of the Christmas tree?
A Christmas tree is where presents are hang during the holidays.

A Christmas tree is usually found in towns and villages throughout the Christian world, but has also found its way to other celebrations around different cultures.

The idea for this tradition come from the Druids, who decorated fir trees with crops, fruit ornaments and lights before their winter solstice celebration.

As Christianity began to spread across Europe local people called Yuletide trees became popular mechanisms to convince converts of paganism that there was Christian significance attached to these decorations.

It remains a tradition today for Christians celebrating Christ's birth by decoration trees inside their home or outside on their lawns with electric lights or candles.
Which tree is Christmas tree?
The Christmas tree is a potted or fresh-cut evergreen tree, often a pine or a fir, decorated with lights and beautiful ornaments as a part of Christmas festivities.

Both indoor and outdoor decorations are used in homes, churches, schools, public buildings and sometimes even in car dealer showrooms.
What is the difference Christmas and Xmas?
Christmas is a Western Christian observance that commemorates the birth of Jesus Christ. Christmas is observed on December 25th every year.

Xmas (short for "Christmas") is the abbreviation most commonly used in speech and informal writing to refer to Christmas.
Is it OK to say Xmas?
It's okay if you want to say Xmas, but some people find it more appropriate to say Christmas or holiday season.
---
You Might Like
---