Ian Botham, a retired English Test cricketer born on November 24, 1955, is renowned as a formidable all-rounder.
His pivotal moment was the 1981 Ashes test at Headingley where he spearheaded an astonishing comeback against Australia.
Starting his cricket journey in Somerset, Botham later played for multiple teams, including Somerset, Worcestershire, Durham and Queensland.
Making his England debut in 1977, he secured 383 wickets and scored 5,200 runs throughout his career.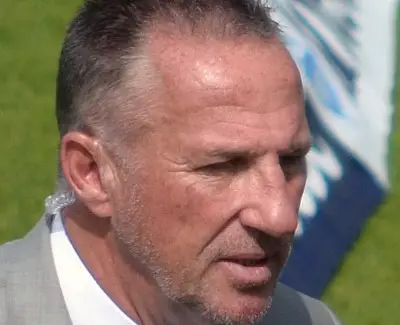 Despite confrontations with the cricketing establishment and peers, his undoubtable talent shone, especially during the 1981 Ashes series, where his outstanding performance transformed the mood of the nation.
Apart from cricket, Botham was an active charity fundraiser, especially known for his lengthy walks.
After retirement, he became a Sky Sports commentator. He married Kathryn Waller in 1976 and they have three children.
I have listed below the top quotes by Ian Botham.
---
Ian Botham Quotes
A few years ago England would have struggled to beat the Eskimos. ~ Ian Botham.
Cricket is full of theorists who can ruin your game in no time. ~ Ian Botham.
There is nothing more exciting in sport when the top two countries in the world are battling for the Ashes. ~ Ian Botham.
I'm not a great one for looking back. ~ Ian Botham.
I want to stress again one aspect of the game which is most important. Never argue with an umpire. ~ Ian Botham.
The resilience of these people is amazing. I am a great believer that the sooner we get things up and running in terms of sport in this area, the better. ~ Ian Botham.
Soccer and cricket were my main sports growing up. I had trials as a soccer player with a few clubs interested, Crystal Palace being one, but it was cricket which became my chosen profession. ~ Ian Botham.
Winston Churchill would be great to have around the table. ~ Ian Botham.
I can remember running around at the age of 3, wanting to play golf, cricket and football. I was always active, one way or another, driving my parents mad. ~ Ian Botham.
Top Ian Botham Quotes
To win in Australia, for me, has to be the ultimate success because the Aussies live for sport. ~ Ian Botham.
Retiring for good wasn't difficult. I knew at the time it was right. I was no longer capable of achieving the standards I'd set myself and there was no light at the end of the tunnel. ~ Ian Botham.
To me, it doesn't matter how good you are. Sport is all about playing and competing. Whatever you do in cricket and in sport, enjoy it, be positive and try to win. ~ Ian Botham.
I think I'd struggle to get excited by synchronised swimming. ~ Ian Botham.
There will be no politics, no ifs and buts; if we see something and feel that work needs to be done, we will get people here we can rely on and ensure it is done in the same thorough way as our other projects. ~ Ian Botham.
I think we are going to see exciting cricket all the way. We are watching the two best teams in the world-and I think England will eventually go on to pip Australia by a single Test. ~ Ian Botham.
Sport can bring communities together and can release a lot of pent-up emotions. ~ Ian Botham.
Famous Ian Botham Quotes
I don't ask my wife to face Michael Holding, so there's no reason why I should be changing nappies. ~ Ian Botham.
You will attract the younger generation and they might well prove tougher than the older generation. What we are trying to do is to look at the future and see what we can do to bring some stability back to people's lives. ~ Ian Botham.
What's happened has happened, so what can we do to make it better for tomorrow and the day after? That's why we're here. ~ Ian Botham.
If you can change three lives in 10, three lives in a hundred, that's got to be good, hasn't it? ~ Ian Botham.
I half knew what to expect when I saw the cricket ground in the morning. It was when I started to talk to people working out there, I began to find what I was looking for. ~ Ian Botham.
Genghis Khan was a fascinating man and way ahead of his time. ~ Ian Botham.
Aussies are big and empty, just like their country. ~ Ian Botham.
Popular Ian Botham Quotes
I watched children dying. That will be the image that will stay with me. ~ Ian Botham.
The people in the villages had turned in on themselves. You can understand it. When you have a bad day on the field, what do you do? Talk to your teammates. ~ Ian Botham.
Pakistan is the sort of place every man should send his mother-in-law, for a month, with all expenses paid. ~ Ian Botham.
If you're playing against the Australians, you don't walk. ~ Ian Botham.
---
Other Articles