Ice Cube, born O'Shea Jackson Sr. on June 15, 1969, in Los Angeles, California, is an accomplished American rapper and actor best known for his involvement in the pioneering gangsta rap group N.W.A and his successful, if problematic, solo career.
Cube was inspired by hip-hop in his teens and began composing songs, eventually selling his debut song to rapper Eazy-E.
He established a successful solo career in 1990, starting with his first album, "AmeriKKKa's Most Wanted," after his stint in N.W.A and a short break to study architectural design.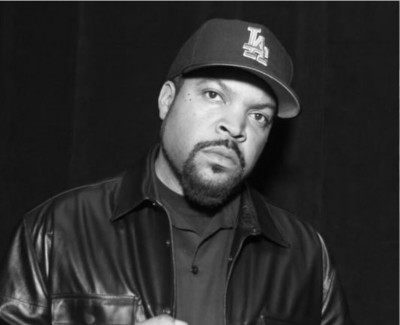 Despite the controversy over the album's sociopolitical themes, it received positive reviews and went platinum.
Cube's later albums were also successful, albeit not to the same extent as his early efforts.
Related: Bryson Tiller Quotes from the American Singer & Rapper and Young Dolph Quotes from The American Rapper
In addition to his music career, Cube has a strong acting career, having appeared in over 30 films. Among his notable parts are "Boyz N the Hood" (1991), the "Friday" and "Barbershop" series.
He also co-produced the critically acclaimed N.W.A biopic "Straight Outta Compton" (2015), in which his son, O'Shea Jackson Jr., played him.
Ice Cube and the other members of the N.W.A were inducted into the 'Rock & Roll Hall of Fame' in 2016.
Let's jump into some of the quotes by Ice Cube.
---
Best Ice Cube Quotes
The worst thing you can do about a situation is nothing. ~ Ice Cube.
Young people are dying for no reason all over the world that don't know why. It's ugly everywhere. ~ Ice Cube.
You can do it, put your back into it. ~ Ice Cube.
I'm just an entertainer, man. I don't like to pigeonhole myself to anything. I love to do it all. ~ Ice Cube.
I think, to me, reality is better than being fake. ~ Ice Cube.
If you think about stuff that happened when you were young, it stays with you forever. ~ Ice Cube.
Sports without music, it's nothing but a game. Music adds the emotion. ~ Ice Cube.
Don't get a movie confused with real life. I'm a well-rounded human being like everyone else. ~ Ice Cube.
Anytime there's racism somewhere in sports, we should get it out of there because sports is a place where everything's supposed to be fair. ~ Ice Cube.
For me, rappers and dancers are poets and artists, and oftentimes the most interesting performances are given by them. ~ Ice Cube.
Stop buying things you don't need to impress people you don't like with money you don't have. ~ Ice Cube.
I still enjoy doing music. I'm not going to stop doing it and doing it the way that I feel it should be done. ~ Ice Cube.
Rap is always evolving. It's easy for the old school to hate the new school, but it's music that got a little stifled, I think, by the internet a little bit. ~ Ice Cube.
If you don't wanna shake that hood mentality! How the f**k we suppose to change our reality? ~ Ice Cube.
If you love what you do, and you believe in your talent, there is nothing better than breaking through. There's no better feeling than breaking through. ~ Ice Cube.
Ice Cube is the piece of me that I give away to the public. ~ Ice Cube.
Top Ice Cube Quotes
Either they don't know, don't show, or don't care about what's going on in the hood. ~ Ice Cube.
There's nothing wrong in starting off in a box, but you got to have a plan to come out that box. ~ Ice Cube.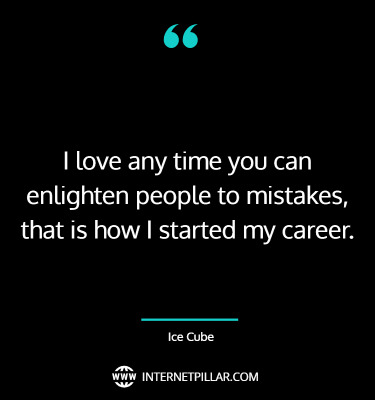 I love any time you can enlighten people to mistakes, that is how I started my career. ~ Ice Cube.
You don't want to mess up what you've done. It's like Jordan coming back. You're scared to mess up the legacy. ~ Ice Cube.
I make a mean cup of coffee if you give me the right ingredients. ~ Ice Cube.
Anything that got to do with a pig, I ain't eating. ~ Ice Cube.
Now, I believe you about the missing wallet, but the lotto, uh-uh. ~ Ice Cube.
Humpty Dumpty sat on the wall with a joint, drinking some eight-ball. ~ Ice Cube.
People wanted to have fun more than they wanted to learn from their music, and that's where the shift started to happen. ~ Ice Cube.
Doing it your own way, not having to go exactly by the book to be successful. ~ Ice Cube.
I believe every pencil has to be sharpened every now and then to stay sharp, or you dull out. So my records, I chose to speak on what Black people do, what White people do, what women do, what men do. ~ Ice Cube.
I think I'm unique to the game 'cause of my versatility. ~ Ice Cube.
There's never really been a real hood Christmas movie. ~ Ice Cube.
Don't worry about being a star. Worry about doing good work, and all that will come to you. ~ Ice Cube.
Inspirational Ice Cube Quotes
No matter what part of the country you come from, you can always come together to make ground-breaking hip-hop. ~ Ice Cube.
Usually, people who attack the rap are people who aren't even fans. ~ Ice Cube.
It never gets old. Working with somebody like Kevin Hart is rejuvenating in a lot of ways. He's such a pro. He's so good. ~ Ice Cube.
I've never really taken myself too seriously. That's everybody else, listening to the music or whatever. I've always said what I've felt, said what I thought was right, but I've always had a comedic bone. ~ Ice Cube.
Drink some coffee, put some gangsta rap on, and handle it. ~ Ice Cube.
Just waking up in the morning, got to thank God. ~ Ice Cube.
The silver and black may have another home, but the Raiders will always belong to the people of Los Angeles. ~ Ice Cube.
Everybody that wants to be successful should always be careful of what you wish for. A lot of artists and entertainers want to put the genie back in the bottle and wish they could go back to being what they were. ~ Ice Cube.
There's a lot of potential that goes unused in places like South Central L.A. A lot of brilliant, smart people who just don't have that chance to show it. ~ Ice Cube.
Today, I didn't even have to even use my AK! I got to say it was a good day. ~ Ice Cube.
Keep doing what you're doing. Fall in love with what you're creating, and everything else will fall into place. ~ Ice Cube.
I know that there are obstacles. I know that there are hills to climb. I know there were people before me that made my journey easier and there are people behind me that I have made the journey easier for. ~ Ice Cube.
I think everybody likes a person that stands up for themselves. Nobody likes a punk or a coward. ~ Ice Cube.
The moral is that a career can be gone in an instant, and all you have in this world are the people you love. ~ Ice Cube.
Popular Ice Cube Quotes
The hardest period for a writer is the period in-between writing. That's when you can go crazy if you don't allow the creative juices to flow. ~ Ice Cube.
I wish the world would become what God wanted it to be in the first place before we tampered with it. ~ Ice Cube.
You better check yourself before you wreck yourself. ~ Ice Cube.
Rap is just somebody getting something off his chest. That's all it is. ~ Ice Cube.
We're in this entertainment business really to give the audience what they want. ~ Ice Cube.
Never question the size of Ice Cube's balls! ~ Ice Cube.
I know I ain't too old. I always think of my fans about 10 years older and 10 years younger than me. ~ Ice Cube.
I go light on breakfast. Sometimes it's a yogurt, but a lot of times it's leftovers from one of my wife's dinners. ~ Ice Cube.
I always was like, 'Yo, I'm here, I might as well get what I could take.' ~ Ice Cube.
Creating is really what I like to do. The best thing in the world is to have an idea in the back of your head, and then to make that idea into a movie and have people all over the world enjoy it. ~ Ice Cube.
I was ready to get out of the box and play something a little different than what everybody has seen. ~ Ice Cube.
Our records, if you have a dark sense of humor, were funny, but our records weren't about comedy. They were about protests, fantasy, confrontation, and all that. ~ Ice Cube.
Famous Ice Cube Quotes
Early in my career, people wanted to hear music about protest, about trying to change things. ~ Ice Cube.
I don't want to get rich and die trying. ~ Ice Cube.
I do what I do. You like it, great. You don't, go listen to somebody else. I'm sticking with the people that stuck with me. ~ Ice Cube.
My son, O'Shea. He looks like me, and he can rhyme. ~ Ice Cube.
Stop expecting people to support your dreams. It's yours. ~ Ice Cube.
It's always great when you're able to give fans what they expect and even a little more. ~ Ice Cube.
There's a whole lot of money out there. All I got to do is put my name on it. ~ Ice Cube.
Speak a little truth, and people lose their minds. ~ Ice Cube.
Create your own path, hone your talent, be ready to show your talent, and don't doubt yourself. ~ Ice Cube.
Obama reminds me of the Black kid at a White school that don't nobody want to play with. ~ Ice Cube.
Nothing wrong with being from the hood, but I'd rather my kids be visitors than residents. ~ Ice Cube.
Sometimes, you got to start somewhere, and it's cool, as long as where you start is not where you plan on finishing. ~ Ice Cube.
I can't believe today was a good day. ~ Ice Cube.
When I was in N.W.A. and didn't get paid all the money I was owed, that's when the business side of showbiz hit me. ~ Ice Cube.
Tupac was one of the biggest thugs I know, and he always wore his seat belt. ~ Ice Cube.
You don't wanna mess up what you've done. It's like Jordan coming back: You're scared to mess up the legacy. ~ Ice Cube.
I think rap music is brought up, gangster rap in particular, as well as video games, every other thing they try to hang the ills of society on as a scapegoat. ~ Ice Cube.
Inspiring Ice Cube Quotes
When I was six, God was a White man with a big beard riding on a white cloud. That's the image television pumps. ~ Ice Cube.
Sometimes, when you want to laugh, reality steps in. ~ Ice Cube.
I've been fighting my whole career to show a different side and prove naysayers. Not prove them wrong because I don't think you should get your energy from negative people. ~ Ice Cube.
You got to learn that you ain't gonna react to everything, just let clowns do what clowns do and watch the show. ~ Ice Cube.
I always say the movie came out good if they want another one. That always tells me that people really liked the movie. ~ Ice Cube.
The best thing I've done with my money is buy a house for my family. You wake up to a house you love, and you feel like somebody. ~ Ice Cube.
You can do anything in the world if you say, 'Hey man, don't blame me, the devil made me do it.' It's an easy way to escape responsibility. ~ Ice Cube.
If you born in the mud, you going to be dirty, and people don't understand that. ~ Ice Cube.
I'm not really into the political game as far as paying politicians and stuff like that. I'm not into that. You do your job, and I'll do mine. ~ Ice Cube.
I really appreciate family. I really can't imagine life without them! ~ Ice Cube.
Truth is the ultimate power. When the truth comes around, all the lies have to run and hide. ~ Ice Cube.
I love music. It's freedom, a way to deal with pent-up frustration. ~ Ice Cube.
They're teenagers, man. They're really stupid, so you should blend right in. ~ Ice Cube.
---
So these were the 103 top Ice Cube Quotes on Love, Life and Power [Hilarious Rapper and Actor].
If you like these quotes and sayings, then you can also read my other posts on Rick Rubin quotes and SZA quotes.