People of various ages and backgrounds have found inspiration and motivation in the game of sports.
There is something really exciting and unique about the world of sports.
Whether it is the excitement of competition or the spirit of collaboration.
Throughout history, both athletes and coaches have used powerful and thought-provoking quotes, sayings and words to share their knowledge and wisdom.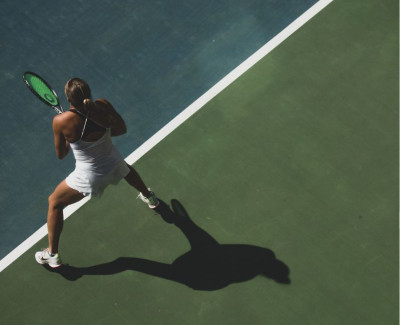 In this article, we will share some of the greatest sports quotes ever said, including those of Babe Ruth, Michael Jordan, and Vince Lombardi.
So sit tight and be prepared to be motivated and inspired as we honor the wisdom of individuals who have changed the world for the better with the power of sports.
---
Table of Contents
Top 10 Motivational Sports Quotes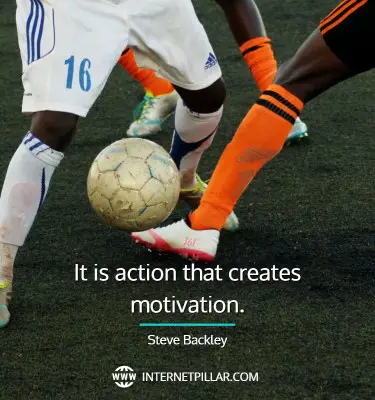 It is action that creates motivation. ~ Steve Backley.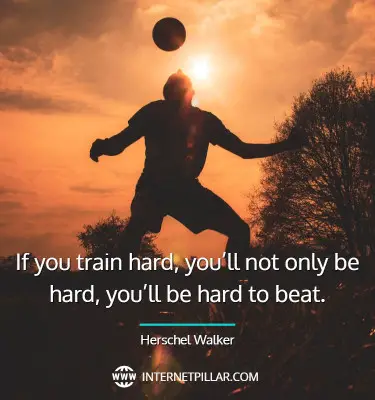 If you train hard, you'll not only be hard, you'll be hard to beat. ~ Herschel Walker.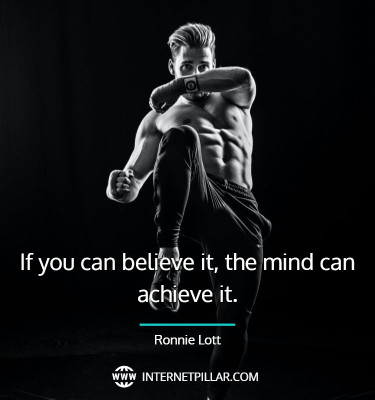 If you can believe it, the mind can achieve it. ~ Ronnie Lott.
When I go out there, I have no pity on my brother. I am out there to win. ~ Joe Frazier.
I never left the field saying I could have done more to get ready and that gives me peace of mind. ~ Peyton Manning.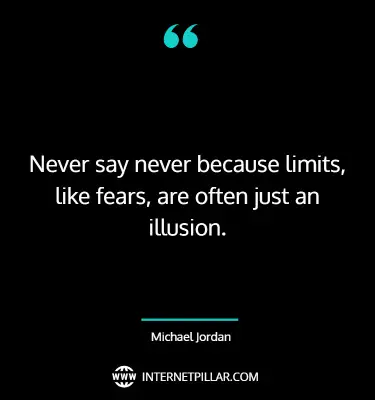 Never say never because limits, like fears, are often just an illusion. ~ Michael Jordan.
You have to expect things of yourself before you can do them. ~ Michael Jordan.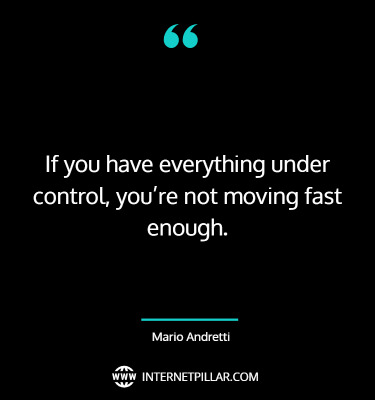 If you have everything under control, you're not moving fast enough. ~ Mario Andretti.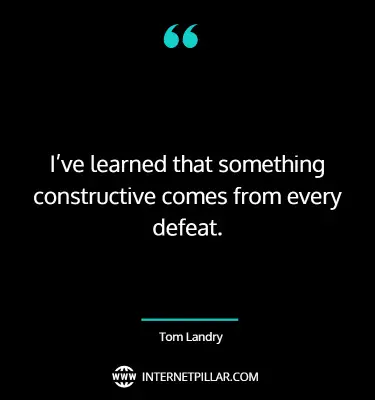 I've learned that something constructive comes from every defeat. ~ Tom Landry.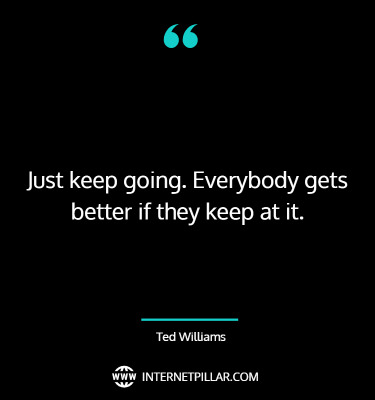 Just keep going. Everybody gets better if they keep at it. ~ Ted Williams.
Also read: Wrestling Quotes and Field Hockey Quotes
Motivational Sports Quotes for Success
The ability to conquer oneself is no doubt the most precious of all things that sports bestows. ~ Olga Korbut.
My motto was always to keep swinging. Whether I was in a slump or feeling badly or having trouble off the field, the only thing to do was keep swinging. ~ Hank Aaron.
What you lack in talent can be made up with desire, hustle, and giving 110 percent all the time. ~ Don Zimmer.
Always make a total effort, even when the odds are against you. ~ Arnold Palmer.
If you aren't going all the way, why go at all? ~ Joe Namath.
If you don't have confidence, you'll always find a way not to win. ~ Carl Lewis.
Most talented players don't always succeed. Some don't even make the team. It's more what's inside. ~ Brett Favre.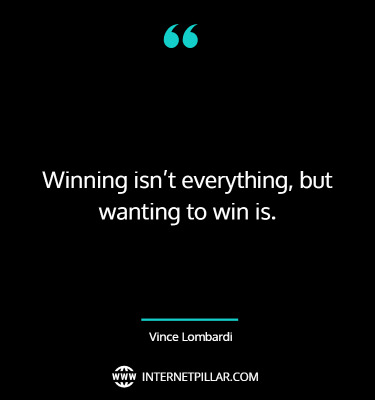 Winning isn't everything, but wanting to win is. ~ Vince Lombardi.
It ain't over till it's over. ~ Yogi Berra.
Inspirational Sports Quotes
Persistence can change failure into extraordinary achievement. ~ Matt Biondi.
I hated every minute of training, but I said, 'Don't quit. Suffer now and live the rest of your life as a champion.' ~ Muhammad Ali.
Do you know what my favorite part of the game is? The opportunity to play. ~ Mike Singletary.
Age is no barrier. It's a limitation you put on your mind. ~ Jackie Joyner-Kersee.
If you are afraid of failure, you don't deserve to be successful. ~ Charles Barkley.
The difference between the impossible and the possible lies in a person's determination. ~ Tommy Lasorda.
Football doesn't build character, it reveals character. ~ Marv Levy.
You've got to take the initiative and play your game. In a decisive set, confidence is the difference. ~ Chris Evert.
Also read: 100 Know your Worth Quotes to Discover Your True Value and 100 Motivational Quotes for Kids for Inspiration and Success
Motivational Sports Quotes for Sportspeople
You win some, you lose some, and some get rained out, but you gotta suit up for them all. ~ J. Askenberg.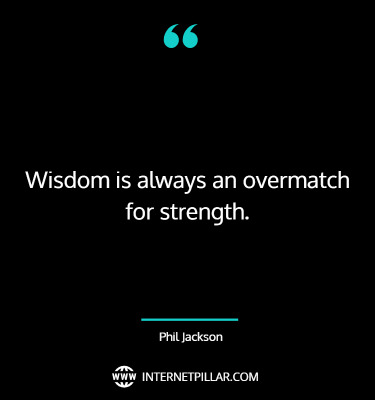 Wisdom is always an overmatch for strength. ~ Phil Jackson.
The man who has no imagination has no wings. ~ Muhammad Ali.
I don't want to be the next Michael Jordan, I only want to be Kobe Bryant. ~ Kobe Bryant.
It is not the size of a man but the size of his heart that matters. ~ Evander Holyfield.
I believe in the impossible because no one else does. ~ Florence Griffith Joyner.
You have to do something in your life that is honorable and not cowardly if you are to live in peace with yourself. ~ Larry Brown.
Champions keep playing until they get it right. ~ Billie Jean King.
It's not whether you get knocked down; it's whether you get up. ~ Vince Lombardi.
You can motivate by fear, and you can motivate by reward. But both those methods are only temporary. The only lasting thing is self motivation. ~ Homer Rice.
Gold medals aren't really made of gold. They're made of sweat, determination, and a hard-to-find alloy called guts. ~ Dan Gable.
When you win, say nothing, when you lose, say less. ~ Paul Brown.
The only yardstick for success our society has is being a champion. No one remembers anything else. ~ John Madden.
Today, you have 100% of your life left. ~ Tom Landry.
You're never a loser until you quit trying. ~ Mike Ditka.
Sports Quotes for Motivation
People ask me what I do in winter when there's no baseball. I'll tell you what I do. I stare out the window and wait for spring. ~ Rogers Hornsby.
You're only as strong as your weakest link. ~ Phil Jackson.
When you've got something to prove, there's nothing greater than a challenge. ~ Terry Bradshaw.
Push yourself again and again. Don't give an inch until the final buzzer sounds. ~ Larry Bird.
The mind is the limit. As long as the mind can envision the fact that you can do something, you can do it, as long as you really believe 100 percent. ~ Arnold Schwarzenegger.
If at first you don't succeed, you are running about average. ~ M.H. Alderson.
What makes something special is not just what you have to gain, but what you feel there is to lose. ~ Andre Agassi.
Finding good players is easy. Getting them to play as a team is another story. ~ Casey Stengel.
We don't want to tell our dreams. We want to show them. ~ Cristiano Ronaldo.
Only he who can see the invisible can do the impossible. ~ Frank L. Gaines.
Passion first and everything will fall into place. ~ Holly Holm.
You control your own wins and losses. ~ Maria Sharapova.
If you think it's hard to meet new people, try picking up the wrong golf ball. ~ Jack Lemmon.
Make each day your masterpiece. ~ John Wooden.
You can't always be the best. You have to remember that everyone makes mistakes sometimes. ~ Aly Raisman.
Leadership, like coaching, is fighting for the hearts and souls of men and getting them to believe in you. ~ Eddie Robinson.
An athlete cannot run with money in his pockets. He must run with hope in his heart and dreams in his head. ~ Emil Zatopek.
To uncover your true potential you must first find your own limits and then you have to have the courage to blow past them. ~ Picabo Street.
Powerful Motivational Sports Quotes
If you can't outplay them, outwork them. ~ Ben Hogan.
Your biggest opponent isn't the other guy. It's human nature. ~ Bobby Knight.
I don't count my situps. I only start counting once it starts hurting. ~ Muhammad Ali.
You were born to be a player. You were meant to be here. This moment is yours. ~ Herb Brooks.
A champion is someone who gets up when he can't. ~ Jack Dempsey.
Most people never run far enough on their first wind to find out they've got a second. ~ William James.
You miss 100 percent of the shots you don't take. ~ Wayne Gretzky.
Baseball is the only field of endeavor where a man can succeed three times out of ten and be considered a good performer. ~ Ted Williams.
You can't put a limit on anything. The more you dream, the farther you get. ~ Michael Phelps.
Never give up! Failure and rejection are only the first step to succeeding. ~ Jim Valvano.
I always felt that my greatest asset was not my physical ability, it was my mental ability. ~ Bruce Jenner.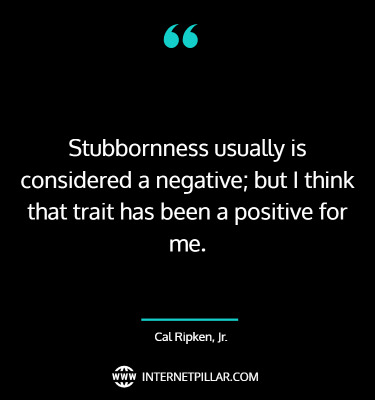 Stubbornness usually is considered a negative; but I think that trait has been a positive for me. ~ Cal Ripken, Jr.
A trophy carries dust. Memories last forever. ~ Mary Lou Retton.
The five S's of sports training are: stamina, speed, strength, skill, and spirit; but the greatest of these is spirit. ~ Ken Doherty.
Motivational Sports Quotes
The will to win is important, but the will to prepare is vital. ~ Joe Paterno.
Make sure your worst enemy doesn't live between your own two ears. ~ Laird Hamilton.
The more difficult the victory, the greater the happiness in winning. ~ Pele.
When you're riding, only the race in which you're riding is important. ~ Bill Shoemaker.
Sports serve society by providing vivid examples of excellence. ~ George F. Will.
One man can be a crucial ingredient on a team, but one man cannot make a team. ~ Kareem Abdul-Jabbar.
I've missed more than 9,000 shots in my career. I've lost almost 300 games. 26 times, I've been trusted to take the game winning shot and missed. I've failed over and over and over again in my life. And that is why I succeed. ~ Michael Jordan.
One man practicing sportsmanship is far better than 50 preaching it. ~ Knute Rockne.
I just knew if it could be done, it had to be done, and I did it. ~ Gertrude Ederle.
There may be people that have more talent than you, but there's no excuse for anyone to work harder than you do. ~ Derek Jeter.
Nobody who ever gave his best regretted it. ~ George Halas.
The road to Easy Street goes through the sewer. ~ John Madden.
Never let your head hang down. Never give up and sit down and grieve. Find another way. ~ Satchel Paige.
Never let the fear of striking out get in your way. ~ Babe Ruth.
Most people give up just when they're about to achieve success. They quit on the one yard line. They give up at the last minute of the game one foot from a winning touchdown. ~ Ross Perot.
Inspiring Sports Quotes
The only one who can tell you 'you can't win' is you and you don't have to listen. ~ Jessica Ennis-Hill.
Set your goals high, and don't stop till you get there. ~ Bo Jackson.
Show me a guy who's afraid to look bad, and I'll show you a guy you can beat every time. ~ Lou Brock.
A champion needs a motivation above and beyond winning. ~ Pat Riley.
I'd rather regret the risks that didn't work out than the chances I didn't take at all. ~ Simone Biles.
Overpower. Overtake. Overcome. ~ Serena Williams.
If you fail to prepare, you're prepared to fail. ~ Mark Spitz.
The only way to prove that you're a good sport is to lose. ~ Ernie Banks.
Never give up, never give in, and when the upper hand is ours, may we have the ability to handle the win with the dignity that we absorbed the loss. ~ Doug Williams.
Good is not good when better is expected. ~ Vin Scully.
Excellence is the gradual result of always striving to do better. ~ Pat Riley.
---
So these were the 100 inspirational and motivational sports quotes.
If you like these inspirational quotes for kids, then you can also read our other posts on Fly High quotes and Motivational quotes for Kids.
---
Sources