When you're immersed in adversity, it's all too easy to feel trapped in an unending abyss, devoid of any guiding light.
The concept of once again finding happiness or fulfillment might seem like a remote possibility, almost an insurmountable feat.
Nonetheless, it's essential to bear in mind that life isn't a cakewalk for anyone.
Every person on this planet grapples with hurdles; your struggles are not unique to you and you are far from being alone in your battles.
It's important to remember the adage that tough times are fleeting, but tough individuals endure.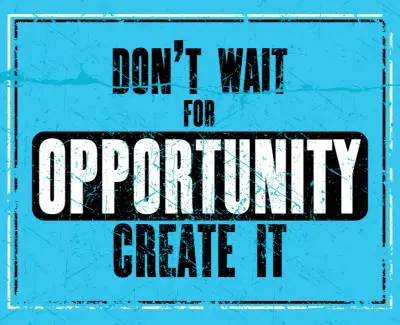 Believe in the certainty that circumstances will improve and the hardship you're currently experiencing will eventually subside.
The dawn always follows the bleakest night, shining a light on your journey towards brighter days.
Maintain your optimism and let these reassuring words guide you through your tribulations.
---
Inspirational Quotes About Life And Struggles
Don't cry to give up, cry to keep going. ~ Eric Thomas.
Life's struggles are necessary for growth. ~ Auliq Ice.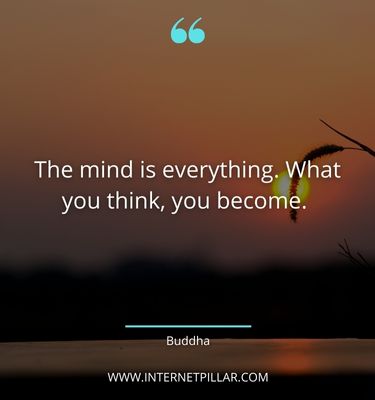 The mind is everything. What you think, you become. ~ Buddha.
Don't let yesterday take up too much of today. ~ Will Rodgers.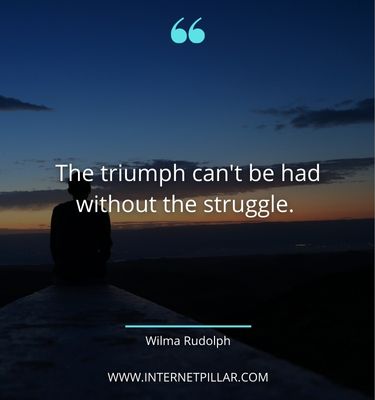 The triumph can't be had without the struggle. ~ Wilma Rudolph.
Life has no limitations, except the ones you make. ~ Les Brown.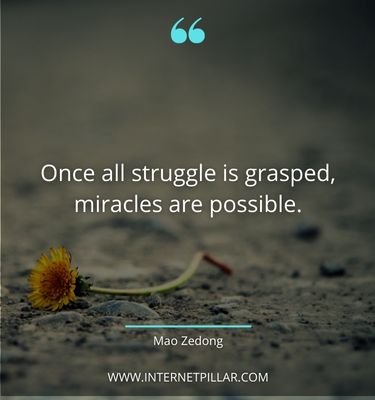 Once all struggle is grasped, miracles are possible. ~ Mao Zedong.
We grow because we struggle, we learn and overcome. ~ R. C. Allen.
Memories are meant to serve you, not enslave you. ~ A.J. Darkholme.
Related Quotes: 70 Relaxing Quotes To Destress and Live Life Fully and 70 Resilience Quotes to Surge Ahead in Life
Struggle Quotes and Sayings For When Life Gets Tough
Act as if what you do makes a difference. It does. ~ William James.
In any situation, there is a sacred-solution. ~ Lailah Gifty Akita.
Some roses grow through concrete. Remember that. ~ Brandi L. Bates.
If there is no struggle, there is no progress. ~ Frederick Douglass.
Difficult roads always lead to beautiful destinations. ~ Zig Ziglar.
The greater the obstacle, the more glory in overcoming it. ~ Molière.
You only live one but if you do it right, once is enough. ~ Mae West.
You can overcome anything if you don't bellyache. ~ Bernard M. Baruch.
Things always get better with time, just wait and see. ~ Clavel Nelson.
Best Inspirational Quotes About Life And Struggles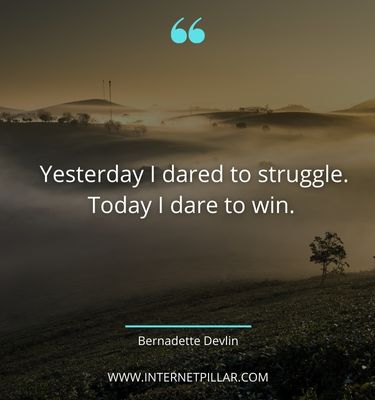 Yesterday I dared to struggle. Today I dare to win. ~ Bernadette Devlin.
There is no limit to what we can, as women accomplish. ~ Michelle Obama.
I'm glad I've had to struggle. It's made me the artist I am now. ~ Jessie J.
Quietly endure, silently suffer and patiently wait. ~ Martin Luther King Jr.
If you want to fly give up everything that weighs you down. ~ Toni Morrison.
Believe me, the reward is not so great without the struggle. ~ Wilma Rudolph.
Accept no one's definition of your life; define yourself. ~ Harvey Fierstein.
Life is like photography. You use the negatives to develop. ~ Ziad K. Abdelnour.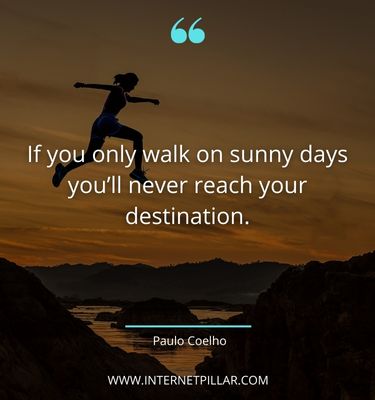 If you only walk on sunny days you'll never reach your destination. ~ Paulo Coelho.
I have not failed. I've just found 10,000 ways that won't work. ~ Thomas A. Edison.
Famous Inspirational Quotes About Life And Struggles
In the heart of every struggle lies an opportunity to grow. ~ Melanie M. Koulouris.
Surround yourself with only the people who are going to lift you higher. ~ Unknown.
Be proud of struggles in your life. They bring you closer to greatness. ~ Auliq Ice.
Strength and growth come only through continuous effort and struggle. ~ Napoleon Hill.
You may face defeats in your life, but never let yourself feel defeated. ~ Maya Angelou.
Sometimes when hardships knock, it's just life. Do not take it personal. ~ Naide Obiang.
In the darkest time, I have always believed, the light will shine. ~ Lailah Gifty Akita.
Our greatest glory is not in never falling, but in rising every time we fall. ~ Confucius.
Quotes about Struggle and Success
One who conquers the sea today is ready to conquer the ocean tomorrow. ~ Matshona Dhliwayo.
Your willingness to look at your darkness is what empowers you to change. ~ Iyanla Vanzant.
Your current situation is giving you an opportunity to re-evaluate what you want. ~ Unknown.
We must meet the challenge rather than wish it were not before us. ~ William J. Brennan, Jr.
When nothing goes right, you have to face forward and take it on head first. ~ Kyo Shirodaira.
There's nothing that cleanses your soul like getting the hell kicked out of you. ~ Woody Hayes.
Life doesn't get easier or more forgiving, we get stronger and more resilient. ~ Steve Maraboli.
As with the butterfly, adversity is necessary to build character in people. ~ Joseph B. Wirthlin.
We must accept finite disappointment, but we must never lose infinite hope. ~ Martin Luther King.
It's in the 'valleys' of your life that you can drink from God's sweetest streams. ~ Richard Daly.
Strength Inspirational Quotes about Life and Struggles
Perfection is not attainable, but if we chase perfection we can catch excellence. ~ Vince Lombardi.
Whatever the struggle, continue the climb. It may be only one step to the summit. ~ Diane Westlake.
As much as this will not be easy, it's better to choose life even through the struggles. ~ Unknown.
If we did all the things we are capable of, we would literally astound ourselves. ~ Thomas A. Edison.
Don't give up in times of difficulty. Persevere on as there will be an end to these. ~ Edward Dunedin.
Don't judge each day by the harvest you reap but by the seeds that you plant. ~ Robert Louis Stevenson.
Someone is sitting in the shade today because someone planted a tree a long time ago. ~ Warren Buffett.
There are two ways of spreading light: to be the candle or the mirror that reflects it. ~ Edith Wharton.
When I am struggling with my life I look up towards the sky and say; Lord you take over. ~ Joan Disantis.
Powerful and Inspirational Quotes About Life And Struggles
You're imperfect, and you're wired for struggle, but you are worthy of love and belonging. ~ Brene Brown.
Ask yourself if what you're doing today is getting you closer to where you want to be tomorrow. ~ Unknown.
I'm thankful for my struggle because, without it, I wouldn't have stumbled across my strength. ~ Alex Elle.
Real difficulties can be overcome; it is the imaginary ones that are unconquerable. ~ Theodore Newton Vail.
The struggle you're in today is developing the strength you need for tomorrow. Don't give up. ~ Robert Tew.
Life has a way of broadsiding us with lessons that we need to learn but would rather avoid. ~ Craig Groeschel.
Show me someone who has done something worthwhile, and I'll show you someone who has overcome adversity. ~ Lou Holtz.
Ultimate Inspirational Quotes About Life And Struggles
What lies behind you and what lies in front of you, pales in comparison to what lies inside of you. ~ Ralph Waldo Emerson.
To have striven, to have made the effort, to have been true to certain ideals, this alone is worth the struggle. ~ William Osler.
There are better people in the world, do not let the worst do the worst to you, you deserve the best in life. ~ Michael Bassey Johnson.
I believe my life has no limits. I want you to feel the same way about your life, no matter what your challenges may be. ~ Nick Vujicic.
Instead of wishing you were someone else, be proud of who you are. You never know who was looking at you wishing they were you. ~ Unknown.
Life requires overcoming challenges and obstacles of many types. Battling our struggles and fears determines who we are. ~ David Weatherford.
Life's battles don't always go to the stronger or faster man. But sooner or later the man who wins, is the man who thinks he can. ~ Bruce Lee.
The most authentic thing about us is our capacity to create, to overcome, to endure, to transform, to love and to be greater than our suffering. ~ Ben Okri.
---
So these were the 70 quotes that will inspire you during life's struggles.
If you like these quotes, then you can also read our other posts on Opportunity quotes and Little Things in Life quotes and Heart Quotes to Follow Your Heart and Prayer Quotes for Encouragement and Inspiration and Cartoon Characters Quotes for Inspiration.
---
Sources: