There are moments, especially when we're feeling low, where we may fall into the belief that only the "lucky" ones get the choicest opportunities, and that we somehow lack that element of fortune.
However, this perspective doesn't accurately represent the truth. The reality is, opportunities don't discriminate; they don't reserve themselves for a privileged few.
They are accessible to anyone who is ready to commit the necessary effort to position themselves favorably when the time is right.
As you prepare to pursue your dreams in the upcoming New Year and investigate pathways to boost your business ambitions, we've assembled a compilation of 30 compelling quotes focusing on the concept of opportunity.
These quotes are crafted to ignite your inspiration and motivation, emphasizing the boundless potential that unfolds when you're ready to grasp them.
Let these words be your guide, fostering assurance and aiding you in charting your course to success.
---
Top 10 Quotes on Opportunity
If you are positive, you'll see opportunities instead of obstacles. ~ Unknown.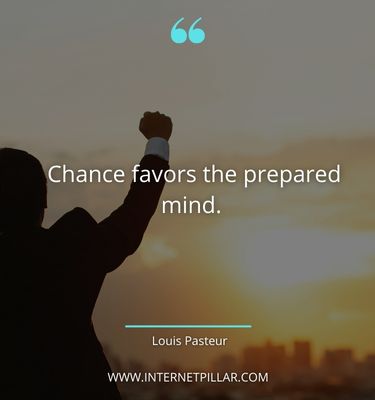 Chance favors the prepared mind. ~ Louis Pasteur.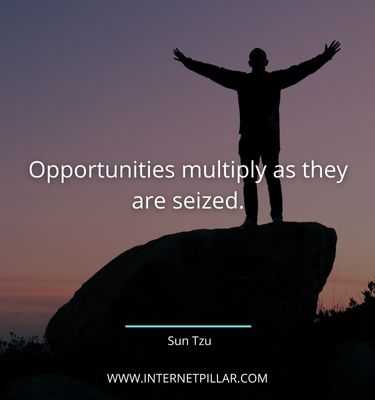 Opportunities multiply as they are seized. ~ Sun Tzu.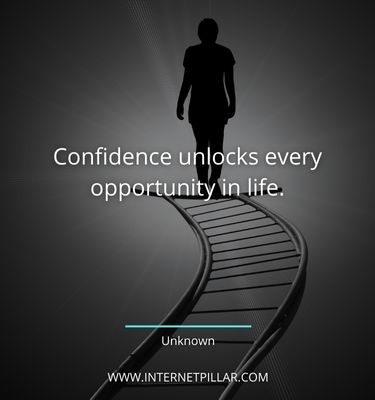 Confidence unlocks every opportunity in life. ~ Unknown.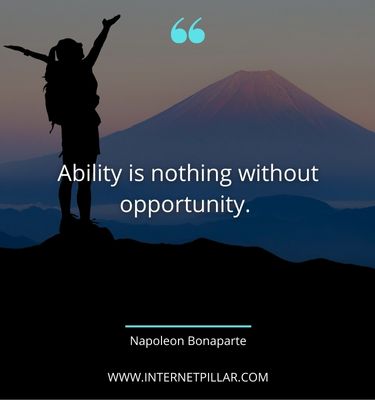 Ability is nothing without opportunity. ~ Napoleon Bonaparte.
To hell with circumstances; I create opportunities. ~ Bruce Lee.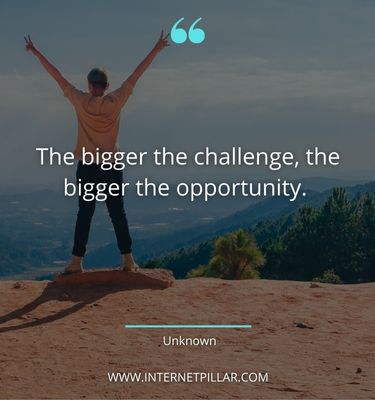 The bigger the challenge, the bigger the opportunity. ~ Unknown.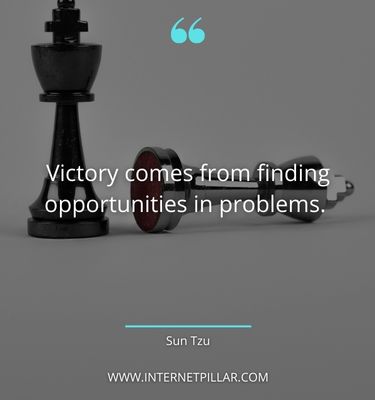 Victory comes from finding opportunities in problems. ~ Sun Tzu.
New beginnings are often disguised as painful endings. ~ Lao Tzu.
Success is where preparation and opportunity meet. ~ Bobby Unser.
If opportunity doesn't knock, build a bigger door. ~ Milton Berle.
Related Quotes: 70 Optimism Quotes to Inspire You and Remove Negativity and 70 Persistence Quotes to Inspire You for Success
Inspirational Quotes on Opportunity
Problems are only opportunities in work clothes. ~ Henry J. Kaiser.
Excuses will always be there for you. Opportunity won't. ~ Unknown.
You've got to grab every opportunity that comes up. ~ Dominic West.
I will prepare and some day my chance will come. ~ Abraham Lincoln.
Your big opportunity may be where you are right now. ~ Napoleon Hill.
In the middle of every difficulty lies opportunity. ~ Albert Einstein.
A wise man will make more opportunities than he finds. ~ Francis Bacon.
Opportunity Quotes for Work and Life
Don't wait for the right opportunity: create it. ~ George Bernard Shaw.
The sad truth is that opportunity doesn't knock twice. ~ Gloria Estefan.
Not knowing when the dawn will come, I open every door. ~ Emily Dickinson.
The reward for work well done is the opportunity to do more. ~ Jonas Salk.
Nothing is more expensive than a missed opportunity. ~ H. Jackson Brown Jr.
If a window of opportunity appears, don't pull down the shade. ~ Tom Peters.
Small opportunities are often the beginning of great enterprises. ~ Demosthenes.
Pressure, challenges, they are all an opportunity for me to rise. ~ Kobe Bryant.
Opportunity dances with those already on the dance floor. ~ H. Jackson Brown Jr.
Quotes on Opportunity
I always tried to turn every disaster into an opportunity. ~ John D. Rockefeller.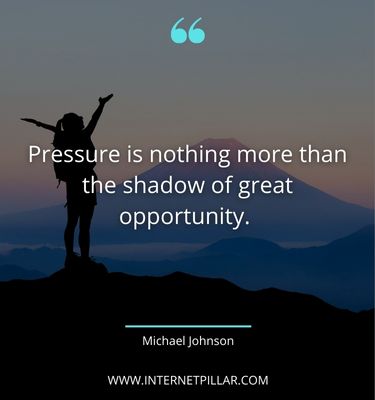 Pressure is nothing more than the shadow of great opportunity. ~ Michael Johnson.
Opportunity is everywhere. The key is to develop the vision to see it. ~ Unknown.
Our lives are defined by opportunities. Even the ones we miss. ~ F. Scott Fitzgerald.
To stay ahead, you must have your next idea waiting in the wings. ~ Rosabeth Moss Kanter.
The ladder of success is best climbed by stepping on the rungs of opportunity. ~ Ayn Rand.
To succeed, jump as quickly at opportunities as you do at conclusions. ~ Benjamin Franklin.
Opportunities are like sunrises, if you wait too long, you miss them. ~ William Arthur Ward.
Opportunity Quotes on Thinking Big
Opportunity does not knock, it presents itself when you beat down the door. ~ Kyle Chandler.
Failure is simply the opportunity to begin again, this time more intelligently. ~ Henry Ford.
Today knowledge has power. It controls access to opportunity and advancement. ~ Peter Drucker.
Turn your obstacles into opportunities and your problems into possibilities. ~ Roy T. Bennett.
Opportunities are often things you haven't noticed the first time around. ~ Catherine Deneuve.
Over the years, I've come to view complaints as opportunities rather than obstacles. ~ Guy Winch.
Let your hook be always cast; in the pool where you least expect it, there will be a fish. ~ Ovid.
Opportunity Quotes about Seizing Opportunities
Opportunities are usually disguised as hard work, so most people don't recognize them. ~ Ann Landers.
Your regrets aren't what you did, but what you didn't do. So I take every opportunity. ~ Cameron Diaz.
Every minute brings a new opportunity. Every minute brings new growth, new experiences. ~ Mario Cuomo.
Whenever you see darkness, there is an extraordinary opportunity for the light to burn brighter. ~ Bono.
Turbulence is life force. It is opportunity. Let's love turbulence and use it for change. ~ Ramsey Clark.
Opportunity is missed by most people because it is dressed in overalls and looks like work. ~ Thomas Edison.
Life opens up opportunities to you, and you either take them or you stay afraid of taking them. ~ Jim Carrey.
Opportunity Quotes for Life
Be a magnet that draws opportunity. Paint brilliant thoughts and actions. Mirror success. ~ Shawn L. Anderson.
The secret of success in life is for a man to be ready for his opportunity when it comes. ~ Benjamin Disraeli.
Education exposes young people to a broader world, a world full of opportunity and hope. ~ Christine Gregoire.
The entrepreneur always searches for change, responds to it, and exploits it as an opportunity. ~ Peter Drucker.
Most do not understand the wonderful opportunities life gives until they look back at their life. ~ Eric Handler.
I think every day is a new day, every day is a new opportunity, and every day is a new chance. ~ Jennifer Winget.
The lure of the distant and the difficult is deceptive. The great opportunity is where you are. ~ John Burroughs.
Chaos in the world brings uneasiness, but it also allows the opportunity for creativity and growth. ~ Tom Barrett.
Opportunity Quotes by Famous People
It's through curiosity and looking at opportunities in new ways that we've always mapped our path. ~ Michael Dell.
Jump at opportunities to take on responsibilities. People should try new things, that's how to grow. ~ Kevin Murray.
He who refuses to embrace a unique opportunity loses the prize as surely as if he had tried and failed. ~ William James.
Change the happenings in your life from obligatory tasks to opportunities for which you are grateful. ~ Kathryn Prentice.
Every project is an opportunity to learn, to figure out problems and challenges, to invent and reinvent. ~ David Rockwell.
Effective people are not problem-minded; they're opportunity-minded. They feed opportunities and starve problems. ~ Stephen Covey
Do not despise your own place and hour. Every place is under the stars, every place is the center of the world. ~ John Burroughs.
Best Opportunity Quotes
Opportunity is often difficult to recognize; we usually expect it to beckon us with beepers and billboards. ~ William Arthur Ward.
One opportunity leads directly to another, just as risk leads to more risk, life to more life, and death to more death. ~ Markus Zusak.
Inspiring Opportunity Quotes
If somebody offers you an amazing opportunity but you are not sure you can do it, say yes, then learn how to do it later. ~ Richard Branson.
Once you put everything in the right perspective, even bad times can be an opportunity to refresh your appetite, your desire. ~ Alex Zanardi.
I believe success is preparation, because opportunity is going to knock on your door sooner or later but are you prepared to answer that? ~ Omar Epps.
Sometimes opportunities float right past your nose. Work hard, apply yourself, and be ready. When an opportunity comes you can grab it. ~ Julie Andrews.
The golden opportunity you are seeking is in yourself. It is not in your environment; it is not in luck or chance, or the help of others; it is in yourself alone. ~ Orison Swett Marden.
---
So these were the 70 quotes about Opportunity.
If you like these quotes, then you can also read our other posts on Greatest Motivational Quotes from History and Buddha Quotes on Life That Will Change Your Mind and Socrates Quotes You Need to Know Before 40 and Quotes about Growing Up.
---
Sources: