John Cena is a professional wrestler, actor and television host.
---
Best John Cena Quotes
1. "Hustle, Loyalty, Respect." ~ (John Cena).
2. "I never back down and I never quit!" ~ (John Cena).
3. "A man's character is not judged after he celebrates a victory, but by what he does when his back is against the wall." ~ (John Cena).
4. "Live fast, fight hard, no regrets!" ~ (John Cena).
5. Whether you like me or you don't, I still dig showing up for work. ~ John Cena.
6. When you see me on TV, that's about as close to my real personality as you can get." ~ John Cena.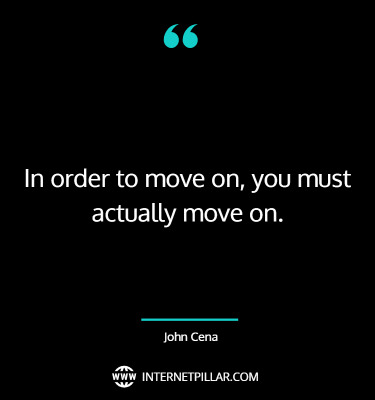 7. In order to move on, you must actually move on. ~ John Cena.
8. "Never Quit, Never backdown." ~ (John Cena).
9. "I am a champion who makes an impact." ~ (John Cena).
10. "To succeed, I have to believe every night, in my heart, that I am the best." ~ (John Cena).
11. "Time management is the key. Although it seems hectic, as long as you manage your time properly you can get everything done." ~ (John Cena).
12. "If you don't learn from your mistakes, then they become regrets." ~ (John Cena).
13. "I fear nothing and I regret less." ~ (John Cena).
14. "This is my life, this is my passion, this is all I got." ~ (John Cena).
Popular John Cena Quotes
15. "You can run I will chase you. You can hide I will find you. We're gonna fight and I'm gonna hurt you." ~ (John Cena).
16. "A true champion is not judged by how much he or she is admired, but by how well they can stand at the face of adversity." ~ (John Cena).
17. "Whether fighting or spitting, my discipline is unforgiving!" ~ (John Cena).
18. "I don't play a character. It's totally just an extension of myself." ~ (John Cena).
19. "When people show loyalty to you, you take care of those who are with you. It's how it goes with everything. If you have a small circle of friends, and one of those friends doesn't stay loyal to you, they don't stay your friend for very long." ~ (John Cena).
20. "My life is being ruined by the internet!" ~ (John Cena).
21. "Thank you guys. Thank you for never giving up on me." ~ (John Cena).
22. "I admire the military. I guess in a world of villains and heroes, they're my heroes. Their dedication, their commitment, their discipline, their code of ethics." ~ (John Cena).
Top John Cena Quotes
23. "You want The Next Big Thing? Let me take my pants off!" ~ (John Cena).
24. "When the day comes when you don't believe in yourself there's the door, get the hell out." ~ (John Cena).
25. "Me Brock Lesnar. Here comes the pain. God built me strong. Forget to give me brain." ~ (John Cena).
26. "Fashion advice from the Tooth Fairy, that's great." ~ (John Cena).
27. "You smell like crap so I know you don't like soap." ~ (John Cena).
28. "There's those who talk about it. And there's those who BE about it!" ~ (John Cena).
29. "I literally wake up and try to tackle every day the best I can and do my best to try to make life as productive and positive as I can." ~ (John Cena).
30. "When I hear people boo, that just makes me want to go out there and work harder." ~ (John Cena).
31. "I would say luck and preparation. I didn't dominate WWE when I first started, it was a slow process. I wasn't labelled the golden child from day one, it's been a very long road." ~ (John Cena).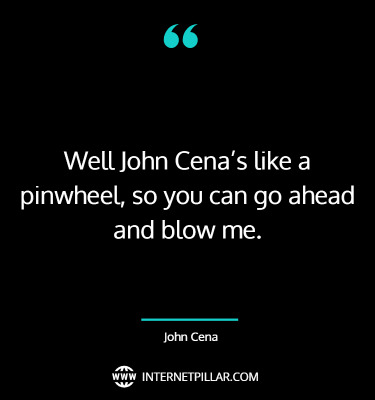 32. "Well John Cena's like a pinwheel, so you can go ahead and blow me." ~ (John Cena).
Famous John Cena Quotes
33. "For me, I don't go in the backdoor. That's the one thing I don't do." ~ (John Cena).
34. "I don't doll myself up for TV because I want people to accept me for who I am." ~ (John Cena).
35. "I take pride in the fact that a lot of little kids dig what I do." ~ (John Cena).
36. "By the time I was 15 and I stepped in the high school gym, I was just stronger than everybody." ~ (John Cena).
37. "I think everybody you know, we all have a sense of humor and I'm not one to take myself too seriously." ~ (John Cena).
38. "Paul Bearer was very influential in the early stages of my career. He constantly hounded me and I just think he realized the potential that was there. He convinced me that I was in the right place and doing the right thing." ~ (John Cena).
39. "Yes I have a belt. I wear big pants because my a** is huge. So I can't go to a store by off the rack a size that is appropriate for my waist because they don't fit my a**!" ~ (John Cena).
40. "Thank you for letting idiots like me, come out and live this wonderful wonderful dream. I love you to death. Let's go home." ~ (John Cena).
Short John Cena Quotes
41. "Baloney fudging mustard!" ~ (John Cena).
42. "CeNation. Wwe reports that last night at approximately 9pm est. It terminated its contract with cousin of john cena, juan. The wwe wishes juan the best of luck in his future endeavors." ~ (John Cena).
43. "Welcome to Smackdown. This is where the franchise plays. That's Tazz, he's a thug. And that's Michael Cole, he's gay." ~ (John Cena).
44. "What we do is entertainment. They wouldn't go to Tom Cruise and ask if his movies are fake. We provide entertainment. I would rather someone tell me I am not entertaining than ask if what we do is fake." ~ (John Cena).
45. "For the past 9 years, the WWE has been my home!" ~ (John Cena).
46. "My home is at the WWE. I truly do love performing. The atmosphere here isn't like anything else. It's truly where I belong." ~ (John Cena).
47. "Winning the Royal Rumble is as big an accomplishment as anything." ~ (John Cena).
48. "Lita on the other hand, she's rated NC-17, which means No Cold sores in 17 days." ~ (John Cena).
49. "We in the Great White North but you can bite my White South!" ~ (John Cena).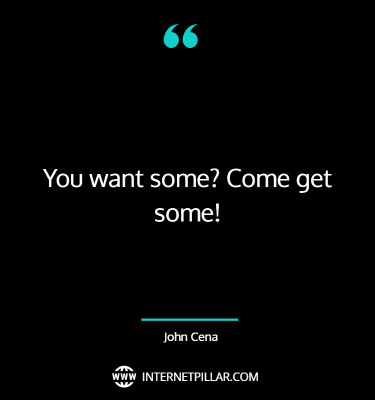 50. "You want some? Come get some!" ~ (John Cena).
51. "Nobody remembers second place." ~ (John Cena).
52. "There are moments in life where it gets so hectic that time becomes a blur. Keep calm and never give up." ~ (John Cena).
---
So these were the 52 quotes by John Cena for you.
If you like these quotes and sayings, then you can also read my other popular blog posts on the topics of Hulk Hogan quotes and Roddy Piper quotes.
---
You Might Like