Are you looking for the best 'John McEnroe' quotes and sayings? I've rounded up some of the famous John McEnroe quotes, sayings, captions for Instagram, and status messages for you.
John McEnroe, sometimes known as Johnny Mac, is a former professional tennis player from the United States.
He was renowned for his volleying and shot-making abilities.
Many people believe John McEnroe to be one of the finest and most well-known tennis players of all time. John McEnroe also served as the captain of the US Davis Cup squad.
He won seven Grand Slam singles championships, nine Grand Slam men's doubles titles, and one Grand Slam mixed doubles trophy (three at Wimbledon and four at the US Open).
You will find below a curated collection of John McEnroe quotes that you can read and share with others.
---
Best John McEnroe Quotes
You cannot be serious! ~ John McEnroe.
The sting of losing is bad. ~ John McEnroe.
When I walk out there on the court, I become a maniac… Something comes over me, man. ~ John McEnroe.
Nadal is one of the great champions – a class act. ~ John McEnroe.
I can tell you from experience that when you get that pent-up and crazed, it can be distracting. ~ John McEnroe.
When you're young, you feel invulnerable. I don't feel invulnerable anymore. ~ John McEnroe.
I had a harsh lesson in 1996, when I lost four times to Andres Gomez on clay. ~ John McEnroe.
The only thing 'championship' about Wimbledon is its prestige. ~ John McEnroe.
Why don't they go back to wood racquets? Then we would see the best tennis to be played. ~ John McEnroe.
I can't speak for other people, but I still hate losing. When I did lose, I found it easier to yell than to cry. Guys aren't supposed to cry, are they? ~ John McEnroe.
The good part of having six kids is, there's always one who wants to hug you and say, 'daddy, I love you.' ~ John McEnroe.
I thought if I looked back and evaluated my life, it would help me in the future. ~ John McEnroe.
Nadal and Roger Federer have great respect for each other. I think Novak Djokovic gets under those two guys' skin a little bit, and maybe they don't want to admit it, and I think that's, in a way, healthy. ~ John McEnroe.
You can't give away points and games against someone like Murray. You're not going to make it to the top with that kind of effort. ~ John McEnroe.
I would not have an event before the majors. I would build them up. It very rarely happens that a player plays the week before, wins the event, and then goes on to win the slam. ~ John McEnroe.
I thought doubles was a good way for me to practice and get some reps in – I didn't like to train in the gym as much as players these days. ~ John McEnroe.
Sometimes my negativity worked to my advantage, and early in my career, it got me going. But you need to understand that you're not just fighting opponents, you're also fighting yourself. ~ John McEnroe.
It seems like the richer you are, the more chance you have of paying less tax. ~ John McEnroe.
When I was eight and a half, my parents moved to a part of Queens where there was a club nearby. We joined, and if you believe in someone up above, I think I was meant to play tennis. ~ John McEnroe.
What made my matches against Borg and Connors interesting was, comparing it to boxing, it was like a puncher and a counter-puncher. ~ John McEnroe.
Top John McEnroe Quotes
I've seen tennis clubs close in Manhattan and garages put up in their place, and I'd sure like to be part of reversing that trend. ~ John McEnroe.
I was always taught that you needed to be intense and never lose your focus. ~ John McEnroe.
When I felt I was rejected by my first wife, and she said, 'Some day you will thank me for this,' you know what? I do. And so, sometimes it is darkest before the dawn. You can think it is bleak and you can't see. You never know. ~ John McEnroe.
Look at Becker and Djokovic. If you look at Novak's record since Boris has been there, it's been phenomenal. ~ John McEnroe.
You're asking too much of the women. They shouldn't be playing as many events as men. If tennis is best served by women playing events with men, so be it. ~ John McEnroe.
I went on safari in South Africa just after apartheid had ended. ~ John McEnroe.
As I got older and started moving up the ranking, the matches got more important, and my emotions ratcheted up. I guess I hid my real feelings behind the anger. ~ John McEnroe.
I'd like to think I could have and should have won more, but that's not the point. And I was at the point where I was playing great tennis in the mid 80s – the type of tennis people hadn't seen before – and I was very proud of that. ~ John McEnroe.
When I was 15 and playing in Kalamazoo, I ran into a light pole on the side of the court and was knocked out for a little while – when I woke up, I was seeing stars! ~ John McEnroe.
I can barely remember what I was like 36 years ago when I was 21 years old. ~ John McEnroe.
I did a terrible job of composing myself. I was a spoiled brat from Long Island who benefitted from the energy of New York. ~ John McEnroe.
Kyrgios has got to look in the mirror if he wants to become a top player and win Grand Slams. ~ John McEnroe.
The best way I knew how was to give 110% and want it more than them, and walk on the court and every moment of the match feel like it was the end of the world, in a sense. So that worked for me in a lot of ways. There were times that it hurt me, but for the most part, it helped me. ~ John McEnroe.
No one cares about the Davis Cup. How many people know I won five Davis Cups and seven majors, but that I rarely played the Australian Open? ~ John McEnroe.
Famous John McEnroe Quotes
Do you have any problems, other than that you're unemployed, a moron, and a dork? ~ John McEnroe.
There's a certain beauty and majesty to Wimbledon. The elegance, the way the grass looks on TV. ~ John McEnroe.
The older I get, the better I used to be. ~ John McEnroe.
If they think I'm better at commentating than I was as a player, then I must be pretty darned good at commentating. ~ John McEnroe.
I am someone who gets pretty worked up. ~ John McEnroe.
Be happy. If you're successful but unhappy, that's emptiness. ~ John McEnroe.
Believe it or not, I was a pretty shy youngster growing up. ~ John McEnroe.
It's one thing if you live in London and you're rooting for Chelsea or you're in New York and you love the Giants or Jets and no matter who's on the team you're into it. It's different in tennis; you're sort of your own guy, so you have to reach out and grab a person in a different way. ~ John McEnroe.
I think it's the mark of a great player to be confident in tough situations. ~ John McEnroe.
What I think is frustrating for Americans is that it feels like more was going to change with Obama. ~ John McEnroe.
Well I think that's probably one of a few, where I grew up in the City of New York, it's got a lot of energy, my parents are Irish-American so there was a bit of yelling going on in my house but it seemed normal. ~ John McEnroe.
But these guys learn so fast now, and they sort of soak up the information, they're fearless. Those are the guys who learn from their mistakes and come back strong the next time. ~ John McEnroe.
They should be required to be in less events; there should be less events for the women. It seems it takes an actual meltdown on the court or women quitting the game altogether before they realize there's a need to change the schedule. ~ John McEnroe.
You have to keep persevering. An actor goes to a lot of auditions and doesn't get the part. ~ John McEnroe.
When I was 25, if you'd have said I was going to be a commentator, that would seem like, 'Oh, my God. That's a huge step down.' ~ John McEnroe.
With commentating, I've had a chance to show the humorous side of my personality that I didn't use on the court. It's fun, and I don't take myself too seriously. I have good broadcast teams with me, but I'm not a huge stats guy. I think they post the numbers too quickly, and I'd rather let the match play out a bit first. ~ John McEnroe.
Popular John McEnroe Quotes
Jack Nicholson didn't get anything until he was in his thirties. You have to persevere and put yourself in positions, and sooner or later, you will break through. ~ John McEnroe.
I don't really know why I started playing as a kid, but I grew up in Queens, New York, not too far from Forest Hills, where they played the U.S. Open in those days. I even got to be a ball boy there. Also, there was a tennis court just a block away from our house, and I'd hang out down there. ~ John McEnroe.
I used to get two racquets a year. As you can imagine, they didn't last me too long. ~ John McEnroe.
I always got along with Borg, who was my greatest rival. People like to see me and Connors, me and Lendl, go at it. We didn't like each other. ~ John McEnroe.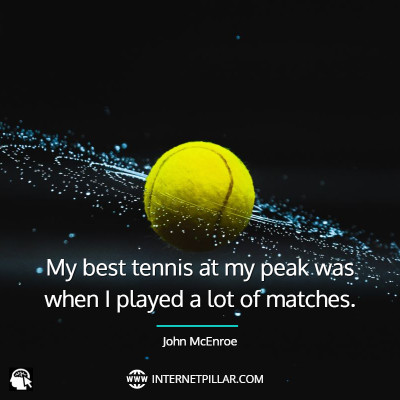 My best tennis at my peak was when I played a lot of matches. ~ John McEnroe.
This taught me a lesson, but I'm not quite sure what it is. ~ John McEnroe.
I was a Yankee fan until 1981. That was the year the Yankees were two up on the Dodgers and lost four straight. And George Steinbrenner apologized to the city. ~ John McEnroe.
I don't think enough players channel the energy of the crowd. If it's done properly, and you don't let anger overwhelm and distract you, it's like a shot of adrenaline in the arm, and it gets the crowd pumped up. ~ John McEnroe.
One of the things I respected about Connors was that one second he would be spewing a four-letter word, the next second he would do something that had people falling off the aisles. Yet he never seemed to lose his concentration. ~ John McEnroe.
I like John McCain, or he seems like a cool guy in a lot of ways. I don't agree with a lot of his policies, but he still seems like a cool guy. ~ John McEnroe.
I don't take myself as seriously as I did when I was playing, and it works, and I think people see the self-deprecation in my commentary. ~ John McEnroe.
I was always fighting the establishment, trying to run through brick walls. ~ John McEnroe.
I used to take pride if my kids were playing basketball, and I'd be there, and I wouldn't say anything. People were obviously expecting me to yell and scream at the ref and at them and everything. I wouldn't say anything. ~ John McEnroe.
Great John McEnroe Quotes
I'd love to see all the guys play their best because I think it's better for tennis. ~ John McEnroe.
I grew up watching Dr. J, and I was like, 'Oh my God, this guy is the greatest basketball player I ever saw.' ~ John McEnroe.
If you really want to get it more exciting, no linesmen. And have the players call their lines. That would make the game more exciting, I promise you. It would be awesome. ~ John McEnroe.
It's ironic – people used to want to suspend me and talk about how bad my behaviour was, but now they like it when I shout and scream. ~ John McEnroe.
I would have thought that a woman would have become president before a black man. ~ John McEnroe.
When I came on the tour, I thought, 'Why don't they treat tennis players the same way they look at football players?' Because I've got news for you: when they are on the pitch, they are not saying, 'Hello, how are you?' out there. ~ John McEnroe.
In general, people are administered drugs too readily. ~ John McEnroe.
I didn't get along with most of the players I played against, but the one guy I did get along with was my greatest rival, so it can be done. ~ John McEnroe.
I'm going to vote for Obama. I'm going for the change. ~ John McEnroe.
They would go back and listen to my matches, and two days later, I'd be fined. Because no one heard it while it was being played, but they heard it on some mic behind the court. Is that the way it should be? I don't think so. ~ John McEnroe.
My greatest strength is that I have no weaknesses. ~ John McEnroe.
Inspiring John McEnroe Quotes
If people do things without thinking them through, that rubs me up the wrong way. ~ John McEnroe.
We should reach out to people to try to go after the fans the way other sports do. Because we can't just depend on the fact that it is a great game. ~ John McEnroe.
Tennis was a white, upper-class sport, and I wanted it to be treated like other sports were. ~ John McEnroe.
The important thing is to learn a lesson every time you lose. Life is a learning process, and you have to try to learn what's best for you. Let me tell you, life is not fun when you're banging your head against a brick wall all the time. ~ John McEnroe.
I won't admit to having a poster of Borg on my bedroom door. But I certainly found him to be someone who got me way more into tennis. ~ John McEnroe.
Of course for your main rivals, you're going to get extra motivated for it, particularly if you haven't played him for a long time. ~ John McEnroe.
I was a different kind of player as a kid and didn't do too much shouting and screaming. If things didn't go my way, I tended to get a bit overwhelmed. All I wanted to do was cry on my mom's shoulder. I didn't know how to handle defeat in front of a crowd, and I didn't want to be the loser. ~ John McEnroe.
No other athlete in any sport has ever had to go through what I have to. ~ John McEnroe.
Roland Garros is the only one of the four majors that is 15 days, and that is too long. ~ John McEnroe.
The greatest compliment I ever got was when people called me an artist, and I understand that solo aspect of being an artist, when you're in there by yourself, trying to do something great, and people who don't even know you can come up and just dump on you. ~ John McEnroe.
I got a lot of publicity, but it steamrolled. Event organizers weren't used to that kind of behavior, so later, they tightened the rules. ~ John McEnroe.
The perception is I didn't get along with umpires, obviously, and I didn't, on the court. But off the court, we had a good vibe. ~ John McEnroe.
I've never seen a good tennis movie. They all were terrible. ~ John McEnroe.
I'd never left America until I was 18. ~ John McEnroe.
What is the single most important quality in a tennis champion? I would have to say desire, staying in there and winning matches when you are not playing that well. ~ John McEnroe.
I'd like to be the commissioner of tennis, but do I want to get into politics? Sometimes I have delusions of grandeur that that would be an interesting, good thing. I'm talking about actual politics, like being a congressman, but then I see how unbelievably nasty it really is, and maybe I'm not quite knowledgeable enough to actually do it. ~ John McEnroe.
I remember when I was younger taking more pride in Wimbledon than the French. That and the U.S. Open – they were the ones I wanted to win. ~ John McEnroe.
Inspirational John McEnroe Quotes
There was a line call that didn't look so great. I went ballistic. Called the umpire a jerk. Whacked a ball into the stands. Then smacked a soda can with my racket, and got soda all over the King of Sweden, who was sitting in the front row. ~ John McEnroe.
I'm 56 years old. I like to get out on the court. I continue to try to play the best I can. Obviously, I'm nowhere near where I was when half this age. But I can still hit a pretty decent ball. ~ John McEnroe.
The mistake, if I made one, in the late 1980s, was thinking I needed to change my game. ~ John McEnroe.
I just remember watching Federer the first year he won Wimbledon. He was struggling with his back problem. I remember it vividly. It looked like there was a chance he was not going to finish. He had that look in his eye. Then, somehow, he found the wherewithal to dig a little deeper, and suddenly he wins the thing, and he's a different player. ~ John McEnroe.
I'll let the racket do the talking. ~ John McEnroe.
Women have it better in tennis than any other sport, but you shouldn't push them to play more than they're capable of playing. ~ John McEnroe.
If you're out there and things are going badly, are you going to cry or break down? ~ John McEnroe.
I didn't serve and volley until I got to Wimbledon in '77. ~ John McEnroe.
I am finicky about making sure my sneakers are pretty tight. It is almost like a superstition for me. ~ John McEnroe.
It means a lot to be back in New York. Particularly since one of the last senior event scheduled in the States was supposed to be here in New York. We were supposed to play in Central Park right after 9-11 and when 9-11 happened obviously things changed. ~ John McEnroe.
We all choke. Winners know how to handle choking better than losers. ~ John McEnroe.
I went to play in Brazil when I had just turned 18 and was the world's top junior player. I got to the airport, and no one knew who I was. I couldn't speak any Portuguese, and no one spoke English. Then someone said something that resembled 'tennis,' and I went with that. ~ John McEnroe.
The best thing I ever did was when I was offered a million dollars to go play in South Africa and didn't take it. I was 21 years old, and part of it was like, 'Well, if they're offering me this obscene amount of money just to play one match, there must be something really wrong.' ~ John McEnroe.
If, in a few months, I'm only number 8 or number 10 in the world, I'll have to look at what off-the-court work I can do. I will need to do something if I want to be number 1. ~ John McEnroe.
Do women golfers say they could go out and beat Tiger Woods? ~ John McEnroe.
If you look at the top 100 players, you would see that the great majority of them have had at least a couple of surgeries. That tells me that we have to protect the players. ~ John McEnroe.
You look at a guy like Michael Jordan: I can't believe there will be other basketball players like him. ~ John McEnroe.
I haven't seen a professional player come out of New York in over 20 years since my brother Patrick came out. Blake spent a few years in Harlem, but he moved to Connecticut when he was a kid. ~ John McEnroe.
There's something deeply satisfying when it succeeds, but I'm not going to do another book just to put my name on something and make some money if it's not something I deeply care about. ~ John McEnroe.
Sometimes you get hungrier when you taste it. ~ John McEnroe.
I'm sure a lot of players say it, but winning is almost so you don't lose. The thrill of winning is not as great as the pain of losing. ~ John McEnroe.
I like to be close to water and the ocean, particularly. I love to get out and body surf. I like mountain biking, too. ~ John McEnroe.
I believe there's only one autobiography you can do. ~ John McEnroe.
Things slow down, the ball seems a lot bigger and you feel like you have more time. Everything computes – you have options, but you always take the right one. ~ John McEnroe.
Maybe I should have played two more Australians and two less Davis Cups? I could have had more majors and still have three Davis Cups when most people don't have one. ~ John McEnroe.
Nick Kyrgios, if you don't want to be a professional tennis player, do something else. ~ John McEnroe.
I had once told myself that after my playing career was over, the two things I would never do were commentary and Seniors tennis. Never say never. ~ John McEnroe.
There's always a concern when you play the week before a major. That's not the easiest time for a scheduler or a promoter, I would think. ~ John McEnroe.
Important John McEnroe Quotes
To be involved in a senior tournament back in the States is very satisfying. ~ John McEnroe.
Everybody loves success, but they hate successful people. ~ John McEnroe.
I had a similar year back in 1984 when I felt like I couldn't lose. ~ John McEnroe.
I happened to be one of those guys who doesn't play much golf. ~ John McEnroe.
If you yell at your box, I'm not really sure it's something where it should be a penalty. It seems like you hurt yourself. ~ John McEnroe.
What I've realised is that you can run miles, jump on a bike, lift weights, and all that other garbage, but the bottom line is that you get in tennis shape by playing tennis. You build the right muscles, and I don't believe people can do it as successfully any other way. ~ John McEnroe.
I can't advocate people not liking each other. But… I'd prefer it. ~ John McEnroe.
I think the players, I put in the book for example that we should go back to wood rackets, probably they laughed at me, I'm a dinosaur, but I think that you see these great players, have even more variety and you see more strategy, there'd be more subtlety. ~ John McEnroe.
I'm a tell-it-like-it-is kind of person; I don't like being misled or someone not telling the truth. That upsets me. ~ John McEnroe.
I firmly believe that one of the hallmarks of a champion – any champion – is the ability to absorb losses and regain confidence immediately. ~ John McEnroe.
You hit a wall at some stage when you don't want it so bad, but you don't know when that's going to be – as far as competition or as far as health is concerned. Sometimes it's just natural. You just taste it, and you want it so bad that you find other gears. ~ John McEnroe.
---
So these were the 135 top John McEnroe quotes, sayings and phrases.
Tell me in the comments section, which John McEnroe quotes were your favorite?
If you like these quotes and sayings, then you can also read my other posts on Shane Warne quotes and Julian Edelman quotes.
You are welcome to share these quotes and sayings with your family and friends on WhatsApp, Facebook, Twitter, Instagram, and Pinterest and inspire them to take their life to the next level and achieve greatness and success!