Junji Ito is a Japanese horror manga artist.
---
Junji Ito Quotes
Spirals…. this town is contaminated with spirals. ~ Junji Ito.
Come on! What's so precious about a monster? ~ Junji Ito.
A fiendish love… an unearthly love… those who feel such a love are numbed to their very souls by this mysterious pleasure while they struggle with endless frustration, censured by the pangs of conscience of their boundless crime. ~ Junji Ito.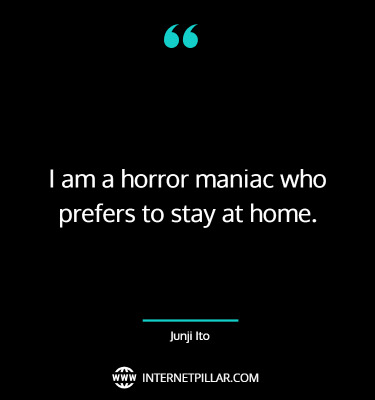 I am a horror maniac who prefers to stay at home. ~ Junji Ito.
Best Junji Ito Quotes
Kirie, did you know that female mosquitoes are the only ones who suck blood? And only when they're carrying a batch of eggs. They need the blood so their eggs will develop and… ~ Junji Ito.
The road to cat wand mastery is long and treacherous indeed! ~ Junji Ito.
Sleep is very important. Everyone get enough sleep. Many manga artists die young and it's because they don't sleep. Your best ideas will come to you when you're sleeping. Please everyone get some sleep. ~ Junji Ito.
---
---
So these were the 7 top quotes about Junji Ito.
If you like these quotes and sayings, then you can also read my other posts on Najwa Zebian quotes and Dulce Maria Loynaz quotes.