Lacey Sturm is a singer and songwriter.
Lacey Sturm is the co-founder of the hard rock band 'Flyleaf'.
---
Best Lacey Sturm Quotes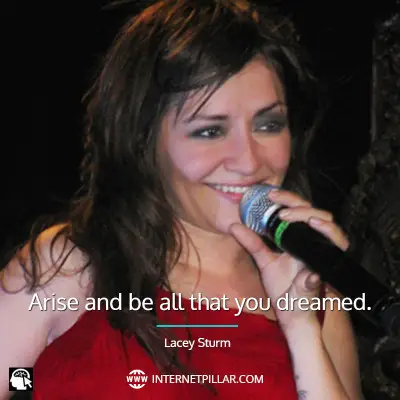 Arise and be all that you dreamed. ~ Lacey Sturm.
Silence from God is the loudest and saddest thing I've ever heard. ~ Lacey Sturm.
If you wake up today, it's on purpose, it's a gift. ~ Lacey Sturm.
This is the truth: women and men need each other. ~ Lacey Sturm.
I felt Him inviting me to an embrace of grace and love unconditional. ~ Lacey Sturm.
It wasn't excellent music, but it was coming from hearts that were used to worshiping God no matter the circumstances. ~ Lacey Sturm.
You are not a burden, an accident, or a mistake. You are meant for amazing things that you can't even imagine for yourself. ~ Lacey Sturm.
If you felt like somebody made you feel worthless, that is a lie. You are valuable precious treasure. ~ Lacey Sturm.
You see what kills your body but you don't see what kills your soul. ~ Lacey Sturm.
And if you don't have someone to tell you, I want you to know, that I am glad that you're alive today. ~ Lacey Sturm.
Our first love is always Jesus, whether we're single, dating, or married. ~ Lacey Sturm.
Famous Lacey Sturm Quotes
I have faith in God to put me where I need to be at the right time, and to put on my heart what I'm called to do… Sometimes we're called to be very proactive about one thing, and then in another season, we're supposed to let it go, trust God and pick up something else. You have to be in constant prayer and connected with the Holy Spirit to lead you. ~ Lacey Sturm.
Learning how to love Him back has taken me through so many different seasons. ~ Lacey Sturm.
The world will throw lies at you, aimed at your heart, aimed to kill. ~ Lacey Sturm.
My orphan heart thought love was to complete someone else and to be completed by them. I didn't understand that when two people who aren't whole try to complete each other they both end up with less than when they started. I didn't understand that the only one who can make a person whole is God. ~ Lacey Sturm.
I think the most important thing about screaming in our music is the urgency of it. ~ Lacey Sturm.
He sent Jesus to come and to talk to us and then allowed him to be killed so that the spirit that lived in Jesus could go out into all the earth and speak to you right where you are in your heart. Right now. ~ Lacey Sturm.
We didn't hold hands but every time we turned around, it was just super romantic. It's interesting because when you withhold the romance on purpose, it sort of intensifies it a little bit. ~ Lacey Sturm.
Everyday we have a high calling that we need to fulfill and everyday we can do it whether it's just to smile at somebody we little know. ~ Lacey Sturm.
We want them to come away feeling empowered to arise and be all that they were meant to be so that they can ultimately fulfill their purpose. ~ Lacey Sturm.
Great Lacey Sturm Quotes
We strolled quietly along the edge of the lake. The water sang its soft melody against the rocks. ~ Lacey Sturm.
When you forgive somebody, it's not so much for them as it is for you. You need to be free from that. And you need to rise above that. ~ Lacey Sturm.
God is so good to give us new days and New Years since He knows we need so many times to start over. ~ Lacey Sturm.
When they finally handed me to my mother, I was small enough to fit in the palm of her hand. She said I looked like a little monkey because I was covered in hair. I was so fragile, she was scared to hold me, let alone allow anyone else to. She was afraid I'd break. Maybe this was why she was always so tough on me. Maybe she wanted to teach me to be much stronger and more unbreakable than I looked. ~ Lacey Sturm.
Till we recognize what's sick and messed up about ourselves this world is gonna stay sick and messed up. ~ Lacey Sturm.
You can't solve this problem with only a heart for the victim, you have to have a heart for the one who hurt the person, too. ~ Lacey Sturm.
Top Lacey Sturm Quotes
He has a plan for everybody here and it's all a matter of whether you answer it when He calls you. ~ Lacey Sturm.
As a child, I looked at my grandmother the way a young girl would look at a real live princess. I hung on her every word. When she said my name or looked in my direction, I blushed and felt honored. When she praised me, I felt like everything was right in the world. ~ Lacey Sturm.
Is there a God or not?" "Is God good or not?" "Does he love me or not?" "Is God all powerful or not?" "Am I a blessing or a burden?" "Am I alone or is he with me?" And all of these questions were rooted in this one: "Do I have a heavenly Father or am I an orphan? ~ Lacey Sturm.
If you don't know that God loves you, he does. He loves his creation. And you're his creation. ~ Lacey Sturm.
God's timing is perfect, so don't waste time worrying. ~ Lacey Sturm.
People do things just 'cause everyone else does and then they wonder why they feel empty all the time. ~ Lacey Sturm.
God protected, corrected, and provided. Why? Because he is my heavenly Father. Because I wasn't born a bastard. None of us are. ~ Lacey Sturm.
He doesn't want you to obey a bunch of rules, He wants your love. ~ Lacey Sturm.
Cursed is the one who trusts in man, who draws strength from mere flesh. ~ Lacey Sturm.
You're trying to carry everything in your life by yourself. And you are falling under the weight of it but that was never God's intention. He doesn't want you to carry it yourself. You can't do it, only God can do that. And that's what he says, he says: "I never meant for you to go through this by yourself. I wanna go through it with you. I wanna carry it for you. ~ Lacey Sturm.
If it were classified as a disease, fatherlessness would be an epidemic worthy of attention as a national emergency. . . . Fatherlessness is associated with almost every societal ill facing our country's children. ~ Lacey Sturm.
As the web tightened around me and began to choke the life out of me, I remembered the only One who ever gave me life was Christ. So when I cried out to him in truth and sincerity, he rescued me again, like a loving father or a faithful husband, full of forgiveness and reconciliation before a lost daughter or an adulterous bride. ~ Lacey Sturm.
---
So these were the 40 top Lacey Sturm quotes and sayings.
If you like these quotes and sayings, then you can also read my other posts on Wilma Mankiller quotes and Howard Ashman quotes.