Wilma Mankiller was a prominent Native American leader and the first woman to become the chief of a major tribe.
Born on November 18, 1945, in Tahlequah, Oklahoma, she had Cherokee, Dutch and Irish ancestry.
Her surname, "Mankiller," originates from a Cherokee ancestor's high military rank. Growing up on Mankiller Flats, her family shifted to California after their farm failed.
In the 1960s, she studied sociology, worked as a social worker and engaged in the Native American Rights movement.
Returning to Oklahoma in the mid-1970s, she focused on economic development for the Cherokee Nation.
After completing her social science degree and taking community planning courses at the University of Arkansas, she developed various projects for Cherokee communities.
Elected as deputy principal Cherokee chief in 1983, Mankiller became the principal chief in 1985. Her leadership prioritized job creation, education, healthcare and preserving Cherokee traditions.
Elected as chief again in 1987, she did not run in 1995. Honored multiple times, she was inducted into the National Women's Hall of Fame in 1993 and received the Presidential Medal of Freedom in 1998. Her autobiography was published in 1993.
I have noted some of the best quotes by Wilma Mankiller.
---
Best Wilma Mankiller Quotes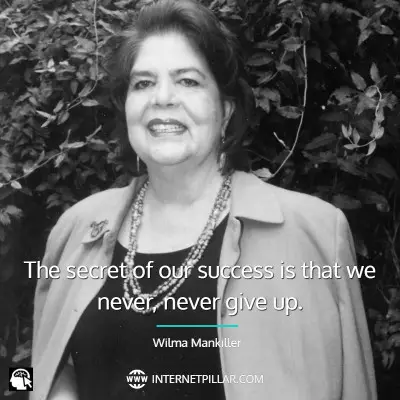 The secret of our success is that we never, never give up. ~ Wilma Mankiller.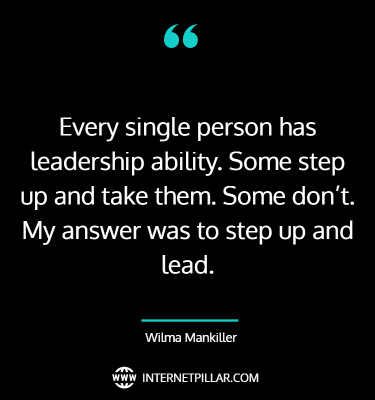 Every single person has leadership ability. Some step up and take them. Some don't. My answer was to step up and lead. ~ Wilma Mankiller.
America would be a better place if leaders would do more long-term thinking. ~ Wilma Mankiller.
People say that crisis changes people and turns ordinary people into wiser or more responsible ones. ~ Wilma Mankiller.
I want to be remembered as the person who helped us restore faith in ourselves. ~ Wilma Mankiller.
Look forward. Turn what has been done into a better path. ~ Wilma Mankiller.
I've run into more discrimination as a woman than as an Indian. ~ Wilma Mankiller.
Despite everything, they tend to view economic poverty as a barrier and a challenge, not a state of being. ~ Wilma Mankiller.
During the long healing process, I fell back on my Cherokee ways and adopted what our elders call a Cherokee approach to life. They say it is being of good mind. That means one has to think positively, to take what is handed out and turn it into a better path. ~ Wilma Mankiller.
Famous Wilma Mankiller Quotes
A lot of young girls have looked to their career paths and have said they'd like to be chief. There's been a change in the limits people see. ~ Wilma Mankiller.
Cows run away from the storm while the buffalo charges toward it – and gets through it quicker. Whenever I'm confronted with a tough challenge, I do not prolong the torment, I become the buffalo. ~ Wilma Mankiller Buffalo Quote.
An Indian is an Indian regardless of the degree of Indian blood or which little government card they do or do not possess. ~ Wilma Mankiller.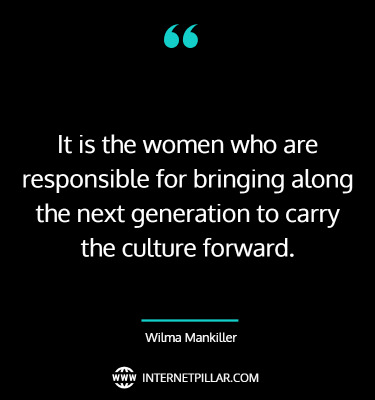 It is the women who are responsible for bringing along the next generation to carry the culture forward. ~ Wilma Mankiller.
There are a whole lot of historical factors that have played a part in our being where we are today, and I think that to even to begin to understand our contemporary issues and contemporary problems, you have to understand a little bit about that history. ~ Wilma Mankiller.
Whoever controls the education of our children controls the future. ~ Wilma Mankiller.
Great Wilma Mankiller Quotes
I think the most important issue we have as a people is what we started, and that is to begin to trust our own thinking again and believe in ourselves enough to think that we can articulate our own vision of the future and then work to make sure that that vision becomes a reality. ~ Wilma Mankiller.
I don't think anybody anywhere can talk about the future of their people or of an organization without talking about education. Whoever controls the education of our children controls our future. ~ Wilma Mankiller.
I hope many of you will be people that question why things are and why we have to do them the way we have always done them. I hope you will take some risks, exert some real leadership on issues, and if you will, dance along the edge of the roof as you continue for life. ~ Wilma Mankiller.
Negative thoughts were treated by Cherokee healers with the same medicines as wounds, headaches, or physical illness. It was believed that unchecked negative thoughts can permeate the being and manifest themselves in negative actions. ~ Wilma Mankiller.
I learned a long time ago that I can't control the challenges the creator sends my way, but I can control the way I think about them and deal with them. ~ Wilma Mankiller.
Growth is a painful process. ~ Wilma Mankiller.
Inspiring Wilma Mankiller Quotes
Take care how you place your moccasins upon the Earth, step with care, for the faces of the future generations are looking up from the Earth waiting their turn for life. ~ Wilma Mankiller.
Everybody is sitting around saying, 'Well, jeez, we need somebody to solve this problem of bias.' That somebody is us. We all have to try to figure out a better way to get along. ~ Wilma Mankiller.
Remember that I am just a woman who is living a very abundant life. Every step I take forward is on a path paved by strong Indian women before me. ~ Wilma Mankiller.
We celebrate Thanksgiving along with the rest of America, maybe in different ways and for different reasons. Despite everything that's happened to us since we fed the Pilgrims, we still have our language, our culture, our distinct social system. Even in a nuclear age, we still have a tribal people. ~ Wilma Mankiller.
Individually and collectively, Cherokee people possess an extraordinary ability to face down adversity and continue moving forward. ~ Wilma Mankiller.
If you argue with a fool, someone passing by will not be able to tell who is the fool and who is not. ~ Wilma Mankiller.
Friends describe me as someone who likes to sing and dance along the edge of the roof. I try to encourage young women to be willing to take risks, to stand up for the things they believe in, and to step up and accept the challenge of serving in leadership roles. ~ Wilma Mankiller.
Women can help turn the world right side up. We bring a more collaborative approach to government. And if we do not participate, then decisions will be made without us. ~ Wilma Mankiller.
Prior to my election, young Cherokee girls would never have thought that they might grow up and become chief. ~ Wilma Mankiller.
A significant number of people believe tribal people still live and dress as they did 300 years ago. During my tenure as principal chief of the Cherokee Nation, national news agencies requesting interviews sometimes asked if they could film a tribal dance or if I would wear traditional tribal clothing for the interview. I doubt they asked the president of the United States to dress like a pilgrim for an interview. ~ Wilma Mankiller.
Top Wilma Mankiller Quotes
My ability to survive personal crises is really a mark of the character of my people. Individually and collectively, we must react with a tenacity that allows us again and again to bounce back from adversity. ~ Wilma Mankiller.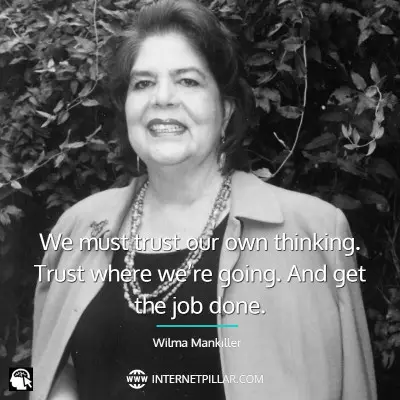 We must trust our own thinking. Trust where we're going. And get the job done. ~ Wilma Mankiller.
In Iroquois society, leaders are encouraged to remember seven generations in the past and consider seven generations in the future when making decisions that affect the people. ~ Wilma Mankiller.
Women in leadership roles can help restore balance and wholeness to our communities. ~ Wilma Mankiller.
---
So these were the 36 top Wilma Mankiller quotes and sayings.
If you like these quotes and sayings, then you can also read my other posts on Lalah Delia quotes and Ken Griffey Jr quotes.