Little girls, typically aged between four and seven years, are often perceived as beautiful, adorable and lively.
Little girls have a fascination for dressing up in cute outfits and engaging in playful activities, such as playing with dolls.
Witnessing the transformation of a little girl from infancy to adulthood, taking on roles of a daughter, sister, mother and wife, is a truly magical experience.
Little girls are invaluable gifts and it's essential to constantly remind them of their specialness.
For this purpose, a compilation of adorable and inspiring quotes has been created. These quotes aim to motivate and affirm every little girl's worth and uniqueness.
Related: Good Girl Quotes to Inspire Girls
They can also serve as perfect additions to a little girl's room décor.
---
Best Little Girl Quotes
To every little girl, her father is a hero. My father actually is one. ~ Alexandra Kerry.
I pray every day for my little girls. It's hard out there for the younger generation. ~ Angie Harmon.
A flapper is just a little girl trying to grow up – in the process of growing up. ~ Colleen Moore.
A little girl is sugar and spice and everything nice – especially when she's taking a nap. ~ Unknown.
So she doesn't call desertion, poverty, and hard work troubles? She's a brave little girl, and I shall be proud to know her. ~ Louisa May Alcott.
Little girls are precious gifts, wrapped in love serene. Their dresses tied with sashes and futures tied with dreams. ~ Unknown.
I want little girls to believe that they can be CEOs. ~ Payal Kadakia.
I don't want little girls to have the same ambitions as me. But I want them to know that it is okay to be ambitious. ~ Ronda Rousey.
I hope the fathers and mothers of little girls will look at them and say, 'Yes, women can.' ~ Dilma Rousseff.
As a little girl I used to daydream about my real father coming on a white horse to rescue me. ~ Christine Keeler.
There was a little girl who had a little curl right in the middle of her forehead; And when she was good she was very, very good, but when she was bad she was horrid. ~ Henry Wadsworth Longfellow.
But, outside of being a sweet little girl, she was awfully dumb and capable of doing horrible things. ~ Jack Kerouac.
Top Little Girl Quotes
I refuse to give energy to the negative. I've got a great fella and two great little girls. ~ Melissa McCarthy.
Little girls, like butterflies, need no excuse. ~ Robert A. Heinlein.
There's no better feeling than making your little girls laugh. ~ Jerry O'Connell.
A seed is like a little girl, it can look small and worthless, but if you treat it well then it will grow beautiful. ~ Somaly Mam.
A toddling little girl is a center of common feeling which makes the most dissimilar people understand each other. ~ George Eliot.
I believe that happy girls are the prettiest girls. ~ Audrey Hepburn.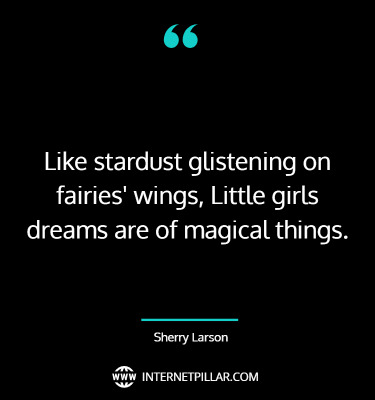 Like stardust glistening on fairies' wings, Little girls dreams are of magical things. ~ Sherry Larson.
Little girls are the nicest things that happen to people. They are born with a little bit of angelshine about them, and though it wears thin sometimes there is always enough left to lasso your heart. ~ Alan Beck.
Courage, sacrifice, determination, commitment, toughness, heart, talent, guts. That's what little girls are made of. ~ Bethany Hamilton.
After all, inside every woman, no matter how grown up she is, there is still a frightened little girl. ~ Sergei Lukyanenko.
When I was a little girl, rocking my little dolls, I remember thinking I would be the world's best mom, and so far I've done it. ~ Jenny McCarthy.
I try to parent equally, but I think little girls are a little more sensitive. ~ Don Johnson.
Little girls are cute and small only to adults. To one another they are not cute. They are life-sized. ~ Margaret Atwood.
Famous Little Girl Quotes
A baby girl is a bundle of firsts that excite and delight; giggles that come from deep inside, always wonderful and precious… so much that your love for her knows no bounds. ~ Barbara Cage.
As a little girl living in the English countryside, I used to go running around in the forests, creating my own fairy tale. ~ Lily Collins.
You're a beautiful girl, and you can do anything you want in life. ~ Jeanine Pirro.
My little girls are the most beautiful women in the world. I am a lucky, lucky man. I will spend every day making sure that they know this. ~ Russell Simmons.
I really don't see little girls growing up and thinking, 'Oh, I'm going to morph myself so I look like Barbie.' ~ Jeremy Scott.
The knowingness of little girls is hidden underneath their curls. ~ Phyllis McGinley.
Our girls have learned that sweat is sexy, brawn is beautiful and a little dirt never hurt anyone. ~ Louise Slaughter.
This little girl will guard her tower with the most vicious dragon of all: indifference. ~ Yesenia Barkley.
Little girls love dolls. They just don't love doll clothes. We've got four thousand dolls and ain't one of them got a stitch of clothes on. ~ Jeff Foxworthy.
Popular Little Girl Quotes
The little girls were wearing black party dresses and black party shoes, so strangers would know at once how nice they were. ~ Kurt Vonnegut.
No one ever told me I was pretty when I was a little girl. All little girls should be told they're pretty, even if they aren't. ~ Marilyn Monroe.
One can't get over the habit of being a little girl all at once. ~ Lucy Maud Montgomery.
A ton of little girls I talk to, they want to be actresses or singers or models. ~ Cameron Russell.
An old man dies, a little girl lives. Fair trade. ~ Frank Miller.
Every little girl knows about love. It is only her capacity to suffer because of it that increases. ~ Francoise Sagan.
Little girls think it's necessary to put all their business on MySpace and Facebook, and I think it's a shame…I'm all about mystery. ~ Stevie Nicks.
Having a little girl has been like following an old treasure map with the important paths torn away. ~ Heather Gudenkauf.
As a little girl I loved the thought of playing dress-up and getting ready. ~ Denise Richards.
It's every little girl's dream to have an exact look-alike doll. It's amazing. ~ Bindi Irwin.
Inspirational Little Girl Quotes
The smiling face of every little girl is the signature of God's presence. ~ Amit Ray.
Thank heaven for little girls! For little girls get bigger every day. Thank heaven for little girls! They grow up in the most delightful way. ~ Alan Jay Lerner.
Little girls are taught to be dependent, incapable of valuing themselves in many aspects of their daily lives. ~ Josefina Vazquez Mota.
Some girls are just born with glitter in their veins. ~ Paris Hilton.
She leaves a little sparkle wherever she goes. ~ Kate Spade.
A daughter is a treasure and a cause of sleeplessness. ~ Ben Sirach.
When you have little girls bringing you your action figures for you to sign, it's like, 'Wow, things are happening, and dreams do come true.' ~ Sasha Banks.
Little girls. They could melt the toughest hearts. ~ Nicholas Sparks.
---
So these were the 52 quotes about Little Girls.
If these quotes and sayings connect with you, check out our other blogs on I Love You More Than quotes and Trusting God quotes.