Loyal friends are a precious asset in our life.
They are the pinnacle of friendship, providing unfailing support, understanding and companionship.
These friends are not only there at happy times, but they are also pillars of support through difficult times.
A trustworthy buddy will never let you down. Instead, they protect and support you even when the world seems to be turning against you.
They are the ones who realize your value and believe in you, sometimes more than you do.
Their devotion goes beyond simple friendship. They are there to support you at difficult times, to celebrate your accomplishments and to listen when you need to vent.
In essence, faithful friends enrich our lives with their persistent presence proving to be significant assets in our personal path.
---
Best Loyal Friend Quotes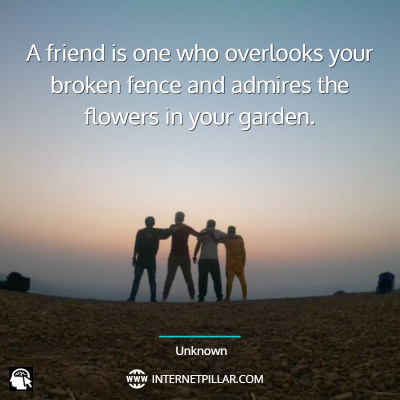 A friend is one who overlooks your broken fence and admires the flowers in your garden. ~ Unknown.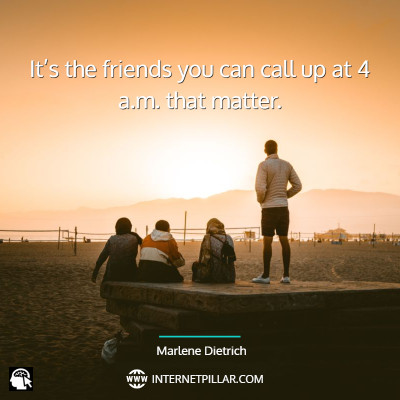 It's the friends you can call up at 4 a.m. that matter. ~ Marlene Dietrich.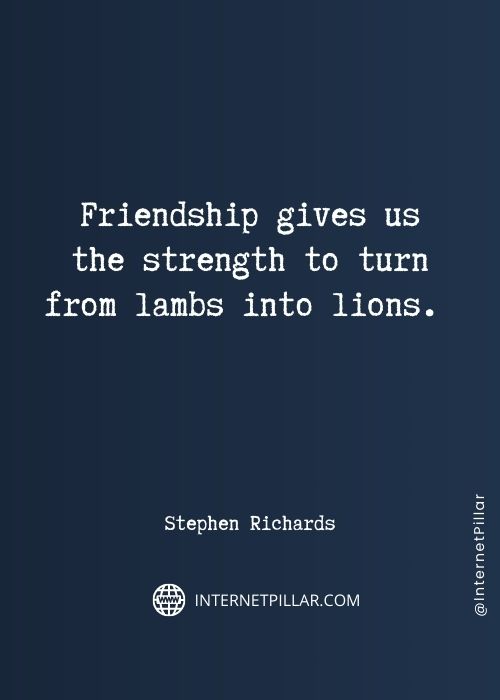 Friendship gives us the strength to turn from lambs into lions. ~ Stephen Richards.
A good friend will always stab you in the front. ~ Oscar Wilde.
They motivate us to play, be affectionate, seek adventure and be loyal. ~ Tom Hayden.
There's nothing like a really loyal, dependable, good friend. Nothing. ~ Jennifer Aniston.
The forest is my loyal friend. A Delphic shrine to me. ~ Ralph Waldo Emerson.
True friendship never questions what it costs you. ~ Stephen Richards.
Unlike the puerile loyalty to a conviction, loyalty to a friend is a virtue – perhaps the only virtue, the last remaining one. ~ Milan Kundera.
A friend is one with whom you are comfortable, to whom you are loyal, through whom you are blessed, and for whom you are grateful. ~ William Arthur Ward.
Related Quotes: 55 Loyalty Quotes and Sayings To Show Faithfulness and 22 Trust the Process Quotes to Tide over Hard Times
Famous Loyal Friend Quotes
Each friend represents a world in us, a world possibly not born until they arrive, and it is only by this meeting that a new world is born. ~ Anais Nin.
A friend is someone who walks into a room when everyone else is walking out. ~ Gary Moore.
One measure of friendship consists not in the number of things friends can discuss, but in the number of things they need no longer mention. ~ Clifton Fadiman.
Any person who deserves my loyalty receives it. ~ Joyce Maynard.
All I want is good, honest, loyal friends. ~ Aviv Nevo.
We have to recognize that there cannot be relationships unless there is commitment, unless there is loyalty, unless there is love, patience, persistence. ~ Cornel West.
I count myself really fortunate that I have some lifelong friends. The best thing about a friend is when you are being your own worst enemy a friend can help snap you out of it. ~ Amy Grant.
You can't get a friend more loyal than your dog. ~ Dale Jarrett.
The trouble is not in dying for a friend, but in finding a friend worth dying for. ~ Mark Twain.
Popular Loyal Friend Quotes
Loyalty isn't grey. It's black and white. You're either loyal completely, or not loyal at all. ~ Sharnay.
Be loyal and trustworthy. Do not befriend anyone who is lower than yourself in this regard. ~ Confucius.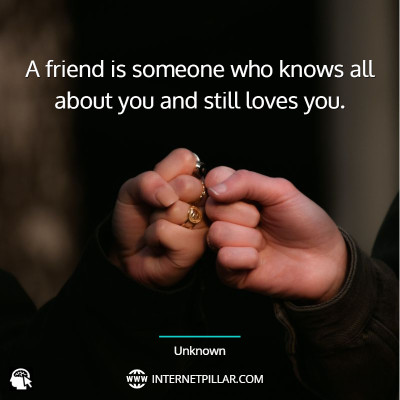 A friend is someone who knows all about you and still loves you. ~ Unknown.
Loyalty to petrified opinion never yet broke a chain or freed a human soul. ~ Mark Twain.
Loyalty and friendship, which is to me the same, created all the wealth that I've ever thought I'd have. ~ Ernie Banks.
The best mirror is an old friend. ~ George Herbert.
True love and loyal friends are two of the hardest things to find. ~ Unknown.
The most valuable gift you can receive is an honest friend. ~ Stephen Richards.
Loyal friends are real friends and real friends are hard to find. ~ Unknown.
Love is friendship that has caught fire. It is quiet understanding, mutual confidence, sharing and forgiving. It is loyalty through good and bad times. It settles for less than perfection and makes allowances for human weakness. ~ Ann Landers.
Top Loyal Friend Quotes
The strength of a family, like the strength of an army, is in its loyalty to each other. ~ Mario Puzo.
I'm a very loyal and unreliable friend. ~ Edward de Bono.
There is nothing I would not do for those who are really my friends. ~ Jane Austen.
A true friend never gets in your way unless you happen to be going down. ~ Arnold H. Glasgow.
Lucky are those who find a true loyal friend in this fake world. ~ Unknown.
Loyalty is about people who stay true to you behind your back. ~ Unknown.
One loyal friend is worth more than a thousand fake ones. ~ Unknown.
Loyalty to the family must be merged into loyalty to the community, loyalty to the community into loyalty to the nation, and loyalty to the nation into loyalty to mankind. ~ Thomas Cochrane.
A real friend is one who walks in when the rest of the world walks out. ~ Walter Winchell.
Don't make friends who are comfortable to be with. Make friends who will force you to lever yourself up. ~ Thomas J. Watson.
Deep Loyal Friend Quotes
I belong to the people I love, and they belong to me- they, and the love and loyalty I give them, form my identity far more than any word or group ever could. ~ Veronica Roth.
When you already believe something, how can you suddenly stop? When you are a loyal friend, how can you no longer be one? ~ Amy Tan
True friendship can afford true knowledge. It does not depend on darkness and ignorance. ~ Henry David Thoreau.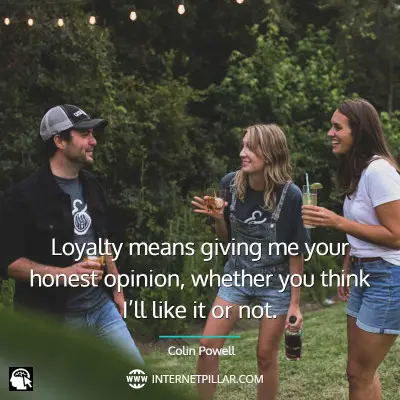 Loyalty means giving me your honest opinion, whether you think I'll like it or not. ~ Colin Powell.
Sometimes friends are weapon of self defense. ~ Tamerlan Kuzgov.
You find out who your real friends are when you're involved in a scandal. ~ Elizabeth Taylor.
My desk, most loyal friend thank you. You've been with me on every road I've taken. My scar and my protection. ~ Marina Tsvetaeva.
Meaningful Loyal Friend Quotes
There's nothing more precious than a loyal friend. If you find one, cherish them. ~ Unknown.
Being honest may not get you a lot of friends but it'll always get you the right ones. ~ John Lennon.
Stop eating junk. Be a good listener and a loyal friend. ~ Claudia Black.
Be a good friend. A really good, loyal, caring, honest and truly fabulous friend. ~ Unknown.
A friend who understands your tears is much more valuable than a lot of friends who only know your smile. ~ Unknown.
True friendship is as rare as twin lotuses on a single stalk. ~ Lauren Bjorkman.
Loyalty is what makes us trust, trust is what makes us stay, staying is what makes us love, and love is what gives us hope. ~ Glenn van Dekken.
We are all in the same boat, in a stormy sea, and we owe each other a terrible loyalty. ~ G.K. Chesterton.
If a man asks me for my loyalty…I will give him my honesty. If a man asks me for my honesty…I will give him my loyalty! ~ John Boyd.
Profound Loyal Friend Quotes
I've always felt that having a garden is like having a good and loyal friend. ~ C. Z. Guest.
Life is partly what we make it, and partly what it is made by the friends we choose. ~ Tennessee Williams.
Be careful who you call your friends. I'd rather have four quarters than one hundred pennies. ~ Al Capone.
A friend is someone who understands your past, believes in your future, and accepts you just the way you are. ~ Unknown.
The most beautiful discovery true friends make is that they can grow separately without growing apart. ~ Elisabeth Foley.
Lifelong Friend… Everyone has a friend during each stage of life, but only the lucky ones have the same friend in all stages of life. Thank you for always being there for me! ~ Sterling Silver.
You don't earn loyalty in a day. You earn loyalty day-by-day. ~ Jeffrey Gitomer.
Oooh I get by with a little help from my friends. ~ Joe Cocker.
Loyalty and friendship, which is to me the same, created all the wealth that I've ever thought I'd have. ~ Ernie Banks.
Thoughtful Loyal Friend Quotes
When you ask God for a gift, Be thankful if he sends, Not diamonds, pearls or riches, but the love of real true friends. ~ Helen Steiner Rice.
Love often wears a mask in order to test loyalty. ~ Minna Antrim.
Honesty and loyalty are key. If two people can be honest with each other about everything, that's probably the biggest key to success. ~ Taylor Lautner.
You give loyalty, you'll get it back. You give love, you'll get it back. ~ Tommy Lasorda.
I think a good friend, to me, is all about trust and loyalty. You don't ever want to second-guess whether you can tell your friend something. ~ Lauren Conrad.
My dogs have been my most loyal friends and constant companions. ~ Cesar Millan.
He was a great patriot, a humanitarian, a loyal friend; provided, of course, he really is dead. ~ Voltaire.
Your friends will believe in your potential, your enemies will make you live up to it. ~ Tim Fargo.
Friendship is the shadow of the evening, which increases with the setting sun of life. ~ Jean de La Fontaine.
Amazing Loyal Friend Quotes
Loyalty is the strongest glue which makes a relationship last for a lifetime. ~ Mario Puzo.
Life is slippery. Here, take my hand. ~ H. Jackson Brown, Jr.
I know amazing people in fashion who are anything but fake. They are very real and very sensitive. They are happy and sad. They are loyal friends. ~ Alber Elbaz.
Friends and come and go, but a true friend sticks by you like family. ~ Proverbs 18.24.
The only way to have a friend is to be one. ~ Ralph Waldo Emerson.
Within the hearts of men, loyalty and consideration are esteemed greater than success. ~ Bryant McGill.
Making a hundred friends is not a miracle. The miracle is to make a single friend who will stand by your side even when hundreds are against you. ~ John Spence.
You cannot do for a loyal friend. ~ Henrik Johan Ibsen.
You will know a good friend when you are intoxicated with each other's company because everything becomes good in the world. ~ Donald Pillai.
Inspiring Loyal Friend Quotes
They may forget what you said, but they will never forget how you made them feel. ~ Carl W. Buechner.
I don't want to go to heaven. None of my friends are there. ~ Oscar Wilde.
If you haven't learned the meaning of friendship, you really haven't learned anything. ~ Muhammad Ali.
There is no friend as loyal as a book. ~ Ernest Hemingway.
Real friendship, like real poetry, is extremely rare – and precious as a pearl. ~ Tahar Ben Jelloun.
The friend who can be silent with us in a moment of despair or confusion, who can stay with us in an hour of grief and bereavement, who can tolerate not knowing, not curing, not healing…that is a friend who cares. ~ Henri Nouwen.
---
So these were the 93 top quotes about Loyal Friend.
If you like these quotes and sayings, then you can also read my other posts on Mind Your Business quotes and You Make Me Happy quotes.
---
Resources and References: