Michael Imperioli, born March 26, 1966, is a well-known American actor, best known for playing Christopher Moltisanti in HBO's "The Sopranos," earning him a 2004 Emmy.
His early career includes roles in Scorsese's "Goodfellas" and films like "Jungle Fever," "Bad Boys," and "The Lovely Bones."
Imperioli has showcased his writing talents, co-writing "Summer of Sam" with Spike Lee and penning episodes of "The Sopranos."
Born in Mount Vernon, NY, he decided to pursue acting at 17, studying at the Lee Strasberg Theatre and Film Institute.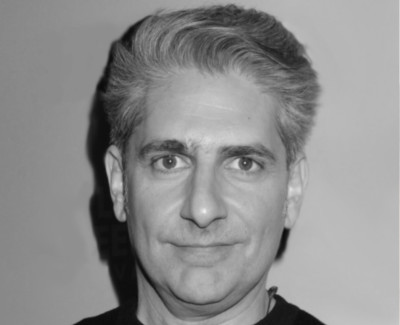 Beyond acting, Imperioli ventured into music, both with the band Wild Carnation and later Zopa.
He's co-hosted the "Talking Sopranos" podcast with Steve Schirripa, sharing behind-the-scenes insights and was involved in various other projects, including serving as narrator for the Sopranos prequel film and a role in "The White Lotus."
Here is a collection of the best quotes by Michael Imperioli.
---
Best Michael Imperioli Quotes
I like working with people I know and feel a kinship to. ~ Michael Imperioli.
It doesn't really matter to me how people see me. ~ Michael Imperioli.
Everybody I play probably has some Italian in them. ~ Michael Imperioli.
I love fiction and read novels constantly. ~ Michael Imperioli.
In Britain you're more used to challenging drama. In America, TV is just boring, and numbing, and bloody terrible. ~ Michael Imperioli.
When you're going through these difficult times of chaos and trauma, the most important thing is to keep those who are closest to you together. ~ Michael Imperioli.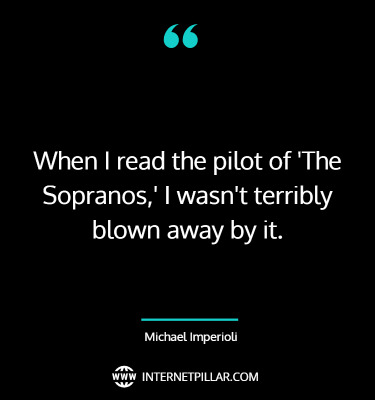 When I read the pilot of 'The Sopranos,' I wasn't terribly blown away by it. ~ Michael Imperioli.
My family is my life, and everything else comes second as far as what's important to me. ~ Michael Imperioli.
I think a lot of people who didn't know my work before 'The Sopranos' think I came from the Jersey Shore, like they picked us out of the mall and put us on television. ~ Michael Imperioli.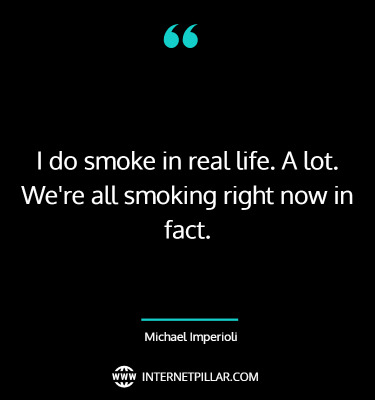 I do smoke in real life. A lot. We're all smoking right now in fact. ~ Michael Imperioli.
With screenplays and teleplays, they are mapped, really, in the blueprint of a finished product, which is something you're going to watch on a screen. But a book is an end to itself, really. ~ Michael Imperioli.
When you get made into the Mafia, they cut, prick your finger. And they take the blood and put it on the picture of a saint. Then they burn it. That's the Mafia induction ceremony. ~ Michael Imperioli.
Famous Michael Imperioli Quotes
I would never put on a Mets hat. Only if I was playing a Met as part of the job. Which, actually, I did a long time ago. ~ Michael Imperioli.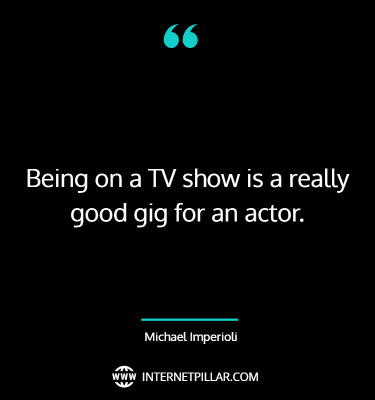 Being on a TV show is a really good gig for an actor. ~ Michael Imperioli.
When I was young, you went to school, dealt with your friends and drama, went home, did your homework, went to bed, and started over the next day. But that social interaction that happens at school doesn't end now – it goes until the minute you go to bed and starts again when you wake up. ~ Michael Imperioli.
In this world, there really is a law of cause and effect: You reap what you sow. Then energy you put out really does come back to you. ~ Michael Imperioli.
I didn't start making a real living until eight or nine years in. Even after 'Goodfellas' came out, I was still working as a waiter, and people would recognize me – that was an odd experience. But when 'The Sopranos' hit, that was like an exponential leap. ~ Michael Imperioli.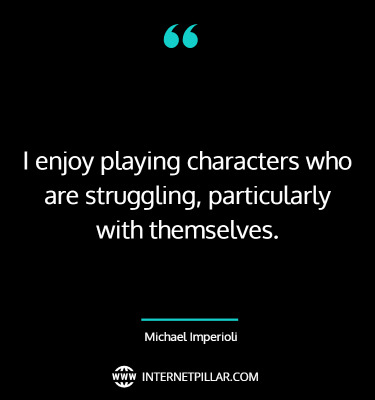 I enjoy playing characters who are struggling, particularly with themselves. ~ Michael Imperioli.
My goal as an actor was just to be somebody very human. I'm not really interested in playing a character who is particularly cool and everything he does looks great and turns out great. ~ Michael Imperioli.
Popular Michael Imperioli Quotes
At one point, I got to work as an assistant for Martin Scorsese: He wanted to know about all the films coming out, so I would make clippings and put it all in a big scrapbook for him. I was also in charge of his video library – it was like a little video store, and his friends and colleagues would come and borrow films. ~ Michael Imperioli.
I played guitar in a band from when I was about 20 for three years. Then I sang a little. Then I started getting really busy as an actor and forgot about it. ~ Michael Imperioli.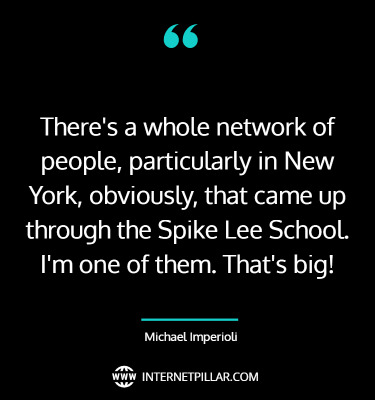 There's a whole network of people, particularly in New York, obviously, that came up through the Spike Lee School. I'm one of them. That's big! ~ Michael Imperioli.
I've been working professionally as an actor since I was 20. That's going to be 25 years soon. So, that's a veteran. That's a big-time veteran. I've had some great successes, and I've had some not-successes. ~ Michael Imperioli.
To be at acting school, it was kind of the first time you felt the freedom to be as much of yourself as you wanted. People weren't going to judge you. ~ Michael Imperioli.
Top Michael Imperioli Quotes
One of my early money mistakes was getting fired from the first acting job I ever had. I was cast in a play as the lead, and I got fired three nights after the open. ~ Michael Imperioli.
I have a background writing screenplays and teleplays. I've tried to write prose and fiction but never really completed anything I thought worthy of publication or worthy of anyone else to even look at. ~ Michael Imperioli.
I think people always thought I was more of a Guido than I am. ~ Michael Imperioli.
Detroit is a city that really stands out. It's been through a very difficult time. There's been a lot of pain here, and the city, physically, has suffered. You can see it in certain neighborhoods, and there's buildings downtown that have been abandoned. ~ Michael Imperioli.
There's an intelligence that goes with being a good cop. Intuitiveness – they have to be actors; they have to have deductive reasoning, knowledge about a great deal of subjects. ~ Michael Imperioli.
I've played some gangster roles, but that's obviously not me. When you're an Italian-American New York actor, it's just an easy way to get cast. ~ Michael Imperioli.
---
So these were the 30 quotes by Michael Imperioli.
If these quotes and sayings connect with you, check out our other posts on Anna Diop quotes and Diane Lane quotes.