Morgan Wallen is a renowned country music artist.
His second album, "Dangerous: The Double Album", made history by staying atop the Billboard 200 for its first seven weeks and clocked ten weeks in total, a feat not achieved since Whitney Houston's 1987 album.
Wallen's third album, "One Thing at a Time" (2023), dominated the Billboard 200 for 12 weeks with all its songs entering the Hot 100, breaking the record for most simultaneous charting tracks.
Born in 1993 in Sneedville, Tennessee, Wallen transitioned from aspiring baseball player to musician after an injury. He appeared on Season 6 of "The Voice" and later signed to Panacea Records, then Big Loud Records.
Wallen has co-written for artists like Jason Aldean and joined Florida Georgia Line on tours.
His debut album "If I Know Me" took a record 114 weeks to reach #1 on Top Country Albums.
Despite a racial slur controversy, Wallen's popularity and album sales surged in 2021.
I have picked the top quotes by Morgan Wallen for you to enjoy.
---
Best Morgan Wallen Quotes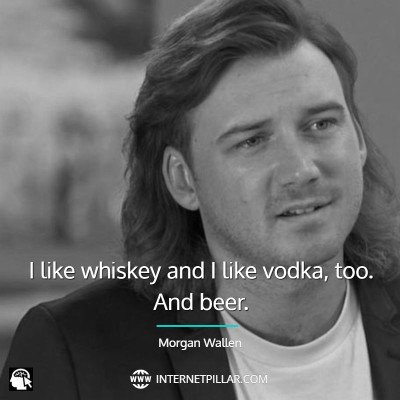 I like whiskey and I like vodka, too. And beer. ~ Morgan Wallen.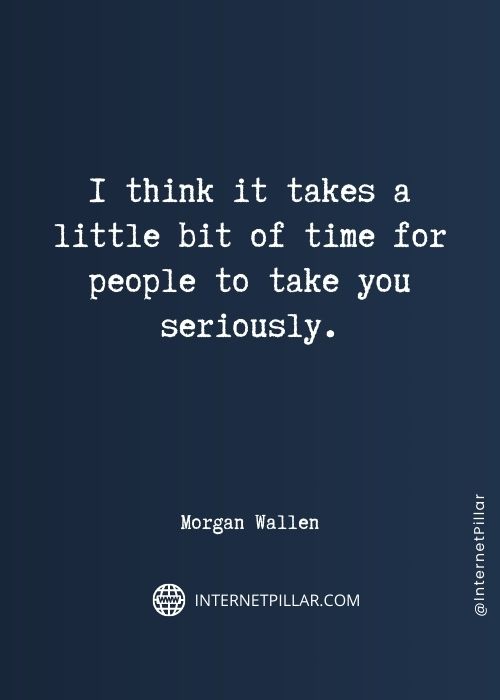 I think it takes a little bit of time for people to take you seriously. ~ Morgan Wallen.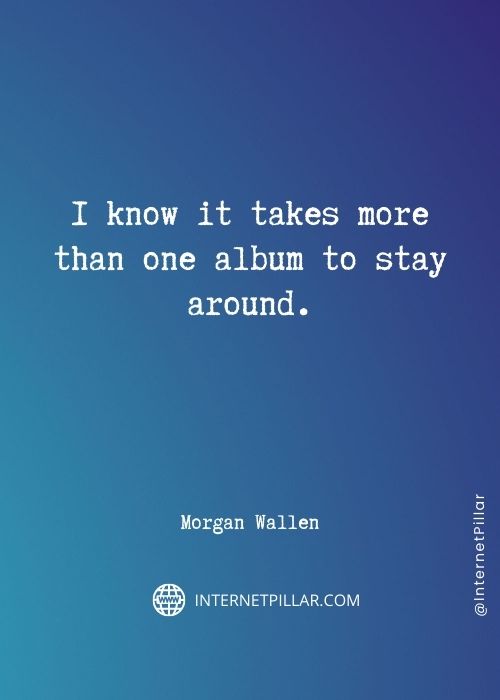 I know it takes more than one album to stay around. ~ Morgan Wallen.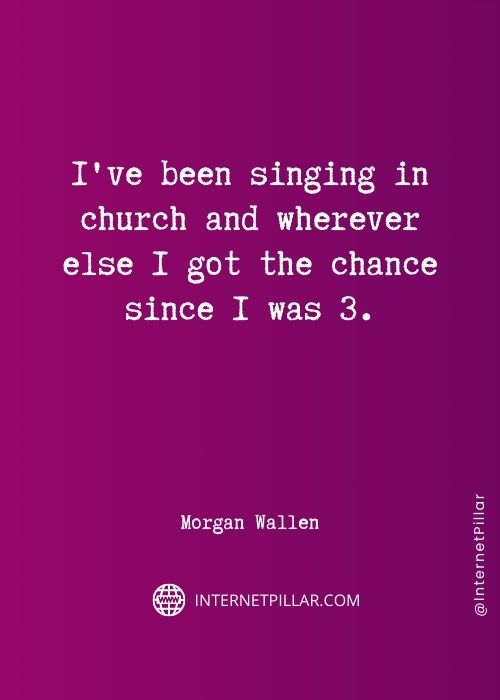 I've been singing in church and wherever else I got the chance since I was 3. ~ Morgan Wallen.
I'm not a huge award type person, that's not really what lights my fire. ~ Morgan Wallen.
My voice is obviously real southern – I automatically lean country. ~ Morgan Wallen.
I liked Lynyrd Skynyrd, Led Zeppelin and the Eagles. Those were some of my favorites. ~ Morgan Wallen.
I had a bowl cut. That was pretty bad. Definitely a bowl cut. And I used to have blond, like really, really, blond hair when I was a kid. So blond bowl cut – that's what I was rocking when I was a little kid. ~ Morgan Wallen.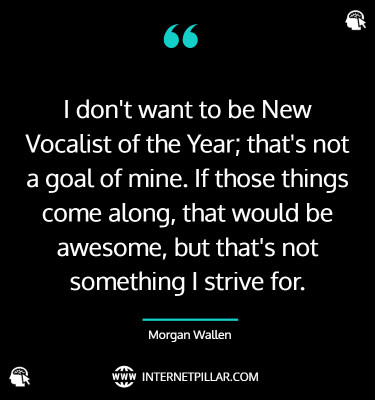 I don't want to be New Vocalist of the Year; that's not a goal of mine. If those things come along, that would be awesome, but that's not something I strive for. ~ Morgan Wallen.
I can speak for everybody in saying we've all been through a breakup to where you didn't want it to be over. ~ Morgan Wallen.
I feel like that's my foundation and my roots, what I believe in – no matter where life takes me, I'll always be the same guy and same person at heart. ~ Morgan Wallen.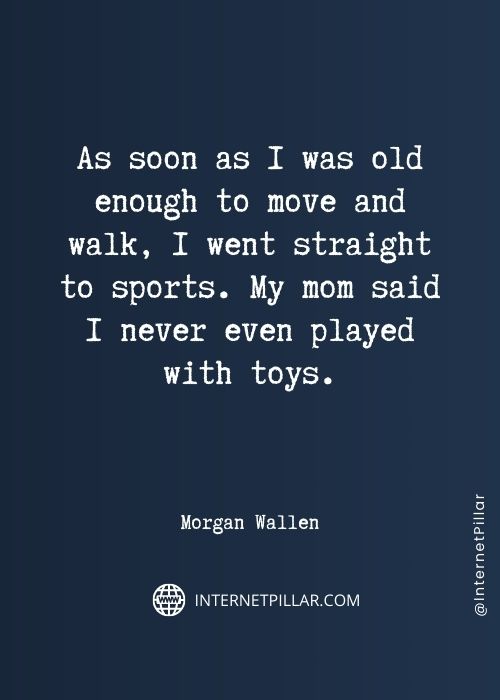 As soon as I was old enough to move and walk, I went straight to sports. My mom said I never even played with toys. ~ Morgan Wallen.
I didn't do anything but write for six months after I got my publishing deal. That was just trying to get better and figure out my sound and the way I like to do it. ~ Morgan Wallen.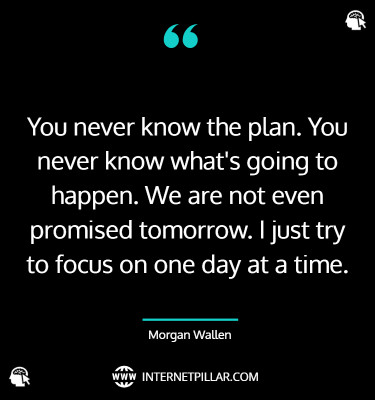 You never know the plan. You never know what's going to happen. We are not even promised tomorrow. I just try to focus on one day at a time. ~ Morgan Wallen.
Cutoff flannel and a mullet. That's what I'm rolling with. If you see me onstage, that's what it's gonna be! ~ Morgan Wallen.
Popular Morgan Wallen Quotes
It's cool to be able to relate to people who aren't necessarily from the same way of life as me or don't even maybe know what I'm talking about in some of my songs. It's just cool that music has that ability to do that. ~ Morgan Wallen.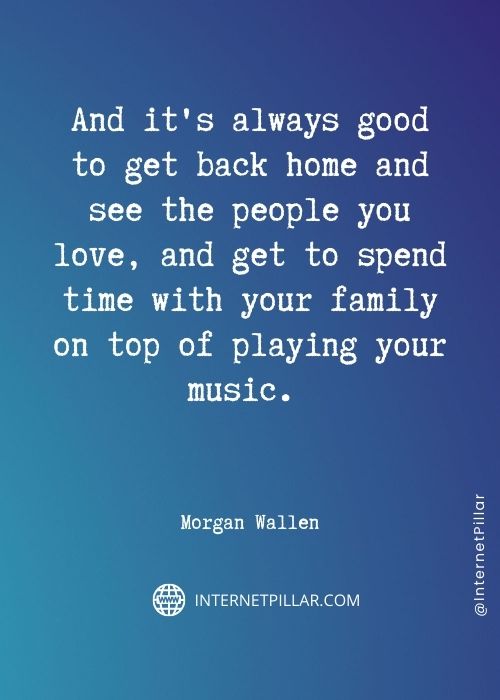 And it's always good to get back home and see the people you love, and get to spend time with your family on top of playing your music. ~ Morgan Wallen.
I've established this kind of wild persona and these redneck party songs and a live show that's kind of rowdy, but I don't want people to think that's what I'm all about. ~ Morgan Wallen.
I try to focus on what I love doing and if those things, those awards, those accolades, those tickets keep selling and coming like they are doing, I'm going to relish in it and live my life the best way I know how and be grateful. ~ Morgan Wallen.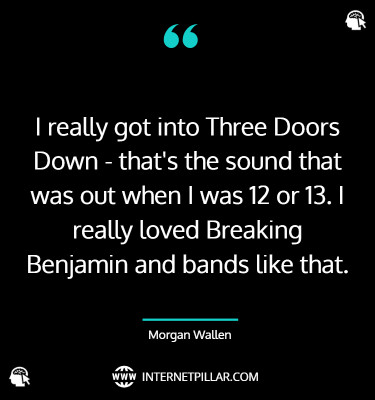 I really got into Three Doors Down – that's the sound that was out when I was 12 or 13. I really loved Breaking Benjamin and bands like that. ~ Morgan Wallen.
Right after high school… the first time I ever recorded music was with a rapper, a friend of mine, and I would just be like, 'I'll sing your choruses.' So I would sing his hooks and he would go in there and rap. ~ Morgan Wallen.
Top Morgan Wallen Quotes
I listened to Country music a little bit, but it didn't enter my life until I started listening to Eric Church. ~ Morgan Wallen.
I want to make more fans, sell records. ~ Morgan Wallen.
I think sometime during the peak of 'Whiskey Glasses' is when I realized: 'Man, this is really starting to happen. People are not not just singing these singles, they're singing every song on my album and really invested in what I'm doing.' ~ Morgan Wallen.
I got a rebel side in me, but I'm not mean! ~ Morgan Wallen.
I'm always saying normal things, and people usually understand me, but they're like, 'Where are you from?!' ~ Morgan Wallen.
I don't have any answers, but in my personal opinion, I'm a person that has faith and I believe that a lot of people have neglected God. ~ Morgan Wallen.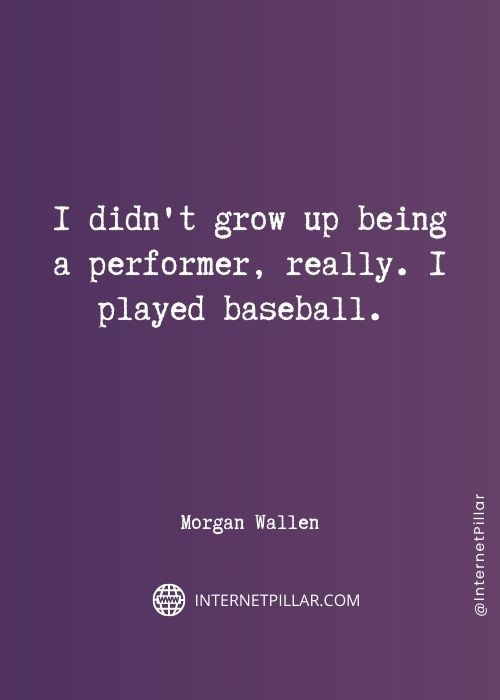 I didn't grow up being a performer, really. I played baseball. ~ Morgan Wallen.
My whole life, baseball was my first love. I was gonna go play college, but during my senior year I tore my ACL, and college kind of faded away with their offer, which I understand, obviously. That was a dark time in my life. ~ Morgan Wallen.
My dad had a guitar that he gave me. I went to Walmart and bought a chord chart and hung it up in my room, and I was just trying to figure out how to play the guitar and put words with what I was learning. ~ Morgan Wallen.
Famous Morgan Wallen Quotes
People aren't just listening to my single, but they are listening to the whole album – and that's really encouraging to me because you just never know what's going to happen when you put something out. ~ Morgan Wallen.
Whenever my parents got married, my dad had a mullet. Me and my dad are very similar-type people with the way we look and the way we act, and I figured if he could get away with it when he was around 25, then I could try to do the same thing. ~ Morgan Wallen.
I just want to make music people like. ~ Morgan Wallen.
I think that the best music and the music that people relate to the most is the honest music that people feel themselves in it. ~ Morgan Wallen.
My 91-year-old great-grandma would get out of her chair and whip me if I start acting like I'm some star or something like that. ~ Morgan Wallen. I have my hopes high. I don't know how I'll top the Luke Combs tour, but I guess we'll see. ~ Morgan Wallen.
I didn't necessarily grow up with country being my first priority as a music listener. I grew up listening to classic rock and Christian music. ~ Morgan Wallen.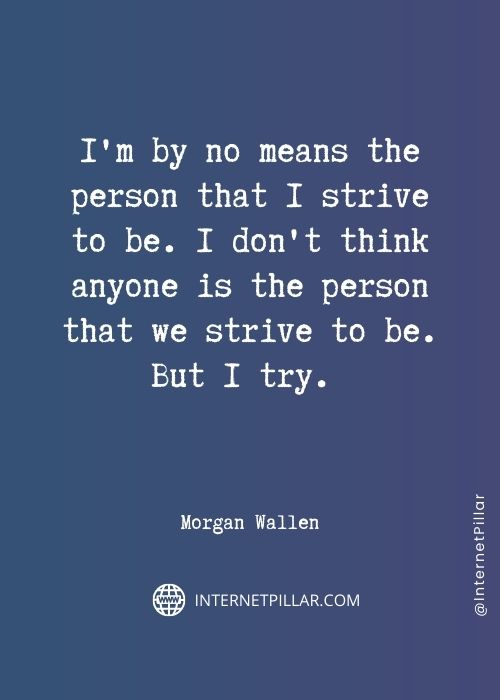 I'm by no means the person that I strive to be. I don't think anyone is the person that we strive to be. But I try. ~ Morgan Wallen.
Ultimate Morgan Wallen Quotes
I still have my buddies from back home, I still have my family. They really help to keep me grounded. I try to call them and talk to them about their everyday life. ~ Morgan Wallen.
My parents are avid supporters of me, and just hearing my name and the word 'Grammy' in the same sentence would be a dream come true. I mean, that's something you put on your tombstone. ~ Morgan Wallen.
I just want to be able to do it all just because that's what life is. ~ Morgan Wallen.
To get the best idea of who I am, I would probably say listen to my first single, 'The Way I Talk.' ~ Morgan Wallen.
I took a few months off after my senior year was over, and I prayed and tried to figure out what was my plan and my purpose. That's how I started writing songs and playing guitar just to get my feelings out. ~ Morgan Wallen.
Great Morgan Wallen Quotes
I've always liked all kinds of different types of music. ~ Morgan Wallen.
I wanted to put a song out there to let people know who I was and, at the same time, help me set apart from a lot of different people in country radio. ~ Morgan Wallen.
I know that I come from a place of small-town roots and of humble beginnings and I try to keep those things in my songs – just stuff that I know people like me can relate to. ~ Morgan Wallen.
A lot of people say I talk like 'country-gangster' almost. I don't know how that's possible or how that happens, but some people say that. ~ Morgan Wallen.
I think Diplo is a true global artist. I feel that he is exposing country artists to his global reach and that's something that is rarely done in our genre. ~ Morgan Wallen.
My dad is a preacher. Growing up, I went to church every time the doors were open. ~ Morgan Wallen.
I can't wait to get over to the U.K. for my first time ever. I've always heard how amazing the fans are over there – looking forward to experiencing it for myself. ~ Morgan Wallen.
I got a call from my manager who told me Diplo was working on a country project. I put my vocal on the songwriting demo and my team sent the song to his team. Evidently they fell in love with it… and the rest is history. ~ Morgan Wallen.
I still dabble in different types of music, but I'm sticking to my Country roots. ~ Morgan Wallen.
I would play around bonfires with my friends, and people were telling me that I was good. ~ Morgan Wallen.
I definitely don't wanna be known as the 'Up Down' guy. I love singing that song, I love that song, but yeah, there's definitely more to me than just a party for sure. ~ Morgan Wallen.
Wise Morgan Wallen Quotes
I didn't want to act like I'm too cool for school or anything like that. ~ Morgan Wallen.
I didn't even know what 'The Voice' was, but my mom said, 'I signed you up for this singing show,' and I was like, 'All right, I guess.' ~ Morgan Wallen.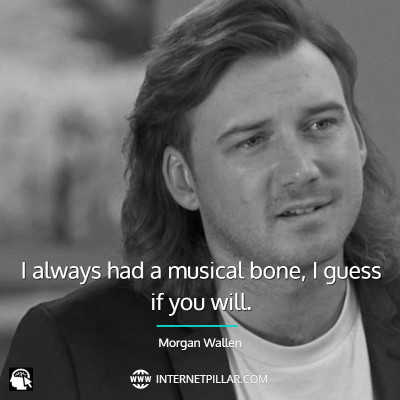 I always had a musical bone, I guess if you will. ~ Morgan Wallen.
If you don't believe in what you're doing, if you don't feel comfortable, or you're not meaning what you're saying, no matter if you love it or not – you can still connect with a song, but if you don't, I feel like people can easily sniff that out. ~ Morgan Wallen.
I'm all for a good slow song and I love all different kinds of music. ~ Morgan Wallen.
There's a lot of things we go through and we don't even know why… At the end of the day, God has a purpose and a plan for you, and that's kind of how I take that. ~ Morgan Wallen.
I feel like I have gotten to know Chicago pretty well, and every time I come here I have a really good response. ~ Morgan Wallen.
I believe in God. I believe that He's real and I believe He has control over a lot of things and I think throughout history there has been a lot of countries that have turned their back on Him and the result is not great. ~ Morgan Wallen.
I didn't know if I could write. I was writing all these songs at home and was like, 'Maybe I can write?' ~ Morgan Wallen.
We don't put the Ten Commandments in school anymore. We just neglect everything and people act like the Ten Commandments is something so terrible. I mean, it's a way to live. I think we all could agree on what they say. ~ Morgan Wallen.
From a young age, I took an interest in the music and my mom noticed it. ~ Morgan Wallen.
---
Morgan Wallen Lyrics and Captions
Sun, sun, go away
Come again some other day
Me and this girl got love to make
Yeah we got love to make. ~ Morgan Wallen.
Put your pretty arms around me, now get in nice and close
Whisper in my ear what you'd like to know
Now you can tell me bout your family or tell me bout your day
Or our lips can do the talking, let's listen baby what do you say. ~ Morgan Wallen.
I wanna Spin you around and around this dance floor
Get you drunk on a love like mine
Might wind up stealing a couple kisses
Get your digits if I can find the right line
But if you don't do feelings, baby if you willing
I'll do my best to change your mind
'Cause the way you stole my heart without a sound
Girl it oughta be a crime. ~ Morgan Wallen.
Pray the morning don't come
These colors don't run
Stay up and stay young. ~ Morgan Wallen.
We can sleep when we're dead, the night is still young. ~ Morgan Wallen.
I love you more than a California sunset. ~ Morgan Wallen.
If I ever get you back I'ma treat you like a Queen. ~ Morgan Wallen.
My tractor's green, my pasture's greener
My tea is sweet but honey, you're sweeter
My road is dirt, your heart is gold
I'm a man of few words but baby here it goes
My neck is red, my collar's blue
And I love you. ~ Morgan Wallen.
Dancing in slow motion with my hands on your hips
Now you got me going right where I can't resist. ~ Morgan Wallen.
Honey, when the sun comes peeking through the trees
You ain't gotta worry 'bout what it might be
'Cause I bet it won't be the last time you're wakin' up next to me
If I know me. ~ Morgan Wallen.
---
Here is a song from Morgan Wallen – Wasted On You [The Dangerous Sessions]
---
So these were the 75 top Morgan Wallen quotes, lyrics and captions.
If you like these quotes and sayings, then you can also read my other posts on Jacques Cousteau quotes and Calvin Coolidge quotes.