In the context of human relationships, the word "anchor" refers to a person who plays a vital role in giving emotional support and stability.
This person is often someone profoundly loved, whose presence provides a feeling of protection and tranquility amid stressful times.
An "anchor" person is a friend, family member, or partner who serves as a tower of support while you face life's storms.
They give solace, a compassionate ear and direction as you navigate through difficulties.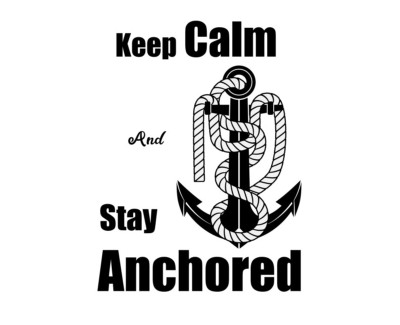 Their continuous support and trust instill confidence, helping you to tackle adversity with tenacity.
An "anchor" serves as a beacon of stability in the midst of life's uncertainties, offering grounding support that aids in the maintenance of emotional balance and well-being.
---
Top 10 Anchor Quotes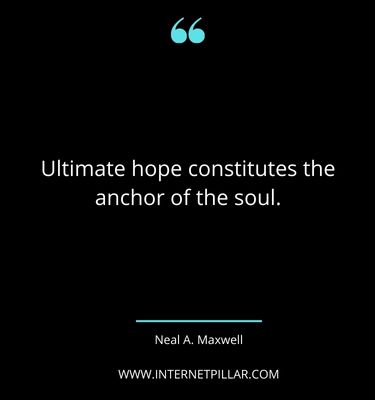 Ultimate hope constitutes the anchor of the soul. ~ Neal A. Maxwell.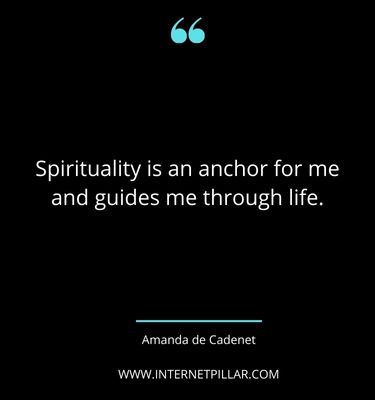 Spirituality is an anchor for me and guides me through life. ~ Amanda de Cadenet.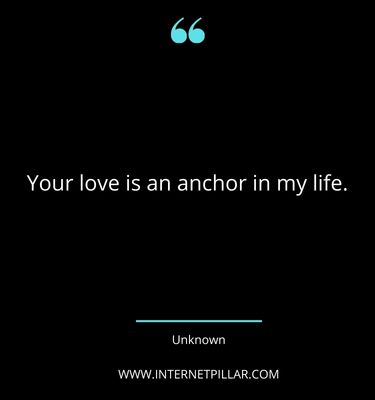 Your love is an anchor in my life. ~ Unknown.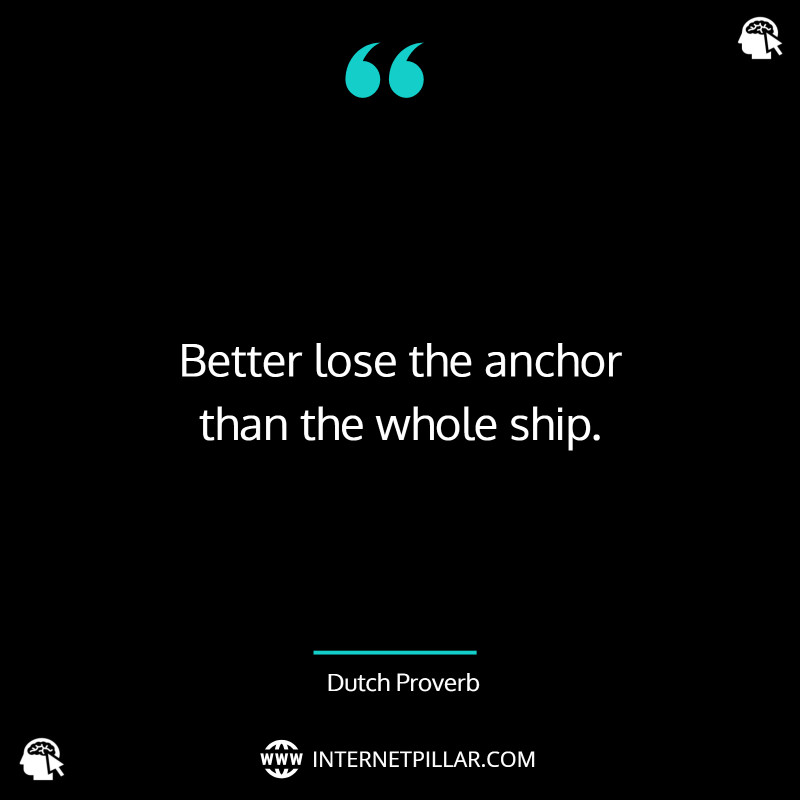 Better lose the anchor than the whole ship. ~ Dutch Proverb.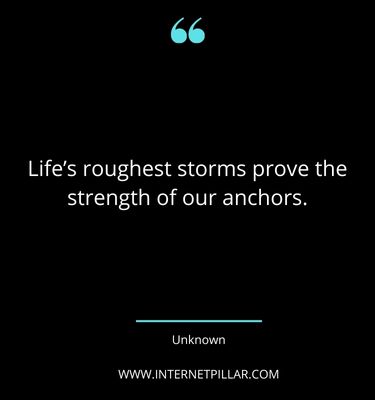 Life's roughest storms prove the strength of our anchors. ~ Unknown.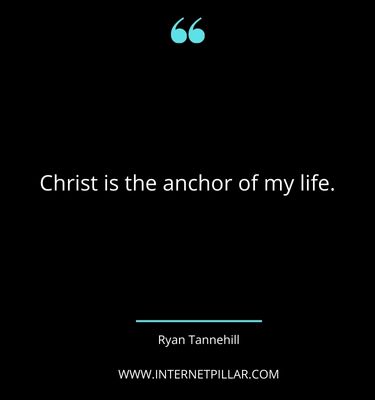 Christ is the anchor of my life. ~ Ryan Tannehill.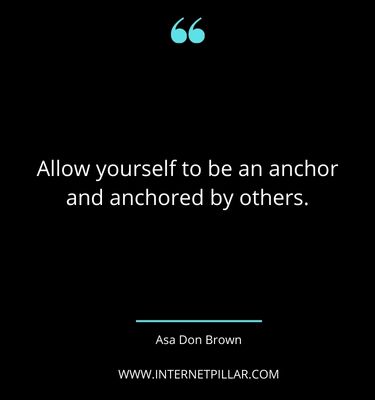 Allow yourself to be an anchor and anchored by others. ~ Asa Don Brown.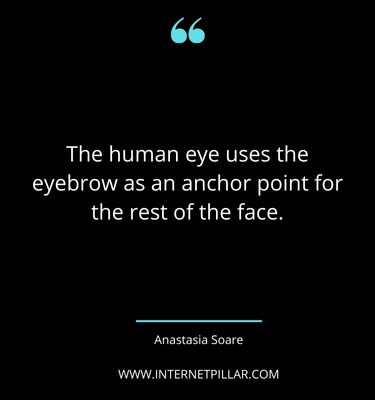 The human eye uses the eyebrow as an anchor point for the rest of the face. ~ Anastasia Soare.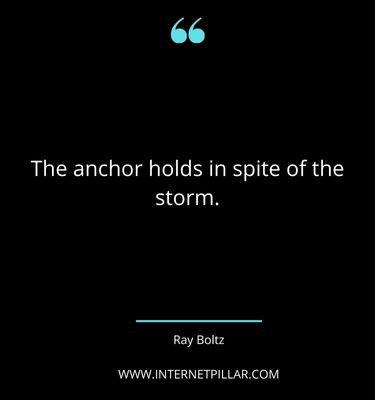 The anchor holds in spite of the storm. ~ Ray Boltz.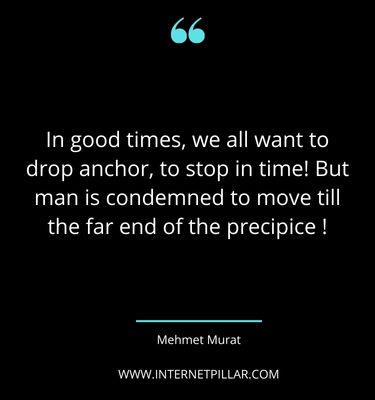 In good times, we all want to drop anchor, to stop in time! But man is condemned to move till the far end of the precipice !~ Mehmet Murat.
Inspiring Anchor Quotes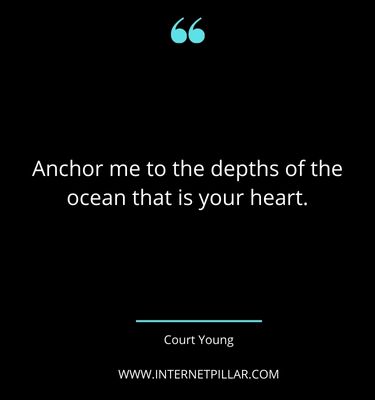 Anchor me to the depths of the ocean that is your heart. ~ Court Young.
Unless man anchors the real love, man will always drift in the middle of nowhere! ~ Mehmet Murat ildan.
Run if you want to. Time is the anchor, change is the constant, love is the trigger. ~ Chris Pureka.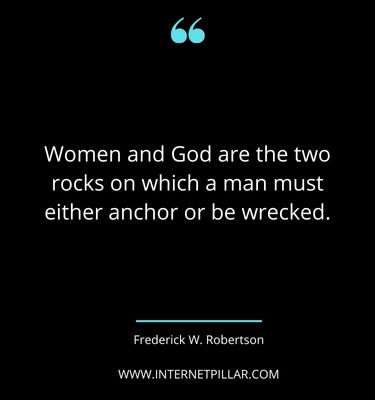 Women and God are the two rocks on which a man must either anchor or be wrecked. ~ Frederick W. Robertson.
Hope anchors the soul. ~ Unknown.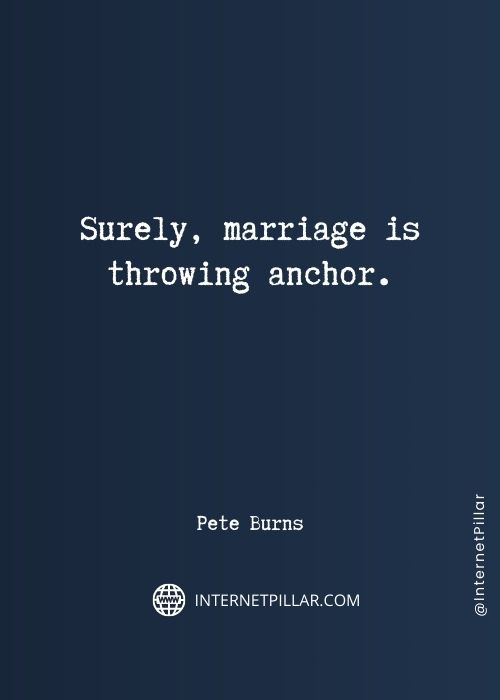 Surely, marriage is throwing anchor. ~ Pete Burns.
Who tries to sink me is already below me. ~ Unknown.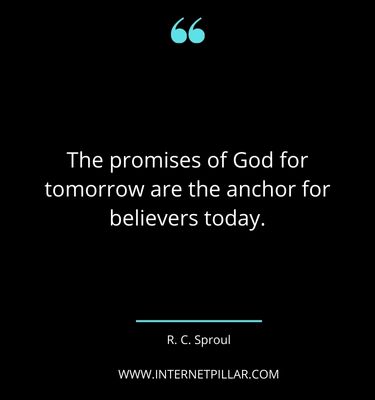 The promises of God for tomorrow are the anchor for believers today. ~ R. C. Sproul.
Man is unhappy because he doesn't know he's happy. It's only that. ~ Fyodor Dostoevsky.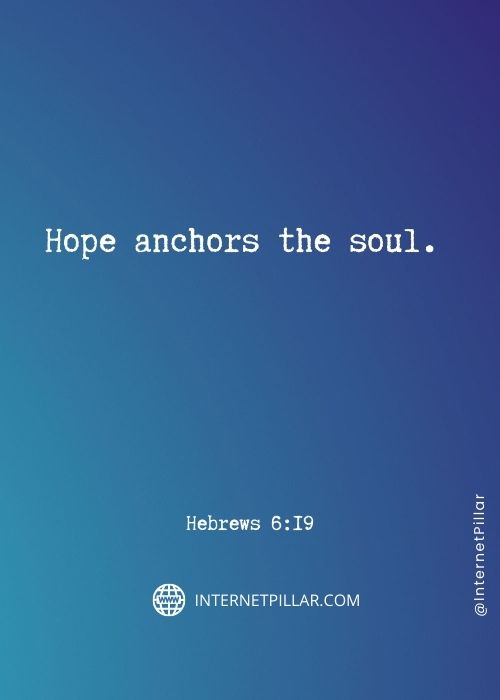 Hope anchors the soul. ~ Hebrews 6:19.
Related Quotes: 95 Greatness Quotes To Bring Out Winner in You and 98 Believe In Yourself Quotes and Sayings for Success
Famous Anchor Quotes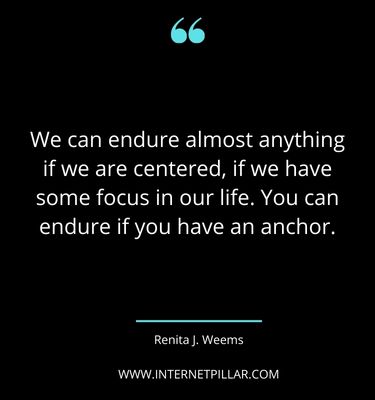 We can endure almost anything if we are centered, if we have some focus in our life. You can endure if you have an anchor. ~ Renita J. Weems.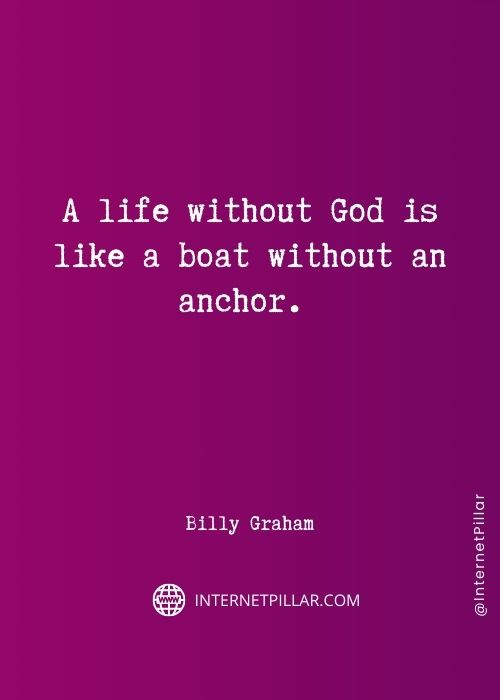 A life without God is like a boat without an anchor. ~ Billy Graham.
It is a far, far better thing to have a firm anchor in nonsense than to put out on the troubled seas of thought. ~ John Kenneth Galbraith.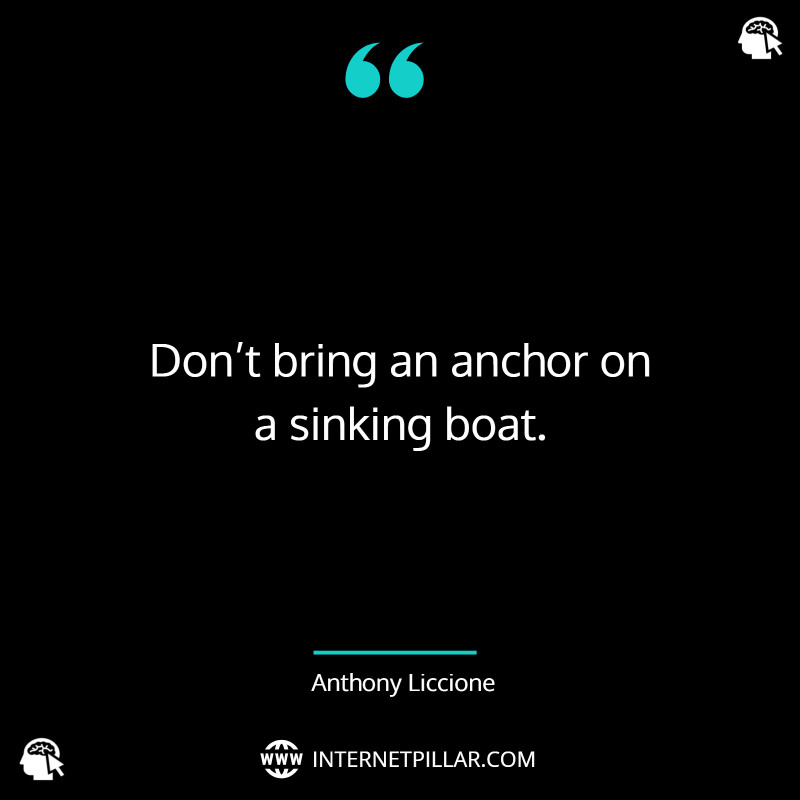 Don't bring an anchor on a sinking boat. ~ Anthony Liccione.
You can anchor the mind into answering a question a certain way by giving them a totally unrelated piece of information dropped before. ~ Michael Lewis.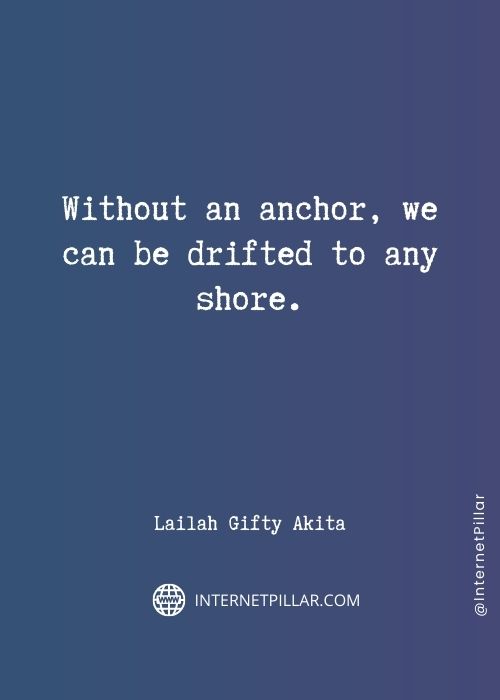 Without an anchor, we can be drifted to any shore. ~ Lailah Gifty Akita.
Sometimes you don't realize you're actually drowning when you're trying to be everyone else's anchor. ~ Unknown.
You are my anchor when the waves come crashing down. ~ Unknown.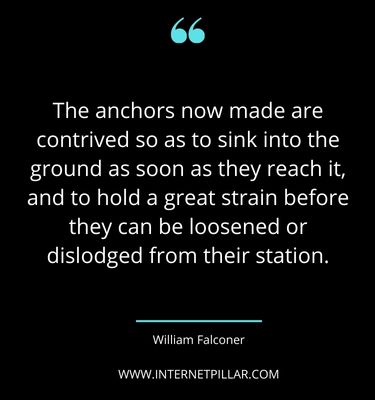 The anchors now made are contrived so as to sink into the ground as soon as they reach it, and to hold a great strain before they can be loosened or dislodged from their station. ~ William Falconer.
Not all children have the anchor of a strong family. ~ Kate Middleton.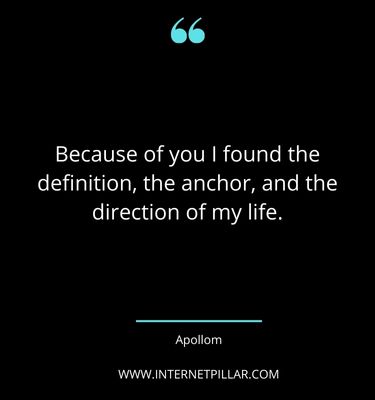 Because of you I found the definition, the anchor, and the direction of my life. ~ Apollom.
The anchor holds on despite the storm. ~ Unknown.
Rough seas cannot make me waver. ~ Unknown.
Popular Anchor Quotes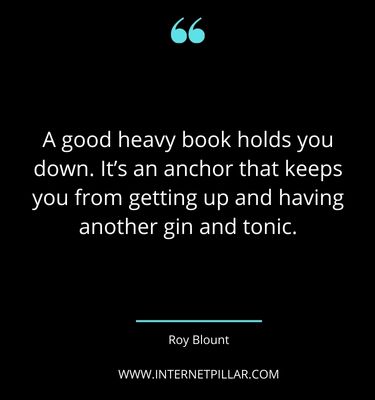 A good heavy book holds you down. It's an anchor that keeps you from getting up and having another gin and tonic. ~ Roy Blount.
People are looking for stability in a shaky world. They want something they can get hold of that's firm and sure and an anchor in the midst of all of this instability in which they're living. ~ Gordon B. Hinckley.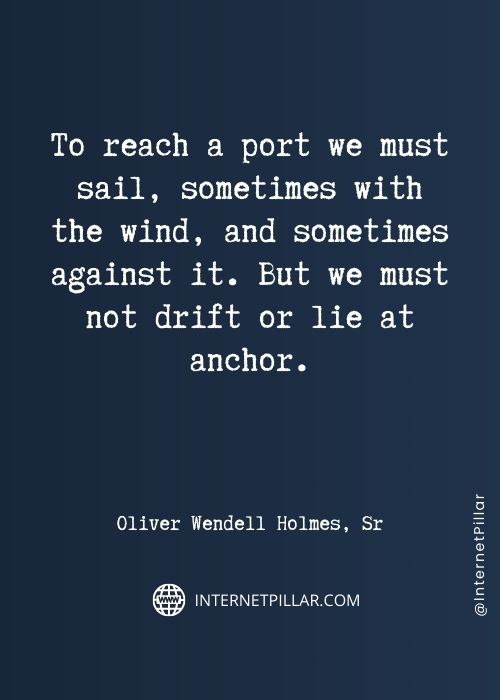 To reach a port we must sail, sometimes with the wind, and sometimes against it. But we must not drift or lie at anchor. ~ Oliver Wendell Holmes, Sr.
Instead of drifting away from God, you'll be firmly anchored, able to swim against the tide, offering living water to all you meet. ~ Craig Groeschel.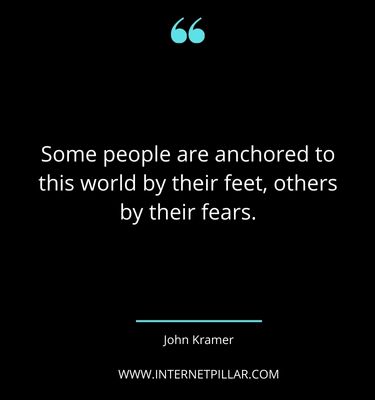 Some people are anchored to this world by their feet, others by their fears. ~ John Kramer.
Our ship of dreams must be anchored, or else it will float away! ~ Laurence Galian.
You're stronger than us. Once you find your anchor never let go of it. No matter what. ~ John Marrs.
Powerful Anchor Quotes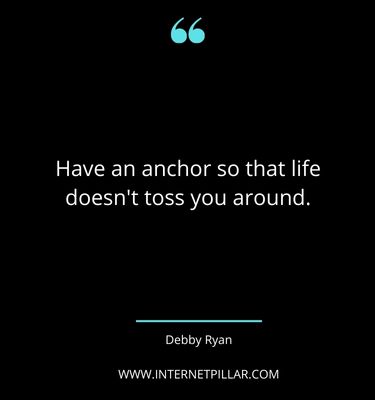 Have an anchor so that life doesn't toss you around. ~ Debby Ryan.
Don't gain the world and lose your soul; wisdom is better than silver and gold. ~ Bob Marley.
In order to realize the worth of the anchor we need to feel the stress of the storm. ~ Corrie Ten Boom.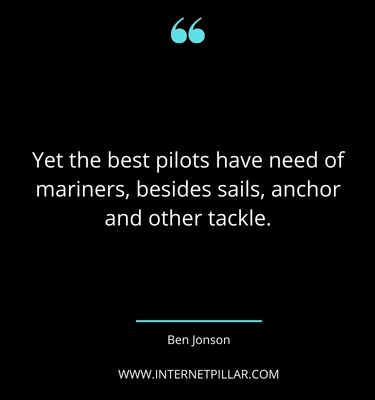 Yet the best pilots have need of mariners, besides sails, anchor and other tackle. ~ Ben Jonson.
Love anchors the soul. ~ Unknown.
Visit the port of goodness often; if you can, cast your anchor over there! ~ Mehmet Murat ildan.
Cast your cares on God; that anchor holds. ~ Frank Moore Colby.
That made me happy. That was my anchor. ~ Ned Vizzini.
To lose our connection with the body is to become spiritually homeless. Without an anchor we float aimlessly, battered by the winds and waves of life. ~ Anodea Judith.
Death, old captain, it is time, let us raise anchor!~ Charles Baudelaire.
Be your own anchor. ~ Unknown.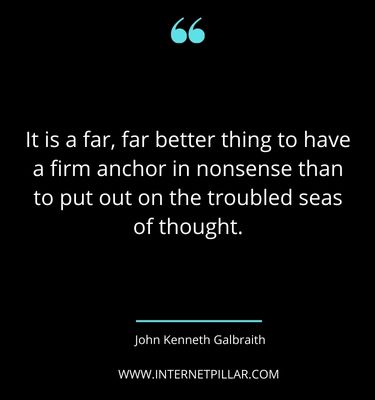 It is a far, far better thing to have a firm anchor in nonsense than to put out on the troubled seas of thought. ~ John Kenneth Galbraith.
The past is an anchor with suffering written on the rope. I don't live there now. I am cutting myself free. ~ Mark Millar.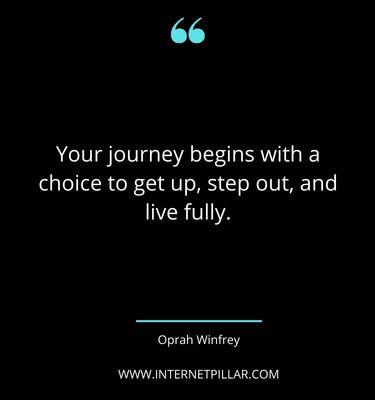 Your journey begins with a choice to get up, step out, and live fully. ~ Oprah Winfrey.
Without moral and intellectual independence, there is no anchor for national independence. ~ David Ben-Gurion.
Best Anchor Quotes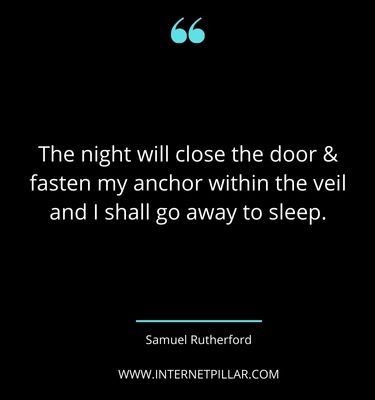 The night will close the door & fasten my anchor within the veil and I shall go away to sleep. ~ Samuel Rutherford.
Drop anchor anywhere and the anchor will drag – that is, if soul is a limitless, fathomless sea, and not a dog pond. ~ Elbert Hubbard.
Be aware of what you anchor your happiness to. Is it internal or external? How vulnerable is your happiness? ~ Akiroq Brost.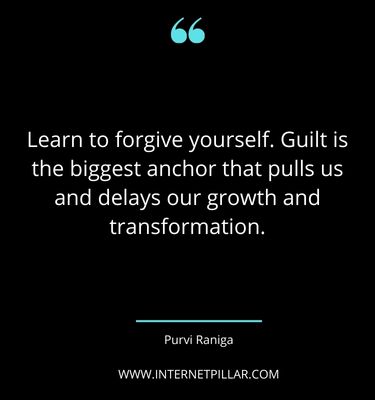 Learn to forgive yourself. Guilt is the biggest anchor that pulls us and delays our growth and transformation. ~ Purvi Raniga.
We should not moor a ship with one anchor, or our life with one hope. ~ Epictetus.
To reach a port, we must sail – sail, not tie at anchor – sail, not drift. ~ Franklin D. Roosevelt.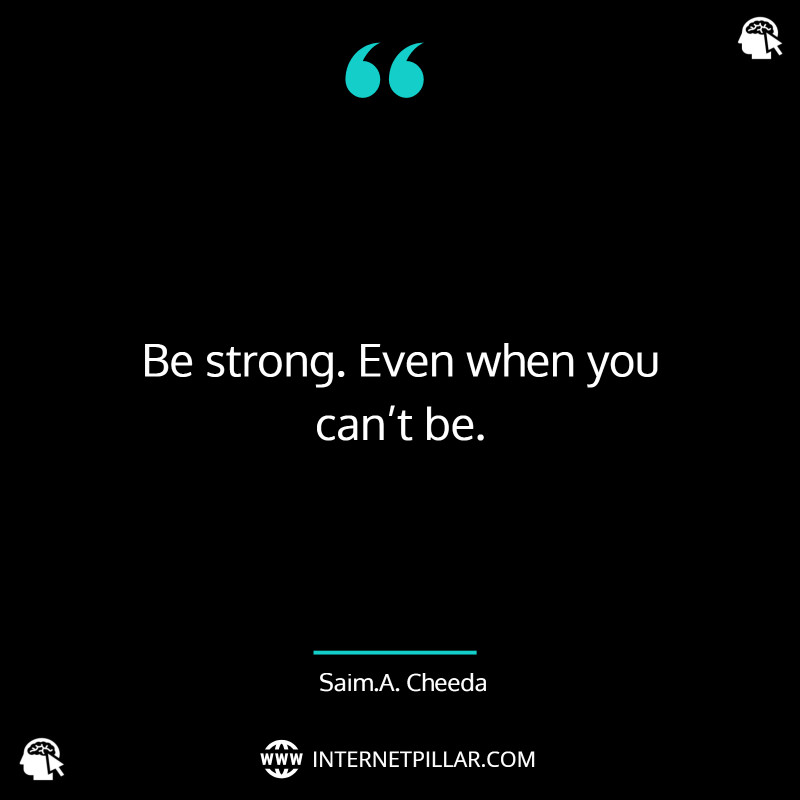 Be strong. Even when you can't be. ~ Saim. A. Cheeda.
The appreciation of pleasure can be the anchor of humanity. ~ Elizabeth Gilbert.
Your Constitution is all sail and no anchor. ~ Thomas Babington Macaulay.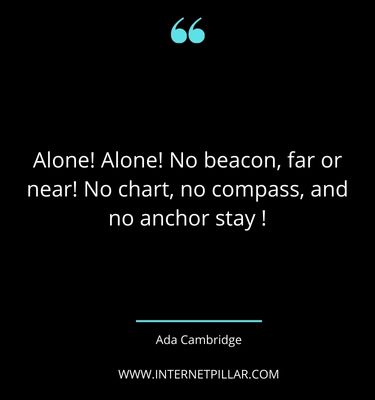 Alone! Alone! No beacon, far or near! No chart, no compass, and no anchor stay ! ~ Ada Cambridge.
You better have an anchor in life. It doesn't matter if you're a Division I head football coach or Joe Schmo from Okemoh. Bad things happen. If you're not anchored, you're going to be washed away. ~ Dabo Swinney.
Hope holds you fast like an anchor so you don't give way. ~ Philip Pullman.
Purpose can be grand and large and visionary, and it can be very small, subtle and simple. Understanding your purpose anchors your awareness to the contribution you make every day. ~ Cynthia Yoder.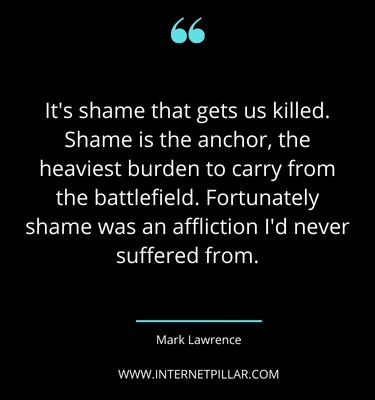 It's shame that gets us killed. Shame is the anchor, the heaviest burden to carry from the battlefield. Fortunately shame was an affliction I'd never suffered from. ~ Mark Lawrence.
---
So these were the 70 quotes about Anchor.
If these quotes and sayings connect with you, check out our other posts on Tiny Tina quotes and Twin Flame quotes.
---
External References: