Nephews are the sons of your brothers and sisters.
They are younger than you, and you might have to help take care of them when they're visiting.
You can play games with them, or just hang out. They're really fun to have around!
I have curated some of the best 'Nephew' quotes, sayings and captions for you to read and share with others.
---
Nephew Quotes
I always joke with people that having nephews is the best birth control there is. ~ Tahj Mowry.
Your birth is the beginning of all my better days. ~ Unknown.
I've had aunts and uncles who not only haven't read my books but could hardly believe that I was a writer. ~ Robert Cormier.
My nephew doesn't even like good food; he just wants the toys. ~ Julia Sawalha.
The love between uncles and nephews is something precious, an exchange of gifts before the young lift their anchors and the old seek a safe harbor. ~ Unknown.
If I could give my nephew one thing in life, it would be the ability to see himself through my eyes. ~ Unknown.
Nephews are what we dream our sons to be. ~ Unknown.
My dear nephew, you are my best child, best friend, and companion. You're the apple of my eye, and I can't imagine living without you. ~ Unknown.
I never dreamed I would be a super cool aunt, but here I am killing it. ~ Unknown.
There's something so great about being with your nephew. ~ Tahj Mowry.
Dear Nephew, I love taking you to the island by bicycle or seeing the stars at night. Let's go-to coffee shops or see airplanes land at the airport. ~ Andrea Hirata.
Best Nephew Quotes
Electricity can be dangerous. My nephew tried to stick a penny into a plug. Whoever said a penny doesn't go far didn't see my nephew shoot across that floor. ~ Tim Allen.
It takes a year, nephew… a full turn of the calendar, to get over losing someone. ~ Annie Proulx.
Being a sister is priceless, but being the best aunt to my nephew is an honor. ~ Unknown.
Today I am forcing my nephews to watch my favorite movie, Seven Samurai, because even if you have a cool uncle, sometimes the price is enduring a 3 hour subtitled black & white movie on vacation. ~ Lin-Manuel Miranda.
My favorite person in the entire world calls me her nephew. ~ Unknown.
I never knew how much I could love a person until my nephew was born. ~ Unknown.
I love spending time with you, my nephew, and music has always bonded us. ~ Jessie J.
I've helped with nephews, stepchildren, and my son, so the biggest challenge is making sure the kids are raised and finding enough quality time with them. ~ Reba McEntire.
My nephew is manipulative and scheming. And those are his good qualities. ~ Kelley Armstrong
The best aunts aren't substitute parents, they're co-conspirators. ~ Daryl Gregory.
My nephew is a manipulative and scheming. And those are his good qualities. ~ Kelley Armstrong.
Every child needs at least one adult who is irrationally crazy about him or her. ~ Urie Bronfenbrenner.
Lovely Nephew Quotes
Nephews are the children of your siblings. They are usually younger than you, and you may be able to teach them things that your parents can't. You may also have to help take care of them when they're sick or need help with something.
You may be the best bud to your friends and a good son to your parents. But you beat all these things with the way you are a terrific nephew to your aunt. ~ Unknown.
It's funny having a nephew; you love them like a friend, son, and brother. It's a magical relationship. ~ Unknown.
The nephew that I know and I love, and I know in my heart. ~ Anna Jones.
My nephew asked me the difference between a hamster and a gerbil, and I told him I thought there was more dark meat on a gerbil. ~ Bobcat Goldthwait.
I really want my nephew to have a little bit of an advantage over everyone when it comes time for him to make his way in the world. ~ Chad Michaels.
Just got invited to my nephew's preschool graduation. I'm thrilled he's decided to finally do something positive with his life. ~ Abe Yospe.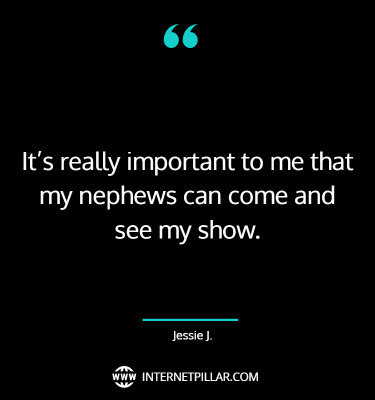 It's really important to me that my nephews can come and see my show. ~ Jessie J.
I'm definitely going to be setting up a trust fund for my little nephew. ~ Chad Michaels.
Best Nephew Quotes & Sayings
An aunt is a haven for a child. Someone who will keep your secrets and is always on your side. ~ Sara Sheridan.
Honestly, I don't think I would have been that quick or even thought to do that. I'm just grateful he's alright, and I can't thank my nephew enough for what he did. ~ Donna King.
It distresses me when I take my seven-year-old nephew out. I cook healthy food, and he wants to go to McDonald's. ~ Julia Sawalha.
Sometimes, the littlest things take up the most room in your heart. ~ Winnie the Pooh.
You know I'm the Queen's favorite great-nephew. Well, yeah, I'm her only great-nephew, but that's not important. ~ Richelle Mead.
I want my nephew to have a little bit of an advantage over everyone when it comes time for him to make his way in the world. ~ Chad Michaels.
It is my absolute happiest moment whenever my nephew smiles at me. ~ Li Bingbing.
I feel very much like a father sometimes to my nephew, but sometimes I feel like a teammate. ~ Dusty Baker.
Your nephew can brighten your world as no one else can. ~ Unknown.
Any day spent with you, my nephew is my favorite day. ~ A.A. Milne.
Cute Quotes About Nephews
Nephews can be a great addition to any family. They provide a different perspective and can be a great friend. Nephews can also help teach younger children how to navigate relationships and have someone to look up to. While having a nephew can be a great thing, it is important to remember that they are not brothers and should not be treated as such.
Why can't I love him (a two yr old nephew) from afar? That's how I want to love him – through pictures and folklore. ~ Ray Romano.
My nephews all look at me differently now. Before, they couldn't relate to me, and now I'm like a god. ~ Ruth Buzzi.
My first nephew, he couldn't say Auntie Nicole, so he called me Coco. ~ Nikki Bella.
To me, my nephew is the angel of my world. It is my absolute happiest moment whenever he smiles at me. ~ Li Bingbing.
To be on television and have my nephews see me, and seeing them wear my shirt to the games and be proud, it's so sweet. ~ Sue Wicks.
You get the fun of spending time with your nephew without being the person responsible for taking care of them. It's the best of both worlds. ~ Unknown.
You are less like a nephew and more like my son. Every corner of my heart was captured by your first breath. ~ Unknown.
You are such a cool kid, you make your uncle proud to be the brother of your parent. ~ Unknown.
I have two new nephews and a new niece this year, so I have plenty of kids that I can spend time with. ~ Anjelica Huston.
Captions about Nephews
I think there are many good Democrats, strong leaders. The person I like the most over everyone is my nephew. ~ Kerry Kennedy.
I've had two young children close to me born into the world – my nephew and my god-daughter. ~ Michael Clarke.
A nephew is a little bit of childhood that can never be lost. ~ Unknown.
To my nephew, you are a joy to my heart and a delight to my eyes. You are a wonderful addition to this family. ~ Unknown.
Finally, a Thanksgiving without a drunken uncle. Just me, my nieces and nephews, and my bottle of Jack Daniels. ~ Conan O'Brien.
No matter what, I always make it home for Christmas. I love to go to my Tennessee Mountain Home and invite all of my nieces and nephews and their spouses and kids and do what we all like to do – eat, laugh, trade presents and enjoy each other… and sometimes I even dress up like Santa Claus! ~ Dolly Parton.
Two brothers and a sister, my nephew, we're a very small group. ~ Cristela Alonzo.
That magical moment when your mother places you in my arms, I knew she placed you right into my heart. ~ Unknown.
Happiness is found in simple things, such as taking my nephew around the island by bicycle or seeing the stars at night. ~ Andrea Hirata.
Top Nephew Quotes
I sort of like bumper cars, but I don't really go to Disneyland unless I have my nephews. ~ Anjelica Huston.
But if I were you, I would stand by my nephew. He has more to give. ~ Jane Austen.
I object to that remark very strongly! – The Magician's Nephew ~ C. S. Lewis.
I was going to take my little nephew to Disneyland, but instead, I drove him to an old burned-out warehouse. He cried and cried, but I think that deep down, he thought it was a pretty good joke. ~ Jack Handy.
Nephew's hair got so blonde this summer it looks peroxided. He is getting it cut, so kids won't think he is punk. I have failed as an uncle. ~ Unknown.
I like to take pictures of lots of things: people-such as my nephews, my dogs, and just interesting objects that I see. For instance, I might take a picture of flowers by the side of the road, an old sign, or a fence. ~ Lacey Chabert.
I'm not a fan of Star Wars. That is not for me. That is for my nephews. I don't get it. ~ William Friedkin.
Any day spent with you, my nephew, is my favorite day. ~ A.A. Milne.
Popular Nephew Quotes
If you think I'm fast, just wait until you see my nephew Bruno. ~ Ayrton Senna.
The moment my nephew came into the world, I realized that logic could not make sense of someone who's so brand new to you. ~ Unknown.
Every time I go to my nephews' house, he wishes to show me all his drawings. I know I'm biased, but those things belong in a museum. ~ James Avery.
Thank you for making my life fuller. I love you. ~ Unknown.
Hey, I'm just looking for an excuse to retire so I can play summer league baseball, go coach my nephews, and play pickup basketball. ~ Doug Flutie.
Dear nephew, as you will already have realized during our much too brief companionship, I am essentially a man of principle. ~ Franz Kafka.
Turtles are greater than baby nephews because it's OK to drop a turtle. ~ Demetri Martin.
---
So these were the 77 quotes about Nephews.
If you like these quotes and sayings, then you can also read my other popular blog posts on the topics of Learning is Fun quotes and Taking Chances quotes and Life is Beautiful quotes and Niece quotes.
You are welcome to share these best quotes, sayings, phrases and captions with your friends and family on social media channels such as (Facebook, Twitter, TikTok, Instagram, WhatsApp, and Pinterest).