Born Ermias Asghedom on August 15, 1985, in Los Angeles, Nipsey Hussle was the child of Angelique Smith and Eritrean immigrant Dawit Asghedom.
Raised in Crenshaw with siblings Samiel and Samantha, he attended Hamilton High School but didn't graduate. He initially engaged in street sales and later, gang activities.
A transformative trip to Eritrea and prison stint prompted him to focus on music.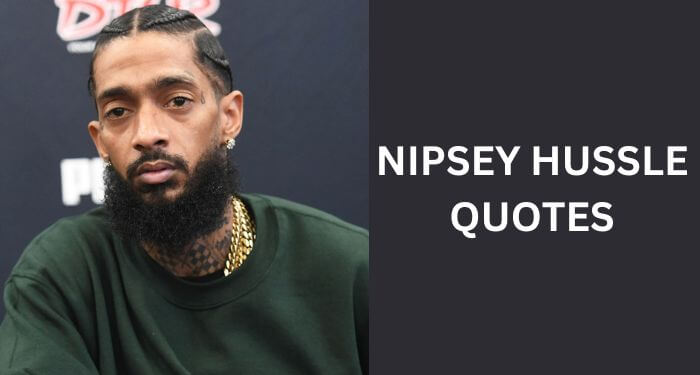 Career Highlights
Starting in 2005, Nipsey released a series of mixtapes, including "Slauson Boy Volume 1" and the "Bullets Ain't Got No Name" series, growing his regional fame.
By 2009, he collaborated with artists like Drake and Snoop Dogg. In 2010, he founded his label All Money In No Money Out and introduced The Marathon Clothing brand. His debut album, "Victory Lap," was released in 2018, earning him a Grammy nomination.
Community Activism
Beyond music, Nipsey was revered for his commitment to Crenshaw, investing in local businesses and initiatives rather than relocating or opting for larger ventures.
Death
On March 31, 2019, Nipsey was fatally shot outside his LA store. His murder led to an outpouring of grief, with the LA Mayor acknowledging his community contributions.
Sales Strategy & Top Hits
Innovatively, Nipsey offered free downloads but sold limited editions at premium prices, incorporating special incentives for buyers. Some of his notable tracks include "Rose Clique," "Forever On My Fly Shit," and "Higher."
Here is an amazing collection of quotes by Nipsey Hussle.
---
Best Nipsey Hussle Quotes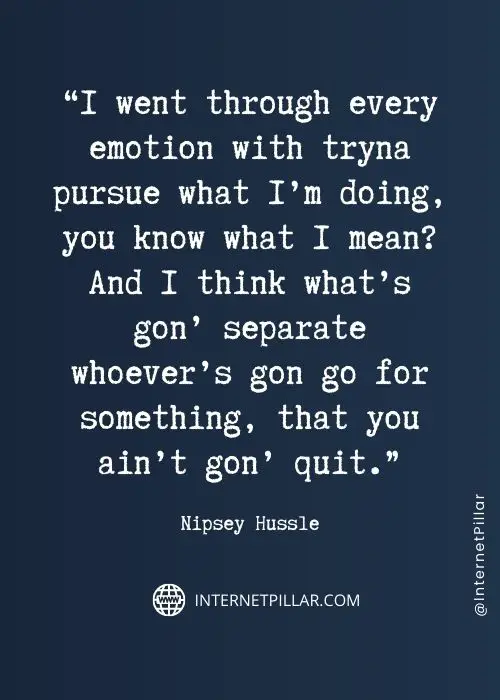 1. "I went through every emotion with tryna pursue what I'm doing, you know what I mean? And I think what's gon' separate whoever's gon go for something, that you ain't gon' quit." ~ (Nipsey Hussle)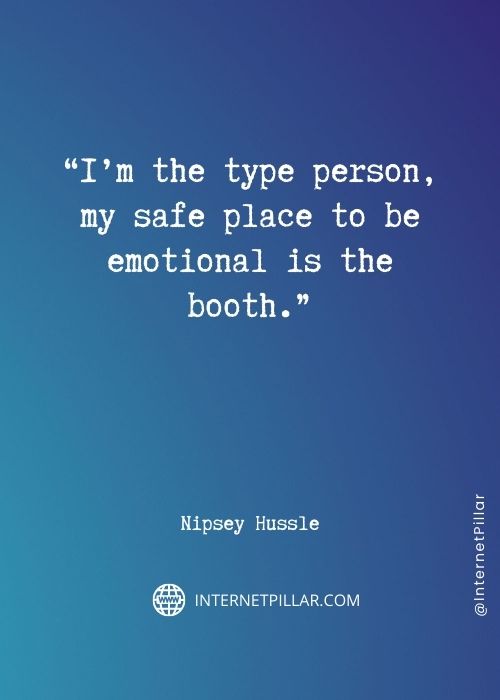 2. "I'm the type person, my safe place to be emotional is the booth." ~ (Nipsey Hussle)
3. "I really love the culture of hip-hop." ~ (Nipsey Hussle)
4. "I intend to inspire people with my story: motivate young people that grew up like myself, or even not like myself. Just, you know, go through the human experience." – (Nipsey Hussle)
5. "Your parents are supposed to tell you to make decisions that are gonna help you and that'll have a positive effect on your life and your well-being." – (Nipsey Hussle)
6. "Most important thing is to get rid of doubt. If you got doubt in what you're doing it's not gonna work." – (Nipsey Hussle)
7. "Be your own biggest fan, your own biggest believer, and put it on your back and carry the weight." – (Nipsey Hussle)
8. "Try to have more faith and less fear, try to express it to your peers, I'm talking about dreams. Better to do it and let it be seen, cause then it's so clear." – (Nipsey Hussle)
9. "You've got to have faith in what you're doing and not take no for an answer." – (Nipsey Hussle)
10. "If you're going to write about rap music and hip-hop, and you don't love it, then we don't need your opinion, and we revoke your opinion." – (Nipsey Hussle)
11. "Success to me is just being able to do what you love to do and support yourself all through." – (Nipsey Hussle)
12. "To me, respect comes first." – (Nipsey Hussle).
Top Nipsey Hussle Quotes
13. "I get a more passionate delivery when I just go in the booth and let the music talk." – (Nipsey Hussle)
14. "You're not going to scare me into being somebody I don't want to be." – (Nipsey Hussle)
15. "It's important to love in hip hop." ~ (Nipsey Hussle)
16. "Be more fearless. All my radical moonshots have defined me. That don't be my downfall, my downfall will be not going crazy, not having a higher expectation." – (Nipsey Hussle)
17. "I knew 'Crenshaw' had elevated me and distinguished me." – (Nipsey Hussle)
18. "I think you can give a pure artistic product if you understand how to build your own industry." – (Nipsey Hussle)
19. "I always had passion for rap music and I was always trying to create a situation to where I could do this full-time." – (Nipsey Hussle)
20. "Look at Pusha-T. He makes a certain type of rap music. 'Daytona' is that on the highest level." – (Nipsey Hussle)
21. "Looking at 2014, I look back: we made more money off 'Mailbox Money' than we would have made off taking an advance from anybody. We made more money letting our fans buy the stuff directly from us than what any label could have offered us." – (Nipsey Hussle)
22. "Dedication, hard work, plus patience." – (Nipsey Hussle)
23. "I'm at peace with what I'm doing, I feel good with what I wake up doing and about my lifestyle." – (Nipsey Hussle)
24. "You've got to have faith in what you're doing and not take no for an answer." – (Nipsey Hussle)
25. "I always wanted to do things right and represent myself as somebody that took the art serious and someone that took the business serious also, so I had time to weigh the options and figure it out and do my best to create the situation that was ideal." – (Nipsey Hussle)
26. "We came up with TDE. As competitive as rap is, and as much as we're trying to exceed the standards we set for ourselves, we take their wins as our wins, too." – (Nipsey Hussle)
27. "I got an album concept called 'Exit Strategy,' that might be one of my last ones. It's a term they use in business when you build companies. You create an exit strategy as you make a company. You don't wait till you're five years in it; you create a exit strategy as you make the company." – (Nipsey Hussle)
28. "As an entrepreneur, as an investor, I'm trying to be as educated as I can to where the progression of technological capability is going and what it does to these different categories that, me as an artist and an influencer, I can get involved and bring value." – (Nipsey Hussle).
Popular Nipsey Hussle Quotes
29. "I'm not in it for fame. I've been famous in the streets already." – (Nipsey Hussle)
30. "I think that every artist — or anybody that's in business — could benefit from a direct-to-consumer strategy, so I think that that applies to us as artists and content creators, too." – (Nipsey Hussle)
31. "Define who you are and what you are, and be clear on that. Meditate on that and then, live and die by that… You can't break the rules, the fundamental rules." – (Nipsey Hussle)
32. "I never wanted to alienate my brand for business. I always wanted to keep it authentic and keep as pure as I could." – (Nipsey Hussle)
33. "I believe that economics is based on scarcity of markets. And it's possible to monetize your art without compromising the integrity of it for commerce." – (Nipsey Hussle)
34. "In 2013, the week before I dropped 'Crenshaw,' 'Complex' wrote an article that listed Nipsey Hussle as one of Hip Hop's '10 Underachieving Rappers'. I was so offended that I responded with my own opinion about these journalists — their point of view is not validated in our culture." – (Nipsey Hussle)
35. "I always wanted to operate at the highest altitude, just in terms of hip-hop and the music." – (Nipsey Hussle)
36. "Proud 2 Pay — that's something that distinguishes me, that's something that defines me, and we're going to keep that going." – (Nipsey Hussle)
37. "When you talk about black entrepreneurship, you're talking about addressing the foundation of what's going on with our people when we don't have any financial power. Our basic needs aren't being met in a lot of cases, so there's no way we're going to be able to tap into our potential until we address those bottom-level base needs." – (Nipsey Hussle)
38. "When you say 'follow me on Twitter,' and you get 10 million people to follow you — you just leveraged your influence to add value to an app that you have no ownership in." – (Nipsey Hussle)
"'Victory Lap,' even the title. It's the accumulation of trial and error; that's what I represent; trial and error." – (Nipsey Hussle)
39. "On a mission your worst enemy is idle time." – (Nipsey Hussle)
40. "Partnering with Atlantic Records creates the opportunity to take what we're doing to the next level, without compromising." – (Nipsey Hussle)
41. "I try to sprinkle a little gems and jewels in the music that people could use in their own life." – (Nipsey Hussle)
"Being self-made means never making an excuse as to why you can't take steps toward whatever your goal is." – (Nipsey Hussle)
42. "I'm about seeing long-term, seeing a vision, understanding nothing really worthwhile happens overnight, and just sticking to your script long enough to make something real happen." – (Nipsey Hussle).
Famous Nipsey Hussle Quotes
43. "A lot was accomplished in my mixtape career. But I still needed a few things: I needed to be recognized. I need to have radio. I need to have a real retail machine that can get us where we need to get that." – (Nipsey Hussle)
44. "I would say that the Nipsey Hussle 'Crenshaw' release was an example of All Money In creating an artificial scarcity campaign for the physical side of 'Crenshaw.'" – (Nipsey Hussle)
45. "As an artist, as a brand, as a rapper, as a musician, you know you got a window and a lot of people, even an athlete; they don't have no exit strategy. It's just living in the false reality that it's going to be like this forever." – (Nipsey Hussle)
46. "I don't ever make moves under pressure." – (Nipsey Hussle)
47. "We got turned down, we failed, had setbacks, had to start over a lot of times. But we kept going at it. In anybody's case that's always the distinguishing factor." – (Nipsey Hussle)
48. "That's the best currency you can offer: inspiration. So, when a person can rely on you for that, that empowers them in every realm of their life." – (Nipsey Hussle)
49. "One pillar to wealth is having residual income." – (Nipsey Hussle)
50. "Doing music to pay bills is an uncomfortable situation. I never wanted to be in that situation." – (Nipsey Hussle)
51. "Thought is powerful in all phases. Even in my career, even in my life, things end up exactly how I visualized them." – (Nipsey Hussle)
52. "If you sharing your success and not your struggle, you's a fool." – (Nipsey Hussle)
53. "I identify myself as a hustler since I was a young kid." – (Nipsey Hussle).
Inspiring Nipsey Hussle Quotes
54. "It's not called quitting if you quit while you ahead. It's about being aware and being strategic enough to know that you got to get out the pool at some point. You got to put your clothes back on and dry off." – (Nipsey Hussle)
55. "We represent a hustler. I think we represent inspiration. I think we represent, you know, staying down. I think we represent building yourself up from the bootstraps." – (Nipsey Hussle)
56. "If you've got a plan, it's not just like a pipe dream. You have a step-by-step list of things to do to get to your goal." – (Nipsey Hussle)
57. "Black people in America, people from the struggle, immigrants, it's no generational wealth that we are attached to, so we are tasked to create — in one generation — closing the gap. That's why we so Doomsday about getting to the check: 'cause it's life or death for real." – (Nipsey Hussle)
---
---
Other Famous Quotes