Growing up is a complex process involving the acquisition of new knowledge, skills and embracing qualities like responsibility, trustworthiness, dependability and honesty.
This transformative journey presents a multitude of challenges and rites of passage that can provoke anxiety, ranging from physical changes to emotional upheavals like first love and heartbreak.
Despite these hurdles, growing up quotes can offer solace and a sense of shared experiences, serving as a reminder that others have navigated similar trials and transitions.
These quotes underscore that the difficulties faced in adolescence and adulthood are integral parts of personal growth.
Upon reflection, the struggles of growing up often yield to a sense of beauty, freedom and personal development.
Moreover, as parents watching their children navigate these experiences, there's a poignant realization of the rewards awaiting them post these growing pains, instilling an enhanced appreciation for the process of growing up.
---
Top 10 Growing Up Quotes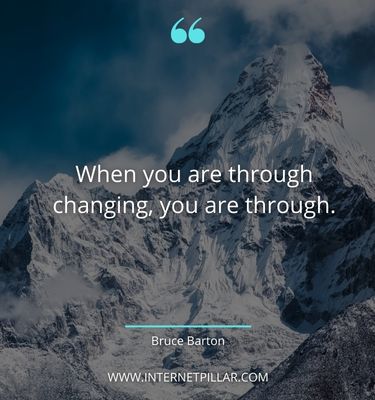 When you are through changing, you are through. ~ Bruce Barton.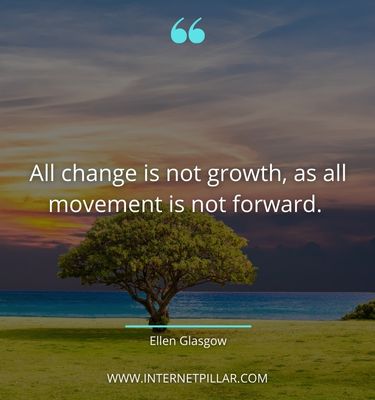 All change is not growth, as all movement is not forward. ~ Ellen Glasgow.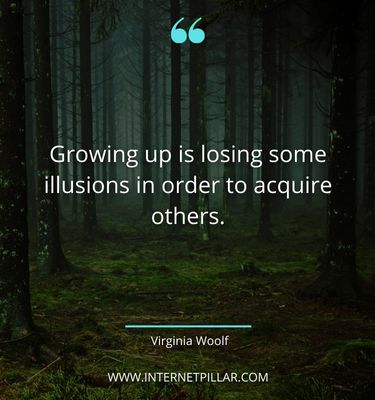 Growing up is losing some illusions in order to acquire others. ~ Virginia Woolf.
I was so good at being a kid, and so terrible at being whatever I was now. ~ John Green.
You grow up the day you have your first real laugh, at yourself. ~ Ethel Barrymore.
Growing up is hard. Otherwise everyone would do it. ~ Kim Harrison.
I saw my earlier selves as different people, acquaintances I had outgrown. I wondered how I could ever have been some of them. ~ Roger Zelazny.
Life has a funny way of turning you into the one thing you don't want to be. ~ Jonathan Levine.
That's one of the things we learn as we grow older, how to forgive. It comes easier at forty than it did at twenty. ~ L.M. Montgomery.
Growing old is mandatory. Growing up is optional. ~ Walt Disney.
Best Quotes about Growing Up
One of the oddest things about being grown-up was looking back at something you thought you knew and finding out the truth of it was completely different from what you had always believed. ~ Patricia Briggs.
For, after all, you do grow up, you do outgrow your ideals, which turn to dust and ashes, which are shattered into fragments; and if you have no other life, you just have to build one up out of these fragments. ~ Fyodor Dostoyevsky.
Part of growing up is just taking what you learn from that and moving on and not taking it to heart. ~ Beverley Mitchell.
You are growing into consciousness, and my wish for you is that you feel no need to constrict yourself to make other people comfortable. ~ Ta-Nehisi Coates.
I think that the best thing we can do for our children is to allow them to do things for themselves, allow them to be strong, allow them to experience life on their own terms, let them be better people, let them believe more in themselves. ~ C. JoyBell C.
The turning point in the process of growing up is when you discover the core of strength within you that survives all hurt. ~ Max Lerner.
Short Quotes about Growing Up
It takes courage to grow up and become who you really are. ~ E.E. Cummings.
When I was young, I used to wish I would fit in… I'm glad I didn't get my wish. ~ Steve Maraboli.
The only difference between a rut and a grave is their dimensions. ~ Ellen Glasgow.
Everything will change. The only question is growing up or decaying. ~ Nikki Giovanni.
I reckon responsible behavior is something to get when you grow older. Like varicose veins. ~ Terry Pratchett.
When the winds of change blow, some people build walls and others build windmills. ~ Chinese Proverb.
Maturity is a high price to pay for growing up. ~ Tom Stoppard.
It took me ages to grow into being a woman, into being happy with it. ~ Helena Bonham Carter.
The trick is growing up without growing old. ~ Casey Stengel.
Related: Buddha Quotes on Life That Will Change Your Mind and Socrates Quotes You Need to Know Before 40.
Motivational Quotes about Growing Up
Part of growing up is realizing you learn to love so many people. It's about forming those relationships and finding what will last forever. ~ Dylan O'Brien.
When you were too young and naive to see the risks, I incurred your wrath to protect you. Scream at me for it if you must. Thank me for it when you finally grow up. ~ Karen Marie Moning.
Growing old is unavoidable, but never growing up is possible. I believe you can retain certain things from your childhood if you protect them – certain traits, certain places where you don't let the world go. ~ Martin Luther King, Jr.
When we are children we seldom think of the future. This innocence leaves us free to enjoy ourselves as few adults can. The day we fret about the future is the day we leave our childhood behind. ~ Patrick Rothfuss.
I make mistakes growing up. I'm not perfect; I'm not a robot. ~ Justin Bieber.
You said you want to became Hokage. I have become the Kazekage. If you are willing to bear the name Kage, you have to do what you must do. ~ Masashi Kishimoto.
Love does not begin and end the way we seem to think it does. Love is a battle, love is a war; love is a growing up. ~ James Baldwin.
Part of growing up was learning not to be quite that honest, learning when it was better to lie, rather than to hurt someone with the truth. ~ Jodi Picoult.
Famous Quotes about Growing Up
Time is a dressmaker specializing in alterations. ~ Faith Baldwin.
If you don't like something change it; if you can't change it, change the way you think about it. ~ Mary Engelbreit.
The right thing to do is so easy to see when you're seventeen years old and don't have to make any big decisions. When you know that no matter what you do, someone will take care of you and fix everything. But when you're grown up, the world is not that black and white, and the right thing doesn't tidy a little arrow pointing to it. ~ Huntley Fitzpatrick.
You must welcome change as the rule but not as your ruler. ~ Denis Waitley.
Even though you're growing up, you should never stop having fun. ~ Nina Dobrev.
I think people make their own faces, as they grow. ~ Enid Blyton.
Time, which changes people, does not alter the image we have retained of them. ~ Marcel Proust.
I think I may have to grow up without growing old. I think we're going to have to define differently what I'm going to be. We're going to have to define my growing up differently. ~ Mattie Stepanek.
A mother is not a person to lean on but a person to make leaning unnecessary. ~ Dorothy C. Fisher.
Growing Up Quotes About Change
Growing up, I have discovered over time, is rather like housework, never finished. ~ Lois McMaster Bujold.
You can get what you want or you can just get old. ~ Billy Joel.
It was a sign of growing up, when the dark made no more difference to you than the day. ~ Roddy Doyle.
Don't try to make children grow up to be like you, or they may do it. ~ Russell Baker.
Most people don't grow up. Most people age. They find parking spaces, honor their credit cards, get married, have children, and call that maturity. What that is, is aging. ~ Maya Angelou.
Someday you will be old enough to start reading fairy tales again. ~ C.S. Lewis.
Who rejects change is the architect of decay. The only human institution which rejects progress is the cemetery. ~ Harold Wilson.
You know your children are growing up when they stop asking you where they came from and refuse to tell you where they're going. ~ P. J. O'Rourke.
Growing up happens when you start having things you look back on and wish you could change. ~ Cassandra Clare.
Growing Up Quotes That Will Inspire You
A daughter may outgrow your lap, but she will never outgrow your heart. ~ Unknown.
Everyone thinks you make mistakes when you're young. But I don't think we make any fewer when we're grown up. ~ Jodi Picoult.
Relax. You will become an adult. You will figure out your career. You will find someone who loves you. You have a whole lifetime; time takes time. The only way to fail at life is to abstain. ~ Johanna de Silentio.
I still don't know what it really means to grow up. However, if I happen to meet you, one day in the future, by then, I want to become someone you can be proud to know. ~ Makoto Shinkai.
They must often change, who would be constant in happiness or wisdom. ~ Confucius.
When we are no longer able to change a situation, we are challenged to change ourselves. ~ Viktor Frankl.
Sometimes you have to grow up before you appreciate how you grew up. ~ Daniel Black.
Quotes about Growing Up and Maturing
Growth is the only evidence of life. ~ John Henry Newman.
Maturity is when your world opens up and you realize that you are not the center of it. ~ M.J. Croan.
You must pay the penalty of growing-up. You must leave fairyland behind you. ~ L.M. Montgomery.
The mark of the immature man is that he wants to die nobly for a cause, while the mark of the mature man is that he wants to live humbly for one. ~ J.D. Salinger.
Maturity is a bitter disappointment for which no remedy exists, unless laughter could be said to remedy anything. ~ Kurt Vonnegut.
A child's life is like a piece of paper on which every person leaves a mark. ~ Chinese Proverb.
That's the trick of growing up. Nothing stays the same. Hook sounded oddly sympathetic. You see the faults in everything. Including yourself. ~ Austin Chant.
---
So these were the 65 quotes about Growing Up.
If you like these quotes, then you can also read our other posts on Greatest Warrior quotes and Life Quotes for Depression and Stress and Greatest Motivational Quotes from History.