Nobody enjoys being rejected or turned down.
Dealing with rejection is a fact of life and we must overcome it.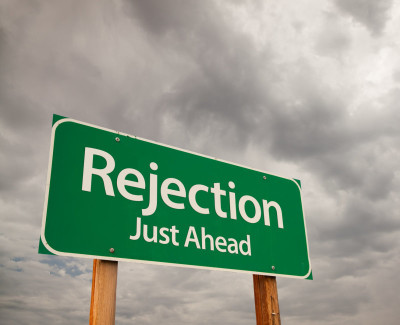 ---
Top 10 Overcoming Rejection Quotes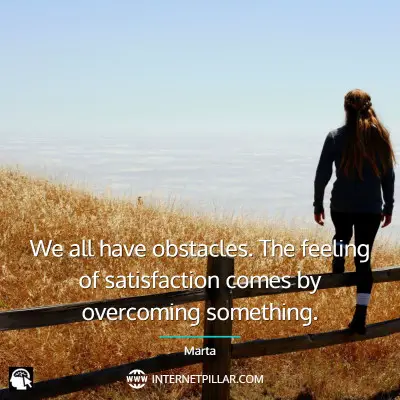 We all have obstacles. The feeling of satisfaction comes by overcoming something. ~ Marta.
True success is overcoming the fear of being unsuccessful. ~ Paul Sweeney.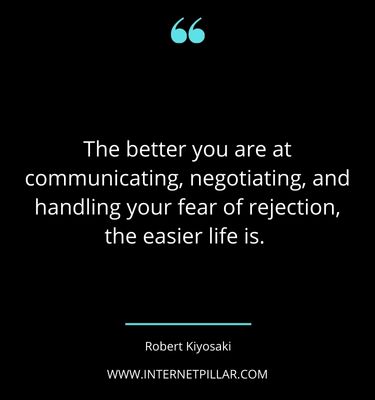 The better you are at communicating, negotiating, and handling your fear of rejection, the easier life is. ~ Robert Kiyosaki.
Don't let anyone, or any rejection, keep you from what you want. ~ Ashley Tisdale.
A rejection is nothing more than a necessary step in the pursuit of success. ~ Bo Bennett.
The greater the obstacle, the more glory in overcoming it. ~ Moliere.
You're going to have more rejection than acceptance. ~ Barry Mann.
A man who rejects you is simply clearing the way for the One you deserve. ~ Naide P Obiang.
I take rejection as someone blowing a bugle in my ear to wake me up and get going, rather than retreat. ~ Sylvester Stallone.
Although the world is full of suffering, it is also full of the overcoming of it. ~ Helen Keller.
Famous Overcoming Rejection Quotes
Rejection is a common occurrence. Learning that early and often will help you build up the tolerance and resistance to keep going and keep trying. ~ Kevin Feige.
All great innovations are built on rejections. ~ Louis-Ferdinand Celine.
Life is a balance of fear and overcoming it. ~ Jimmy Iovine.
I know that when a door closes, it can feel like all doors are closing. A rejection letter can feel like everyone will reject us. But a closed door leads to clarity. It's really an arrow. Because we cannot go through that door, we will go somewhere else. That somewhere else is your true life. ~ Tama J. Kieves.
Most fears of rejection rest on the desire for approval from other people. Don't base your self-esteem on their opinions. ~ Harvey Mackay.
I think all great innovations are built on rejections. ~ Louise Berliawsky Nevelson.
Every rejection is incremental payment on your dues that in some way will be translated back into your work. ~ James Lee Burke.
You have to learn to take rejection not as an indication of personal failing but as a wrong address. ~ Ray Bradbury.
Popular Overcoming Rejection Quotes
Nobody gets through life without experiencing some form of rejection, which is why everybody knows how awful it feels. ~ Adena Friedman.
We must become bigger than we have been: more courageous, greater in spirit, larger in outlook. We must become members of a new race, overcoming petty prejudice, owing our ultimate allegiance not to nations but to our fellow men within the human community. ~ Haile Selassie.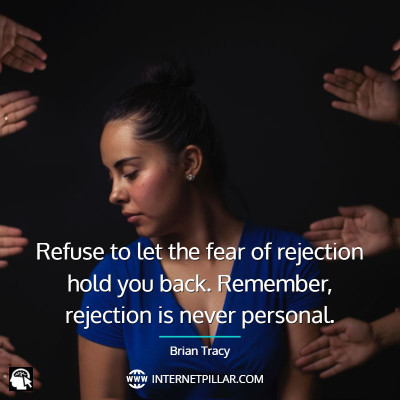 Refuse to let the fear of rejection hold you back. Remember, rejection is never personal. ~ Brian Tracy.
Just as we develop our physical muscles through overcoming opposition – such as lifting weights – we develop our character muscles by overcoming challenges and adversity. ~ Stephen Covey.
Everybody has adversity in their lives and we all have to find ways of overcoming them. You've got to soldier on, make the best of it, look for the positive in everything. ~ Judith Durham.
Acceptance of what has happened is the first step to overcoming the consequences of any misfortune. ~ William James.
Best Overcoming Rejection Quotes
You should never view your challenges as a disadvantage. Instead, it's important for you to understand that your experience facing and overcoming adversity is actually one of your biggest advantages. ~ Michelle Obama.
You must learn how to handle rejection. To succeed, you must learn how to cope with a little word 'no', learn how to strip that rejection of all its power. The best salesmen are those who are rejected most. They are the ones who can take any 'no' and use it as a prod to go onto the next 'yes'. " – Tony Robbins.
In order to succeed, we must first believe that we can. ~ Nikos Kazantzakis.
The size of your success is measured by the strength of your desire; the size of your dream; and how you handle disappointment along the way. ~ Robert Kiyosaki.
There are no real successes without rejection. The more rejection you get, the better you are, the more you've learned, the closer you are to your outcome… If you can handle rejection, you'll learn to get everything you want. ~ Tony Robbins.
I love my rejection slips. They show me I try. ~ Sylvia Plath.
You need to develop, somehow, a huge amount of faith and confidence in yourself, because there's a lot of rejection throughout life and you have to believe in yourself more than anyone else. ~ Stephen Collins.
Powerful Overcoming Rejection Quotes
Rejection just motivates me to keep trying and to try to do better. ~ Sasha Grey.
I have learned not to allow rejection to move me. ~ Cicely Tyson.
Sports is a metaphor for overcoming obstacles and achieving against great odds. Athletes, in times of difficulty, can be important role models. ~ Bill Bradley.
Don't waste yourself in rejection, nor bark against the bad, but chant the beauty of the good. ~ Ralph Waldo Emerson.
The whole secret of existence is to have no fear. Never fear what will become of you, depend on no one. Only the moment you reject all help are you freed. No one saves us but ourselves. No one can and no one may. We ourselves must walk the path. ~ Buddha.
One who gains strength by overcoming obstacles possesses the only strength which can overcome adversity. ~ Albert Schweitzer.
Many days you will want to give up because of rejections and failures. Passion to be an artist will help you prevail where others fail. ~ Jack White.
I like underdogs, I like anti-heroes – people that have a hard time overcoming things in life. ~ Matthias Schoenaerts.
I think that you have to believe in your destiny; that you will succeed, you will meet a lot of rejection and it is not always a straight path, there will be detours – so enjoy the view. ~ Michael York.
Inspiring Overcoming Rejection Quotes
A new era doesn't come from nothing. New thoughts, values and methods will be established after overcoming various hurdles on the way. ~ Park Won-soon.
Above all the grace and the gifts that Christ gives to his beloved is that of overcoming self. ~ Francis of Assisi.
Remember: when people tell you something's wrong or doesn't work for them, they are almost always right. When they tell you exactly what they think is wrong and how to fix it, they are almost always wrong. ~ Neil Gaiman.
I always feel like rejection is my petrol. That's what keeps me going. ~ Laura Kightlinger.
We all learn lessons in life. Some stick, some don't. I have always learned more from rejection and failure than from acceptance and success. ~ Henry Rollins.
In order to handle rejection, we have to reflect on the past, analyze/study it. Next, just like a computer, we have to reboot. Next, get it out of our system by rejecting every aspect of it. ~ John Rampton.
Human beings, like plants, grow in the soil of acceptance, not in the atmosphere of rejection. ~ John Powell.
There is going to be a hundred thousand doors slammed in your face before one opens, so feel ok about taking rejection. ~ Heather Matarazzo.
Fresh activity is the only means of overcoming adversity. ~ Johann Wolfgang von Goethe.
My advice to everybody – never give up and have great resiliency. Don't take the rejection personally, but listen if it's intelligent and make changes if they're needed and then move forward. ~ Sherry Lansing.
The only difference between successful people and unsuccessful people is extraordinary determination. ~ Mary Kay Ash.
People overcoming the odds is actually a really important part of humanity, and I don't think we kind of get to celebrate that as much as we should. ~ Taika Waititi.
---
So these were the 53 top quotes about Overcoming Rejection.
If you like these quotes and sayings, then you can also read my other posts on Diamond in the Rough quotes and Head in the Clouds quotes.