Life often presents us with challenges that may seem too hard to surmount.
However, it's super important to face and overcome these challenges, as it propels us forward and prevents us from being stymied by adversities.
This capability to tackle obstacles and thrive is known as resilience. Resilient individuals don't easily surrender; instead, they remain driven and hopeful, even when aware of the time and effort required to conquer their problems.
For those seeking encouragement during tough times, various inspirational quotes focus on conquering challenges.
Among them are Bible verses and other motivational sayings. These quotes can potentially reignite one's belief in their capabilities.
Here are 86 highly motivational quotes on tackling life's challenges.
---
Best Overcoming Obstacles Quotes
Always follow your dreams, even if they lead you down a few dark alleys. ~ Teresa Mummert.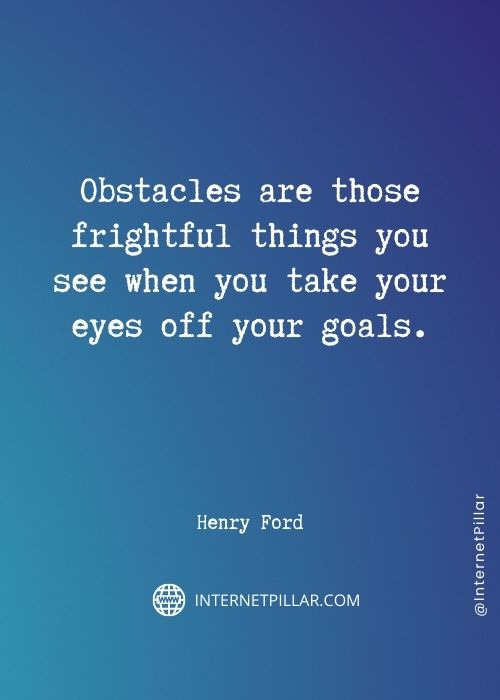 Obstacles are those frightful things you see when you take your eyes off your goals. ~ Henry Ford.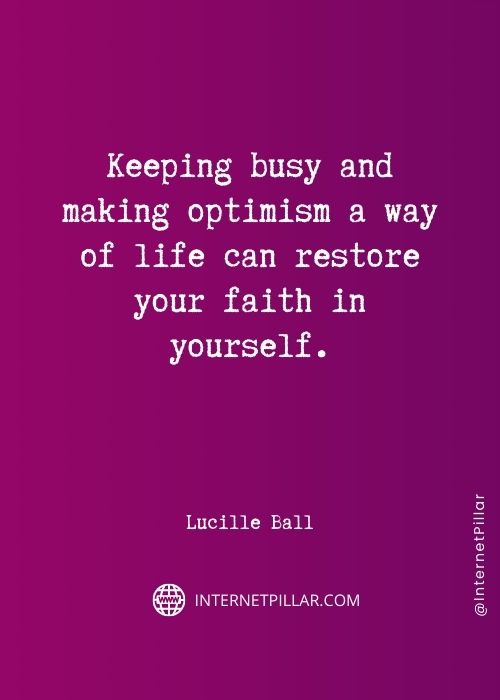 Keeping busy and making optimism a way of life can restore your faith in yourself. ~ Lucille Ball.
Courage is one step ahead of fear. ~ Coleman Young.
When you see an obstacle approaching, grab your courage and speed up. ~ Angela Lynne Craig.
Every calamity is to be overcome by endurance. ~ Virgil.
We develop our character muscles by overcoming challenges and obstacles. ~ Stephen Covey.
You win not by chance but by preparation. ~ Roger Maris.
We are what we repeatedly do. Excellence, then, is not an act, but a habit. ~ Aristotle.
When the goal seems difficult to reach, take a break but never give up. ~ Lailah Gifty Akita.
Some men see things as they are and say why. I dream things that never were and say why not. ~ Bobby Kennedy.
Brave men rejoice in adversity, just as brave soldiers triumph in war. ~ Lucius Annaeus Seneca.
Energy and persistence conquer all things. ~ Benjamin Franklin.
The greatest glory in living lies not in never falling, but in rising every time we fall. ~ Nelson Mandela.
Love overcomes obstacles. ~ Craig Groeschel.
You can't cross the sea merely by standing and staring at the water. ~ Rabindranath Tagore.
Famous Overcoming Obstacles Quotes
Acceptance of what has happened is the first step to overcoming the consequences of any misfortune. ~ William James.
All the world is full of suffering. It is also full of overcoming. ~ Helen Keller.
To solve any problem, here are three questions to ask yourself: First, what could I do? Second, what could I read? And third, who could I ask? ~ Jim Rohn.
One of the secrets of life is to make stepping stones out of stumbling blocks. ~ Jack Penn.
There's nothing that cleanses your soul like getting the hell kicked out of you. ~ Woody Hayes.
It is better to anticipate than to react. ~ Bob Knight.
Thinking will not overcome fear but action will. ~ W. Clement Stone.
Adversity causes some men to break; others to break records. ~ William Arthur Ward.
He who sweats more in training bleeds less in war. ~ Greek Proverb.
The true test of a champion is not whether he can triumph but whether he can overcome obstacles. ~ Garth Stein.
I am more than my scars. ~ Andrew Davidson.
Others can stop you temporarily – you are the only one who can do it permanently. ~ Zig Ziglar.
Some fish love to swim upstream. Some people love to overcome challenges. ~ Amit Ray.
You're powerful enough to overcome it all. ~ Mitta Xinindlu.
Popular Overcoming Obstacles Quotes
Choose rather to be strong of soul than strong of body. ~ Pythagoras.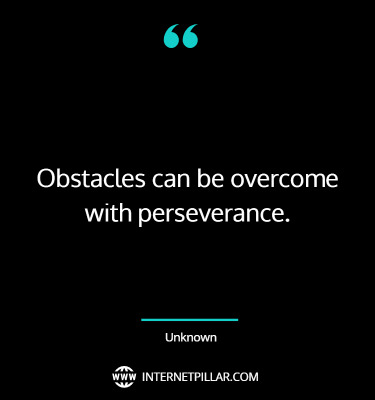 Obstacles can be overcome with perseverance. ~ Unknown.
Today's tears water tomorrow's gardens. ~ Matshona Dhliwayo.
Don't quit. Suffer now and live the rest of your life a champion. ~ Muhammad Ali.
Conquering any difficulty always gives one a secret joy, for it means pushing back a boundary-line and adding to one's liberty. ~ Henri Frederic Amiel.
It is easier to dig up the past than to save the present – Even though our past actions, have presently dug us in so deep. ~ Kyle Fox.
A challenge only becomes an obstacle when you bow to it. ~ Ray Davis.
Choose what lies in the shadows to be a matter for discovery and adventure, rather than fear. ~ Jonathan Lockwood Huie.
Don't let what you cannot do interfere with what you can do. ~ John Wooden.
Today is a new day. Yesterday's mistakes cannot affect today's possibilities unless you dwell on them. ~ Benjamin Lotter.
Be there and face your obstacles, like a lion. ~ Unknown.
Let us not pray to be sheltered from dangers but to be fearless when facing them. ~ Rabindranath Tagore.
If you expect life to be easy, challenges will seem difficult. If you accept that challenges may occur, life will be easier. ~ Rob Liano.
Top Overcoming Obstacles Quotes
Show me someone who has done something worthwhile, and I'll show you someone who has overcome adversity. ~ Lou Holtz.
We don't develop courage by being happy every day. We develop it by surviving difficult times and challenging adversity. ~ Barbara De Angelis.
Fire is the test of gold; adversity, of strong men. ~ Martha Graham.
Never give in to the obstacles that lie in your path towards the achievement of your dreams. ~ Lailah Gifty Akita.
Some people will just go with the flow of things and sway in life, while others will fight against the currents and go upstream to reach their destiny. ~ Anthony Liccione.
Worry often gives a small thing a big shadow. ~ Swedish Proverb.
Obstacles will make you stronger if you overcome them. ~ Unknown.
The difficulties in life never stop but we can learn to be resilient and successful in our journey of life. ~ Unknown.
Failure is the condiment that gives success its flavor. ~ Truman Capote.
Standing in the inspiring vision of my future, I boldly take every step – large and small – with courage and intent. ~ Jonathan Lockwood Huie.
Don't be afraid to do something you're not qualified to do. ~ Dan Carlin.
Always listen to experts. They'll tell you what can't be done, and why. Then do it. ~ Robert A. Heinlein.
Being challenged in life is inevitable, being defeated is optional. ~ Roger Crawford.
Inspirational Overcoming Obstacles Quotes
Do not think of today's failures, but of the success that may come tomorrow. You have set yourself a difficult task, but you will succeed if you persevere; and you will find a joy in overcoming obstacles. ~ Helen Keller.
Don't run from your weakness, you will only give it strength. ~ Stephen Richards.
Don't be distracted by criticism. Remember-the only taste of success some people have is when they take a bite out of you. ~ Zig Ziglar.
Convince your enemy that he will gain very little by attacking you; this will diminish his enthusiasm. ~ Sun Tzu.
The broken heart. You think you will die, but you keep living, day after day after terrible day. ~ Charles Dickens.
Obstacles don't have to stop you. If you run into a wall, don't turn around and give up. Figure out how to climb it, go through it, or work around it. ~ Michael Jordan.
You can make mistakes, but you're not a failure until you start blaming others for those mistakes. ~ John Wooden.
Cut through your obstacles like a sword. ~ Unknown.
I am thankful for all of those who said no to me. It's because of them I'm doing it myself. ~ Albert Einstein.
Inspiring Overcoming Obstacles Quotes
Fight your obstacles and show yourself how strong you really are. ~ Unknown.
Let your joy scream across the pain. ~ Terri Guillemets.
You have to accept whatever comes and the only important thing is that you meet it with courage and with the best that you have to give. ~ Eleanor Roosevelt.
Adversity is the first path to truth. ~ Lord Byron.
You have to understand that people have to pay a price for peace. If you dare to struggle, you dare to win. ~ Fred Hampton.
Take a limitation and turn it into an opportunity. Take an opportunity and turn it into an adventure by dreaming BIG! ~ Jo Franz.
Those who don't know how to suffer are the worst off. There are times when the only correct thing we can do is to bear out troubles until a better day. ~ Deng Ming-Dao.
Don't settle for your human capacity. Live up to your God-given potential. ~ Benjamin Lotter.
Only those who dare to fail greatly can ever achieve greatly. ~ Robert F. Kennedy.
Powerful Overcoming Obstacles Quotes
In fact, stories of people of achievement often show that obstacles and struggles are the stepping stones to success. ~ Michal Stawicki.
One who conquers the sea today is ready to conquer the ocean tomorrow. ~ Matshona Dhliwayo.
Damaged people are dangerous. They know they can survive. ~ Josephine Hart.
The annoyance you ignore today only gets worse tomorrow. Solve it now. ~ Auliq Ice.
Don't let your mind bully your body into believing it must carry the burden of its worries. ~ Astrid Alauda.
Acceptance of what has happened is the first step to overcoming the consequences of any misfortune. ~ William James.
It is a good rule to face difficulties at the time they arise and not allow them to increase unacknowledged. ~ Edward W. Ziegler.
Critics are loud, but success is louder. ~ Matshona Dhliwayo.
Never complain about your troubles; they are responsible for more than half of your income. ~ Robert Updegraff.
Life keeps throwing me stones. And I keep finding the diamonds. ~ Ana Claudia Antunes.
When you meet obstacles with gratitude, your perception starts to shift, resistance loses its power, and grace finds a home within you. ~ Oprah Winfrey.
The greater the obstacle, the more glory in overcoming it. ~ Molière.
---
So these were the 86 quotes about Overcoming Obstacles in Life.
If these quotes and sayings connect with you, check out our other posts on smartest quotes and losing a friend quotes.